Copenhagen has a thrilling food scene, whether it's innovative Michelin star Nordic cuisine, tempting street food or classic Danish bites.  In fact, there are so many destination restaurants, new openings and cool brunch spots that you might find it hard to tick them all off your wish list.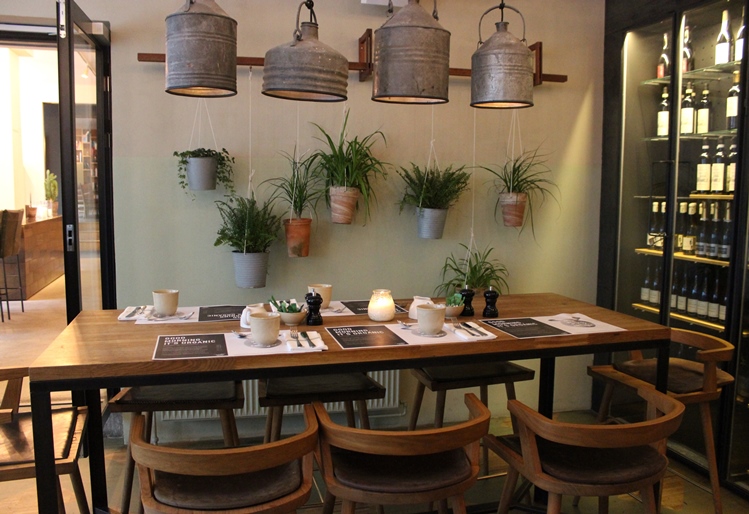 Here are a few foodie gems that we discovered during our recent first trip to Copenhagen…
Höst 
One of the highlights of our trip was a fabulous dinner at the beautiful and atmospheric Höst.  This casual fine Nordic dining restaurant offers a three or five course set menu with a number of inventive dishes in-between courses.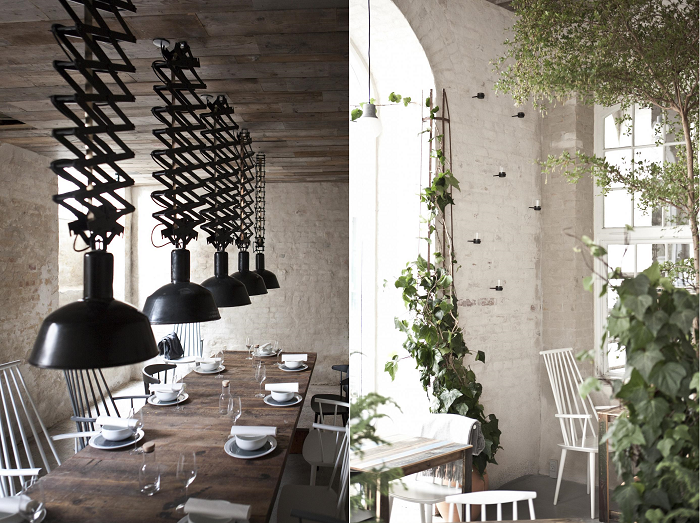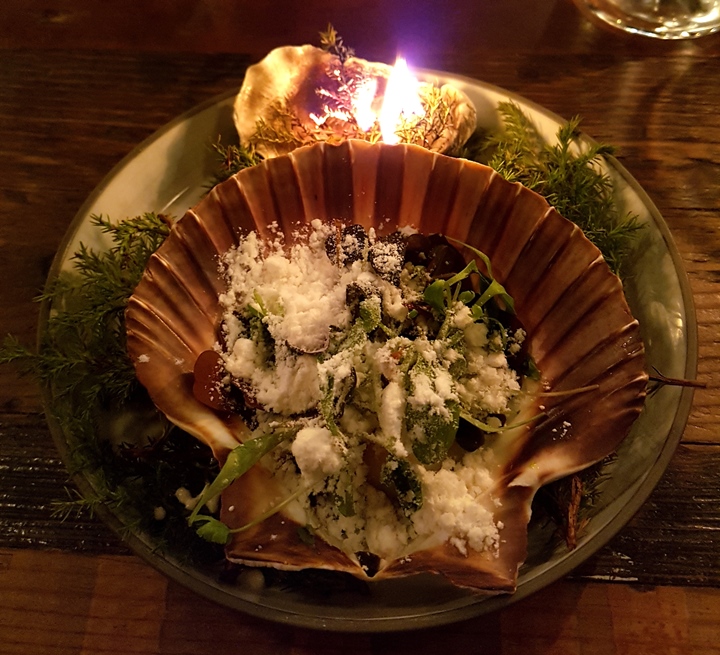 On this food journey, we feasted on delicacies from the Danish land and sea, experiencing a diverse range of flavours with a few 'wow' moments along the way.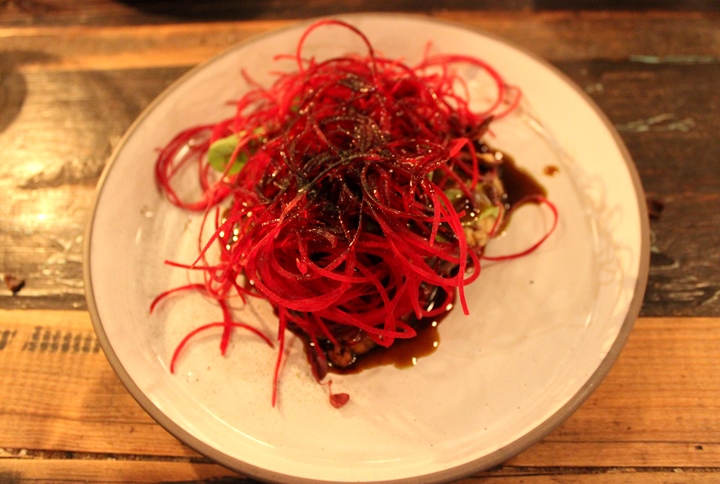 The experience was flawless and struck the right balance between relaxed and ceremonious.  Starting from around £40 for a three-course menu, it's also great value and more accessible than some of Copenhagen's high end restaurants.
To read the full review, click here.
Mother
Mother, in the hip Kødbyen (Meatpacking district), is a casual, buzzing Italian restaurant that serves up authentic Neapolitan pizzas from a wood-fire oven.  This regenerated warehouse complex is filled with cool restaurants and bars such as Fiskebar, Gorilla, Paté Paté and Warpigs, and is the place to be for a weekend night out.
Mother has a casual, lively atmosphere and is a top pick if you're in the mood for something hearty and rustic at a decent price.
While inspiration comes from Italy, Mother has a bit of Danish flair.  Not only are the pizza toppings organic and mostly produced in Copenhagen, but the signature sourdough base is made from natural yeasts and purified seawater to make it easier on the stomach.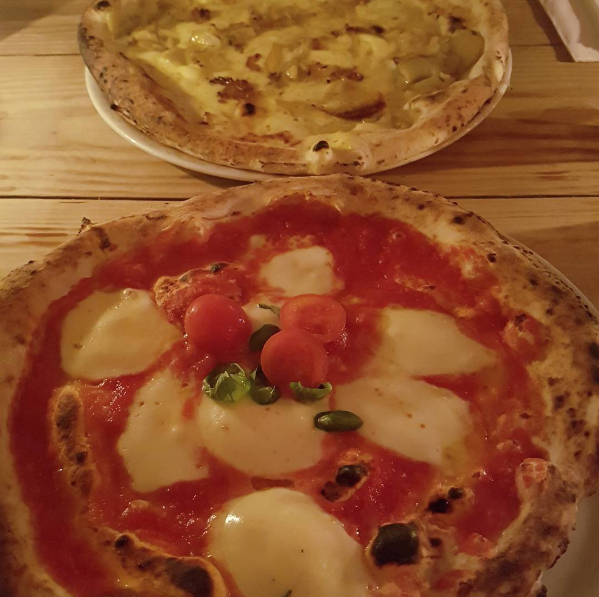 In the name of research, we tried two contrasting pizzas – a classic Margherita with plenty of creamy mozzarella, simple crushed tomatoes and a chewy, fluffy and nicely blistered dough, and the more adventurous Burning Love.  This inventive pizza bianca, topped with mozzarella, potatoes, fried onions and røget spæk (a bit like lardo) was super-rich, like an Alpine tartiflette crossed with a pizza.  I highly recommend sharing a few slices of each, as both are delightful and not to be missed.
Cocks & Cows
The burgers at boutique chain Cocks & Cows are often declared the best in the city and it's easy to see why. We dined at Cocks & Cows inside the stylish SP34 Hotel on our first night there and wolfed down a Cheese 'n' Smoke burger and The New Yorker, accompanied by Salt and vinegar fries.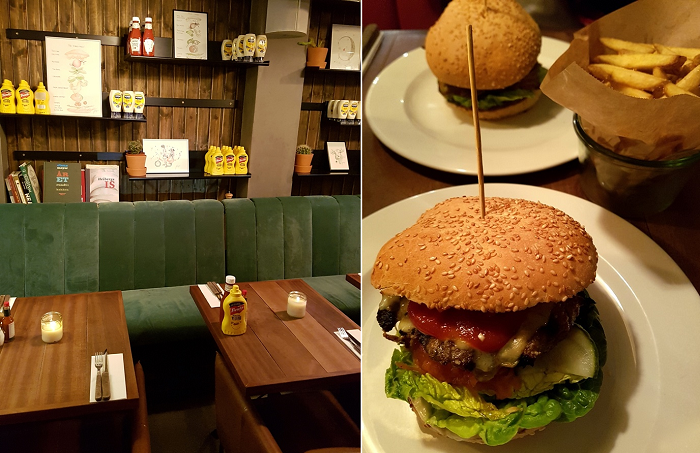 The medium-cooked, flame-grilled burgers were fantastic and generously-sized and we liked the cosy clubhouse feel of the restaurant.  It's definitely the place to satisfy a serious meat craving or attempt The Governator – a burger packed with double everything!
Torvehallerne 
One of my favourite spots in Copenhagen was Torvehallerne, a dazzling food hall in the central Nørreport area.  It has everything you could hope to find – gourmet Danish smørrebrød at Hallernes, Asian street food by LêLê Street Kitchen, Grød posh porridge, craft beers at Mikkeller & Friends Bottle shop and Summerbird Chocolate.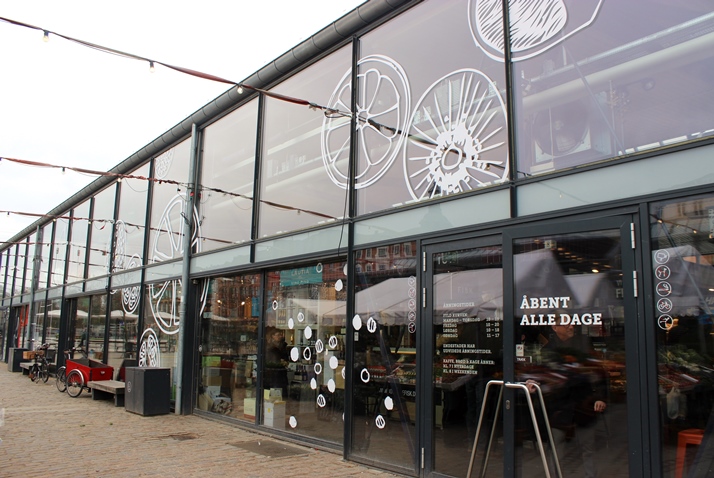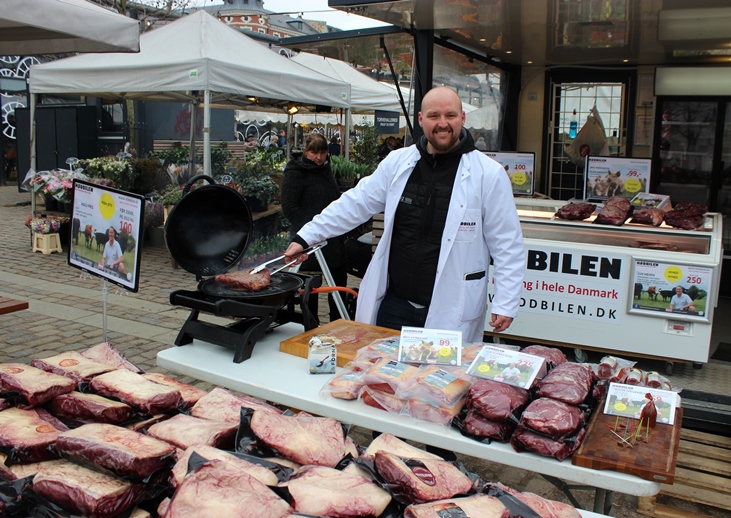 On one particularly chilly lunchtime, we warmed up over a bowl of delicious home-made soup at Unplugged Juice and couldn't resist a Cinnamon and chocolate snegl from the magnificent Laura's Bakery.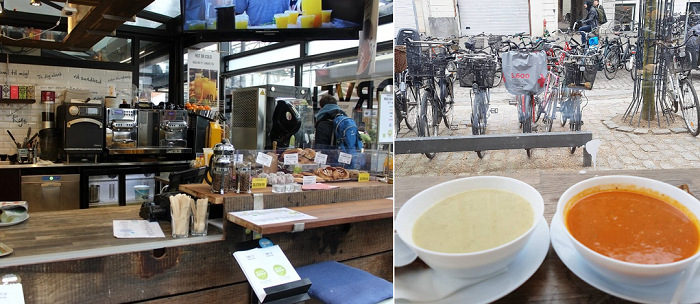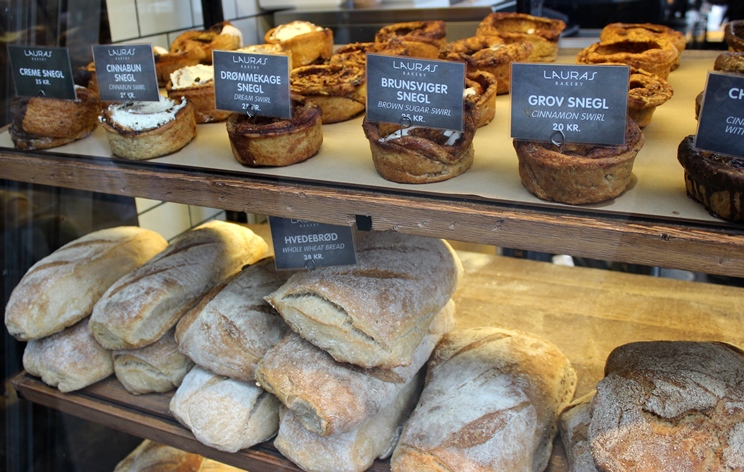 There are so many tempting foodie bites to try at Torvehallerne that you might want to bring a big bag and stock up for later.
Copenhagen Street Food
Like most major cities, street food is big news and it's done particularly well at the purpose-built Copenhagen Street Food.  Conveniently located on Paper Island next to Freetown Christiania, this indoor food market is packed full of small trucks and kiosks offering gourmet bites from around the world.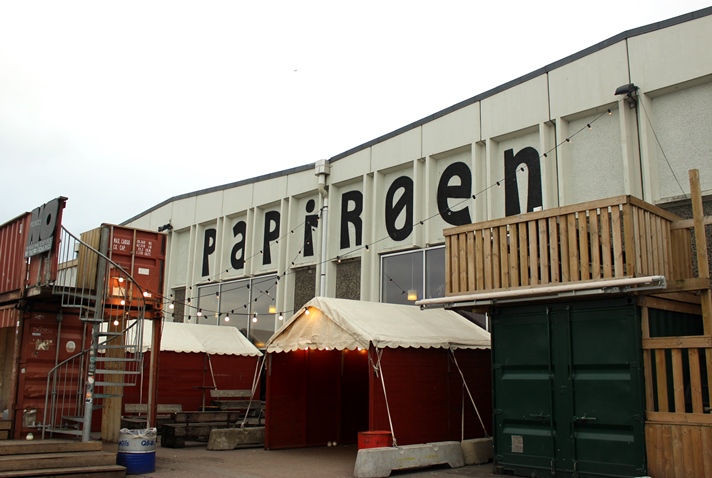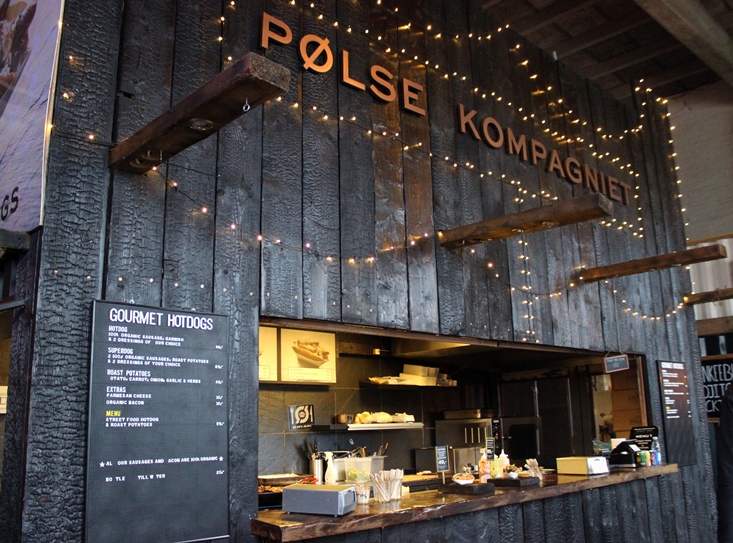 You can find typical Danish hot dogs at Pølse Kompagniet, Belgian stews and duck-fat fries at Copper and Wheat, Brazilian grilled meat at Brasa and Korean Bulgogi at Bulko.  What's not to love?
Lagkagehuset & Holm
Of course, a trip to Copenhagen wouldn't be complete without copious amounts of Danish pastries.  Lagkagehuset (or Ole & Steen as it's known in the UK) has a number of stylish bakeries across Copenhagen and is a good option for an affordable bite at any time of the day.  We found the pizza slices a hearty and surprisingly indulgent choice for lunch and they should definitely be followed with something sweet like a delicious cinnamon social, chocolate rumball or a double chocolate chip muffin.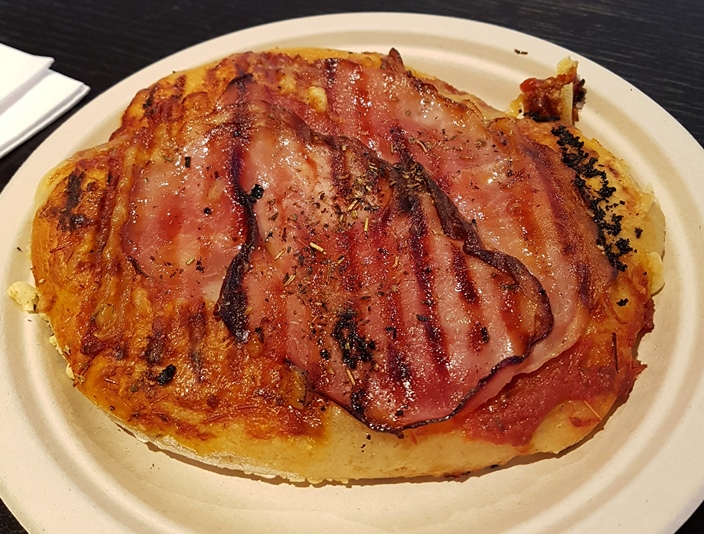 Holm Bager, next to the sleek Illum department store, has a very similar offering and does a great carrot and walnut milk bun and a giant cinnamon swirl smothered in vanilla frosting.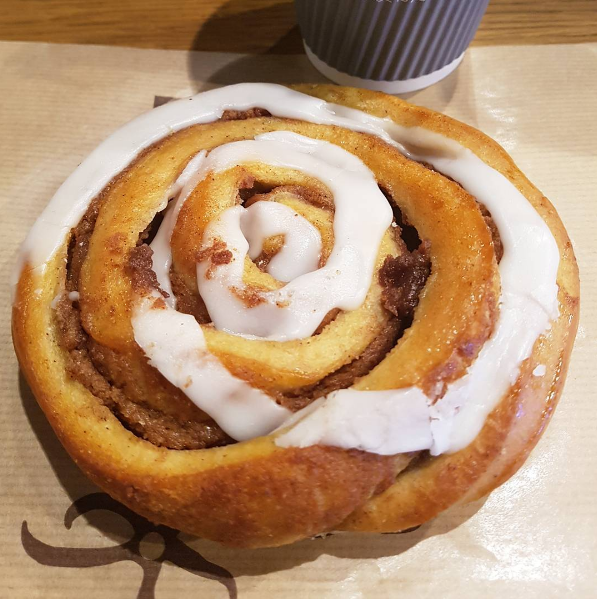 Other temples of pastry in Copenhagen include Meyers Bageri, Sankt Peders Bageri and Andersen Bakery – try and sample them all, if you can handle it.
Are you tempted by the Copenhagen food scene?  Where are your favourite spots for eating out in Copenhagen?
Photos by Chérie City (interiors by Höst and Mother)