Copenhagen is famed for laid-back style paired with cosiness and this was exactly what I wanted to experience on our first trip to the capital of Denmark.  Hotel SP34 does Danish living really, really well with a forward-thinking approach to hospitality, as well as a few nods to convivial traditions.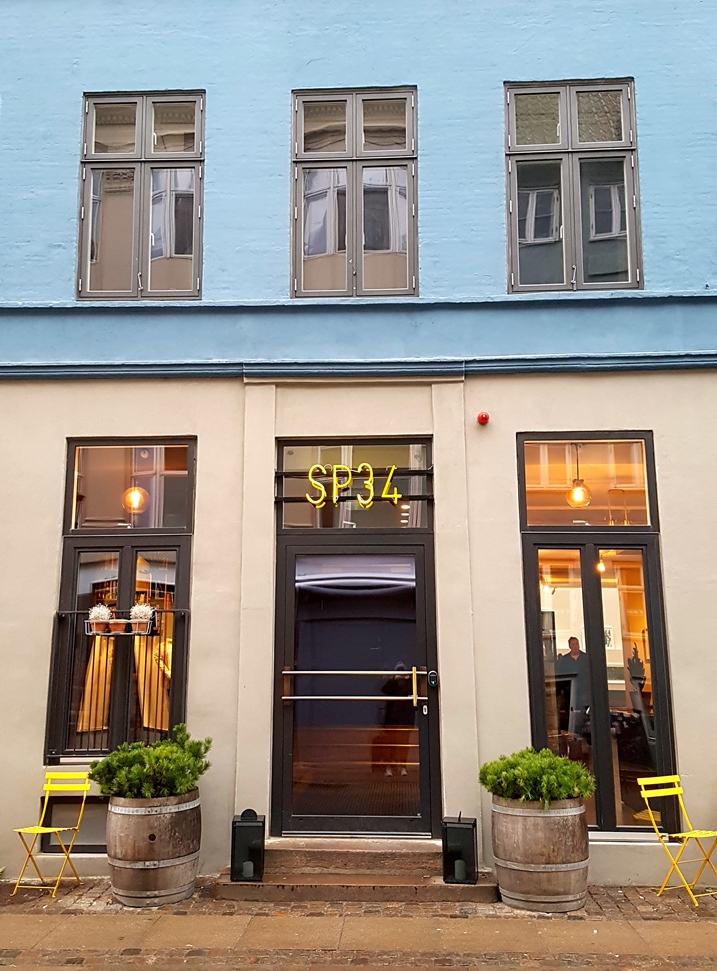 Part of the design-led Brøchner Hotels, the four-star+ Hotel SP34 comprises three renovated townhouses on Sankt Peder Stræde in the charming Latin Quarter.  It's well-located for exploring Copenhagen and is within walking distance of the Tivoli Gardens, The National Museum of Denmark, shopping in the pedestrianised Strøget street and the leafy Ørstedsparken.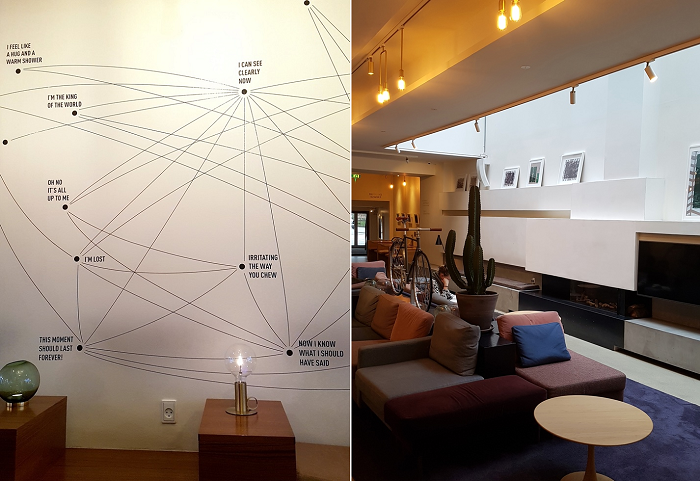 Conveniently, we arrived at Hotel SP34 in time for the daily Wine Hour and as you can imagine, the open-plan hotel lobby was buzzing with couples and friends sipping happily in front of the open fireplace – the epitome of hygge!  The SP34 tends to attract an international, creative crowd and its hip lobby scene is a key part of its charm.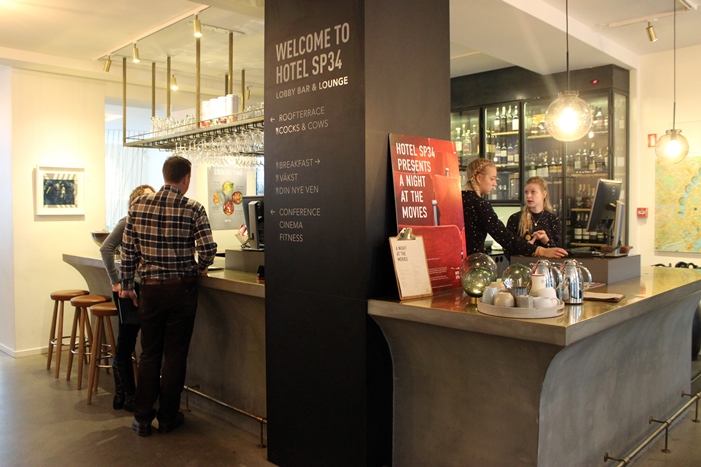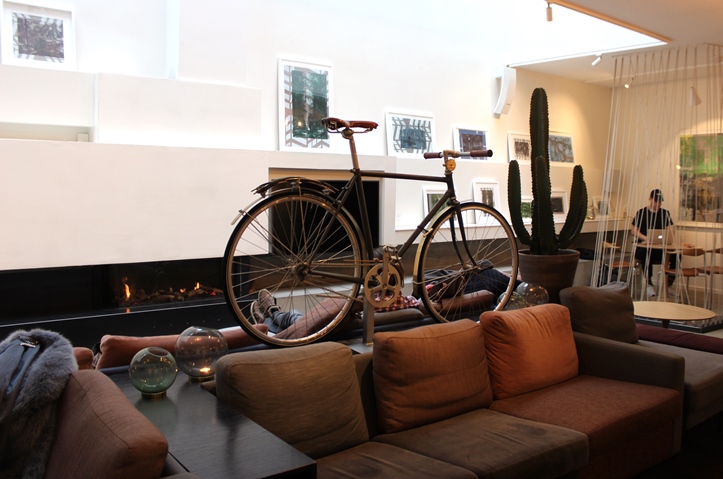 Check-in was quick and friendly and I couldn't help admiring the staff's stunning uniforms designed by cool Danish designer Stine Goya.  After joining in the merriment with a warming glass of Port wine, we headed up to our Superior Double Room on the third floor.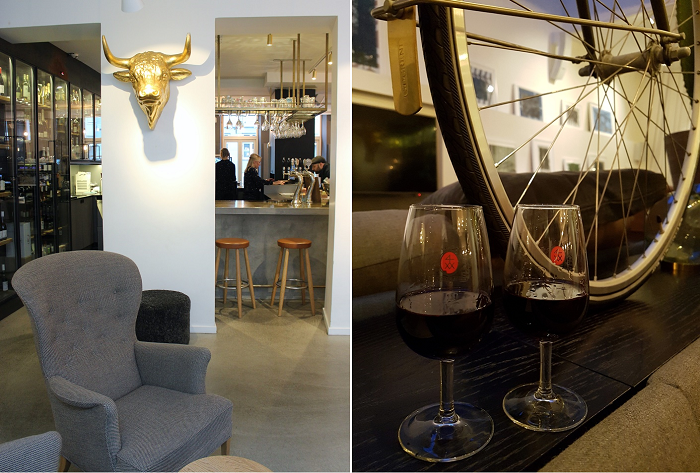 The room was designed in a luxury bohemian style with furniture custom-made by Scandinavian designers.  There were tones of wood and tan leather, moody grey walls, a jewel-like vintage pendant lamp (made specially for the hotel in Sweden) and a statement headboard with fun mini leather cushions.  We also loved the typical Latin Quarter bay windows that offered a floor-to-ceiling view of the street below and added a touch of romance to the room.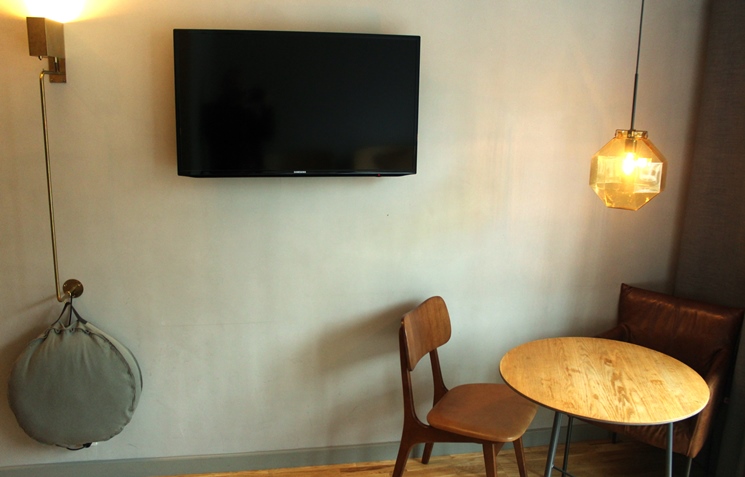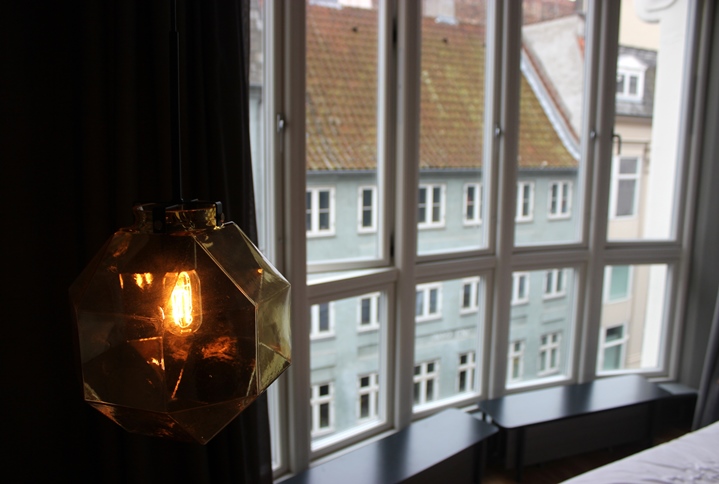 The two twin beds were seriously comfy, with high quality white linen and proper pillows, as well as a large wall-mounted LCTV.  It's also worth noting that like all of the rooms, we had tea and coffee facilities with a selection of Pukka teas and there was also free high-speed wifi.  The room didn't have a refrigerator for drinks, however guests who book a suite can also enjoy an all-inclusive minibar concept in both the room and the lobby bar.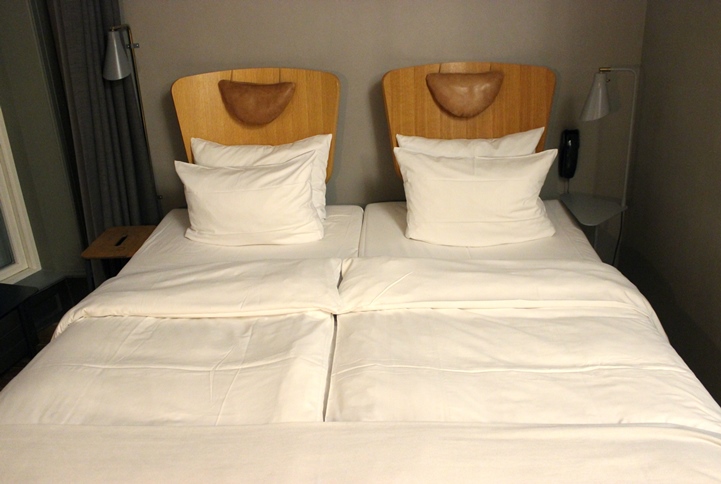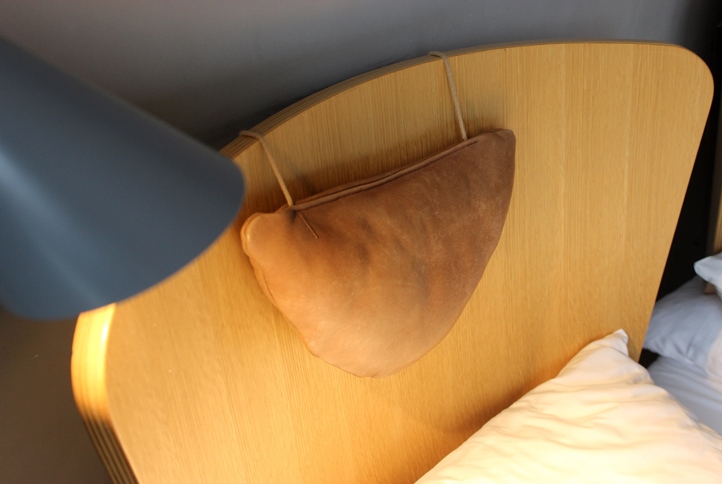 The bathroom had an urban monochrome feel with sleek white tiles, a powerful walk-in shower, concrete and metal units, fluffy towels and REN bathroom products (no conditioner though, so bring your own).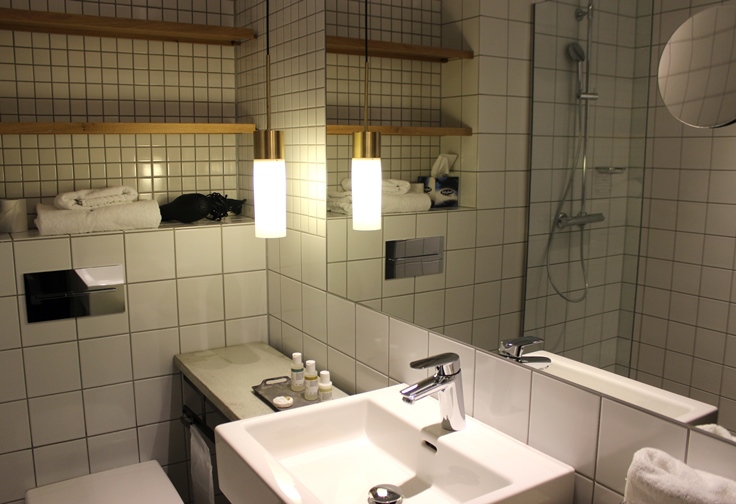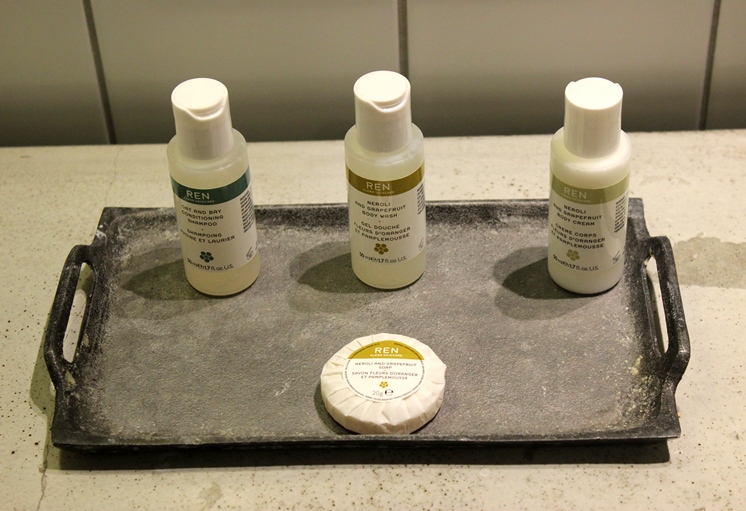 It's a real treat having great restaurants in your hotel, especially after a day of travelling, and Hotel SP34 boasts three!  Since we were having breakfast in Väkst in the morning, we went for gourmet burgers at the casual Cocks and Cows that has a few other locations in Copenhagen.
Its burgers are often named the best in the city and it's easy to see why.  My Cheese 'n' Smoke burger with bacon and Cheddar was so delicious with medium-cooked, flame-grilled beef, high quality toppings and tasty sauces.  Steven went for the The New Yorker – flavourful and lean sliced chilli-garlic marinated steak inside a bun with aromatic tarragon mayo and creamy basil pesto.  We shared a side of Salt & Vinegar Fries, which were golden and hand-chipped with the skin on, and more than enough for two.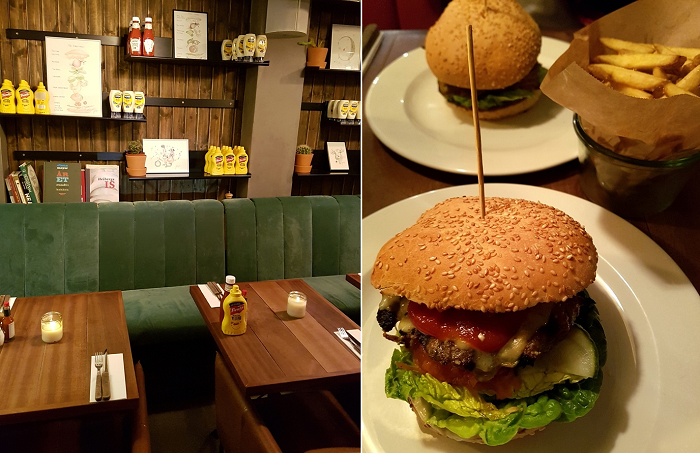 Reeservations are essential, especially on a busy Saturday night, and once you're in the service is super quick and friendly.
In the morning, we were excited to have breakfast in Väkst, the beautifully-designed and highly-Instagrammable restaurant run by Copenhagen's esteemed Cofoco restaurant group.  It's set across two floors with an indoor greenhouse and a staircase laden with plants – like a secret garden.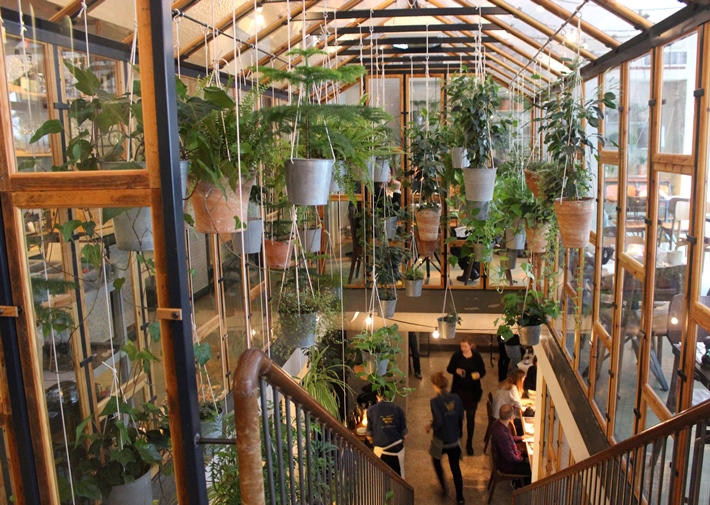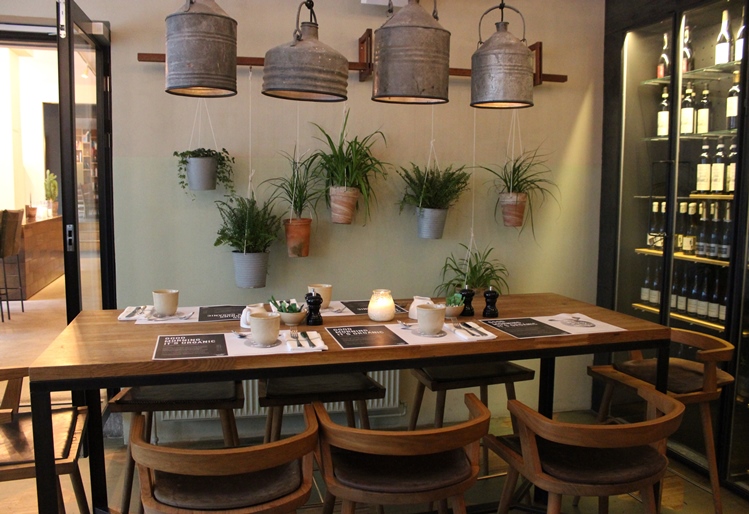 The organic breakfast was nicely put together by chefs in the open kitchen and while it was mostly Continental, there was the option to add hot items as extras.  We feasted on freshly-baked croissants, apple and cinnamon cake, traditional rye bread with Danish salted butter, cold meats and Skyr Icelandic yoghurt with fresh blueberries served in little glass ramekins.  It was a lovely way to start the day and we liked that over 90% of the items were organic and sourced locally.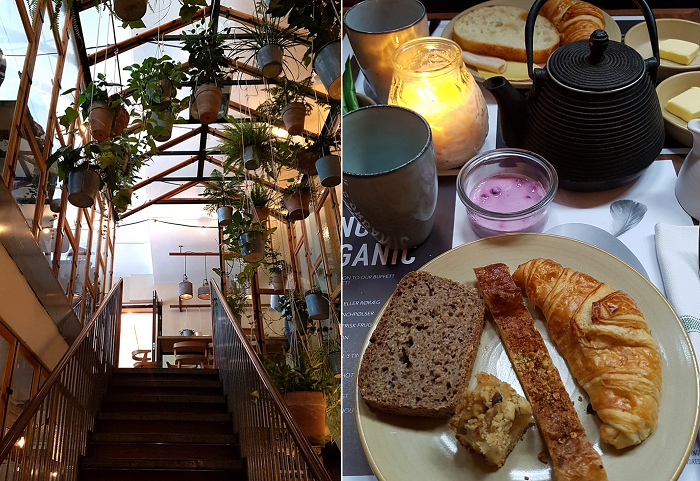 Upon check-out we had the chance to see the lobby in the daylight and spotted some nice touches such as complimentary tea and coffee to take-out and a cabinet where you can buy high-end products and souvenirs.
Other interesting hotel features include an intimate 24-seater screening room with movie nights each evening as well as a seasonal rooftop terrace, the Din Nye Ven (Danish for Your New Friend) cafe-bar and a fitness room.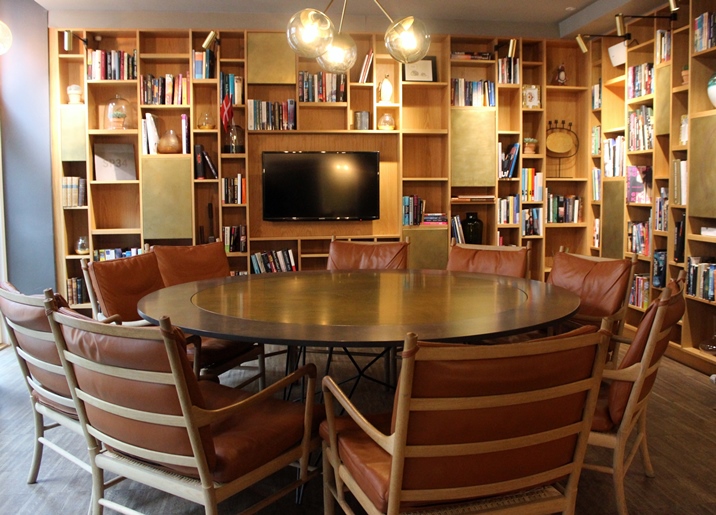 Hotel SP34 is an urban lifestyle resort with everything you need on your doorstep and is sure to appeal to design-conscious travellers that appreciate thoughtful touches and plenty of hygge.  However, your head may also be turned by Brøchner Hotels' latest property, the highly-anticipated Hotel Danmark that's set to open in April.  The hotels are less than ten minutes apart, so if you're a curious hotel lover, why not try both?  I know I will take any excuse to return to wonderful Copenhagen!
For more information and booking, visit: www.brochner-hotels.com
Chérie City received a press rate for a one-night stay at Hotel SP34
All photos by Chérie City