London is quickly becoming the city for 'next generation' hotels and the newly-opened Leman Locke is really leading the way.
This forward-thinking hotel – the debut from new brand Locke Hotels – combines the luxury of a hotel with cool apartment living for creatively-minded folk who want a home away from home.  Its minimal, urban look may also be familiar – it was designed by Grzywinski + Pons, the New York design company behind gems such as The Nolitan Hotel, Boro Hotel and west London's Urban Villa.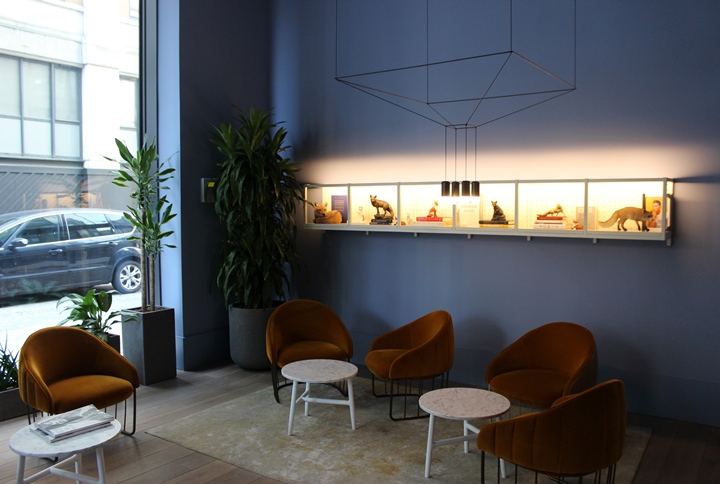 Located in buzzing east London, Leman Locke is set across a modern tower in rapidly evolving Aldgate. The area may be slick and modern, but it's just moments way from London's historic Brick Lane and Spitalfields, as well as being next to Aldgate East tube for quick access to the heart of the city.
Entering the hotel, your first encounter is with the cheery baristas at the hotel's casual cafe Hyde, who give you a friendly hello every time you return.  This bright and sunny cafe keeps guests fuelled all day with pastries and paleo granola for breakfast, hand-crafted sandwiches and salads at lunch, afternoon cake with Chash teas and Volcano coffee and evening cocktails and craft beers.  It also attracts locals, particularly for Sunday brunch, so it has a good neighborhood vibe.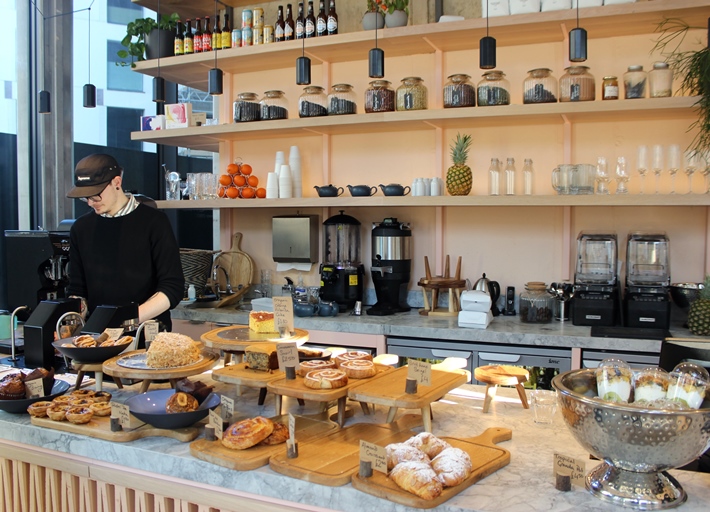 Hyde leads on to the cosy hotel lobby with a comfy seating area, copies of i-D magazine and plenty of quirky artefacts (I can't help thinking it has a bit of a Wes Anderson feel).  We had a swift and efficient check in and scaled up to the 16th floor in the lift.
Our Studio was an absolute dream with the most gorgeous, highly Instagrammable interiors and impressive floor-to-ceiling views over the city, including The Shard.  The open-plan studio is designed in a soft palette of pastel pink, blue and white with geometric patterns, tactile wool and felt textures and touches of exposed concrete.
The cosy living area features a large LCD Smart TV, full-length mirror and a coffee table with art books, however the star of the show is the powder pink L-shaped sofa.  Seriously, it's the most brilliant piece of furniture, as feels plush however you sit on it.  Why don't I have one of these in my own home?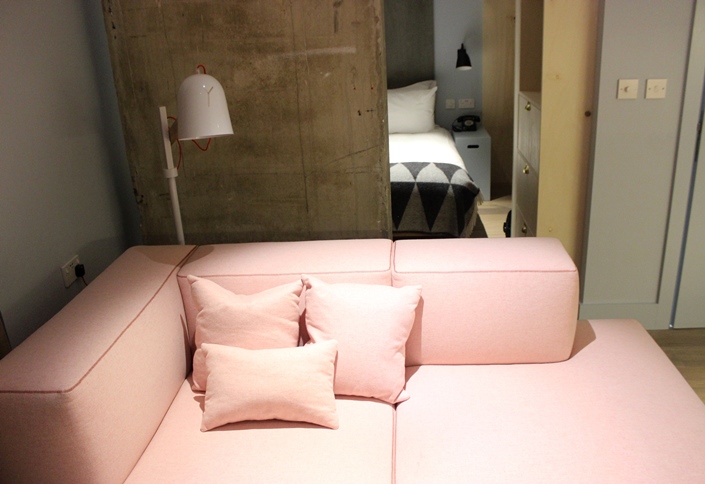 While the apartment overall is very spacious, the bedroom is quite petite, however the concrete partition cleverly gives it the combination of intimacy yet openness.  The bespoke Locke Dream bed was pretty comfortable with good pillows and a stunning wool throw, but I found the linen a little too crisp and rigid.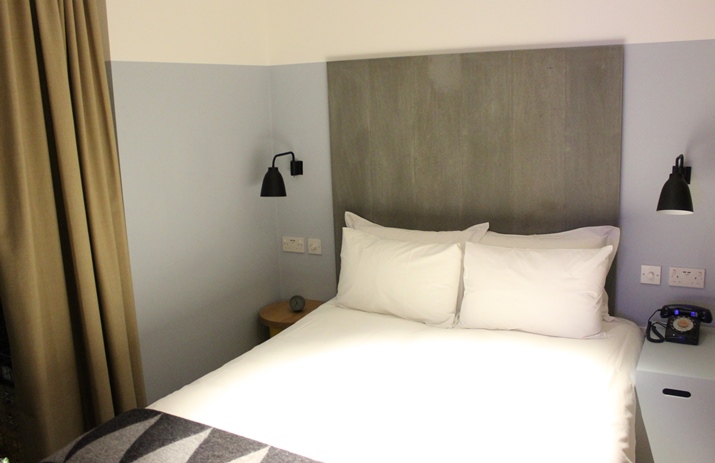 We were really impressed with the sleek, high tech kitchen complete with a top notch oven, fridge, dish washer, washing machine, digital kettle and toaster.  It also has a big selection of pristine utencils and cookware, a full set of china and handily, the Hemsley + Hemsley cook book for those creative moments in the kitchen.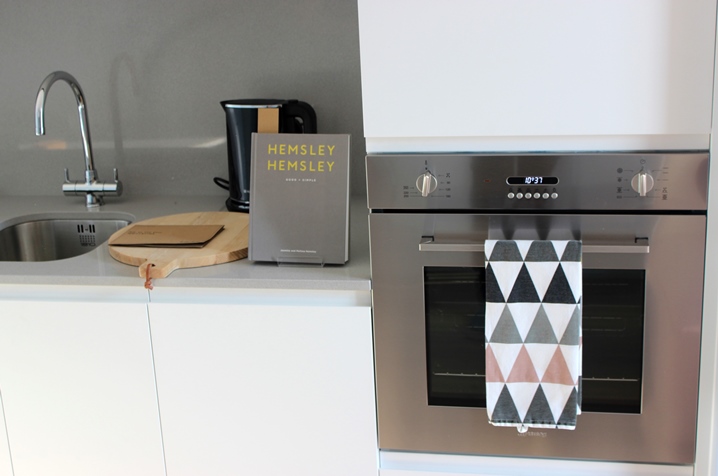 To get you started is a nice little care package featuring a selection of lovely T2 Teas, ground coffee pods and a healthy treat – an indulgent bar of vegan maca, vanilla and cacao nib chocolate by Doisy & Dam.  There is also still mineral water and a mini bottle of milk in the fridge – a thoughtful touch.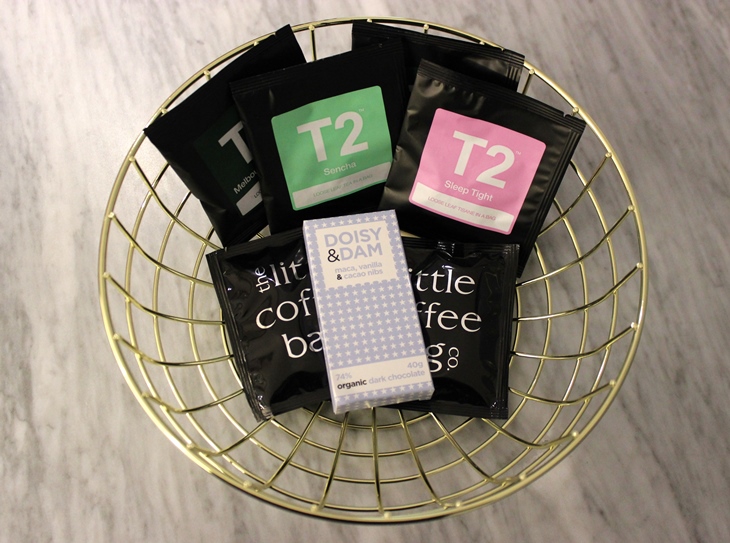 The bathroom is also really spacious and well-appointed with a bath tub and top-of-the-range shower, heated towel rail, thick and fluffy towels, wide mirror and a very generous amount of storage space.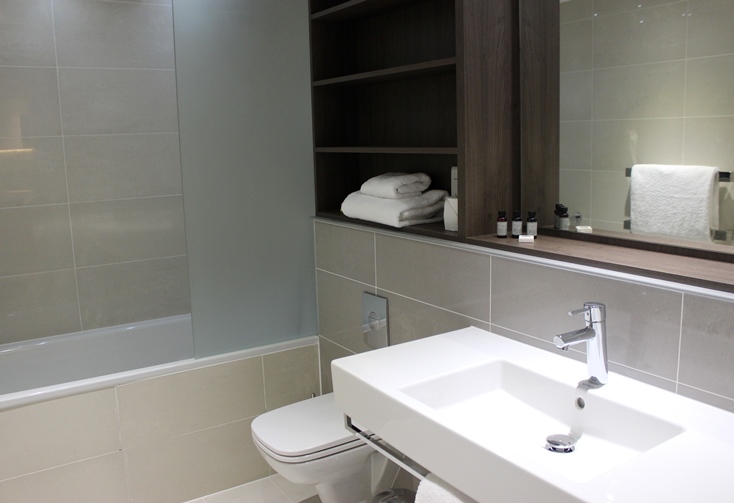 I was excited to find a full set of Kinsey Apothecary bathroom products in delicious scents such as Salted Caramel Vanilla and Himalayan Hibiscus.  This London-based body care company was a new discovery and it fits in well with Leman Locke's approach to wellbeing and locally-sourced products.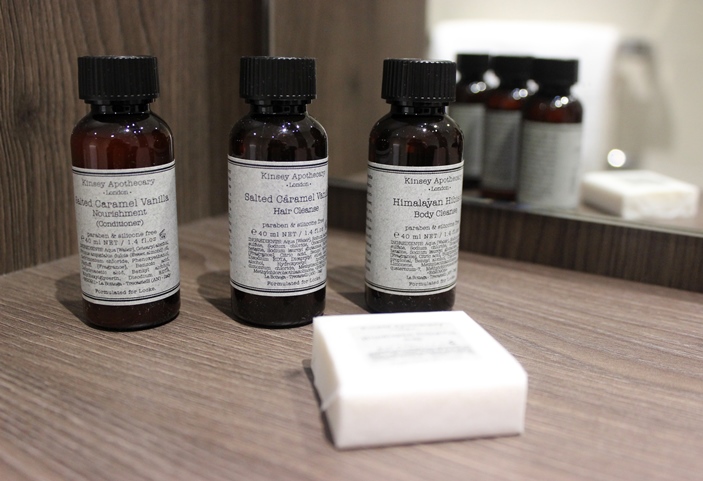 It was hard to tear ourselves away from our new pad, but it's definitely worth venturing out to try some of east London's many exciting restaurants.  We had the most amazing dinner at lively and hip Smokestak in Shoreditch (a short 15-minute walk away) and highly recommend booking a table there if you like barbecued meats with a London twist.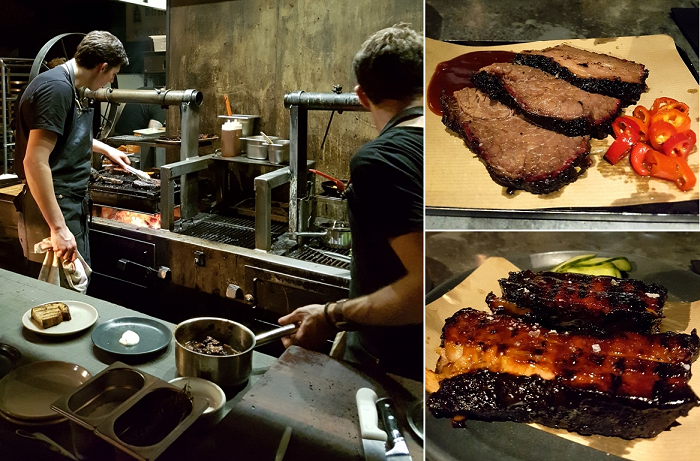 Also worth checking out in the nearby area are Gunpowder, HotBox London, Canto Corvino, Blixen and London institution Duck & Waffle.
There is also plenty going on at Leman Locke with in-room spa treatments by Viva Therapies, a cultural programme including yoga, meditation and cooking, as well as Locke Coves that can be booked complimentary for quiet time through a House Host.
Leman Locke is a real game changer for London and its beautifully-designed studios are so inspiring that you might find yourself trying to recreate the look at home.  Whether it's a staycation or an extended visit, make Leman Locke your stylish base and get to know a different side of London.
For more information and booking, visit: www.lockeliving.com
Chérie City was a guest of Leman Locke 
All photos by Chérie City