London is full of eat clean cafes, vegetarian restaurants and juice bars, but only a few are as sophisticated and joyful as Ethos.
Located on buzzing Eastcastle Street, Ethos feels like an oasis of calm and wellbeing and is the perfect place to escape the chaos of Oxford Circus.  The restaurant lures you in with its colourful plant-based dishes attractively displayed on marble-topped tables, as well as its bright and chic interiors with trees ascending through the ceiling.
The concept at Ethos is simple – grab a seat and order drinks, then choose a small or large plate and fill it up with hot or cold veggie delights.  Have it weighed and pay at the till and shuffle back to your seat to indulge.  It's a great system if you want to sample a few different dishes and cut down on ordering and serving time – you can even get a box to take out.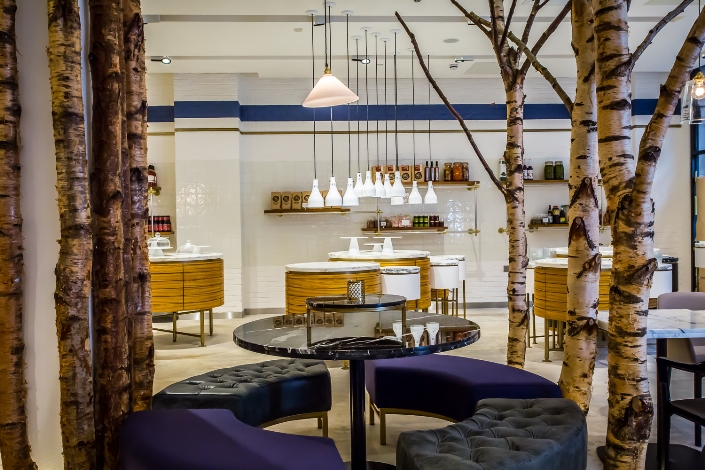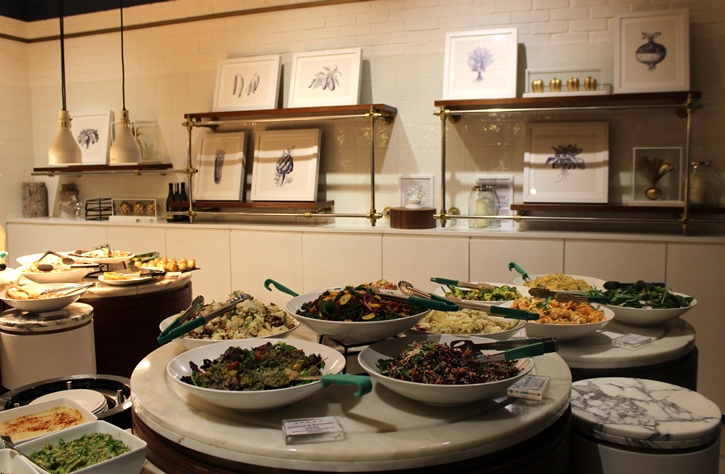 Now, I don't usually trust myself with anything 'create your own', whether it's a salad or a pizza, because I always end up with an oddball combination of flavours, however, at Ethos it's pretty hard to go wrong.  The offering may seem overwhelming, but my advice is to do a few laps of the tables to find the most tempting dishes and then add small portions and build up.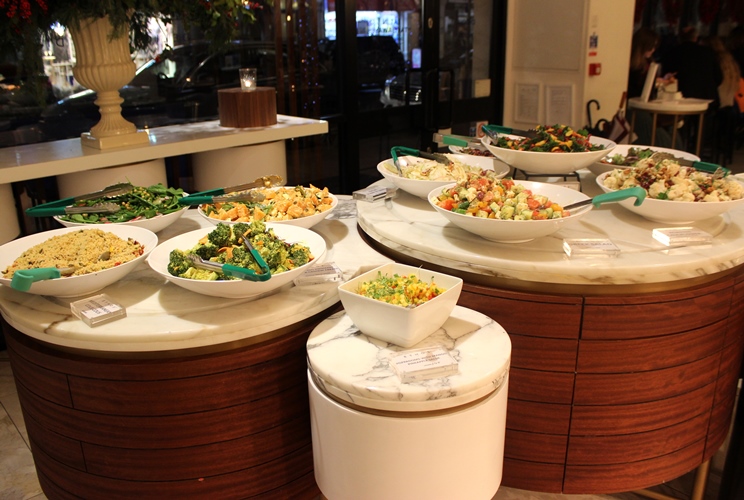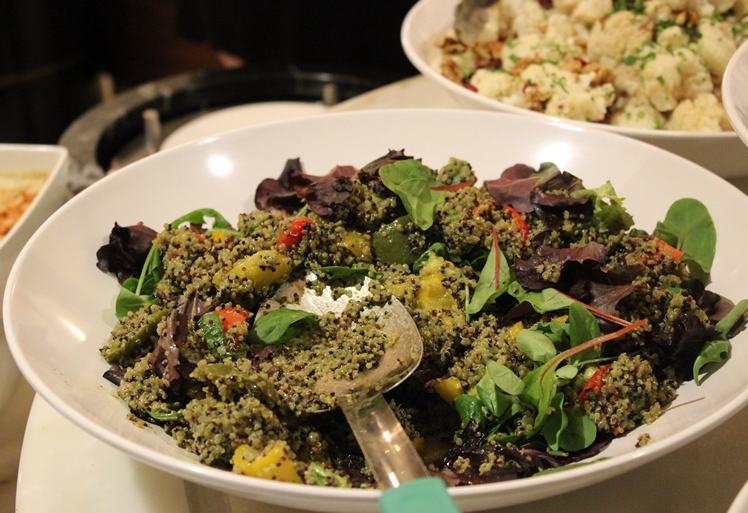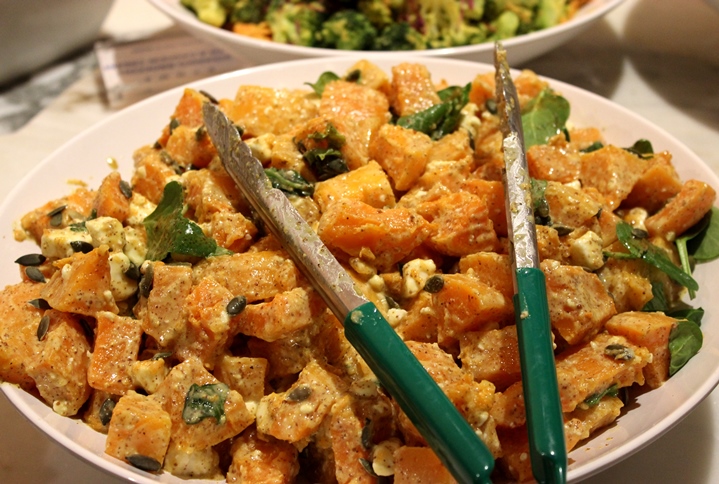 My favourite dish was the Celeriac mash with basil, which was so smooth and aromatic.  I also really enjoyed the Vegan Shepherd's Pie with punchy spiced lentils and a layer of velvety sweet potato and the rich and substantial Cranberry and pistachio nut roast.  Other must-try dishes are the fresh and light Quinoa salad with creamy avocado and those lovely, crispy Halloumi bites.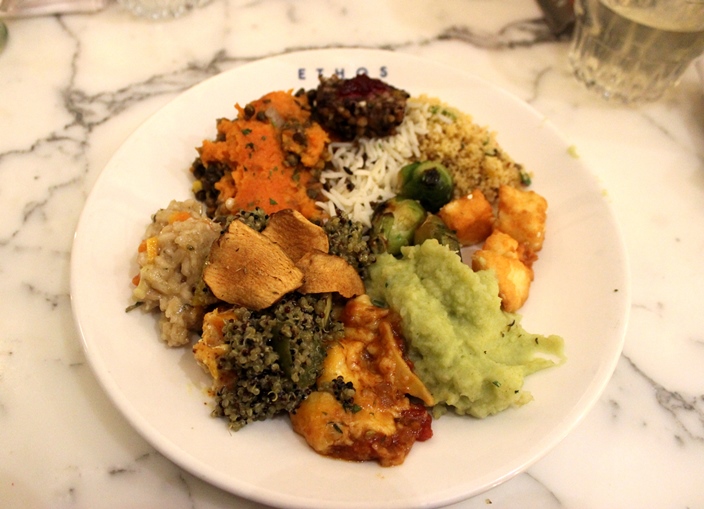 Steven went for the more decadent options of Squash, sage and chestnut risotto, Stilton and pear gnocchi, Dauphinoise potatoes and Artichoke-stuffed potato bites.  The only dish that didn't quite hit the spot was the Aubergine lasagne, which I found a little heavy on the garlic and overwhelmed with a dense layer of cheese.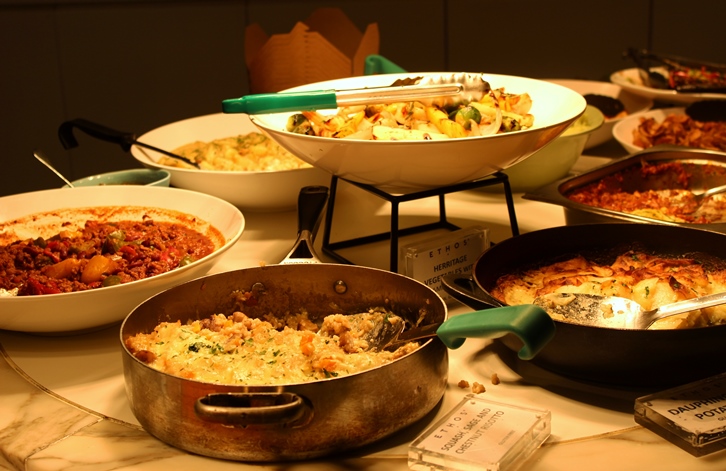 Dessert is a more modest affair – simply choose from an array of individually-priced cakes, tarts, brownies, slices and biscuits.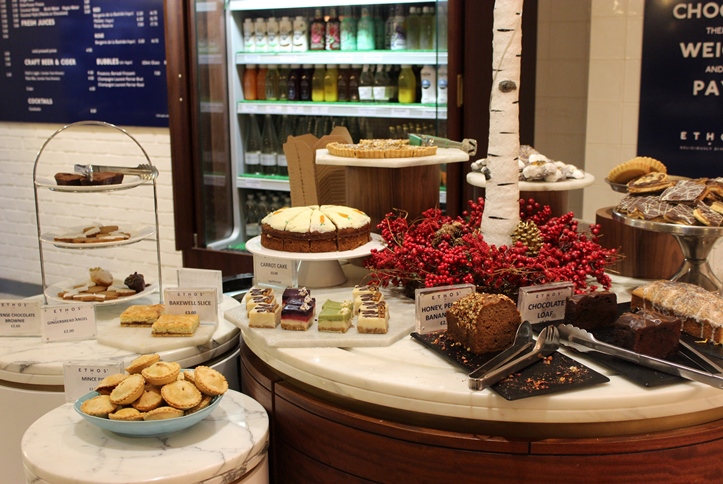 I was instantly drawn to the Raspberry, acai and coconut raw square – a delicious medley of smooth berries with a crunchy, oaty base that wasn't overly sweet.  Steven's Caramel millionaire slice was just heavenly and had a comforting home-baked flavour, even if it wasn't exactly a healthy option.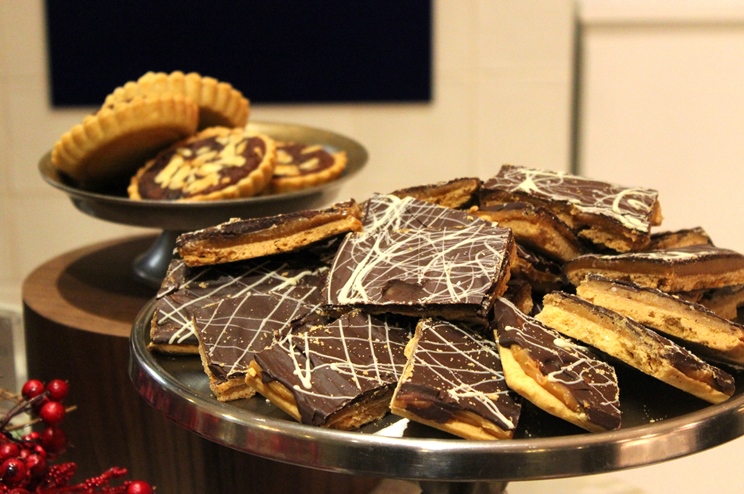 It's also worth mentioning that while Ethos is meat-free, the alcohol is certainly flowing with a decent selection of wines (vegetarian and vegan), bubbles and cocktails, as well as more virtuous smoothies and soft drinks.
Ethos is a great spot for a hearty refuel or a fun night out with friends.  When we visited, it attracted a smart crowd and was continually busy, plus the self-service element made it feel more sociable.  I can't wait to visit again and try more dishes, whether it's during Veganuary or beyond.
For more information and to book a table, visit: www.ethosfoods.com
Chérie City was a guest of Ethos
Photos by Chérie City (some interiors by Ethos)