On my recent trip to Paris, I arrived early on the Eurostar to spend the afternoon with my Parisian friend Coralie.  Steven joined later after work and so we had plenty of time for shopping and gossiping, just like the old days when we used to live in the same city.
For my stylish base in Paris, I was charmed by Hotel Adèle & Jules, a new four-star boutique hotel in the hip ninth arrondissement and booked my one-night stay through Expedia, but more on that shortly.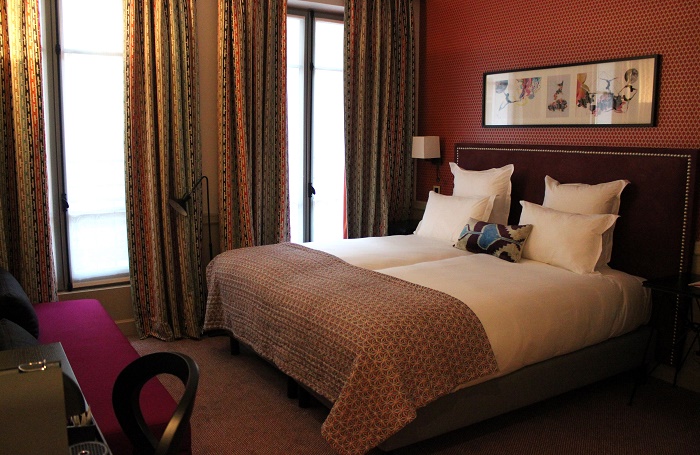 Coralie met me at the hotel and we headed out so she could take me around some of her favourite spots nearby and in the Marais.  Here are a few great addresses to check out when visiting Paris…
L'Appartement Sézane
Our first stop was the Sézane Apartment, the hip concept store by designer Morgane Sézalory.  Sézane began as an online fashion brand and the townhouse apartment in the second arrondissement beautifully showcases its offering (and you can buy everything directly).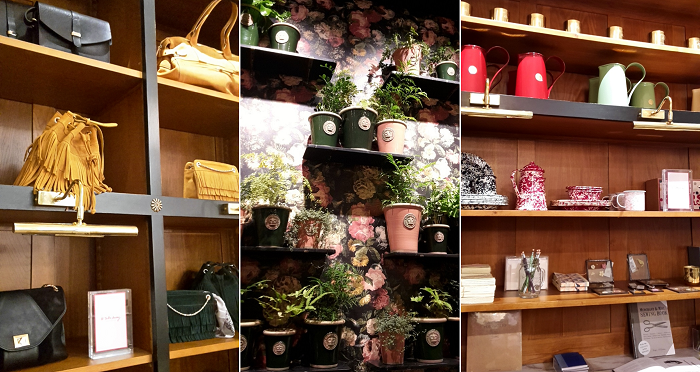 We filled our Christmas wish lists with Parisian chic clothes, stylish ankle boots and leather handbags. There's also a homeware section with guest lifestyle brands as well as exclusive Sézane collaborations.  Be sure to visit the petite cafe for a quick coffee on the go.
Leon & Harper
The shopping continued at Leon & Harper, just a few doors down from merci in the Marais.  It's a lesser-known brand than the likes of Sandro and Maje and its style is indie and cosy with a few quirky pieces like embroidered tees, Tyrolean-style knitwear and denim pinafore dresses.  The geometic and delicate gold jewellery is also on point and hard to resist.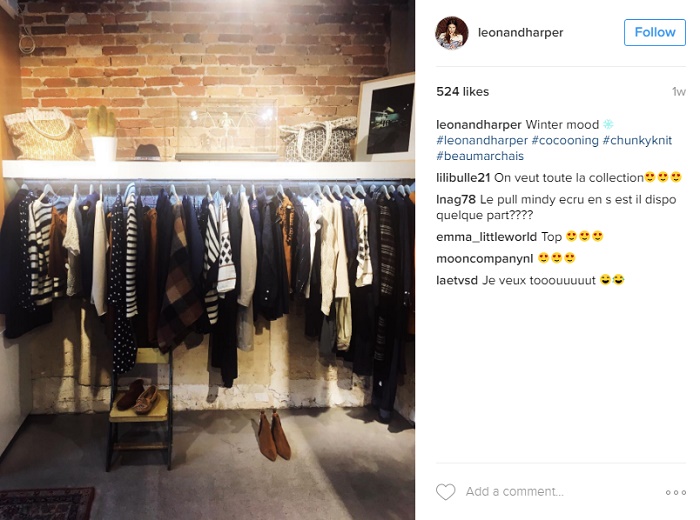 Rachel's Grocery
This new opening from Rachel's Pont aux Choux restaurant is the American deli that you dream of having in your neighbourhood.  Rachel became known in Paris for her amazing cheesecake and diner classics and now the grocery offers all of these delights to take away.  You can find proper New York hot dogs, home-made mac n cheese, toasted bagels, hard-to-find American food products and of course the famous cheesecake.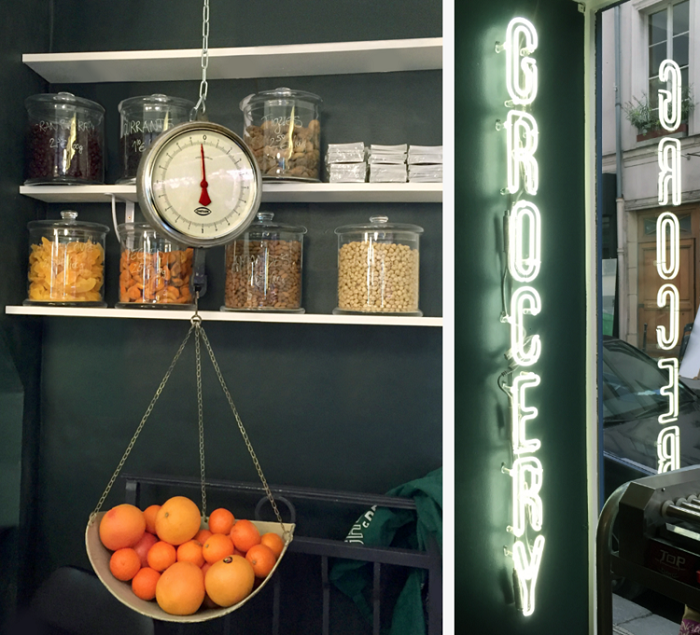 Maison Plisson
Another must for gourmands is the glorious food emporium Maison Plisson.  Often referred to as the Dean and Deluca of Paris, this food temple features a gourmet deli, charcuterie and cheese counter, wine cellar, bakery, cafe and terrace.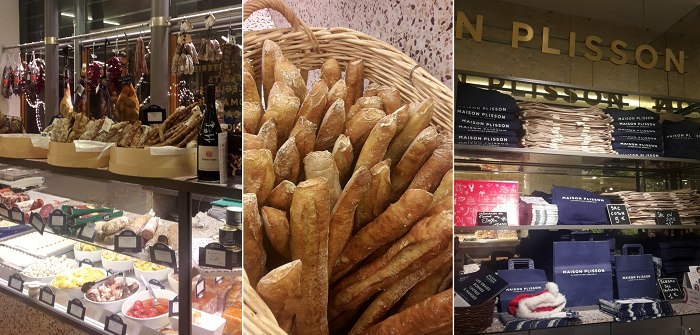 It's the perfect spot for a glass of wine with small bites in the evening or an indulgent weekend brunch.  You might also find it hard to pass the bakery without picking up a little something – the chocolate baguette is just heavenly.
Breizh Cafe
Breizh Cafe is a real Marais institution, where you can find authentic Breton crêpes and galettes at a reasonable price.  You might imagine that it originated in France, but in fact, chef and restaurateur Bertrand Larcher opened his first crêperie in Japan and it has since expanded naturally to Paris, Cancale and Saint-Malo.
It's a really cosy spot, with the feel of a rustic cabin – perfect for warming up on a cold winter's day.  I chose a Crêpe with chocolate and Chantilly cream and a signature Breizh Cola.  The crêpe was piping hot and golden with a generous drizzle of velvety home-made dark chocolate sauce that had a rich and bittersweet flavour.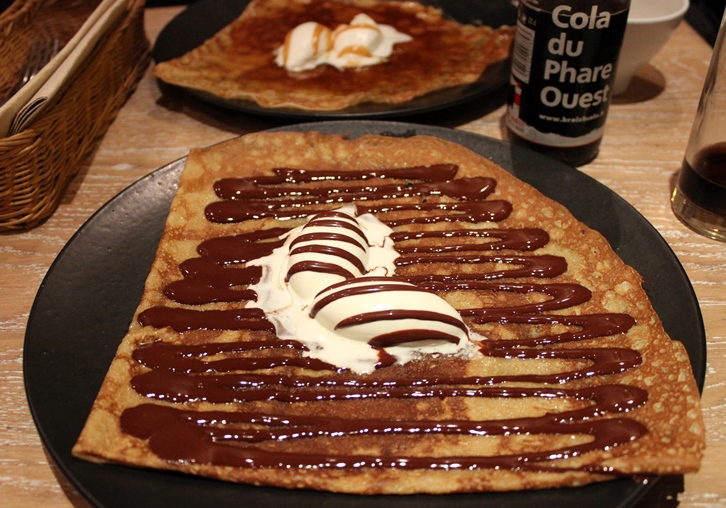 Having visited a number of times, Coralie picked the winning dishes, opting for a crêpe covered in Breton salted butter caramel and Chantilly cream with a traditional, full-bodied cider served in a little bowl.
After a bit more shopping, I headed back to Hotel Adèle & Jules to chill out before picking Steven up from Gare du Nord, a convenient 15-minute walk away.
My Boulevard Club Room was ever so stylish and colourful and because it's a recently-opened hotel, everything felt new and fresh.  I absolutely loved the vibrant design with cool Ankara and ikat textiles and a palette of vermillion, burgundy and magenta.  The fashion-inspired artwork, Far East-inspired wardrobe and typical Haussmann juliette balcony finish the look perfectly.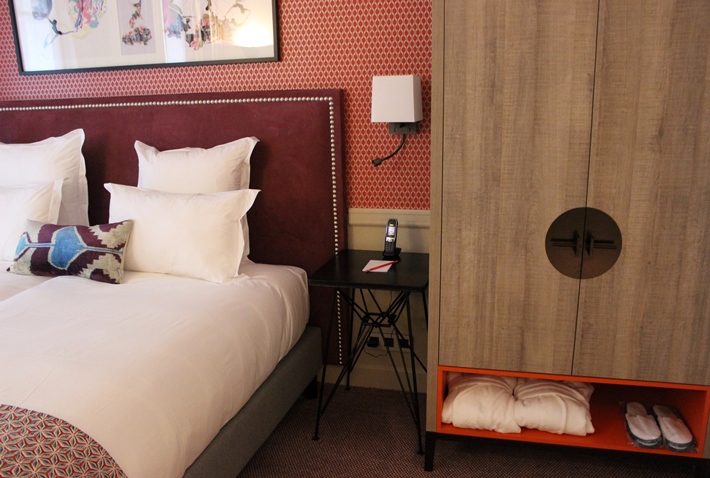 Room features include a large LCD TV (with a few more English channels than usual), a luxurious felt sofa, writing desk, bluetooth speakers, Nespresso machine and separate kettle with tea and coffee, complimentary bottles of Evian and of course free wifi.
The king-size bed was extremely comfortable and was covered in high quality bed linen with properly good pillows.  Since the hotel is neatly tucked away in a courtyard, we found it very peaceful and slept well.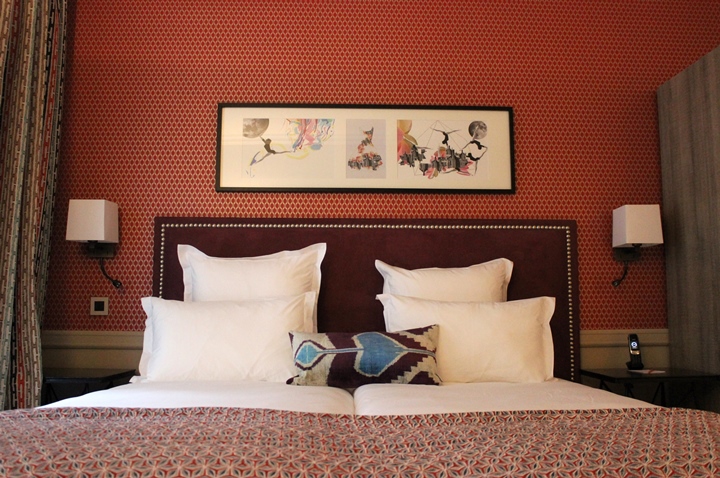 The bathroom was spacious and urban with pristine metro-style white tiles, shower, thick and fluffy towels, plush bathrobes and slippers and a full set of Fragonard bathroom products.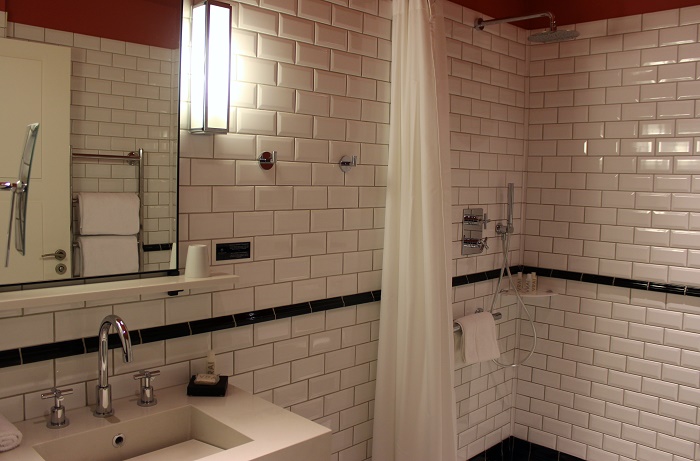 The hotel lounge is a cosy place to sit and relax and it also offers a little teatime treat of tea or coffee, fresh juice, mini pastries and biscuits.  As a small hotel, there isn't a restaurant, however the lounge has well-stocked honesty bar and I spotted some rather tempting room service being delivered to some savvy guests on my floor.  There are also some notable restaurants and cafes close to the hotel such as Richer, Mersea, L'Office, Cafe Pinson and La Crème de Paris.
I really fell in love with Hotel Adèle & Jules and recommend it if you're looking for a romantic urban bolthole with a homely feel and chic design in a vibrant neighbourhood.
Photos by Chérie City (some interiors by Leon & Harper and Rachel's Grocery).
Thanks to Expedia for supporting this stay.