Usually I tend to stay local for weekend brunch, but venturing out west to Shepherd's Bush last Sunday was an excellent idea.  Not only did we get to stroll around Holland Park, make a wish list of amazing townhouses and scour Daunt Books for new reading material, but we were very well-fed at Mustard.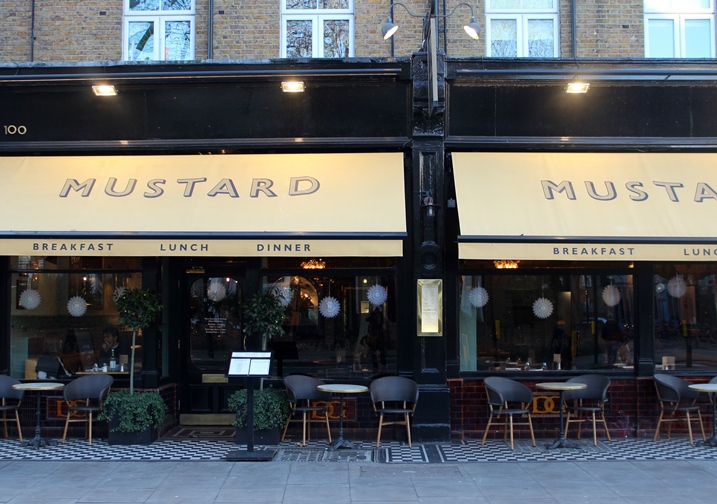 This cosy spot on Shepherd's Bush Road is an all-day British brasserie run by the people behind Covent Garden favourite Joe Allen.  It has a proper neighbourhood feel and everything is relaxed, from the soft jazz soundtrack to the laid-back staff and comfy window booths.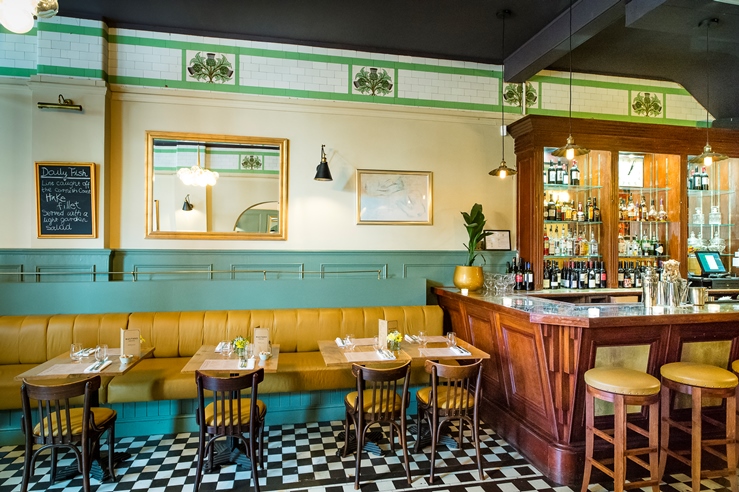 The weekend brunch menu is varied and interesting, with your typical eggs and breakfast dishes alongside fresh seafood, roast chicken, a healthy quinoa burger and mouthwatering small bites.  There are also a few lovely brunch cocktails, however we were in the mood for some warming English breakfast tea, which was nicely served in homely tea pots.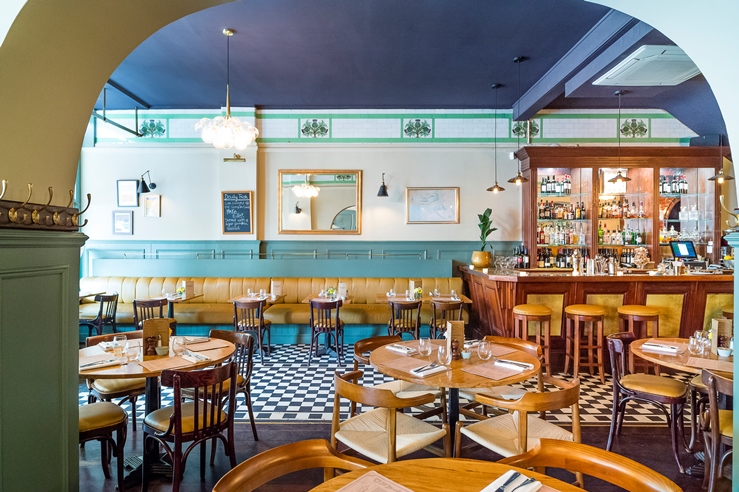 I couldn't resist going all the way and ordering The Full Mustard.  This posh yet hearty all-day breakfast was an absolute treat and perfectly indulgent for the weekend.  The poached eggs were well-cooked and buttery with a soft yolk (just like the ones my Grandma used to make) and the plentiful woodland mushrooms were lightly infused with a touch of garlic butter.
The streaky bacon was high quality and I liked the addition of both a roasted and baked beans, as well as golden toasted wholemeal bloomer.  Of course, you can't miss the enormous sausage taking over the plate!  It was deliciously smoky and clearly a gourmet sausage, however the sheer amount and its bold flavour slightly overwhelmed the balance of the dish.  A herby Lincolnshire sausage at half the size would help avoid feeling all sausaged-out.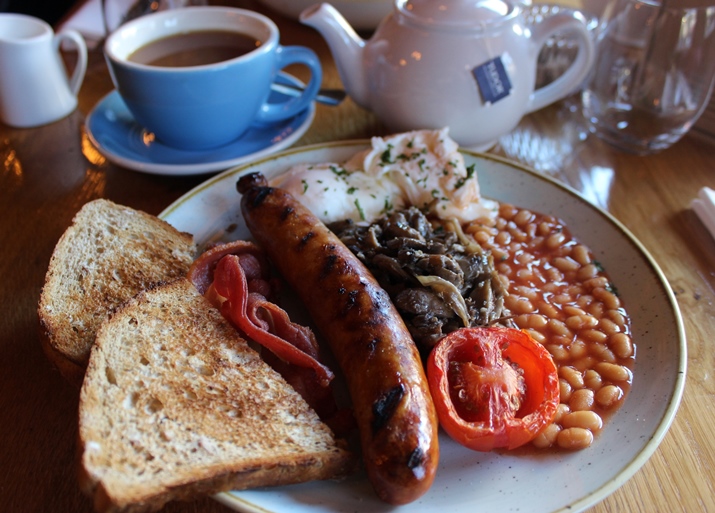 Steven's Prime rib burger with streaky bacon was so, so yummy!  Joe Allen is known for its secret off-the-menu burger and Mustard has clearly taken some pointers.  The flame-grilled burger was cooked medium-well yet it was still juicy, tender and lean with a smoky taste.
It was packed inside a fluffy glazed brioche bun with caramelised red onion relish, half a roasted tomato, lettuce leaf and a drizzle of signature mustard.  The fries were hot, crisp and golden, seasoned with just the right amount of salt.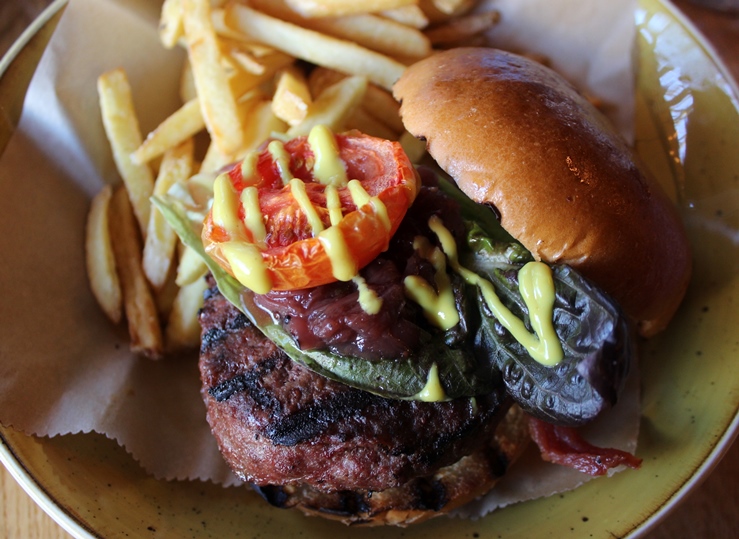 The dessert menu was a tempting mix of classic British puds and home-made cakes.  Lemon cake with yoghurt and poppy seeds was dense and moist with a generous drizzle of lemon curd sauce, tangy icing and super-creamy yoghurt, which made it even more heavenly.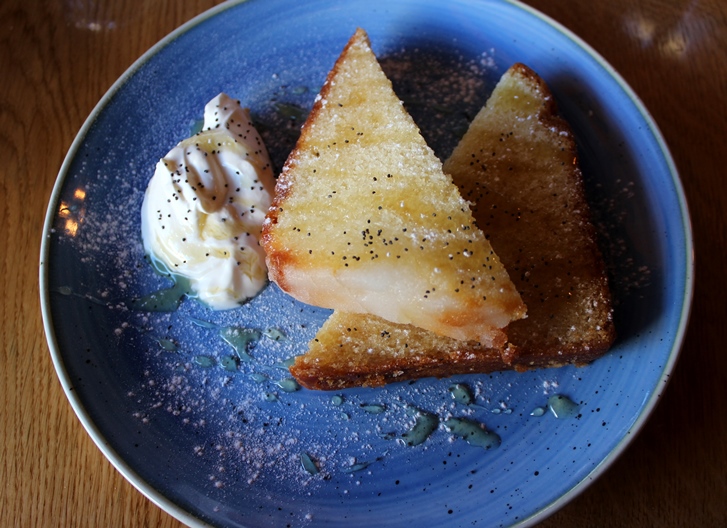 Carrot cake was also a hit, done in the proper American way.  It was rich and spicy, packed full of nuts and covered in velvety cream cheese frosting.  Every day at teatime, there's a special coffee and cake deal for £5 and I highly recommend it for a taste of these fabulous cakes.
Mustard is a wonderful spot for a leisurely weekend brunch, whether you're a 'Shey-Boo' local or visit as part of a day out in west London.  It's also very good value for the standard of food with many dishes under a tenner.  I can't wait to go back and try some of those roast chicken croquettes or a cheeky mac and cheese!
For more information and booking, visit: www.mustardrestaurants.co.uk
Chérie City was a guest of Mustard
Food images by Chérie City (interiors by Mustard)