Southern-style chicken is my ultimate comfort food and its doesn't come much better than at Ma'Plucker in Soho.  This colourful canteen on Beak Street (high five on that one) has acquired quite a reputation as a quality cheap eat and I was completely won over when I visited for a quick chicken fix last week.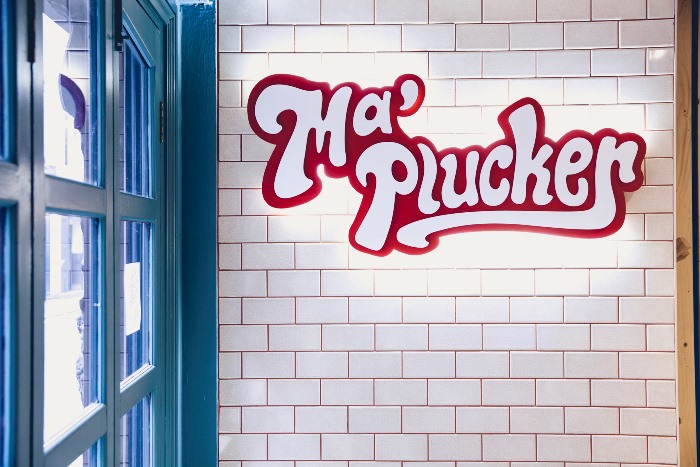 Ma'Plucker keeps it simple with its 3-way chicken concept – well, that's what you're there for, right?  Choose from three types of chicken (or a crispy coated halloumi cheese fan), then add one of three bases and a mouthwatering sauce.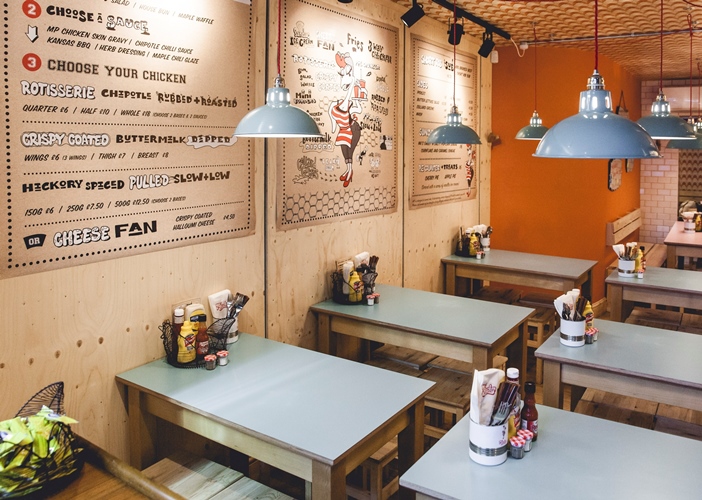 There are also a few main courses to choose from including Chicken Caesar salad, Buttermilk dipped chicken wrap and Sylvia's Love Bucket – a proper feast to share.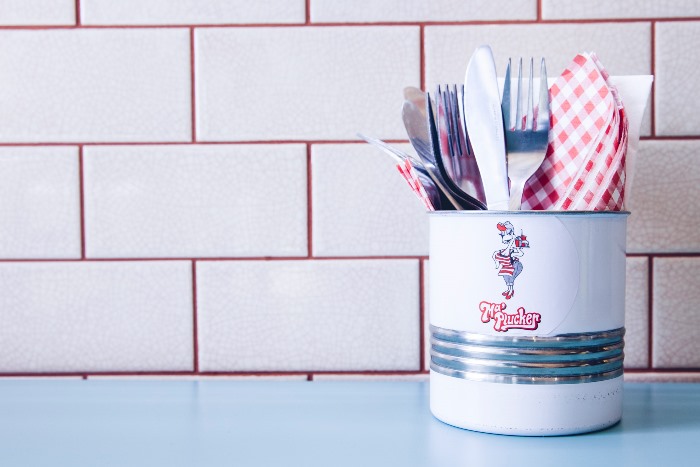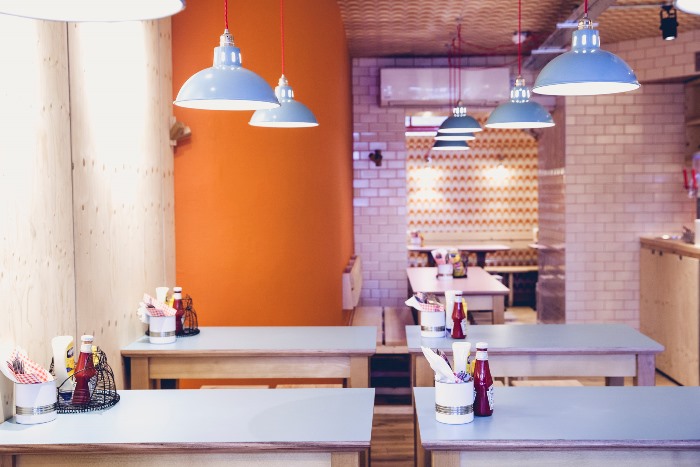 I couldn't resist the Crispy coated buttermilk dipped chicken breast with a freshly plucked salad and herb dressing.  The prime chicken breast strips were covered in crunchy, herby breadcrumbs and were succulent, non-greasy and plentiful.
Seeing the enormous portions sizes of the chicken and maple waffles coming out of the kitchen, I think I made the right choice with the accompanying fresh leaf salad with grated carrot and a tangy, mouthwatering herb dressing.  I also loved the onion and garlic dip that came with the chicken and liberally doused it over the chicken.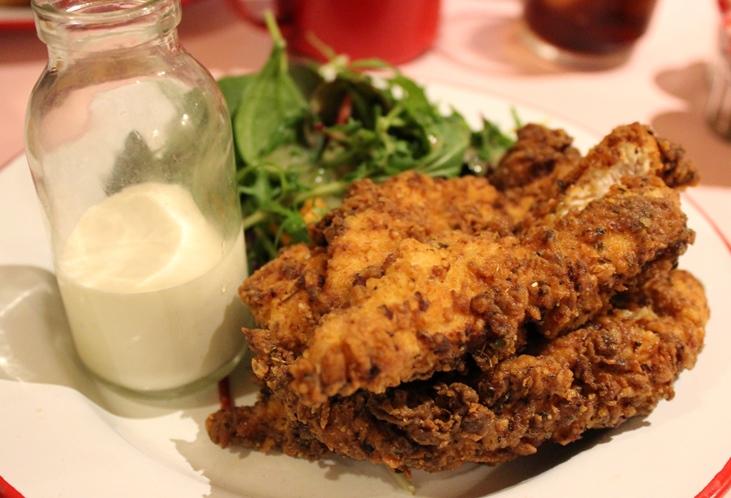 Steven tried the Hickory spiced pulled slow & low chicken (250g) and paired it with a brioche bun base and Kansas BBQ sauce.  The pulled roast chicken was so tender and well-marinated in a sticky, tangy BBQ sauce and the bun was fluffy with a buttery glazed top.
This kind of chicken didn't really require a sauce, as it was already juicy enough, but the Kansas BBQ sauce came in handy for the side of fries.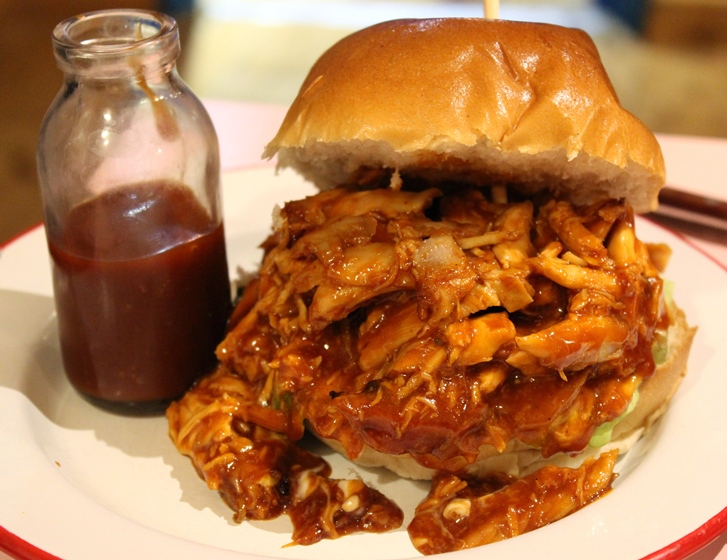 The side dishes are very tempting and we were both wowed by the indulgent Crack & Cheeze.  The gooey, velvety mac and cheese ball was served piping hot and covered in golden panko breadcrumbs.  The cheese and cream flavours were perfectly balanced and avoided being overly rich – I could have greedily devoured it all but it is actually big enough to share.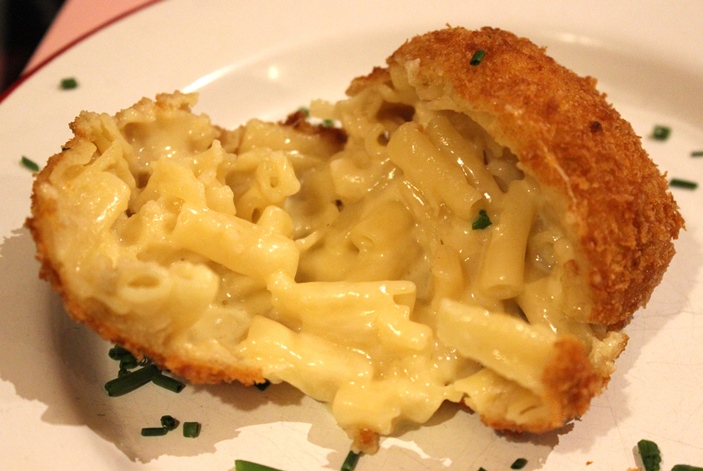 Fries were just simply fries – not triple-cooked, skin-on, skinny or posh.  Saying that, they were hot, crisp, tasty and just what we wanted to go with our chicken.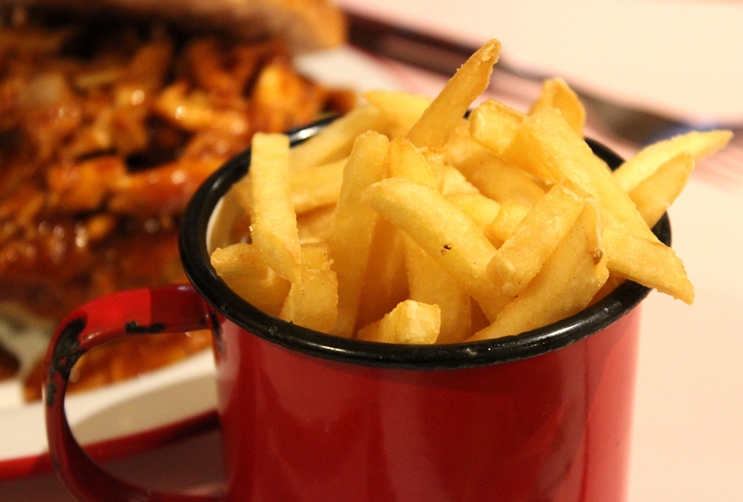 Desserts at Ma'Plucker are more than simply an after-thought and it's definitely worth saving some room to try them.  Our waitress recommended the Chocolate brownie and it was a slice of heaven – in fact, it reminded me of proper brownies that I've had in the US.  The brownie was airy and moist with a slightly flaky crust and was drizzled with glossy chocolate sauce.  What can be better and more homely than that?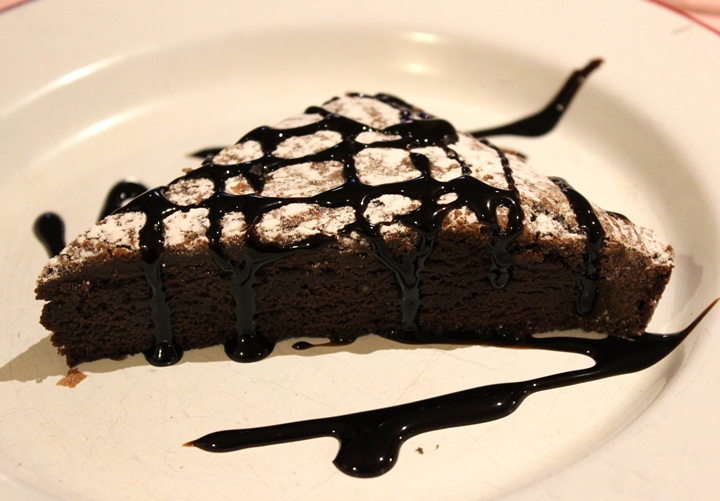 If the brownie was subtle and moreish, then the Mini doughnuts with caramel sauce packed a crazy punch. A sundae glass was filled with freshly-made, sugar-dusted bites of joy that tasted like fairground doughnuts. An insanely sweet and smooth caramel sauce was served in a mini milk bottle and there was even a generous dollop of it at the bottom of the glass.  After finishing this dessert, I was on a real sugar high and felt a little delirious walking around Soho.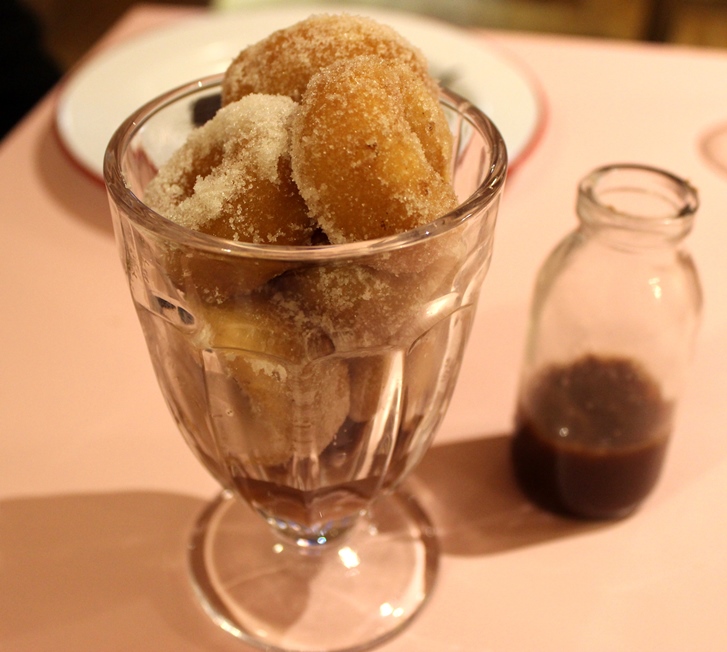 Ma'Plucker is a real gem among a cluster of more serious and grown-up foodie spots.  It's also pretty accommodating, offering reservations rather than the usual walk-ins only as well as take-away collection and delivery within Soho.
This chicken restaurant really impressed and I actually think it would make a brilliant boutique chain across town, particularly in Shoreditch or Brixton.  I'm already plotting another visit to indulge in some of those giant waffles with chicken skin gravy and a big ole' sundae.
Chérie City was a guest of Ma'Plucker
Food images by Chérie City (interiors by Ma'Plucker)