I've always been curious about ayurveda and how it brings the body, spirit and mind into harmony.  It's a fascinating way of life and its techniques and teachings are at the core of holistic beauty brand Aveda.
For years I've been using Aveda, particularly its haircare collection and calming oils, so I was excited to discover its highly-anticipated new skincare range, Tulasara.  The name Tulasara means 'moving towards balance' in Sanskrit and that's exactly what the range seeks to achieve.
Aveda consultants Drs. Vinod and Kusum Upadhyay describe balanced skin as 'the absence of negatives; it is free from stress and looks healthy and beautiful'.  The daily demands of life such as stress, anxiety and lack of sleep, not to mention pollution if you live in the city, can really take their toll on the mind, body and skin. Tulasara has therefore been created to restore balance and offer a mindful ritual that you can take pleasure in.
The facial dry brush is the first part of the routine to gently exfoliate dry and dull skin cells.  Dry brushing is an ancient Ayurvedic technique known as 'gharsana' and it also helps eliminate toxins and impurities from the body.
The brush is so soft and luxurious with contoured bristles, so you can give your skin a deep massage or a quick brush to stimulate circulation.  I found it quite easy to incorporate it into my routine, as it really wakes up my skin, prepares it for absorbing the products and doesn't require a lot of effort.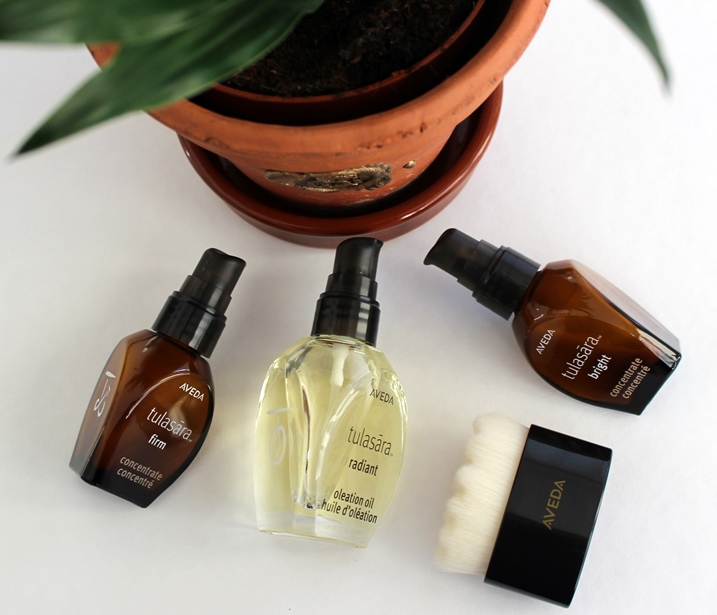 Tulasara Radiant Oleation Oil is a gorgeous pre-cleansing oil that really nourishes and calms the skin with a blend of six plant oils.  I can't explain it, but the pleasant aroma reminds me of the hot, dry wood of a sauna – perhaps it's the combination of rosehip, apricot kernel and sweet almond oil.
Leave on the oil for at least four minutes and glide it across the skin with a thorough facial massage to promote radiance (you can even wear it overnight for an intense treatment).  It's suitable for all skin types, however unlike some oils, it doesn't emulsify when splashed with water, so you will definitely need to follow with a good cleanser.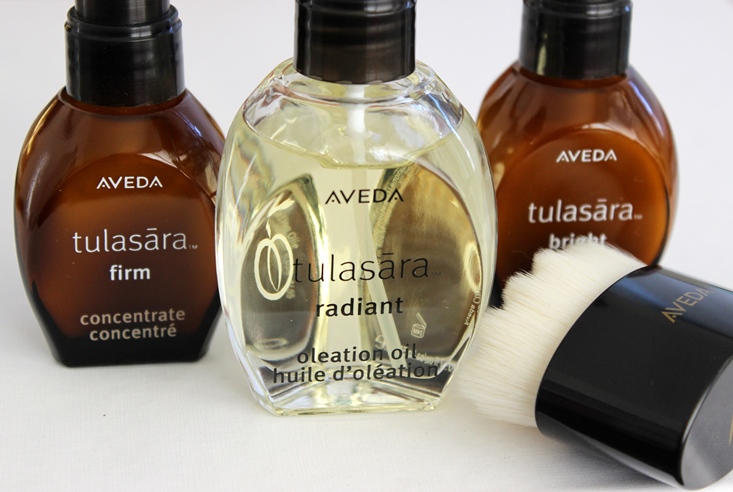 The collection also features three beauty concentrates – calm, firm and bright.  I tested two and was so pleased with the results that it was hard to pick a favourite.
Tulasara Bright Concentrate feels instantly uplifing with a zingy citrus aroma and a very light serum texture.  It's targeted to help even and balance the skin, reducing pigmentation and promote cellular turnover.
So far, I can tell that it has helped brighten my skin and subtly reduce the appearance of pigmentation, dark spots and redness.  I also like that it's easy to wear under moisturiser and make-up, as some serums can feel too sticky.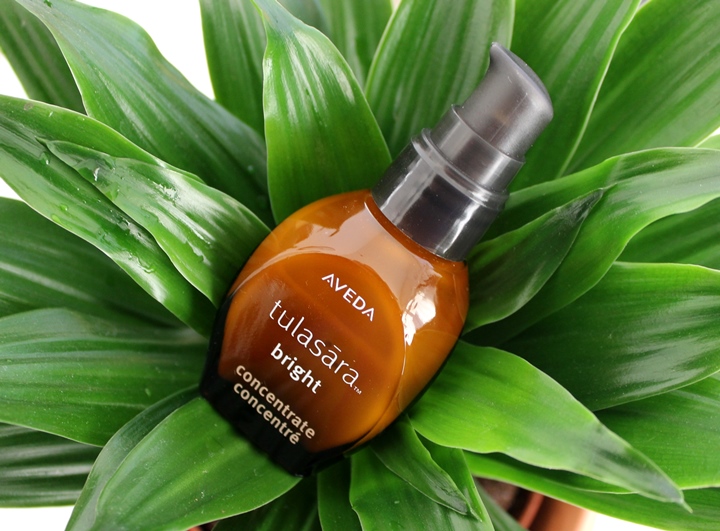 Tulasara Firm Concentrate is also super-effective, this time for anti-ageing, smoothing out fine lines and wrinkles.  Bio-fermented peptides, almond seed extract and safflower oleosomes deeply hydrate the skin, leaving it feeling plump and healthy.
The texture of this concentrate is also different – more like a silky lotion – and it has an earthy, rich aroma.  The concentrate is easily absorbed and feels very hydrating.  I often like to use this one at night when my skin is thirsty and I wake up feeling the benefits.
The Aveda Tulasara range is perfect if you love natural skincare that restores balance and leaves you feeling good.  For more information and to buy online, visit: www.aveda.co.uk
All photos by Chérie City
Samples