Last weekend, I hopped over to Berlin for a magical night out at the cabaret.  However, it wasn't the kind of decadent, kitsch show you might expect to find in Berlin – Chamaeleon Theater is all about 'new circus'.
The whirlwind trip started with an early morning Eurowings flight, where I met the other lovely UK bloggers.  After an easy journey from Tegel Airport into the city using the Berlin Welcome Card, we checked in to the Scandic Hotel Potsdamer Platz, but more about that shortly.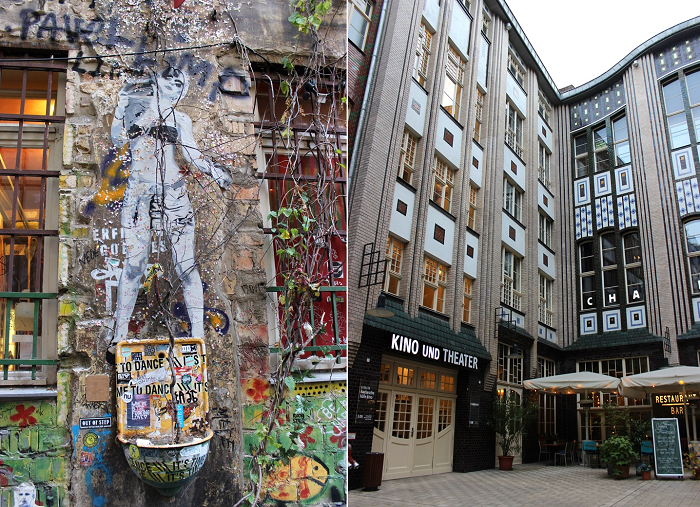 Our first stop was lunch at Oliv Eat, a stylish, healthy eatery just 15 minutes walk from the hotel on Potsdamer Strasse.  It's in a quiet yet creative neighbourhood next to Acne Studio and the famous variety theatre Wintergarten, as well as a cluster of art galleries.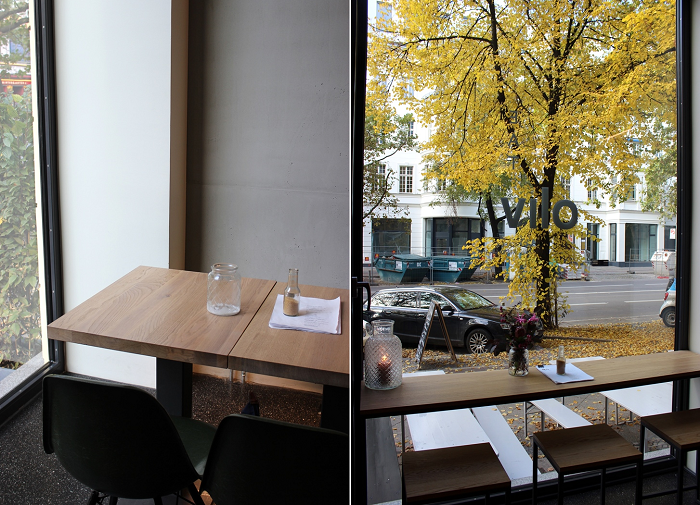 The menu is a mix of all-day breakfast dishes as well as larger plates and home-made cakes.  I had Avocado on sourdough toast, which included chunky avocado with a lemon dressing and the most delicious bakery-fresh bread and a perfect poached egg.  The others also enjoyed their colourful quinoa bowls and warming home-made soup.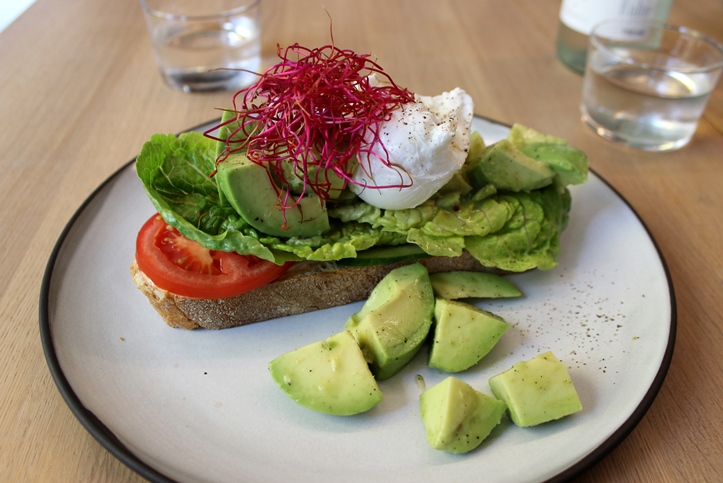 After a quick look around Potsdamer Platz, we drove over to Rosenthaler Strasse in Berlin's hip Mitte district for our night at the theatre.  Chamaeleon Theater is tucked away in the Hackesche Höfe, a large complex with eight curious interconnecting courtyards.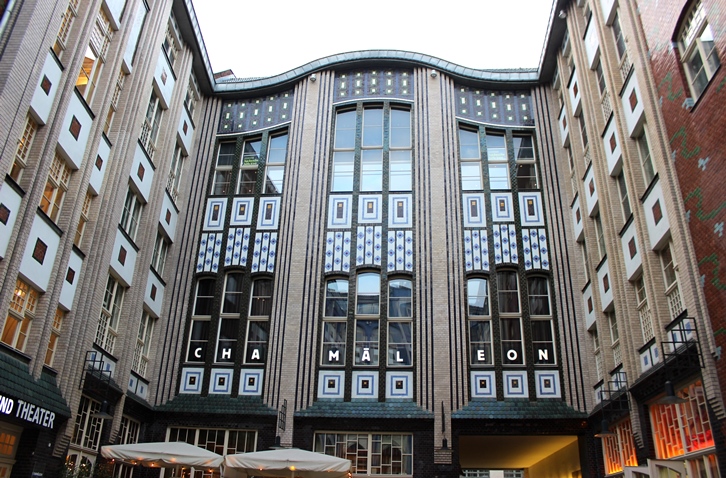 The former ballroom was built in 1906 and its original Art Nouveau facade with decorative tiles has luckily survived until this day.  Inside, the theatre is set up in a cabaret style with table seating and you can enjoy a full meal or antipasti board ahead of the show.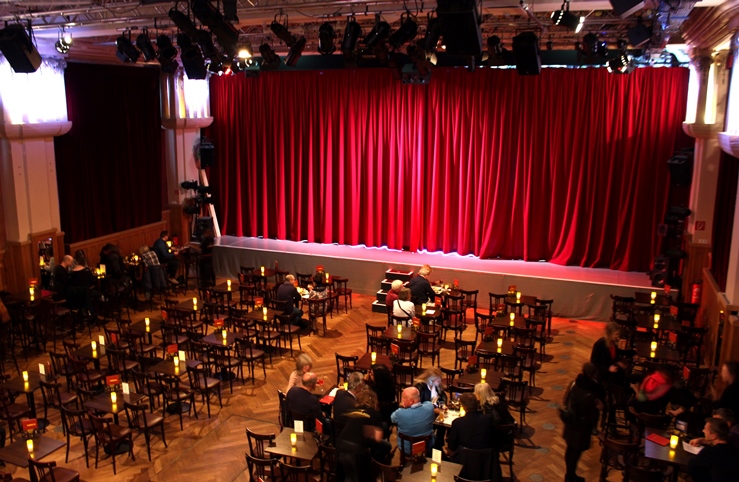 We met with the brilliant team behind the theatre and German bloggers over Champagne and nibbles on the newly-renovated balcony before heading down to our seats ready for the show.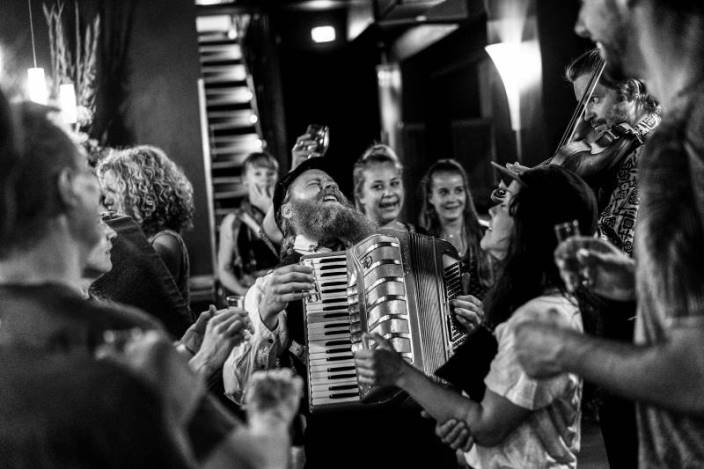 The programme at Chamaeleon Theater changes twice a year and the current show is UNDERART: Ode to a Crash Landing, performed by Swedish new circus company, Cirkus Cirkör.  To say the show is an understatement – it's awe-inspiring, moving, jaw-dropping and very cool.  A real must-see, especially in this characterful venue.
The concept of the show is about overcoming the trauma of a crash and working back to a good place.  Director Olle Standberg broke his neck doing a triple somersault in 2005 and was paralysed from the neck down.  The show is based on his experience and begins with a harrowing expressive dance interpretation of his life-changing condition.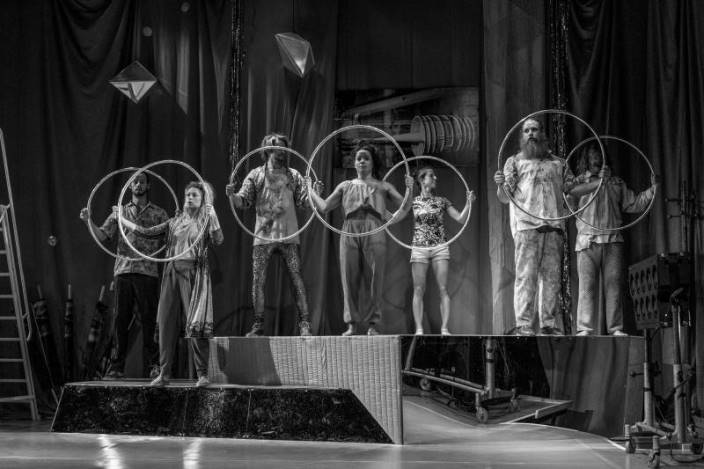 However, the show is much more uplifting than it may sound, even though I almost cried during one of the more emotional moments.  It's a stunning mix of dance and gravity-defying acrobatics set to mesmerising live electronic and acoustic music (think Goldfrapp and Fever Ray with a dash of lo-fi indie).
Now, I won't spoil the surprise too much, but there are some real 'wow' moment, as the agile performers leap off each other's shoulders, balance on wooden stilts, hang suspended from the lighting rig and end up submerged in water upside down.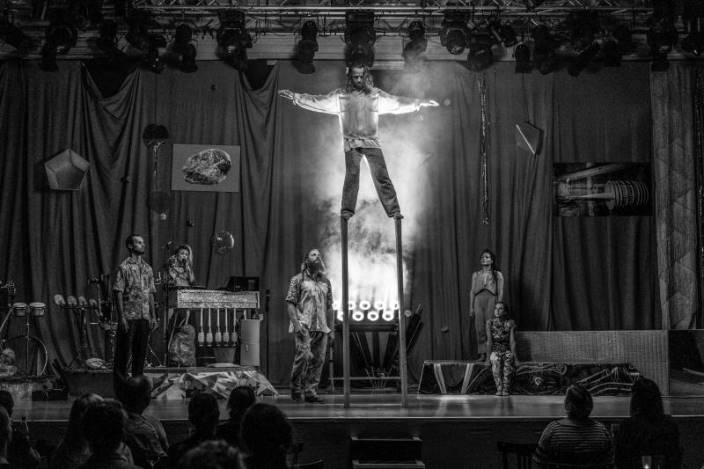 After the show, we had the chance to meet some of the performers at the bar and they really are such magnetic, interesting people.  They all arrived at the new circus company from different disciplines – Anna Ahnlund is a musician who found participating in the acrobatics a fun challenge while Methinee Wongtrakoon started as a contortionist and combines these impressive skills with dance.  The company is one to watch and I can't wait to see what they come up with next.
We then met with a tour guide who took us on a night walking tour of Berlin, passing sights such as Museum Island, the Berliner Dom, Hackescher Markt, Berlin Public Library, the River Spree and even Angela Merkel's apartment building.  It was a great way to see some of the city's highlights in less than an hour and prepare our appetite for our evening meal.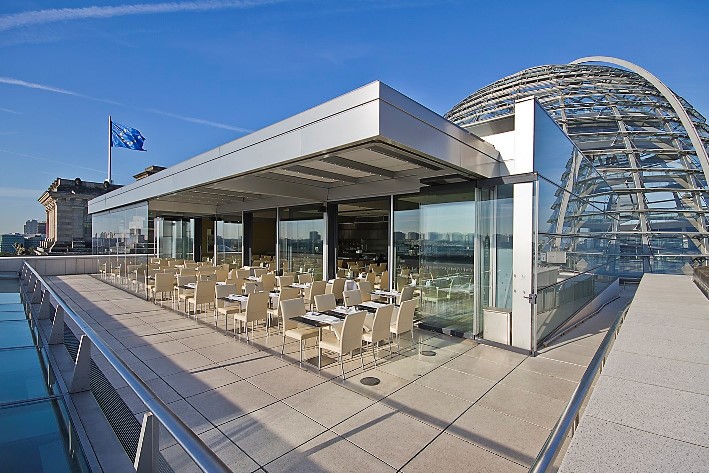 Dinner was a suitably spectacular affair at Käfer Dachgarten-Restaurant Berlin at the top of the Reichstag.  Even at 9pm, there were queues for a tour of the historic German parliament building, but you're able to skip the lines by dining at the high end restaurant (an early breakfast is a popular option).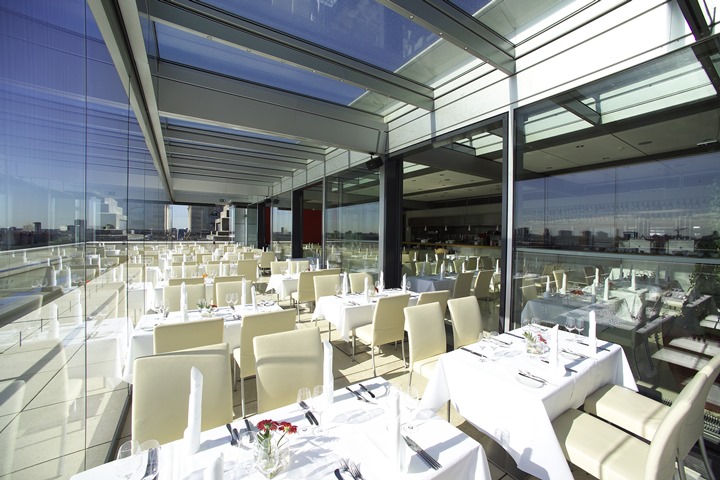 The rooftop boasts some amazing views over the city and the glass dome looks magical lit up at night.  Just like Norman Foster's iconic glass dome, the restaurant has a sleek contemporary style and the menu is modern German to match.
We started with a warming, velvety Asian-style Hokkaido pumpkin soup with styrian oil and roasted sunflower seeds.  I couldn't help mopping it up with many slices of excellent German rye bread with salted butter, as I was feeling really peckish after the walking tour.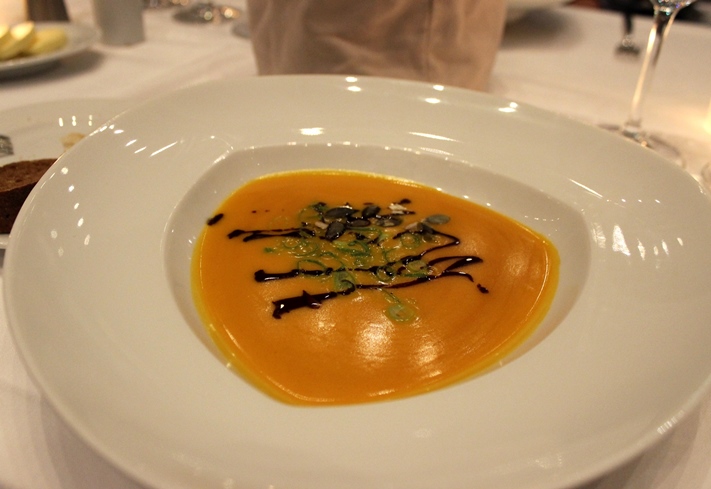 Next up was a super-indulgent Saddle of beef with Caesar crust, creamy savoy cabbage, carrot terrine, potato and hazelnut purée and Dijon mustard sauce.  The beef was tender and juicy and the creamy, garlicky accompaniments and rich red wine mustard sauce complemented it well.  Surprisingly, the portion size was enormous – it could have easily been halved – and I struggled to finish it.  Be sure to bring your appetite and a stretchy waistband!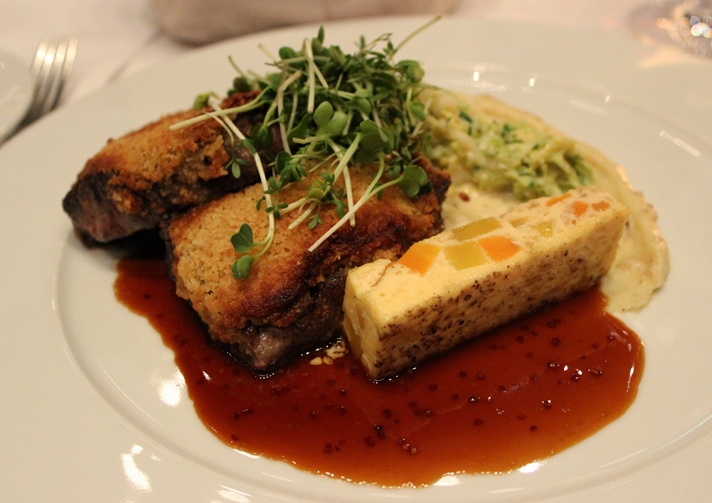 Dessert was more dainty yet still elaborate – Valrhona chocolate mousse with pear sorbet and rosehip pears. The chocolate mousse was exemplary and I loved the tiny, chewy chocolate macaron, dark chocolate curl and the refreshing, sweet pear sorbet.  We finished the meal with coffee and tea served in cute ladybird china and left feeling full and happy.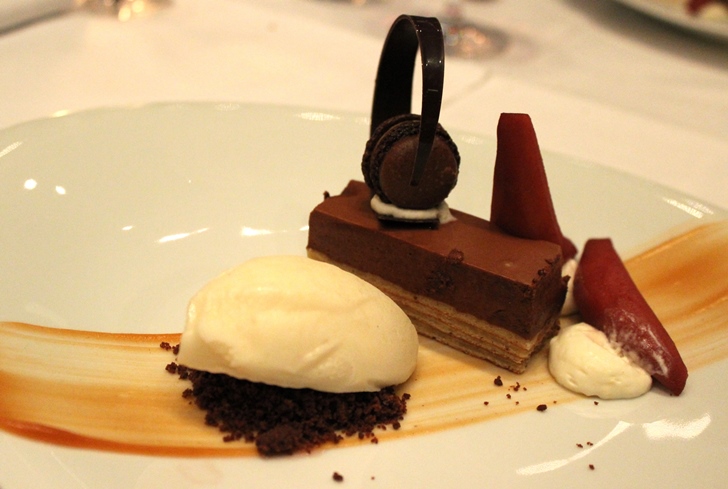 After dinner, we arrived back at the Scandic Hotel Potsdamer Platz, ready for some much-needed sleep.  This enormous, shiny hotel on Potsdamer Platz has a contemporary Scandinavian style and is the most eco-friendly hotel in Berlin.  It also brings a touch of nature to the city with fun features such as birdsong in the lifts, tree trunk patterned carpets and majestic elk Lasse guarding the hotel.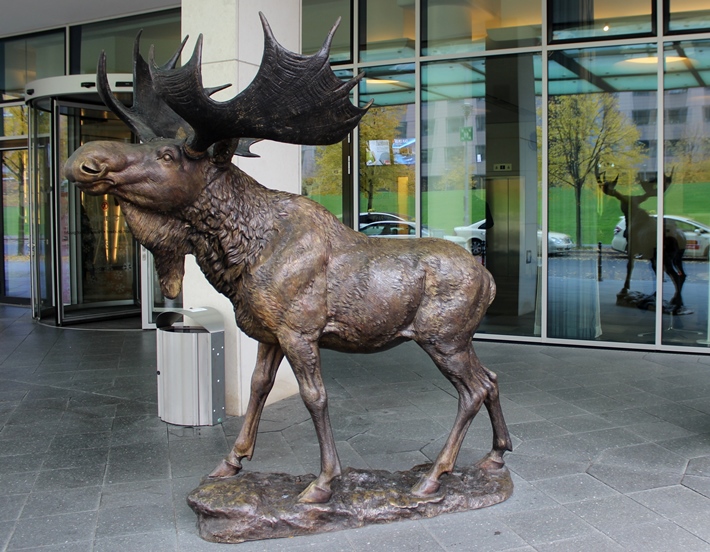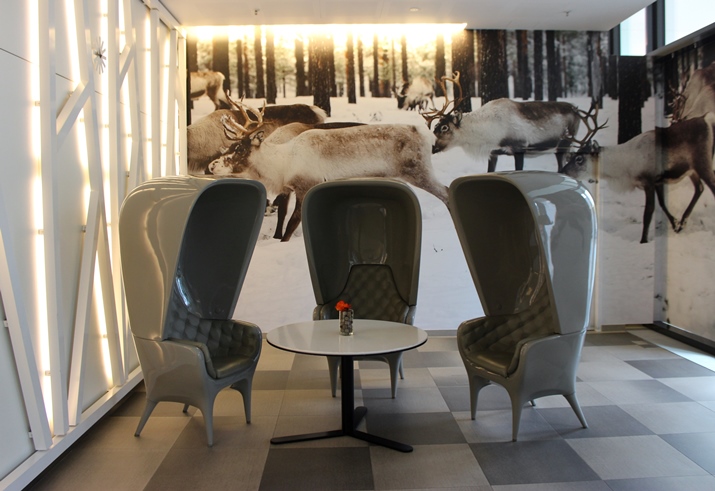 My Superior Room was spacious yet cosy with a comfortable bed, large LCD TV, floor-to-ceiling windows, a rustic shearling-style chair, tea and coffee making facilities and best of all, a complimentary minibar stocked with premium soft drinks, water, wine and beer.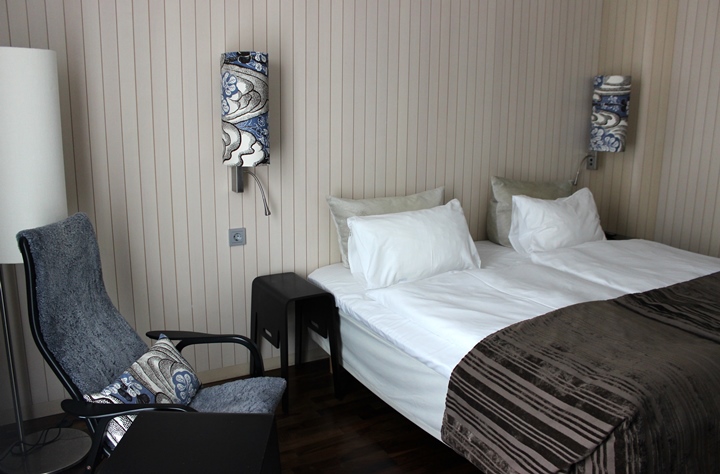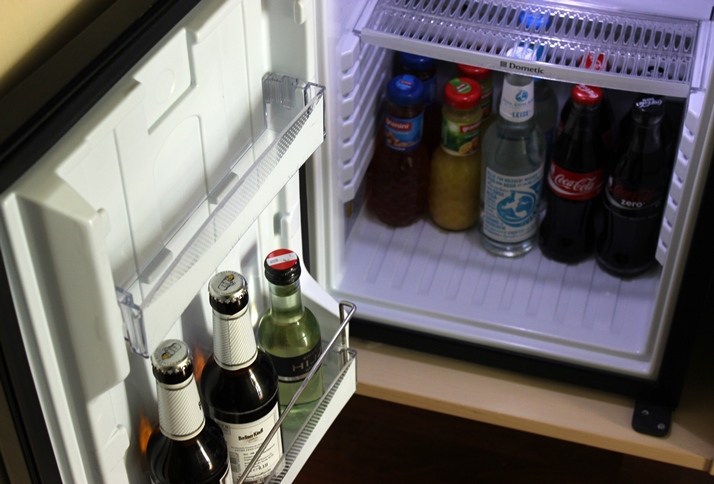 The bathroom was also modern and pristine with a bath and shower, a decorative nature window and wall-mounted bathroom products by Face Stockholm.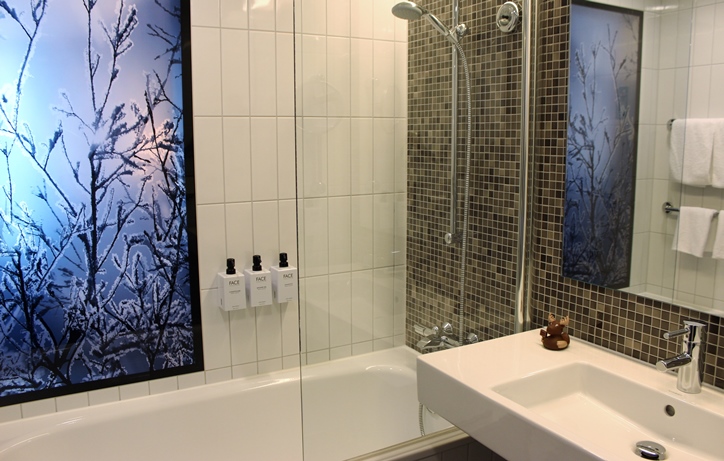 A perk of staying at Scandic Hotel Potsdamer Platz is the amazing buffet breakfast.  The third-floor dining room is huge with a number of stations filled with over 150 breakfast items.  There's a hot selection of dishes, cured meats and cheeses, cereal, yoghurt, mini pastries, different breads and plaited brioche and the most delicious iced lemon cake.  Guests with allergies or intolerances are also well cared for with a whole area dedicated to gluten- and dairy-free items.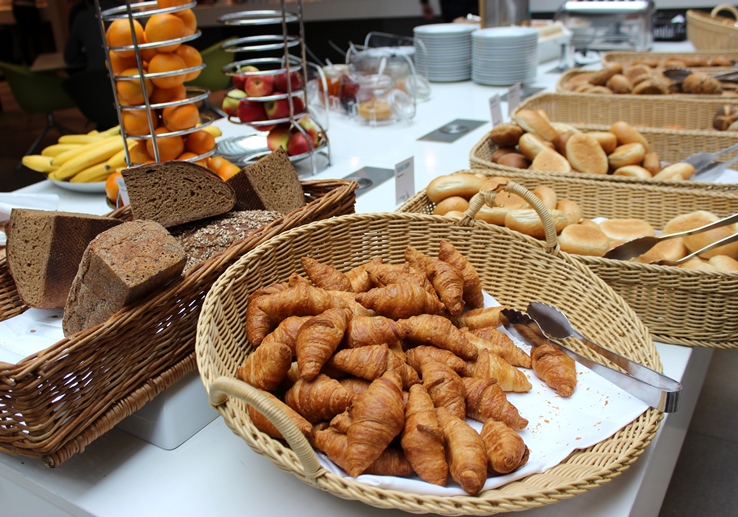 My 24 hours in Berlin were so magical and it reminded me just how much can be packed in to a small amount of time.  It's the perfect itinerary for a memorable night out in Berlin
Many thanks to Chamaeleon Theater, Käfer Restaurant and Scandic Hotel Potsdamer Platz for an amazing time in Berlin.
Photos by Chérie City (interiors by Käfer Restaurant and UNDERART images by Chamaeleon Theater).