Renowned Korean director Park Chan-wook's erotic thriller The Handmaiden is a stylish film that grabs you right from the start and keeps you captivated throughout.
Set in 1930s Korea under Japanese rule, conman Count Fujiwara (Jung-woo Ha) enlists pickpocket Sookee (Kim Tae-ri) to help him defraud a beautiful, vulnerable Japanese heiress, Lady Hideko (Min-hee Kim).  They plot to coax her into falling in love the with the Count, who will then marry her, declare her insane, have her locked up in a mental asylum and then pocket her vast wealth and give Sookee her generous cut.  His offer is too tempting to resist and streetwise Sookee travels to the countryside to work as Hideko's handmaiden.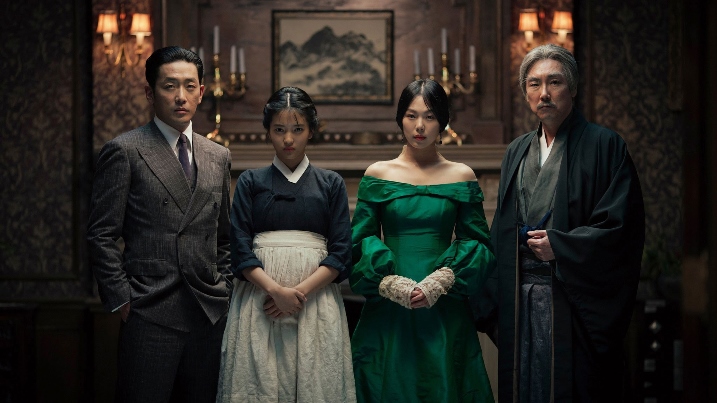 Hideko is instantly trusting of her new aide and the Count makes numerous visit to woo her through painting lessons and cosy dinners, even winning over her seemingly bookish and secretly perverted Uncle Kouzuki (Jin-woong Jo).  Despite reservations of not being in love with the Count, Hideko agrees to marry him and they go to elope in remote Japan with Sookee in tow.  After almost a week of cabin fever in the forest, Hideko is taken to a mental asylum to be sectioned and betrayed by the two conspirators, but all doesn't go according to plan.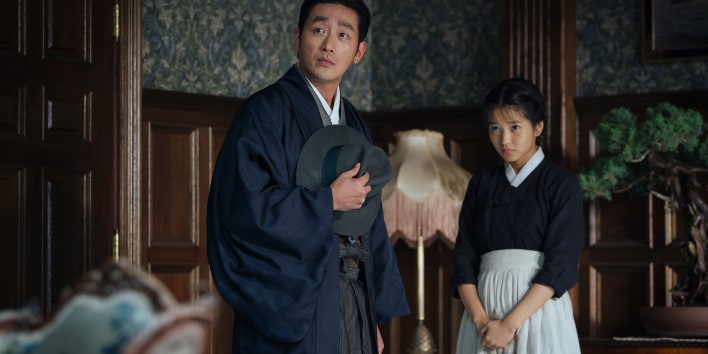 This is where the film takes a dark twist and reveals the layers of duplicity in the story.  At first it's a simple story set almost entirely in the creepy old manor house with beautifully-shot scenes, exquisite costumes and sexual tension that is only slightly released.  In the second and third part, it becomes much more sinister and a different side of the characters is revealed.  Cue an intense, electrifying (though rather gratuitous and eventually laboured) lesbian sex scene, ultra-violence and lashings of sadism for this extreme development of the story.
The relationship between the two women, from companionship to sexual desire and romance, is the lasting impression from the film.  The Count's brash male dominance and egotistical advances are futile against the two women's deep connection and loyalty.  In fact, the Count and Uncle become powerless as the women liberate themselves from their tyranny.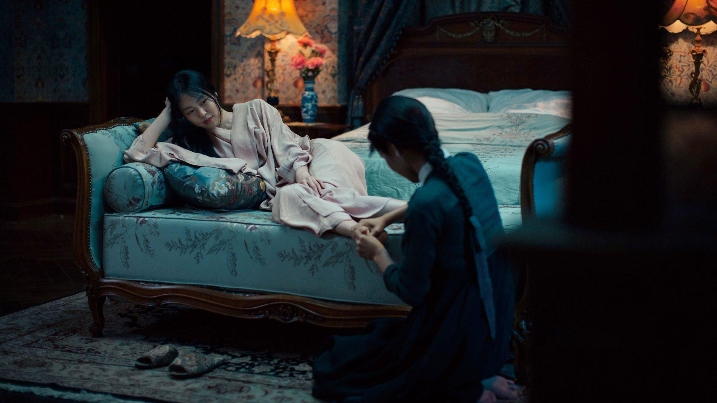 The Handmaiden is a sensory feast with stunning cinematography, a perfectly-crafted score and memorable performances from the mesmerising Min-hee Kim and rising star Kim Tae-ri.  There are a few moments of unnecessary repetition in an already lengthy film, but overall it packs a punch and is sure to thrill.  Just don't expect a polite Korean period drama, it's a whole lot weirder than that!
The Handmaiden is showing on Friday 7th and Saturday 8th October at Embankment Gardens as part of BFI London Film Festival 2016.