It's a rare joy to discover a hotel that makes you feel truly at home with the comforts that you miss when travelling.  Hotel Square Louvois in the centre of Paris has only been open since August, but it's already a slick operation with super-friendly staff, thoughtful amenities and seriously covetable interiors by designer Leslie Gauthier.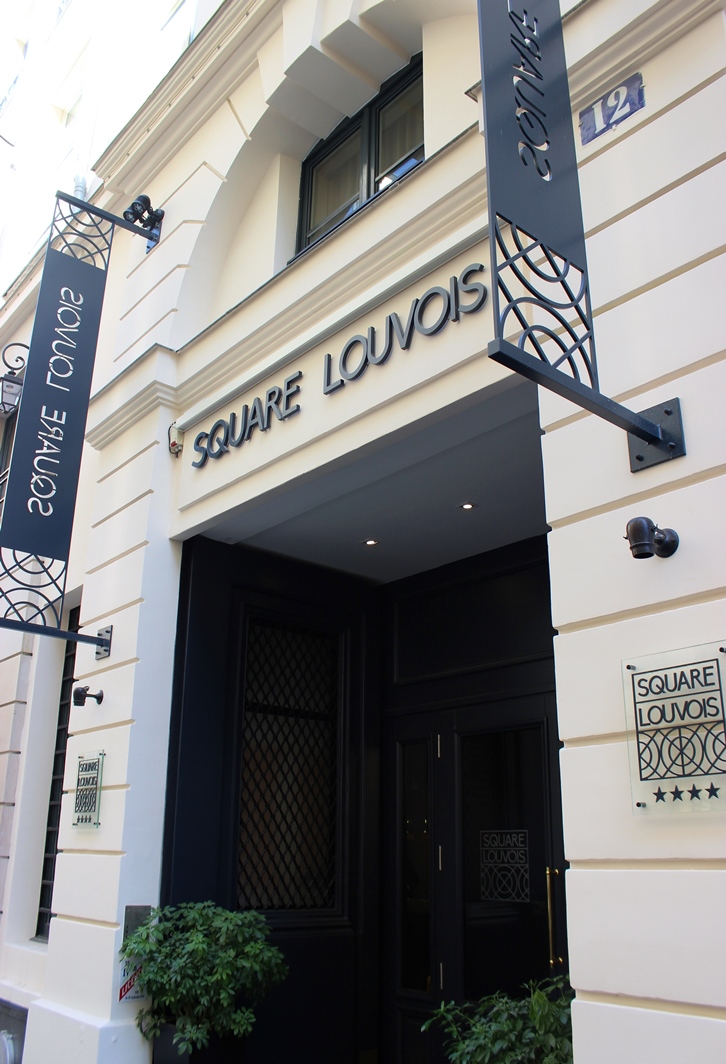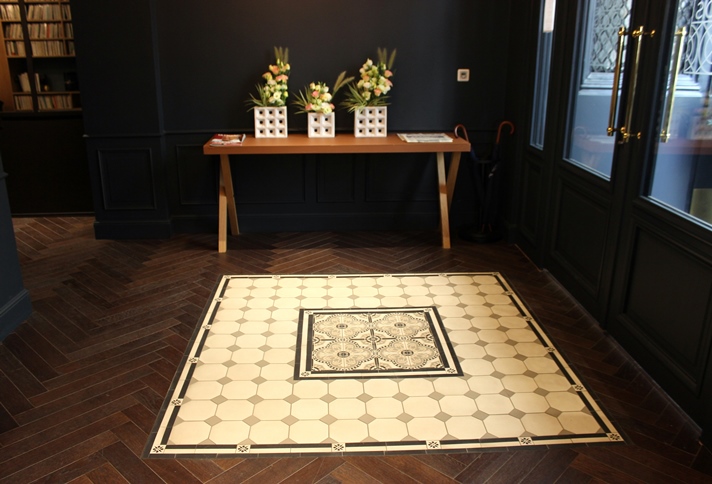 This four-star contemporary design hotel overlooks the peaceful, leafy Square Louvois and is conveniently close to the Palais Royal, Louvre and Opera.  I thought I knew central Paris pretty well, but Square Louvois was a new discovery – apparently its elegant residences hosted the cream of Parisian high society in the 19th century.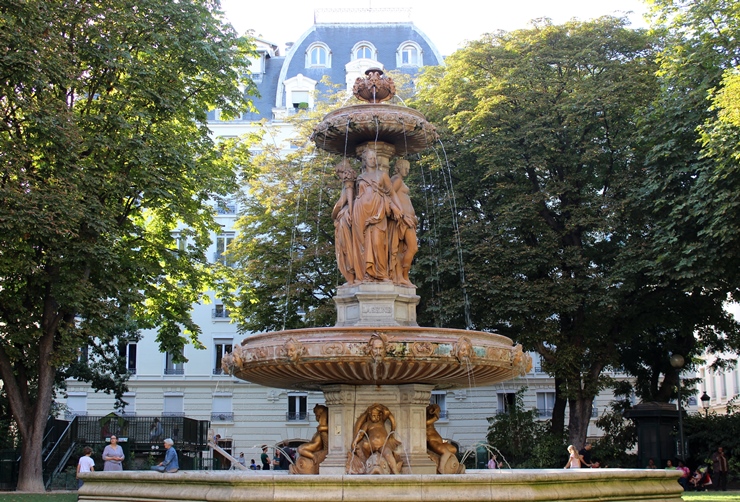 Arriving at Hotel Square Louvois, my mum and I were warmly welcomed and offered a seat to check in via an iPad (I liked that we were the first guests to try the new digital system).  The open-plan lobby is a cool lifestyle space with bookshelves laden with paperpack folio editions of classic French novels, two Apple iMacs and a cosy nook with headphones and magazine.
The lobby has a Parisian-meets-Scandinavian style that feels very hip and 'now' but the atmosphere is relaxed, fuss-free and unpretentious.  It's also pet-friendly, so you may spot the occasional pampered pooch trotting around.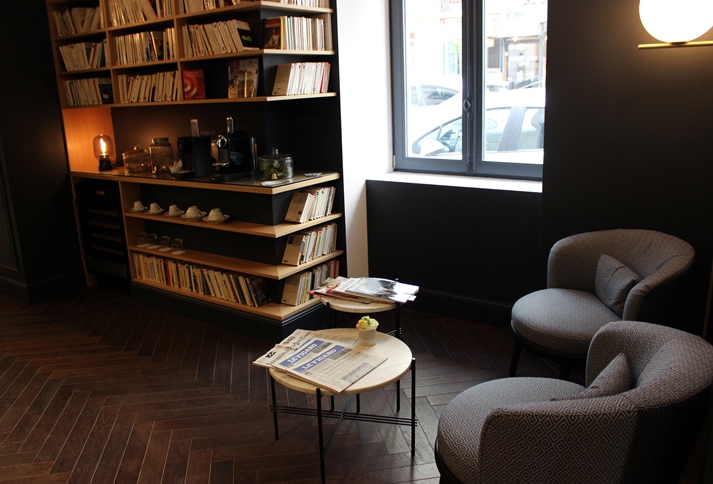 Guests can also kick back with complimentary refreshments – there's a Nespresso machine, chilled bottles of Evian and a glass jar filled with Madeleines.  There's also a daily 'gouter' afternoon snack served between 4pm and 6pm in the dining room, but we unfortunately we didn't hear about it in time to indulge.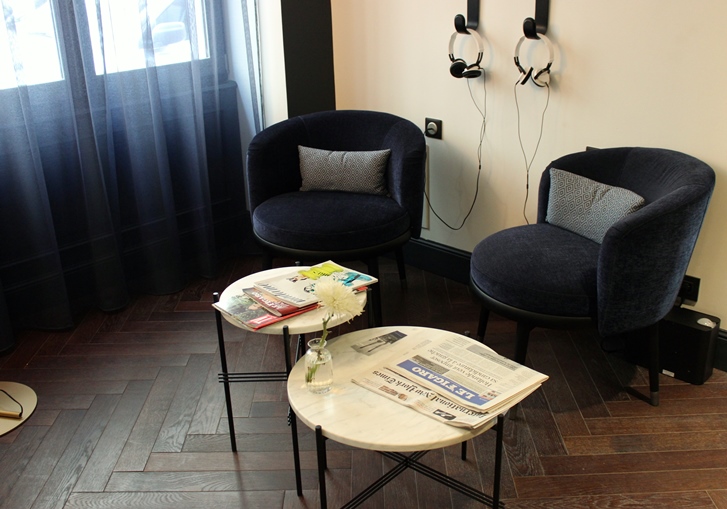 Our Deluxe Room on the second floor was so calming and chic, designed in a palette of petrol blue, inky grey and soft gold with highlights of dark wood, copper and tan leather.  There are so many gorgeous details such as the black and white photographs of French writers, a cool houndstooth chair and a luxurious geometric-patterned rug covering the parquet floor.  I couldn't help imagining that if I had a dream Paris apartment, it would look exactly like this.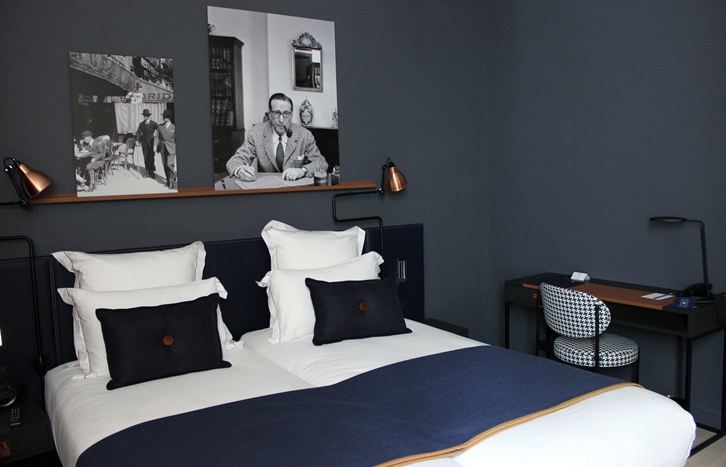 The complimentary amenities continue to the guest rooms with Nespresso coffee and tea facilities, speculoos biscuits and bottles of Evian, as well as free movies on the large LCD TV.  We had an unexpectedly late night following dinner at nearby Cafe Ruc, staying up to watch The Intern in bed.
Our twin beds were incredibly comfortable and covered with superior quality linen (possibly Frette) and indigo denim-style cushions.  Also worth a mention is the powerful and completely noiseless air-conditioning, which made all the difference for a blissful night's sleep.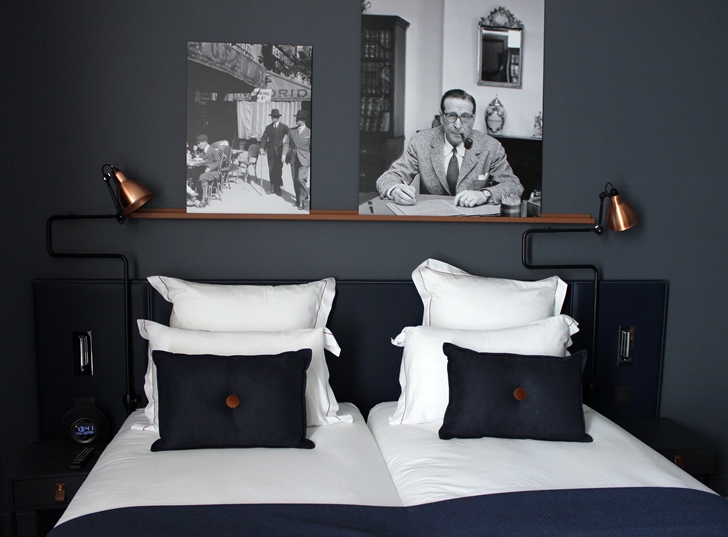 The pristine bathroom is an adequate size with a powerful shower and bath and proper hairdryer, but it's the small touches that make it more fun – luxurious bathrobes and slippers, stunning patterned mosaic tiles and a full set of L'Occitane bathroom products in a cute denim blue felted pouch.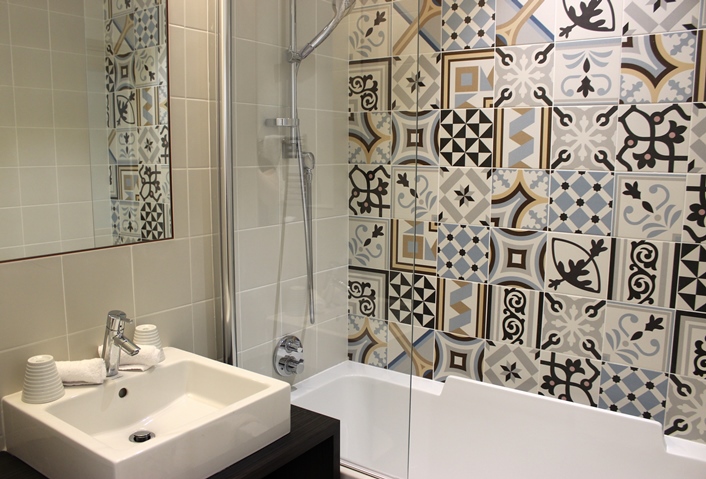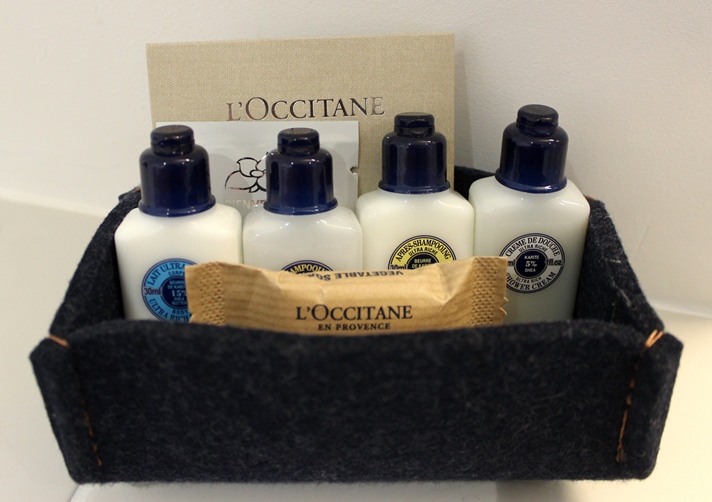 In the morning, a delightful buffet breakfast is served from a rustic-luxe French kitchen and pantry.  There are hot options like scrambled eggs and bacon as well as delicious mini pastries, ready-to-slice baguette, French cheeses, charcuterie, cereal, fruit juices, apple compote and lots of different kinds of yoghurt.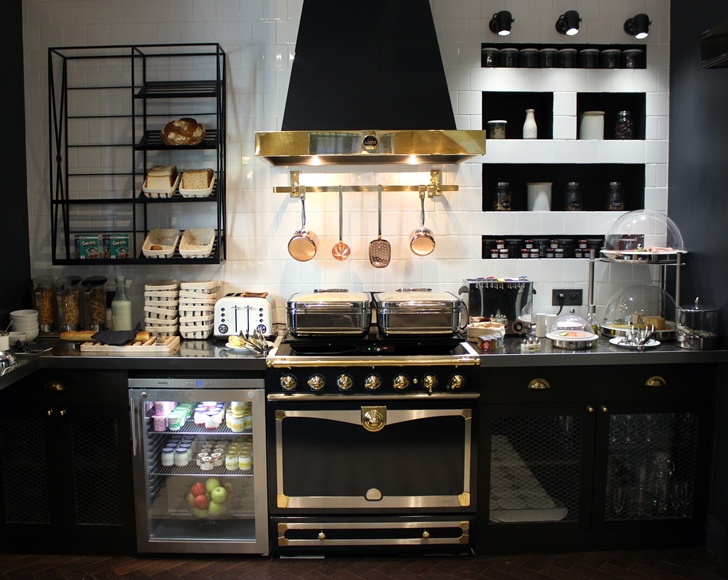 Perhaps the addition of a few surprising items like crêpes, waffles or a healthy chia pudding might give the Parisian breakfast an edge, but everything was very high quality and served perfectly.  I also liked the accompaniments of posh French butter, miniature Bonne Maman jams and Dammann Frères tea.
The spacious breakfast room was so pleasant and relaxed that we enjoyed a second cup while planning our day ahead.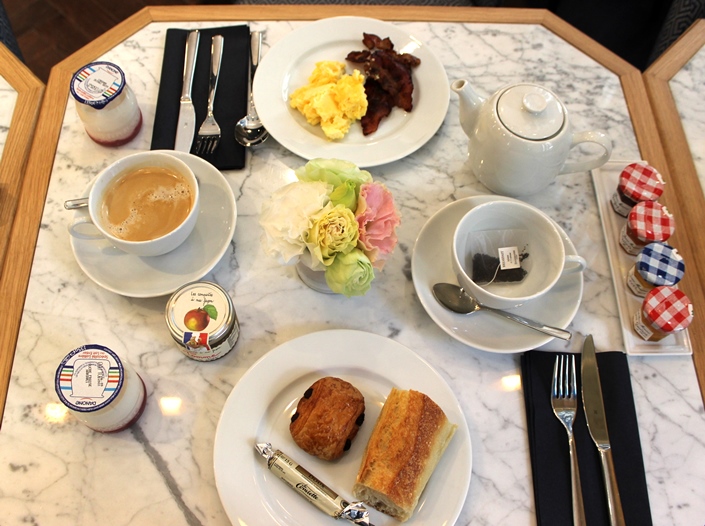 The real jewel in the crown of Hotel Square Louvois is its fabulous lower ground Wellness area with a sleek yoga studio, relaxation room and swimming pool.  In fact, calling it a swimming pool is an understatement, as its powerful hydromassage jets along one side make it an enormous jacuzzi at the push of a button.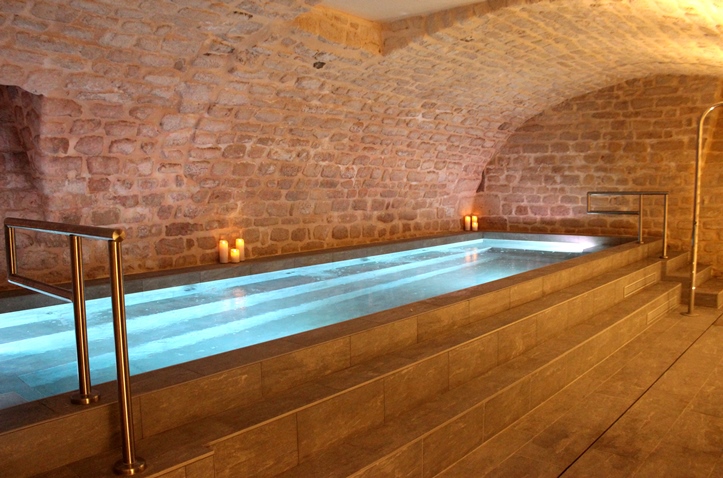 It was such a treat to unwind after a day of walking around the city and it really added to the vibe of a chilled out urban resort.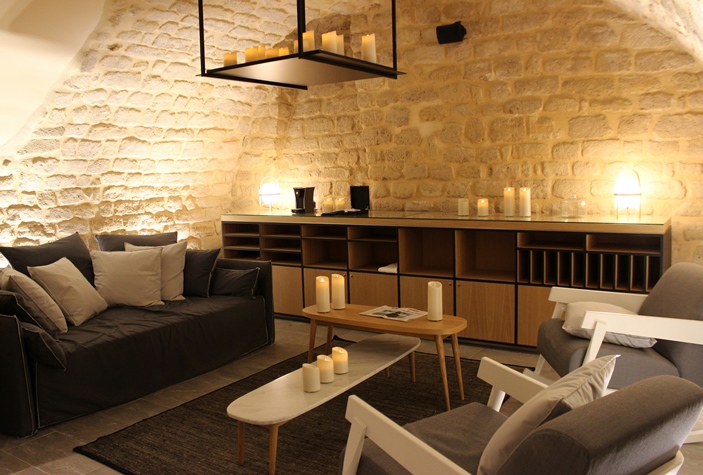 Hotel Square Louvois is the kind of hotel that you can't help falling in love with and a stay there is sure to be memorable.  If you appreciate cool design, a central location and plenty of thoughtful extras, this is the place that you should make your home in Paris.
For more information and booking, visit: www.hotel-louvois-paris.com
Chérie City was a guest of Hotel Square Louvois
All photos by Chérie City