Our visits to New York are usually foodie extravaganzas, but with our wedding and all of the preparations taking up a good portion of our recent trip, we were a bit more restrained.  That was until our honeymoon in Montauk where it was indulgence all the way!
Instead, many of our New York food discoveries were low-key, but so, so delicious – the wonderland that is the Westside Market, the magnificent deli sandwiches at Cafe Olivero (I can't even count how many we ordered over the week), the carrot cake doughnut at Doughnut Plant and the chocolate babka at Dean & Deluca.
Here are a few of our favourite New York finds…
Little Park
On the evening of our wedding, we dined at Andrew Carmellini's latest restaurant Little Park at the Smyth Hotel in Tribeca.  I chose Little Park for a few reasons – its chic yet informal design, creative modern American menu and its relaxed sharing dish philosophy (so many high end New York restaurants impose three or four course set menus for dinner).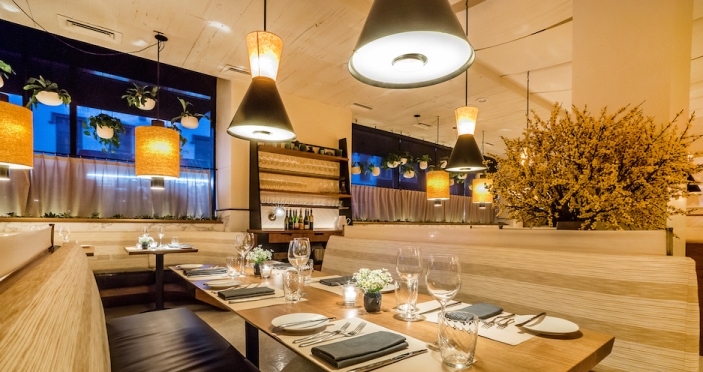 We enjoyed dishes such as Sullivan county chicken with morel, fava bean and garlic, Long island duck with rhubarb, broccoli rabe and confit leg and Rainbow trout with fingerling potato, celery and dill.  They were all beautifully presented with interesting flavours and they went well with a selection of delicious vegetable dishes.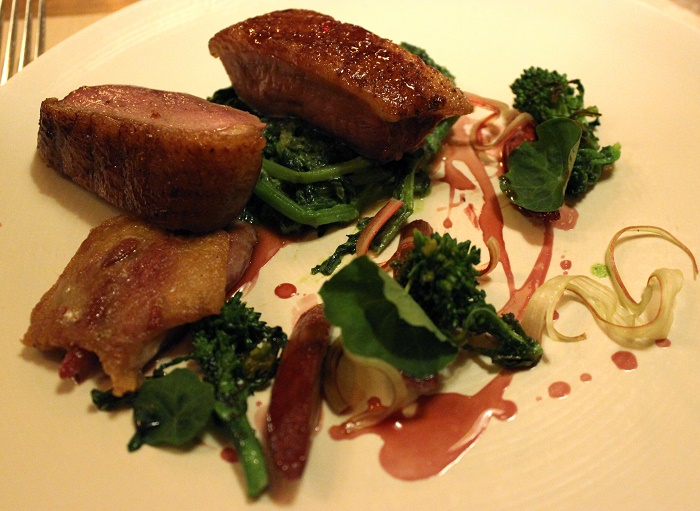 Desserts were Frozen Meyer lemon fluff with orange sorbet and sour candied ginger, Honey chamomile panna cotta with strawberry, lemon and amaro and our overall favourite – Cinnamon toast ice cream with brioche crumb.  Each dessert was light, cooling and aromatic – perfect for the warmer months.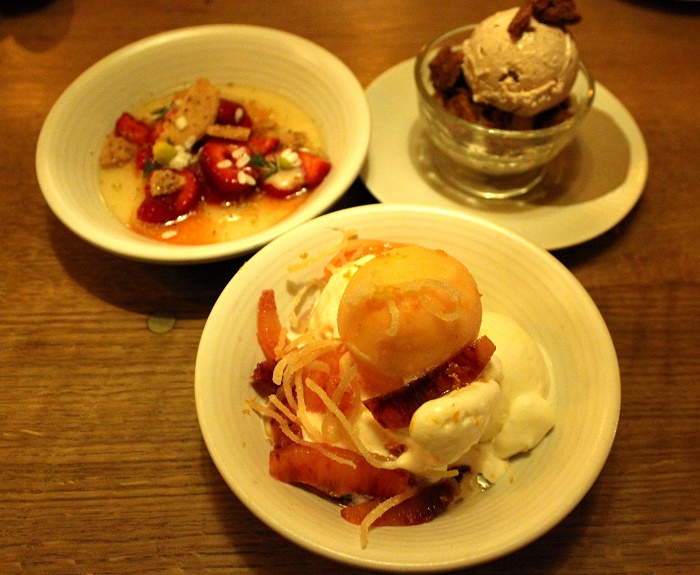 I highly recommend trying Little Park, it's a refreshing take on casual fine dining and it attracts a smart urban crowd (but be sure to ask for a table in the main dining room).
By Chloe
Chef Chloe Coscarelli's cool vegan fast-food cafe, on the corner of Bleecker Street in Greenwich Village, was one of our favourite foodie finds in New York.  In fact, it's such a hit with New Yorkers and in-the-know visitors that it took quite a few attempts during our trip to grab a table – luckily on my birthday!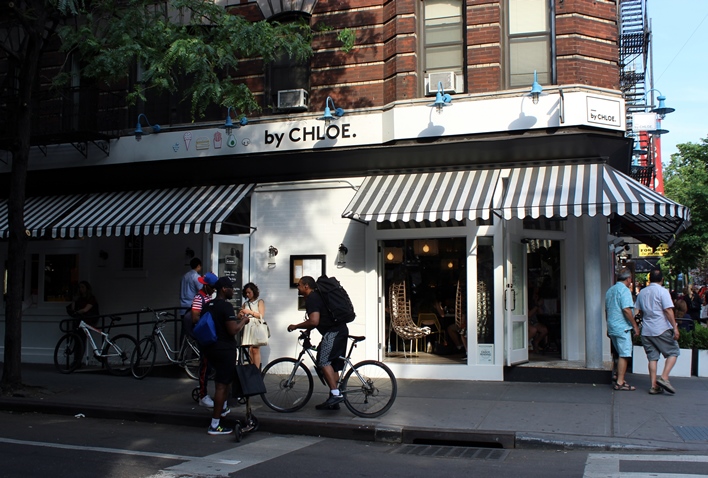 By Chloe is all about sustainable, plant-based comfort food that is oh so tasty and reasonably priced.  It's almost too hard to decide what to order from the all-day menu – Mac 'n' cheese, Pesto meatball sub, Smashed avocado toast, Quinoa taco, Kale Caesar salad and more…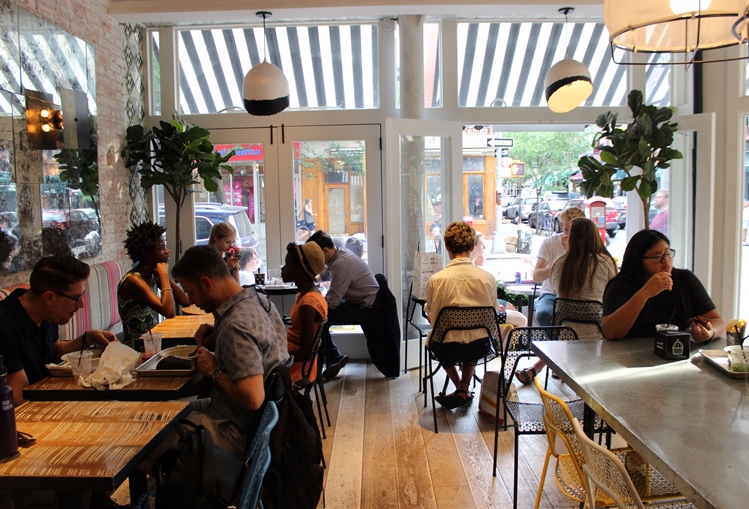 We each tried a different burger – my Classic Burger was simple and full of flavour while Steven's Mexican-inspired Guac Burger was more spicy with sweetness from the corn salsa and fresh, zesty lime.  We accompanied them with a generous portion of the most scrumptious Air baked sweet potato French fries.  They were so light and moreish with hardly any oil.  You can also help yourself to little pots of all-natural tangy beetroot ketchup and piquant chipotle mayonnaise.
A second cafe has just opened in Silverlake, LA, and By Chloe is also expanding to Soho and Flat Iron, as well as Boston.  Fingers crossed for London in the distant future!
Poulette
One evening, after getting drenched in a freak rainstorm, we were in need of some home-style comfort food. Thankfully Poulette, the popular French rotisserie spot by Parisian Adam Jama, was just a short walk from our hotel over in Hell's Kitchen.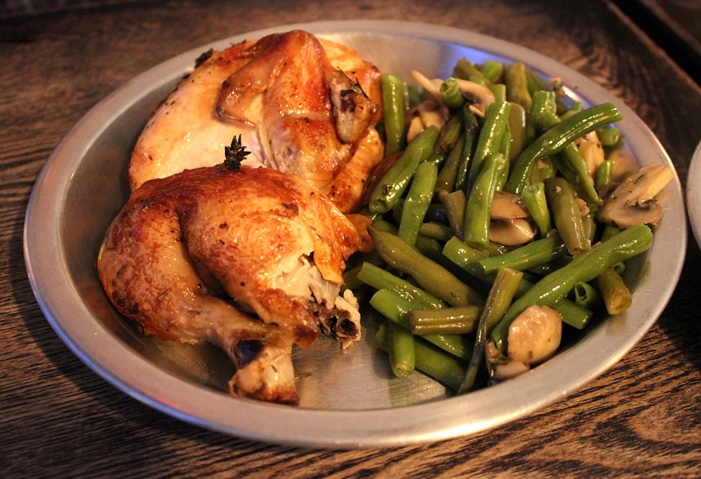 High quality, family farm-reared chickens are cooked with fresh herbs and lemon in an authentic French rotisserie machine, bringing a taste of the Parisian markets to New York.  From the set meals, we chose a whole chicken for four people, which comes with a choice of four sides, for the bargainous price of $35.95.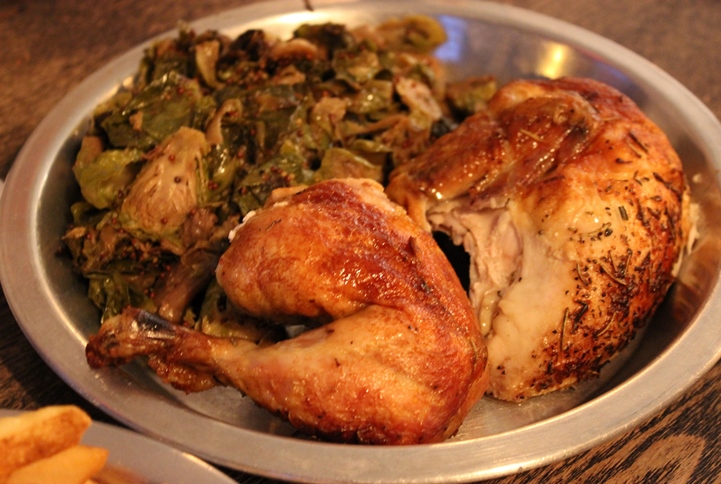 The chicken was tender and juicy with crispy, golden skin and a subtle herb flavour.  The skin-on fries were so moreish and I loved the garlic-infused string beans with mushrooms and brussels sprouts with tarragon. The rotisserie chicken also comes in a Caesar salad or sandwich and you can also order BBQ wings or chicken soup.
Momofuku Milk Bar
Our trip to New York wouldn't have been complete without finally trying Momofuku Milk Bar, especially since the Midtown branch was just five minutes away from us.  Chef and owner Christina Tosi's whimsical baked goods and cereal milk™ soft serve ice creams have become the stuff of internet legend and I was keen to see if it lived up to expectations.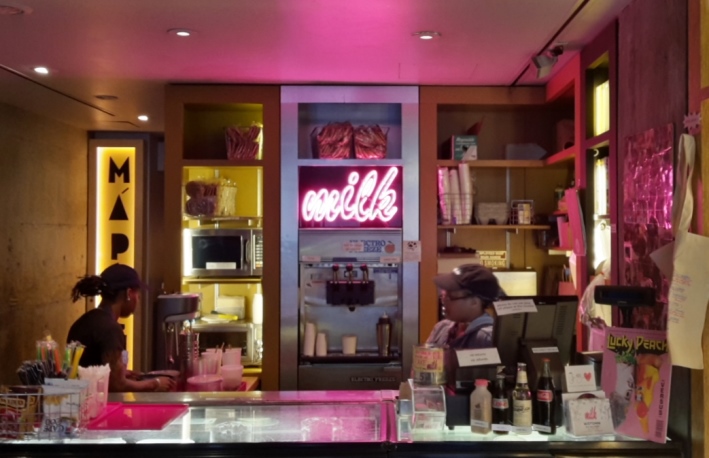 We tried three cookies that seem to bring out your inner child – confetti, blueberry & cream and cornflake-chocolate-chip-marshmallow.  I enjoyed the fun flavours and the texture of the cookies, but they were super sweet and quite heavy on the glucose syrup and salt.
We revisited just before leaving for the airport for a sweet snack and some birthday cake truffles to numb the pain of the holiday ending, but the lunchtime queues were just too long.  The cookies didn't blow me away, but I still have unfinished business at Momofuku Milk Bar.
Ralph's Coffee
Ralph Lauren's debut coffee shop, inside the POLO flagship store on 5th Avenue, is one of my favourite new haunts in Manhattan.  I'd expected Ralph's Coffee to be chaotic due to its prime location, but it's actually an oasis of calm with sleek design, charming staff and proper good coffee and tea.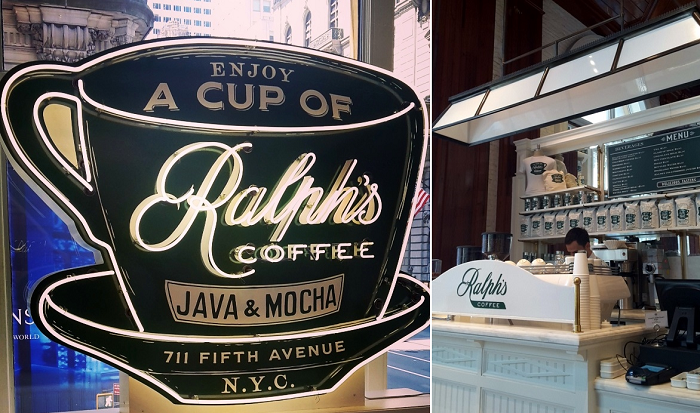 It's also perfect for people spotting, particularly that rare breed of New Yorker that lives and breathes the Ralph Lauren lifestyle.  A preppy, suited Nate Archibald type was sat to our left sipping a green juice while Bunny MacDougal in a navy blazer and neckerchief held court near the counter – the sense of theatre was like that of a Parisian terrace cafe.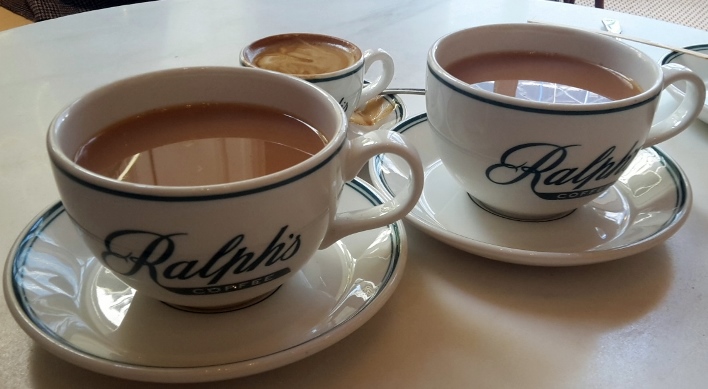 Having already visited and loved Ralph's in Paris, The Polo Bar in the same New York flagship store is next on my list.
sweetgreen
I first heard about sweetgreen as Taylor Swift's favourite salad place in New York and it's easy to see why she's a fan.  This boutique chain of deluxe make-your-own salad bars is a pretty cool lifestyle brand – its stores are sustainably designed by the same architects as 3.1 Phillip Lim, it has its own sweetlife music festival, plus Kendrick Lamar and Debbie Harry even had their own tribute salads on the menu.
However, it's not just style over substance – sweetgreen champions healthy food on the go with farm-sourced ingredients prepared from scratch in each store's open kitchen.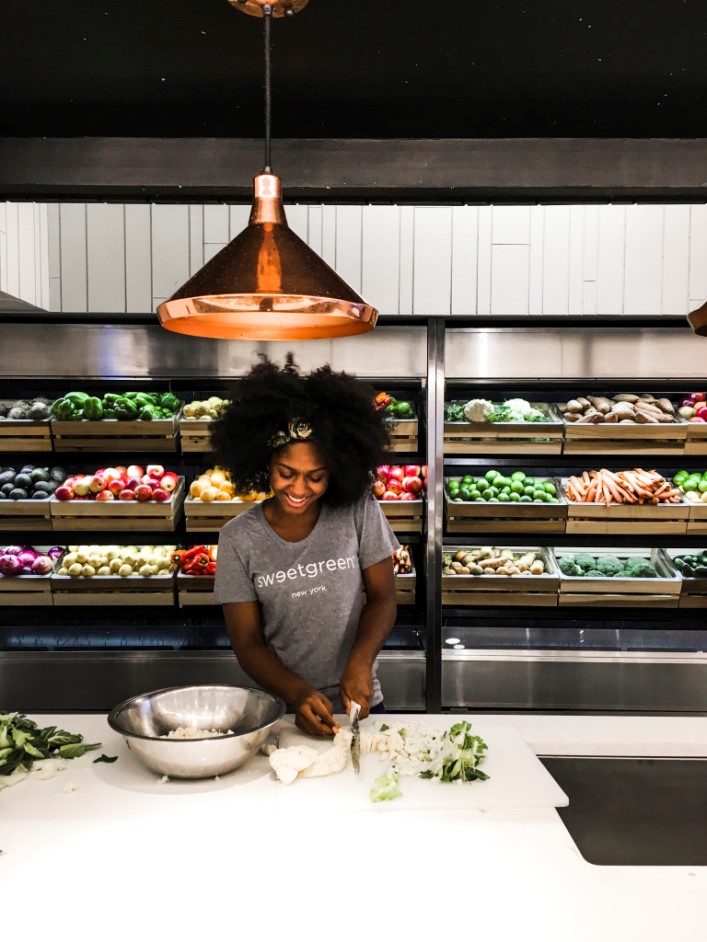 The salads are absolutely enormous with a generous amount of fillings and this being America, substitutions are actually welcome.  I loved the Kale Caesar, a lighter take on the classic with tasty roasted chicken while Steven's Mexican-inspired Guacamole Greens was so zingy and full of flavour – tortilla chips were a surprisingly brilliant addition.  The self-serve iced teas and agua fresca are amazing too – natural and not packed full of sugar.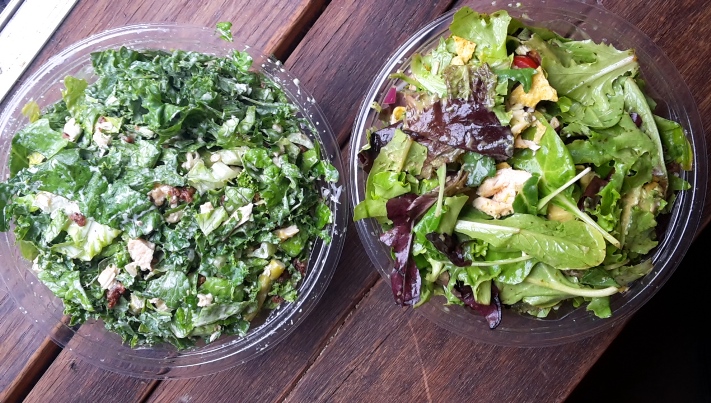 The only problem with sweetgreen is its super-speedy assembly line system can leave you discombobulated on your first visit.  Then there's the no cash policy, an eco initiative that seems to infuriate New Yorkers and tourists in equal measures. We ate at both the Nolita and Greenwich Village Sweet Green stores and we were more savvy to the ordering system the second time round.
Have you tried any of these New York food spots?  Where do you love to eat out in New York?
Photos by Chérie City (interiors by Little Park and sweetgreen)