My one and only cheesesteak experience was at Carmen's Famous Italian Hoagies and Cheesesteaks at Reading Terminal Market, where Obama famously stopped by to satisfy his craving while in Philadelphia. Cheesesteaks don't come much more authentic than that and while I enjoyed every bite, there haven't been many opportunities to indulge since.
Happily, Philly's famous sandwich can be found at Liberty Cheesesteak Company in east London's Spitalfield Market every day of the week – and it's the real deal.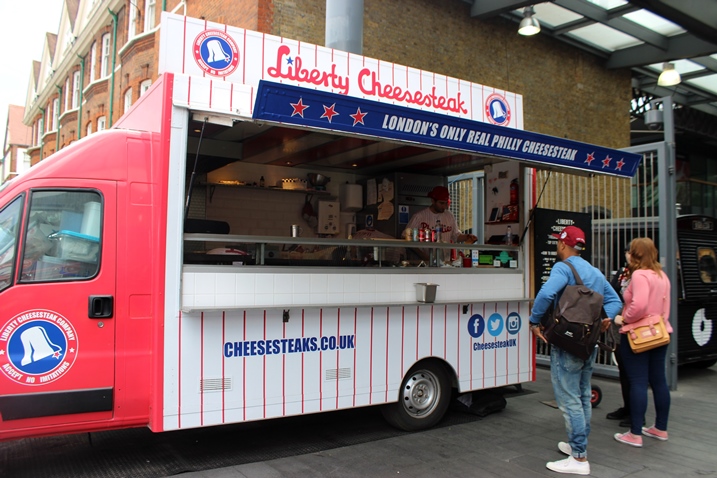 Two years ago, Philly native JP Teti left London's corporate world, got himself a street food van and and set about bringing a taste of home to Duke of York Square in Chelsea.  50,000 cheesesteaks later, Liberty Cheesesteak Company has a loyal following and is set to open its flagship Philadelphia experience store in Soho later this year.
Liberty Cheesesteak Company keeps the menu simple with the original Cheesesteak and two specials – Italian roast pork hoagie and Buffalo chicken cheesesteak.  Of course, I just had to try the signature Cheesesteak, which comes with the famous American Cheez Wiz, 'wit or widout' grilled onions and can be ordered whole (£8) or half (£5).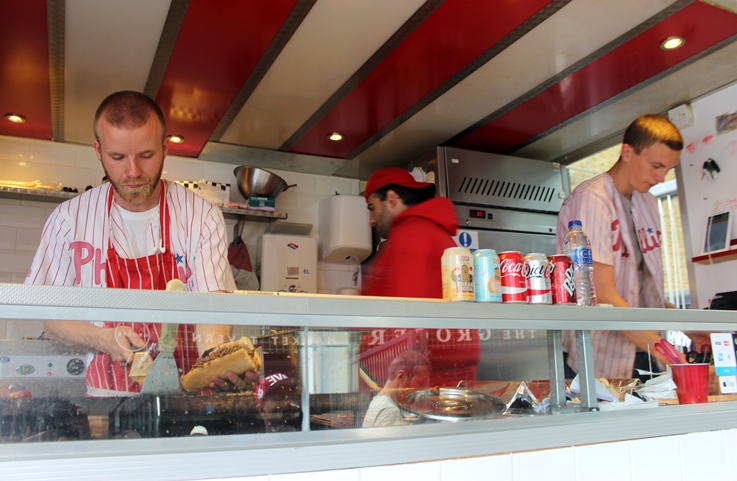 The soft and chewy hoagie roll was filled with a generous amount of well-seasoned, tender beef and finished with a slick of that sticky, bright orange Wiz sauce that actually tasted really good.  You can of course substitute the Wiz with Provolone or American cheese, but I recommend trying it here, Liberty's own blend might surprise you.
The Cheesesteak may look like a humble hot sandwich, but there are a few elements that need to be spot on. The prime rib-eye Brazilian and Argentinian beef is sourced from London's top butchers, the Italian hoagie roll is baked specially for Liberty at a London bakery and then there's the Wiz…
Liberty develops and manufactures its own surprisingly natural Wiz with a base of locally sourced cheese and no artificial flavourings or colours (a world apart from the questionable Kraft Cheez Wizz, which may or may not even contain actual cheese).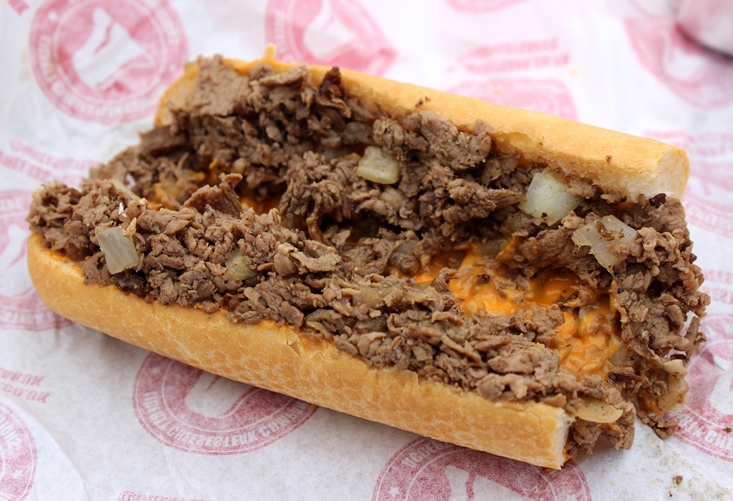 Make sure you leave room for a taste of South Philadelphia's Italian neighbourhood with a big ole' cannoli. The crunchy cannoli pastry is freshly hand-piped to order with a smooth mixture of ricotta, icing sugar and chocolate chips.  I personally prefer cannolis with a touch of orange blossom or citrus peel to cut through the creamy flavour, but they were still delicious and a nice way to end the meal.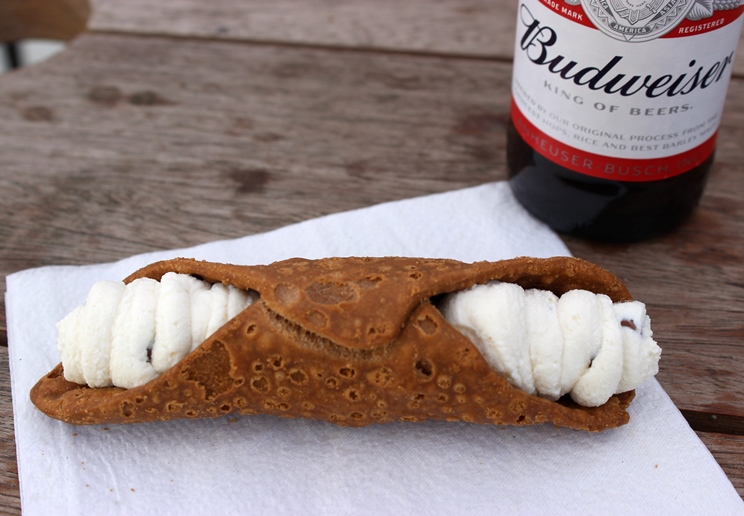 Liberty Cheesesteak Company is a must if you love American comfort food at its very best.  I can't wait to see what they have planned for Soho!
For more information, visit: www.cheesesteaks.co.uk
Photos by Chérie City
Chérie City was invited by Liberty Cheesesteak Company