A steakhouse by Jamie Oliver with sleek black and gold interiors and incredible views of St. Pauls is a winning combination for me.  In fact, I can't believe it's taken me this long to dine at Barbecoa and indulge in some heavenly grilled meats.
Located in The City's One New Change, Barbecoa is all about modern, accessible luxury with design by Tom Dixon and a menu of high-end comfort food.  It attracts a smart post-work crowd and is a slick affair with well-choreographed yet friendly service.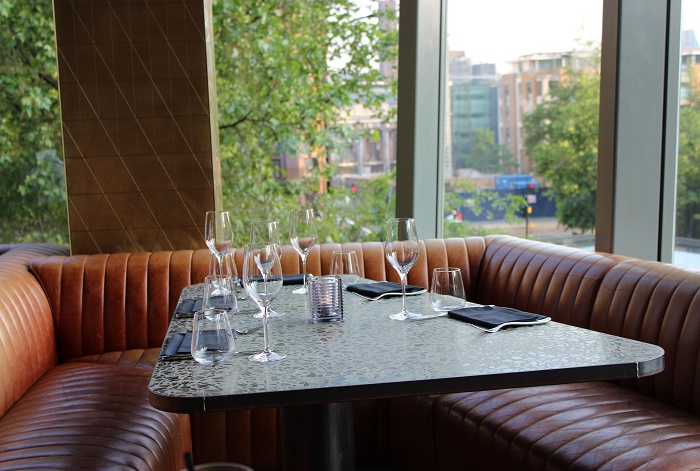 Barbecoa achieves its 'temple of meat' status with an open kitchen boasting an arsenal of grills and smokers, including robatas, Argentinian grills, wood-fire ovens, Texas pit smokers and a tandoor oven.  All to get that delicious smokey taste!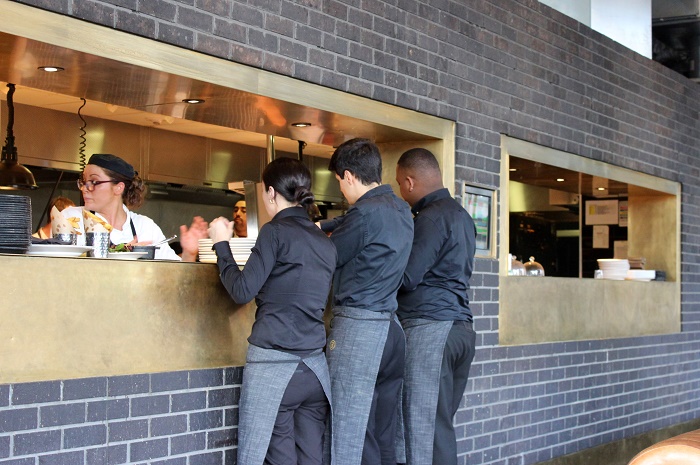 We visited on a particularly hot day, so we cooled down with a refreshing Elderflower Collins (£3) and Seasonal Soda (£3).  The cocktail menu is pretty exciting though, with a good range of classic and unique drinks.
To start, I went for the summery and light Burrata with asparagus, peas, broad beans, mint and roasted hazelnuts (£9).  The julienne greens and crunchy hazelnuts really enhanced the subtle flavours of the fresh, creamy burrata, making a well-rounded dish.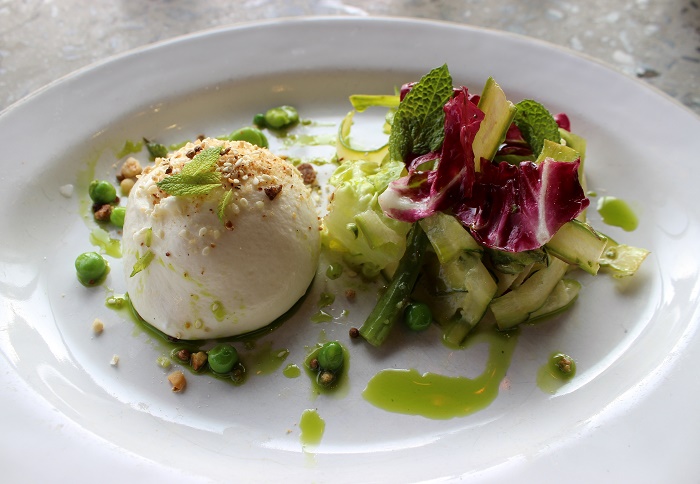 Steven's starter of Hush Puppies with Devonshire crab, British chorizo and burnt lemon crème fraîche (£10) was rather more indulgent and intensely flavoured.  Both starters were satisfying and just the right size without being overwhelming.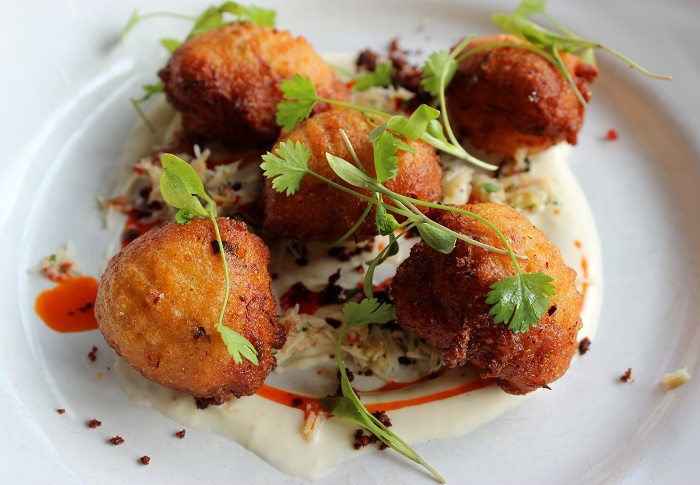 The main course is where it gets really exciting, with tempting low and slow dishes such as pit beef and pulled lamb, wood-roasted whole daily catch and a great selection of steaks.
I went for my favourite cut – Fillet steak with bone marrow, smoked Béarnaise and herb salad (£35/8oz). The chunky and lean fillet steak simply melted in the mouth and was nicely charred and seasoned with plenty of sea salt and with a tender centre.
I'm not a fan of bone marrow and this one topped with garlic breadcrumbs was very oily and unappealing, but I loved the velvety smoked Béarnaise and the punchy fresh tarragon and chervil toast with tangy pink onions.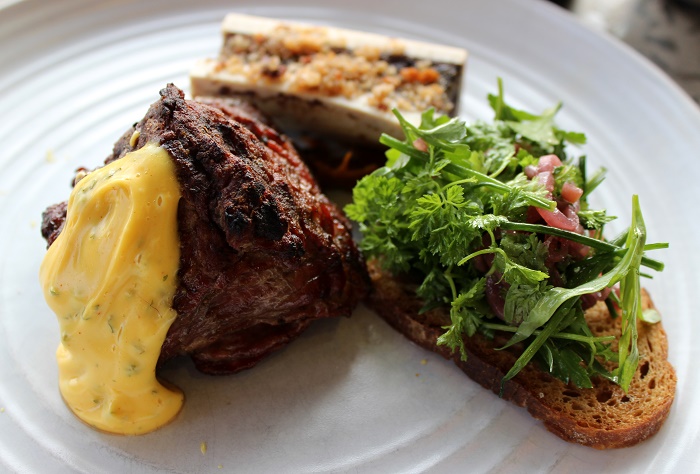 Steven tried the Sirloin steak with slow-roasted tomatoes and morello olive oil (£34/12oz).  The high quality sirloin steak was juicy and succulent with a mature flavour and the tomatoes with fresh basil were an ideal accompaniment.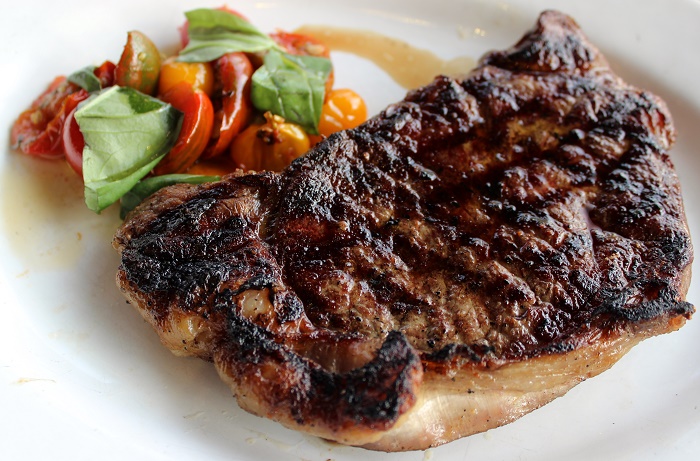 Choosing our side dishes was difficult, as they all sounded yummy, but a real winner was the light and flavoursome Charred broccoli with miso and almonds (£4).  It went perfectly with the proper skin-on Beef-dripping chips with Vopaia vinegar and Cornish salt (£4).
My only criticism of the main dishes is that there is nothing for vegetarians (unless they eat fish), only the burrata starter and side dishes.  Perhaps demand isn't high for dedicated veggie options, but it could be an issue for group dinners.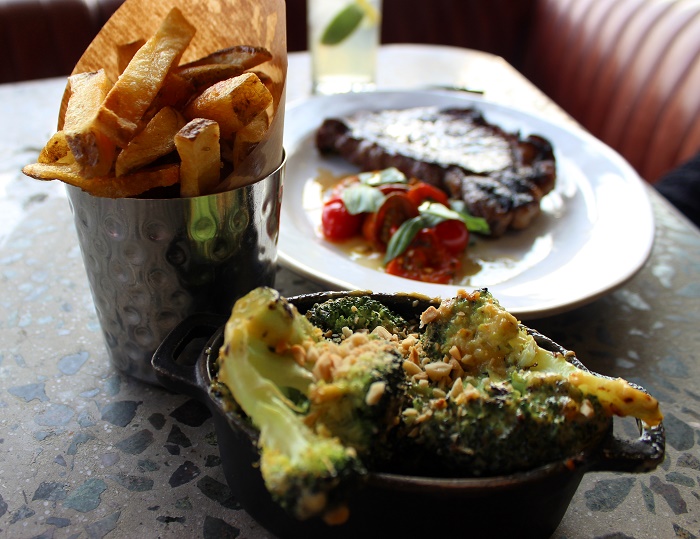 Somehow we managed to find room for the beautifully-presented dessert tasting plate, featuring every sweet dish on the menu.  My favourite was the Snickersphere – a heavenly mix of milk chocolate ganache, smooth caramel, crispy biscuit and crushed peanuts.
Other decadent bites were the glossy and rich Barbecoa brownie, zesty Lemon meringue, Gooseberry goat's milk cheesecake, Panna cotta with English strawberries, Lemon honeycomb mousse, Chocolate macaron, Bourbon jelly and Strawberry and vodka truffle.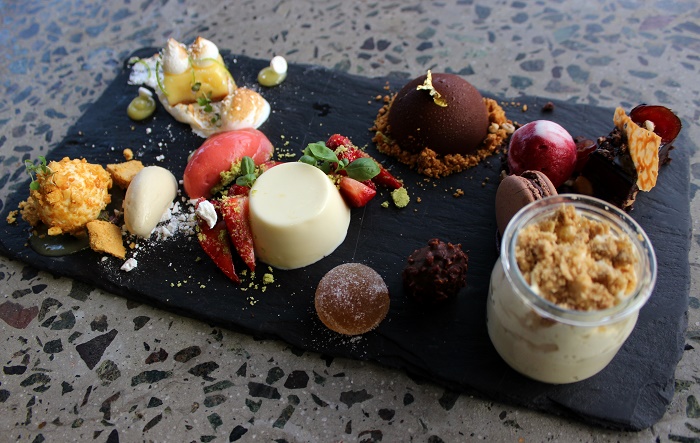 Barbecoa is ideal for a stylish night out in The City with fantastic food, great views and a buzzing atmosphere.  If you're in the mood for a truly sumptuous steak – whether it's a blow-out Chateaubriand with truffle butter or a more modest butcher's cut from the well-priced set menu – it's sure to hit the spot.
For more information and booking, visit: www.barbecoa.com
Chérie City was a guest of Barbecoa
Photos by Chérie City