Afternoon Tea in London is such an indulgent treat, but it can also be light and healthy.  Yesterday, I headed over to La Suite West – a stylish independent hotel close to Hyde Park – to try its new Vegan Afternoon Tea.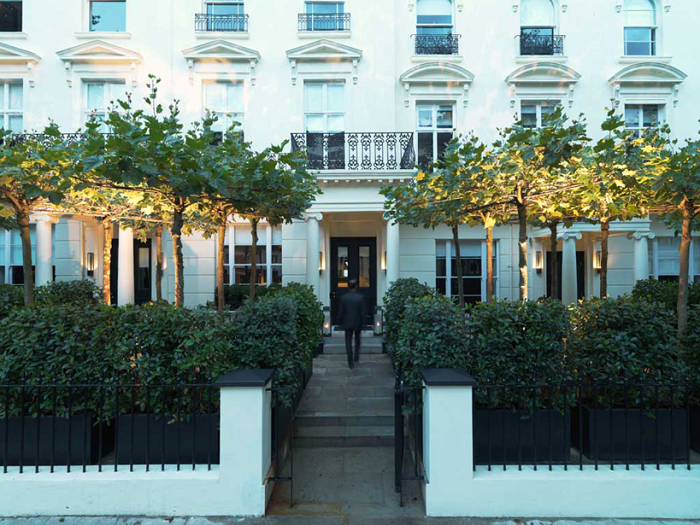 Designed by the renowned Anouska Hempel, La Suite West is a calm urban retreat on a quiet residential street with sleek minimalist interiors and a feeling of zen.  Afternoon tea is served in the hotel's health-focused RAW Restaurant and on the terrace – a delightful spot to soak up the sun.
RAW Restaurant has cleverly devised a super-tasty Vegan Afternoon Tea, doing spectacular things with vegetables, nut butters and dairy-free mylks.  While I'm not vegan myself, I'm a fan of healthy food done well and love the idea that almost everyone can enjoy this afternoon tea without the hassle of requesting dietary substitutions (however, note that it's not gluten or nut-free).
The afternoon tea begins with a selection of colourful finger sandwiches in flavours such as Scrambled tofu with mustard cress, Lemon & thyme tahini with cucumber, Avocado chilli mousse with rocket and Roast tomato with sunflower seed pesto.  I particularly enjoyed the bite-size, moreish savouries – Asparagus tart with pesto and almond cheese and Truffled mushroom pastry.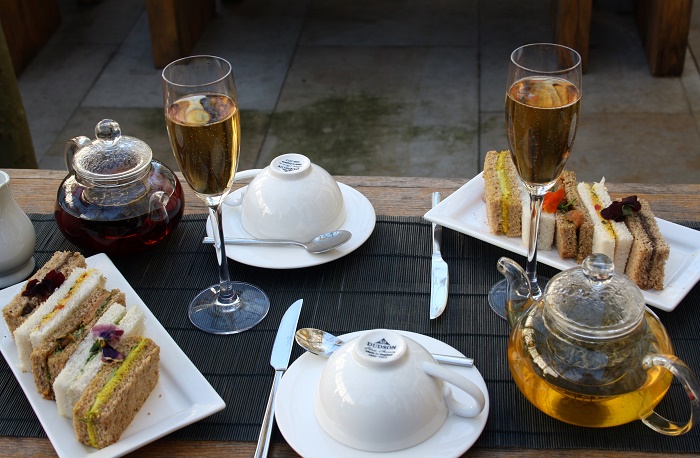 Of course, afternoon tea isn't complete without scones and these ones were moist and springy, accompanied by the most heavenly whipped coconut 'cream' – it actually tasted cooler and more luscious than the typical clotted cream.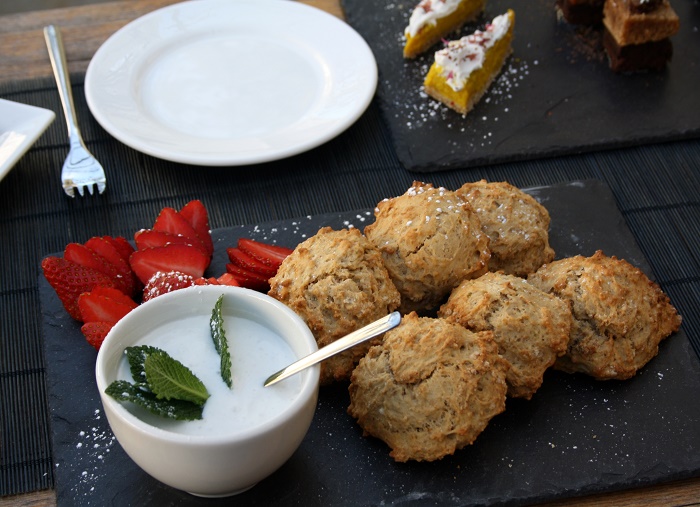 Those with a sweet tooth won't be disappointed with the Chef's Selection of baked and raw desserts.  We tried a sumptuous Carrot cake with vegan frosting, Coconut lemon cake with chocolate nut butter and my favourite Sticky toffee pudding chocolate brownie – pure decadence.
The Vegan Afternoon Tea is accompanied by a glass of non-alcoholic fizz and a selection of fine JING Teas.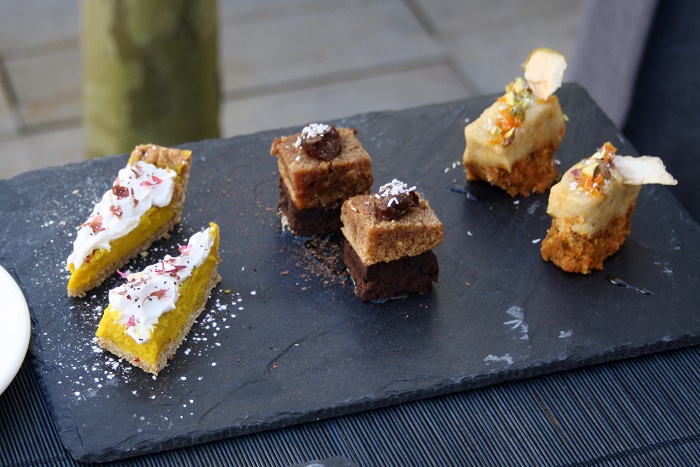 RAW Restaurant at La Suite West is perfect for an intimate, relaxed afternoon tea with a difference.  Not only is it very good value but it will leave you feeling light and happy – I can't wait to go back!
The Vegan Afternoon Tea is priced at £27 per person.  For more information and booking, visit: www.lasuitewest.com
Chérie City was a guest of La Suite West
Photos by Chérie City (hotel images by La Suite West)