I never need an excuse to visit Le Pain Quotidien or Bicester Village, but I do need a little more encouragement to bake my own loaf.  Fresh, home-baked bread is such a pleasure, but I tend to just leave it to the pros.
A few days before I was heading to Brussels, it seemed appropriate to pay a visit to the new Bicester Village outpost of Belgian restaurant and bakery Le Pain Quotidien for a special baking masterclass with Pastry Manager Didier Tayoro.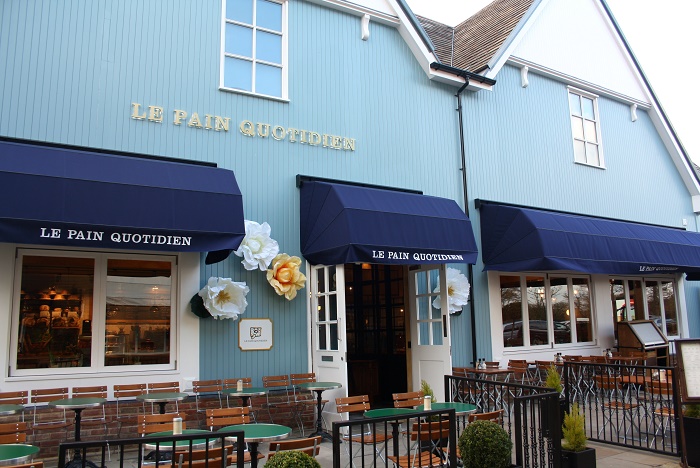 Le Pain Quotidien founder Alain Coumont welcomed our group straight from the train with Champagne and madeleines and shared the story behind his successful, forward-thinking brand.  A frustration at not being able to find the rustic bread of his childhood inspired Alain to open his first bakery in Brussels in 1990.  Since then, Le Pain Quotidien has brought its superior bread and communal table concept to over 200 locations around the world.
I thought I knew LPQ pretty well, but I didn't realise that around 90% of the products are baked fresh everyday each store, rather than in an off-site kitchen or factory.  Also, all of the breads and most ingredients are organic and there's a real focus on vegan, plant-based cooking.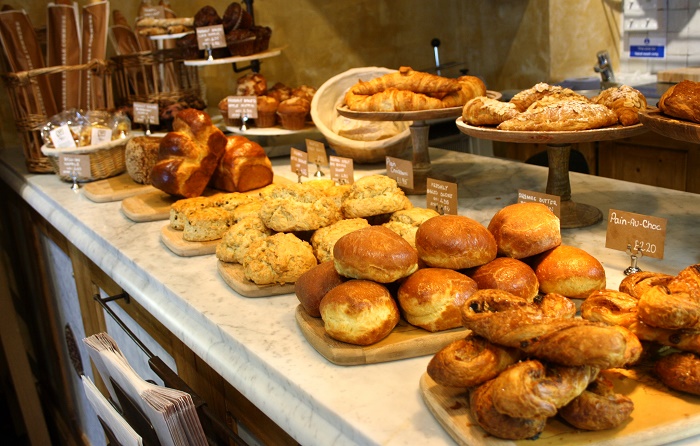 We gathered at our baking stations, where all of the ingredients were helpfully weighed out and ready for mixing.  With Didier's instruction, we each made a Five seed grain sourdough boule followed by Spelt quinoa scones, which were then taken away to be baked while we indulged in a three-course lunch – how easy is that?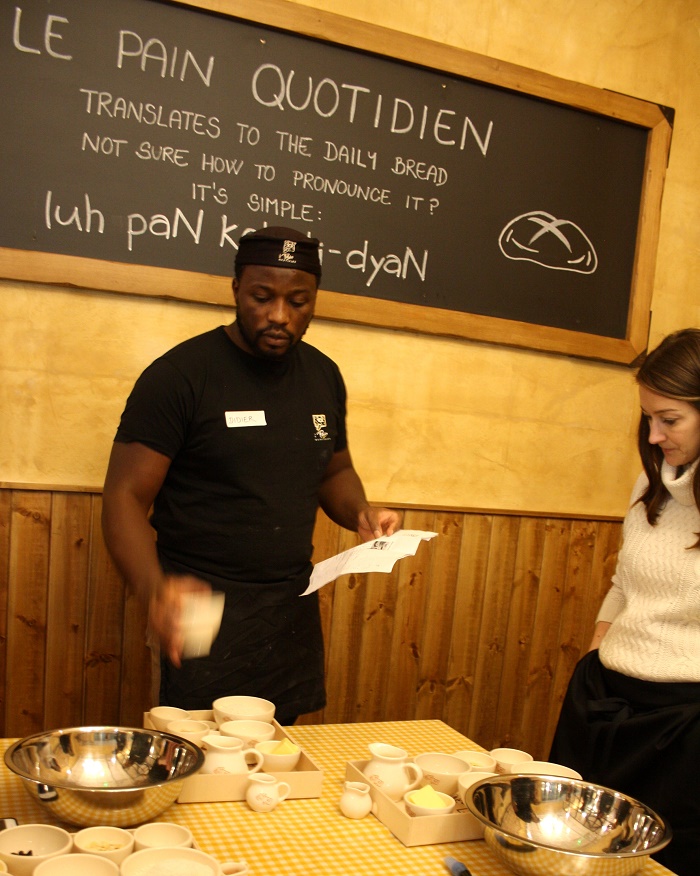 The big communal table was dressed perfectly for spring with bright daffodils and scattered vegetables – so pretty and uplifting.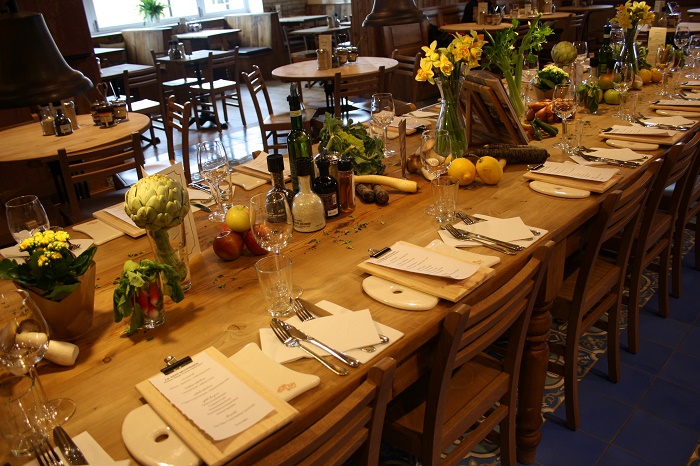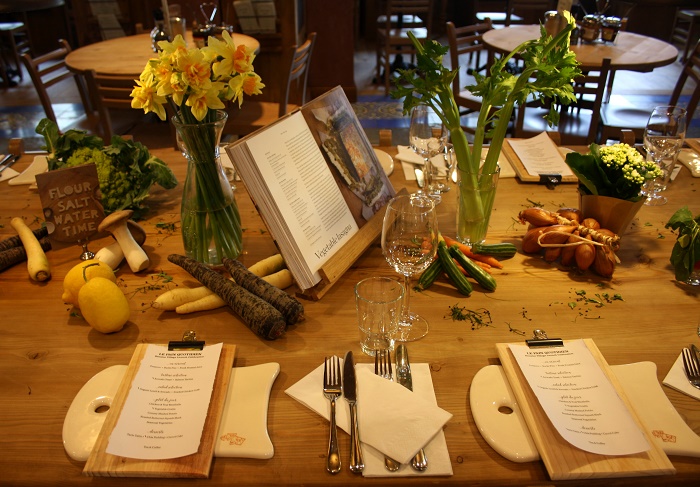 We grazed on a selection of signature starters – Avocado toast, Salmon tartine, Smoked chicken cobb salad, Organic lentil and avocado salad and crisp, organic baguette with French butter.  My favourite was the fresh, aromatic avocado toast with a subtle citrus and cumin kick – it seemed to be the most popular choice and was polished off swiftly.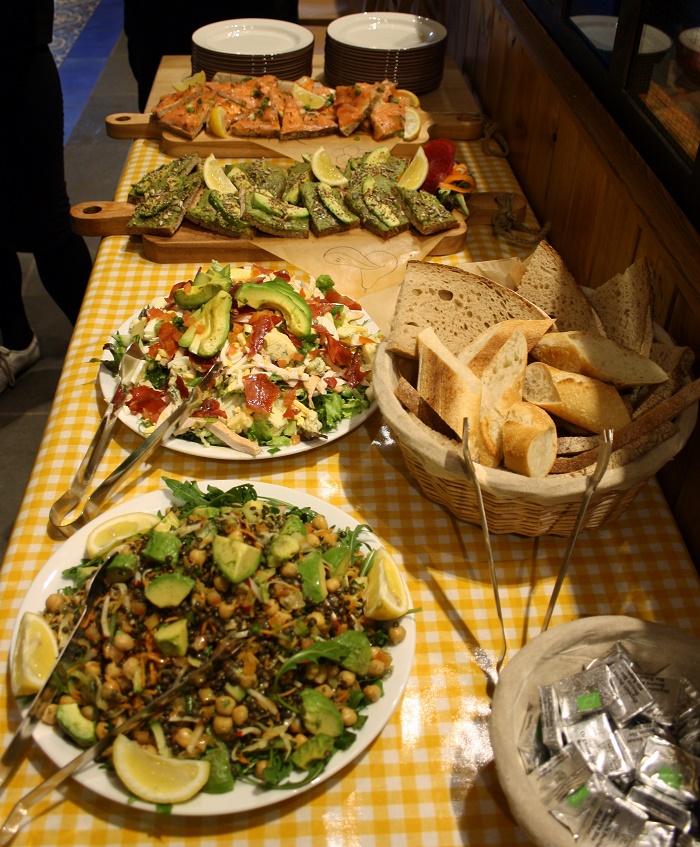 A family-style feast of nourishing hot dishes and tasty sides followed.  Most indulgent were the typically Belgian Chicken and veal meatballs served in a creamy sauce with super-buttery mashed potato.  Vegetable and quinoa gratin was delicious and healthier than I expected and I couldn't get enough of the accompaniments of roasted butternut squash mash and glazed carrots and romanesco.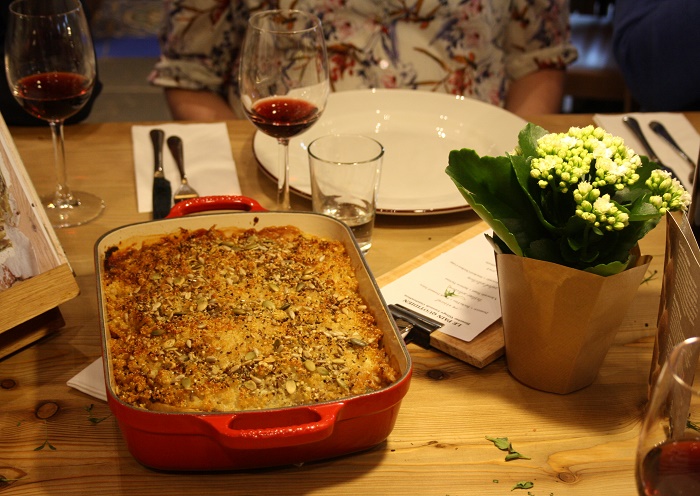 Dessert was the most heavenly, authentic Tarte Tatin, indulgent Carrot cake muffins and a yummy Chia and coconut pudding with raspberry compote.  I was amazed to discover that this light, vegan pudding is simply chia seeds soaked and set in coconut milk – it's so easy to make and only filled with good stuff.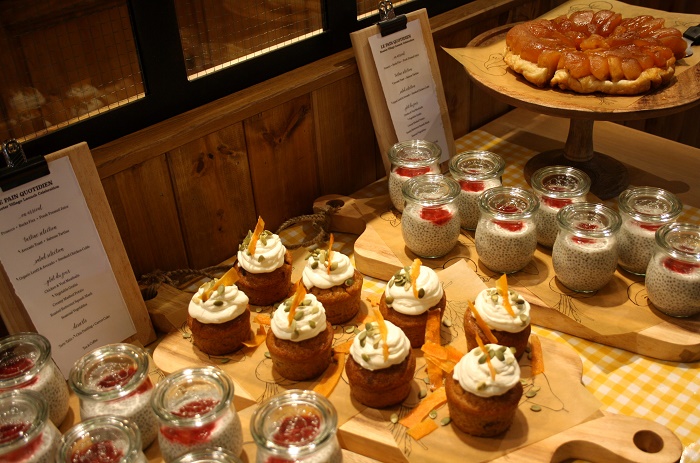 After lunch, we were presented with our own baked goods to take away, along with a bag of treats including the excellent Le Pain Quotidien Cookbook, so we could recreate our delicious lunch at home.  I wasn't sure how much faith to have in my breadmaking skills, but I followed Didier's instructions to the letter and the bread and scones were just fabulous.  Good enough to share with friends and family and collect plenty of compliments.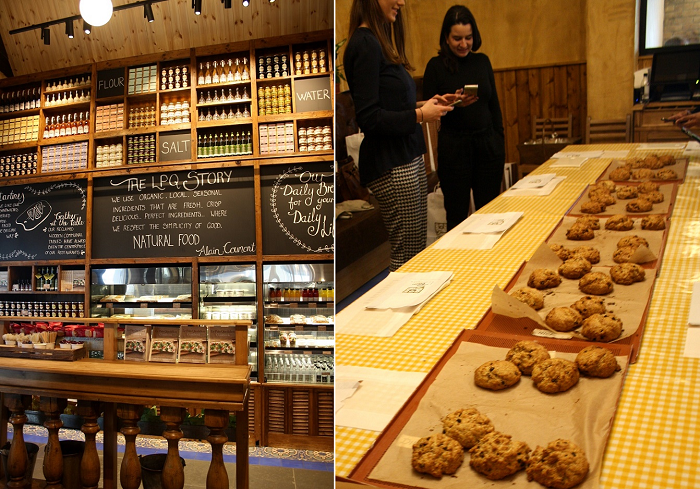 The rest of the afternoon was ours to march around Bicester Village in pursuit of designer bargains.  There's always a new outlet or eatery open every time I visit Bicester and this time the pretty, wood-panelled store fronts were adorned with giant flowers for spring.
My favourite new discovery, however, is the new railway station at the heart of Bicester Village (no more minibus shuttle from Bicester North) and the very plush guest lounge where shoppers can wait for the train while flicking through Vogue, sipping fruit-infused water and spritzing perfume.  It has a real VIP feel but is open to everyone and there's even a concierge service to make the shopping experience even more enjoyable.
Le Pain Quotidien at Bicester Village is a fantastic spot for lunch, whether you're resting weary feet over a hearty Coq au Vin or grabbing a gourmet salad to go.  I also highly recommend taking a baking class at Le Pain Quotidien Borough in London – they're fun, sociable and will give you the confidence to try baking bread at home.  Now I'm armed with the cookbook full of bread recipes, I'll definitely be baking up a storm.
Chérie City was a guest of Le Pain Quotidien Bicester Village
All photos by Chérie City