The winter season tends to play havoc with my skin and I rely on a skincare routine that works that little bit harder.  So, in an effort to bring back the glow, I tried a selection of products from the sunny-sounding Beauté Mediterranea, a Spanish laboratory-led skincare brand that has just arrived in the UK.
This cosmeceutical brand is available online exclusively through Mitonia and features four ranges to address different skin concerns.  It promises effective results with 'buzz ingredients' such as bee venom, syn-ake, ECO snail, dragon's blood and high tech hyaluronic complex.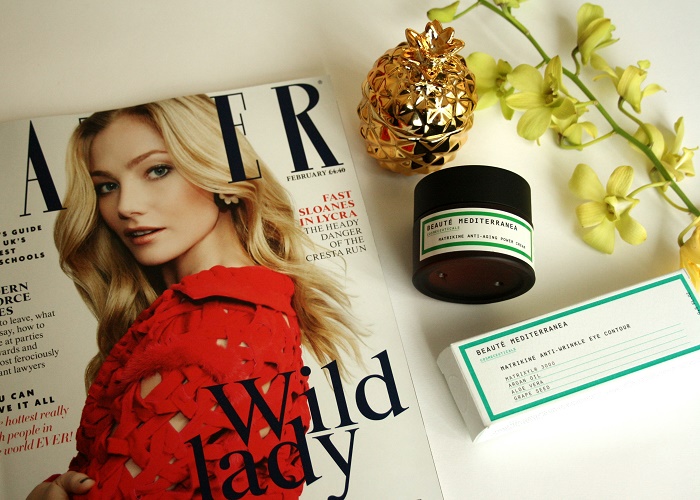 I've been testing the Beauté Mediterranea Matrikine Anti-Aging Power Cream and Anti-Wrinkle Eye Contour for a few weeks now and I'm already hooked.  Both products contain a potent mix of Matrixyl 3000, argan oil, aloe vera and grape seed to help to improve elasticity, skin tone, skin firmness and smooth wrinkles.
I wasn't previously familiar with Matrixyl 3000, but it's a surprisingly widely-used key ingredient in anti-aging skincare ranges.  This game-changing peptide significantly promotes collagen, repairs damage caused by ageing and encourages the skin to behave as if it's younger.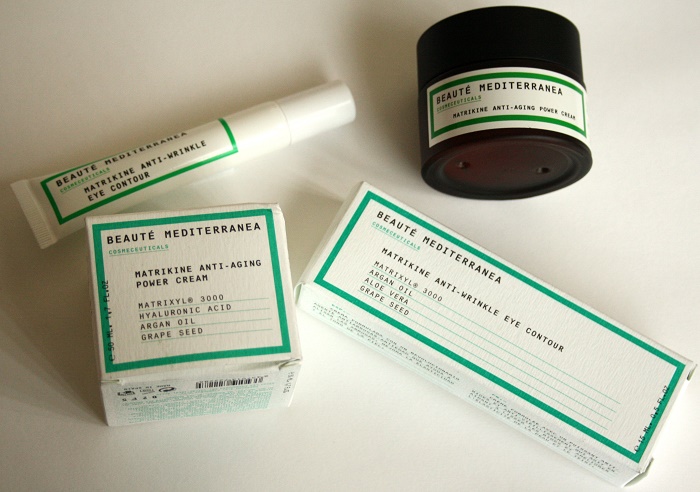 Anti-ageing creams can often be too oily or heavy for my combination skin, so I tend to go for a high-powered serum and layer with a moisturiser that can be easily absorbed.  Luckily,  Beauté Mediterranea Matrikine Anti-Aging Power Cream has a cool, light texture and it glides on smoothly, leaving no oily residue.
I find that it deeply hydrates and plumps up my skin, diminishing my expression lines.  It also refreshes and calms the skin, making it feel good at the start of the day.  It has a very pleasant aroma that reminds me of sun cream and summer holidays and I like the bold, design-led packaging.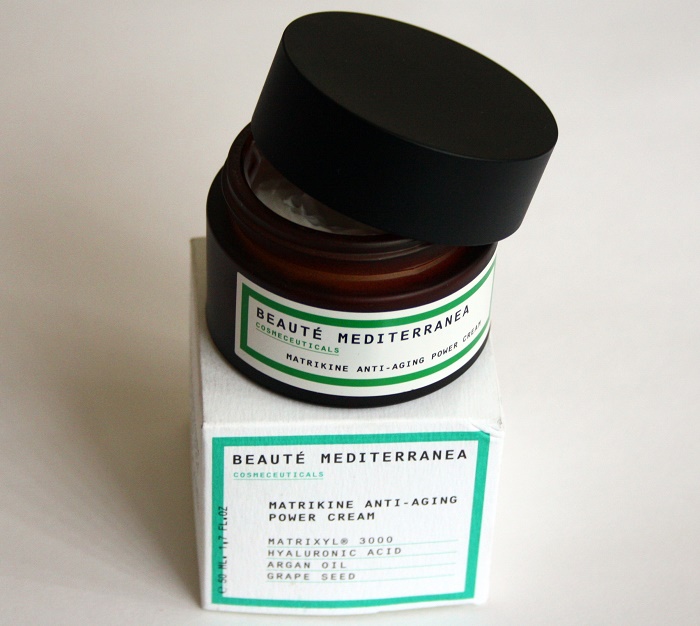 Beauté Mediterranea Matrikine Anti-Wrinkle Eye Contour has a light gel-crème texture and it instantly hydrates and brightens the eyes.  It sinks in quickly and preps the skin well for eye make-up.  I've been using the Beauté Mediterranea Matrikine products with Ole Henriksen Truth Serum (sunshine in a bottle), but there's also an anti-ageing serum in the range.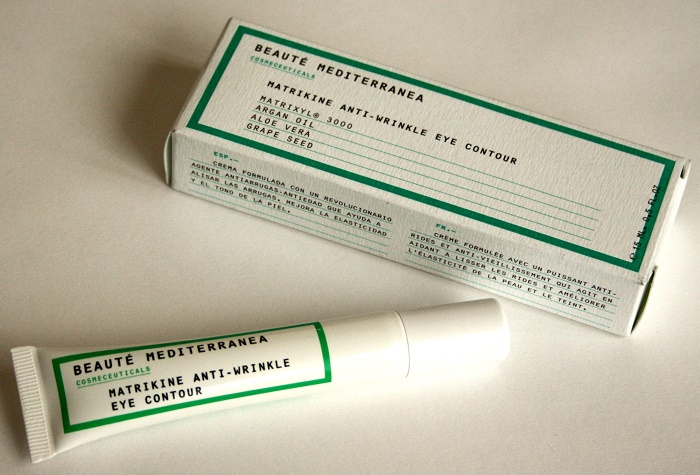 I was surprised to find that all products in the Matrikine range are around the same price (£32-34.50), which is rare for skincare brands.  This makes it easier to invest in the range, but if you want to start with just one, the Power Cream is a joy to use and excellent value.
It's still early to be talking anti-ageing results, but I'll post an update once the products are finished.  I'm often a bit sceptical when it comes to anti-ageing claims in skincare (it doesn't help when brands use the word 'miracle' and keep you waiting to see it), but Beauté Mediterranea has a straight-forward, pharmacy-led approach to results.  It already makes my skin happy, so I'm looking forward to seeing just how effective the matrikine complex is.
For more information and to buy online, visit: www.mitonia.co.uk
*sample