Growing up in Newcastle, one of my favourite places to get out in the fresh air was leafy, wild Jesmond Dene.  It's an incredibly beautiful wooded valley where you can walk alongside the river Ouseburn with stunning waterfalls and spot exotic trees and wildlife including red squirrels and kingfishers.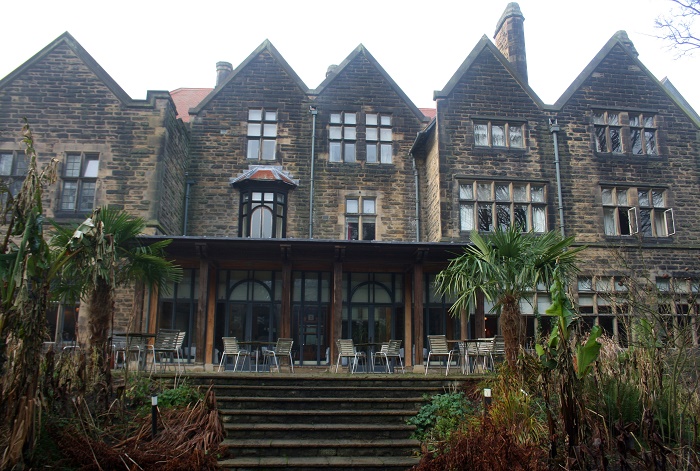 I have happy memories of going to see the peacocks and goats at Pets Corner and rollerblading down the bank to the local artist market on the bridge every Sunday.  So you can imagine how excited I was to visit Jesmond Dene House for a rare luxury staycation in my home city.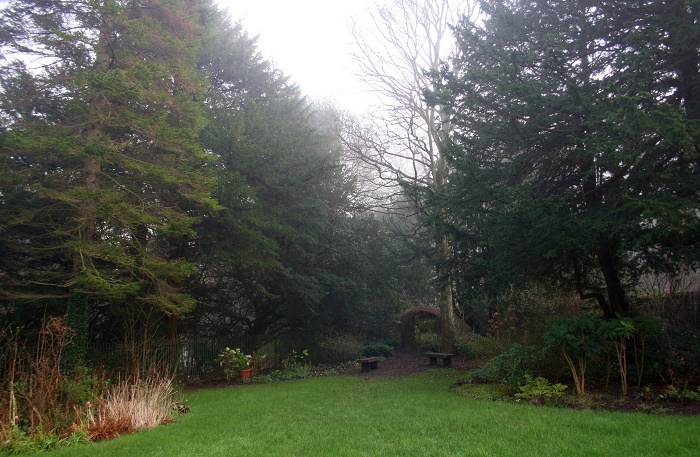 Jesmond Dene House opened as Newcastle's first independently owned boutique hotel in 2005 and the building itself has quite a history.  The original Georgian house was bought in 1871 by Captain Andrew Noble (business partner of Lord Armstrong), who moved in high society and hosted luminaries such as Rudyard Kipling, Arthur Conan Doyle and royalty from the Far East.
Today, Jesmond Dene House enhances its historic features with contemporary design and a striking art collection.  I adored the charming little dogs made from twisted wire dotted around the hallway and sitting next to the fire in the lounge.  It's also a real foodie destination with many locals visiting the restaurant for its popular afternoon, Sunday roast and innovative tasting menus at dinner.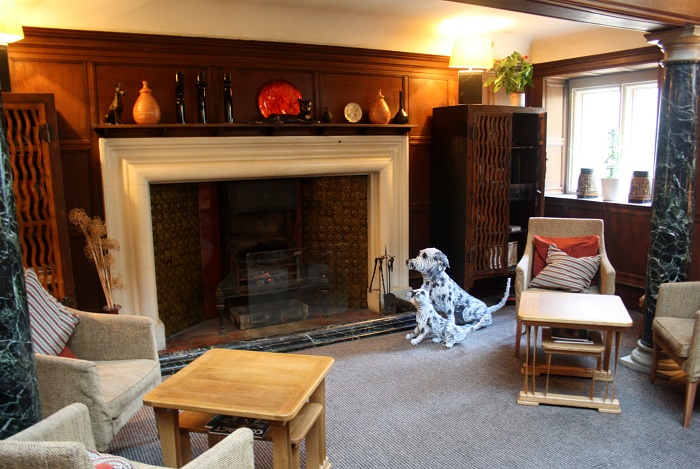 We received a warm welcome at check-in and were shown to our Deluxe Room on the second floor.  It was lovely and cosy with high ceilings and a partial view of Jesmond Dene.  The room was designed in a classic-contemporary style and soft neutral shades and featured a comfy seating area, writing desk, flat-screen HD TV, an iPod docking radio and free wifi.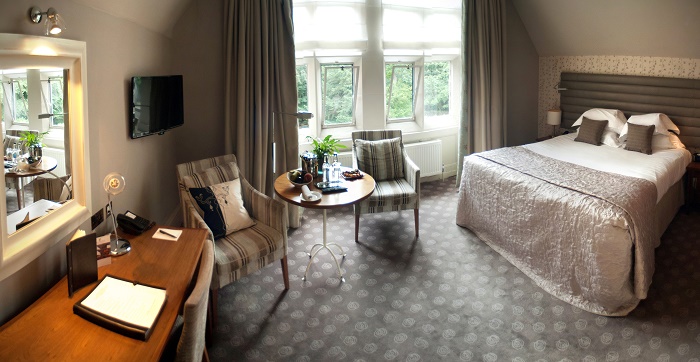 The hotel knows how much Northerners need a good cuppa and they've really put some thought into the tea and coffee making facilities.  I was impressed with the plentiful selection of JING teas, freshly-ground coffee produced by Ringtons for Jesmond Dene House, mini bottle of fresh milk and ginger cookies.  A china tea pot and cafetiere completed the very civilised tea experience and we were also provided complimentary bottles of mineral water and fresh fruit.
The bed was very comfortable with high quality linen and the room was so quiet that we had an excellent night's sleep.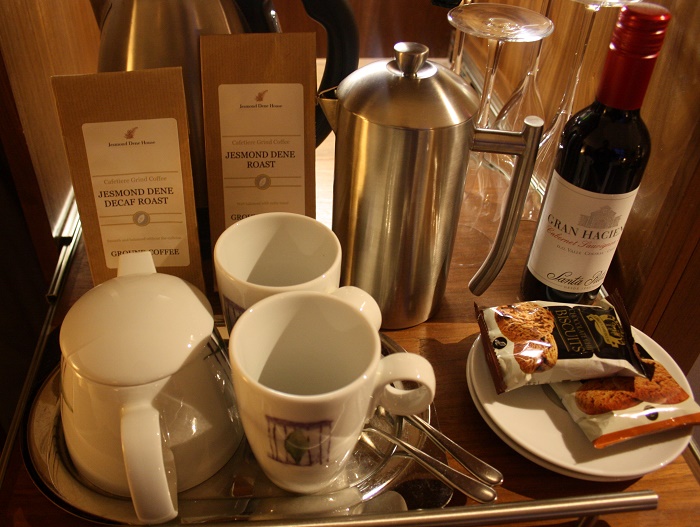 The bright, modern tiled bathroom was pristine and featured a wide soaking tub, high quality towels and face cloths, plush bathrobe and slippers and a full set of uplifting Arran Aromatics bathroom products.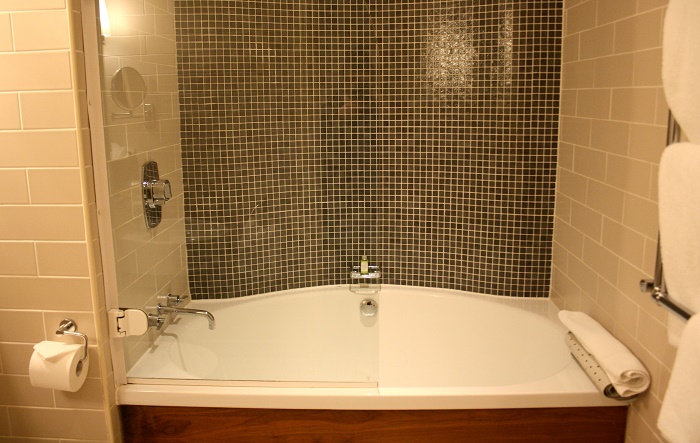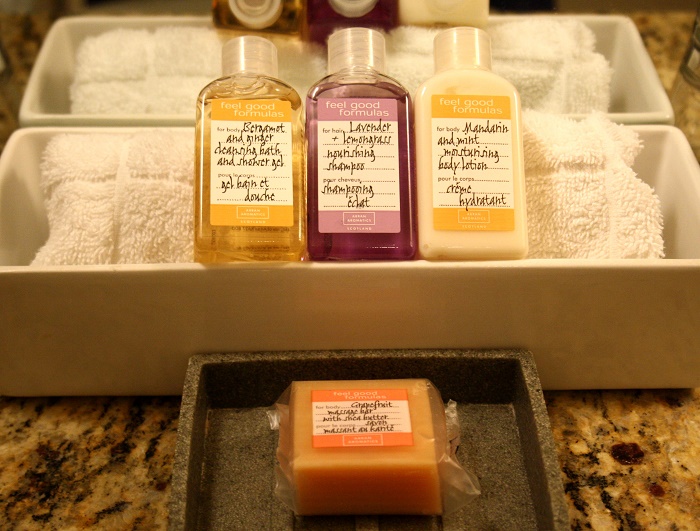 That evening, my mum and I dined at The Restaurant with a modern British menu by Head Chef Michael Penaluna.  The restaurant is stylish and colourful with intriguing artwork and pleasantly dimmed lighting and a relaxed, friendly atmosphere.  However, fine dining touches are in place, as we were offered a selection of freshly-baked breads with a choice or salted, unsalted or seaweed butter and presented a yummy amuse-bouche before our starters and desserts.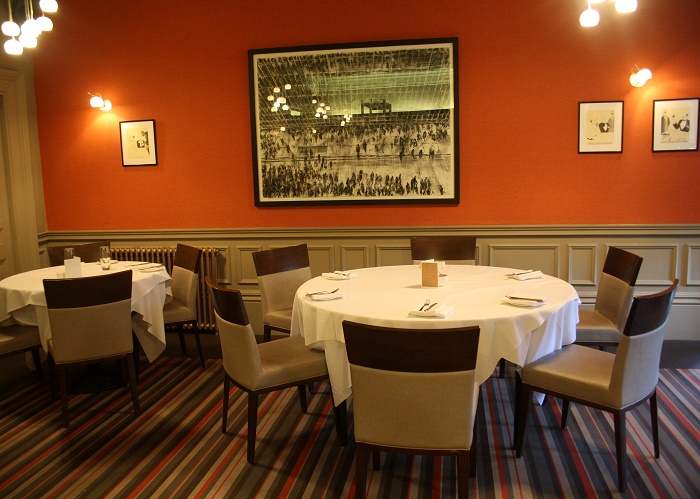 My mum and I both started with Celeriac soup with roasted chestnuts, apple and Stilton tortellini.  The velvety, creamy soup was simply lovely and the single tortellini filled with potent Stilton packed a real punch – only one piece was required to make an impact.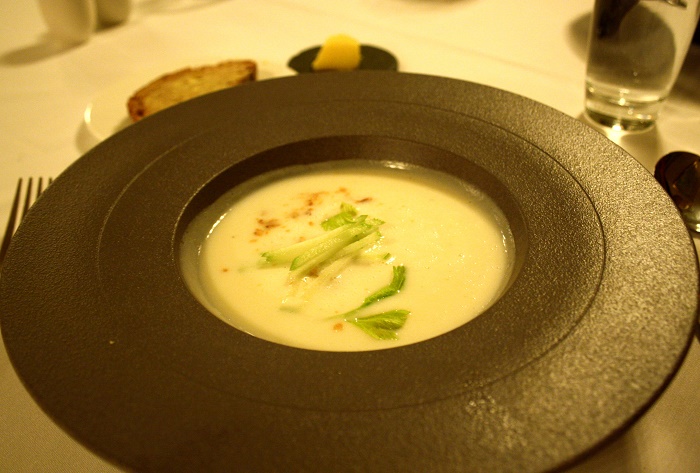 I followed with Roast chicken with fondant potato, wild leeks and baby carrots.  The chicken breast was succulent and juicy with a well-seasoned crispy skin and the delicate roasted vegetables and rich, meaty jus were the perfect accompaniment.
My mum also enjoyed her Flat iron steak with fat cut chips, watercress and Bearnaise sauce.  The lean, tender steak had a deep, mature flavour, the chips were crisp and moreish and the Bearnaise was silky and tangy with plenty of fresh tarragon.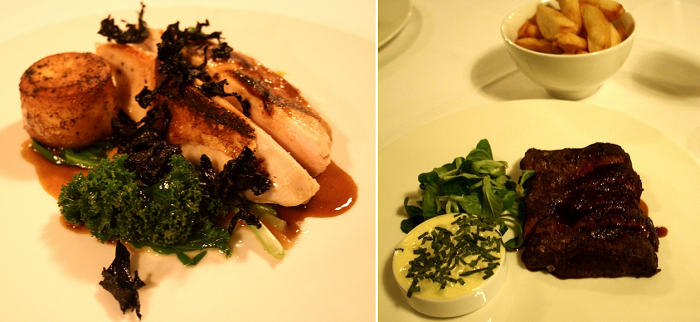 Since my mum is a rhubarb fan, it was only right that she should order the Vanilla and rhubarb gateaux with rhubarb sorbet.  Not only did it look ever so pretty, but it was delicious with a thick layer of rhubarb jelly, springy golden sponge and vanilla cream that was light as air.
My Chocolate and salted caramel tart with vanilla ice cream didn't disappoint either.  The dark chocolate ganache was full of deep flavours and went perfectly with the indulgent, sticky salted caramel, light and buttery pastry and home-made ice cream.
The staff were so welcoming and friendly and we liked that seasonal ingredients are locally sourced from Northumberland and the North Sea coast.  If you fancy a nightcap, there's a relaxing wood-panelled bar next door or a cosy place next to the open fire in the lounge.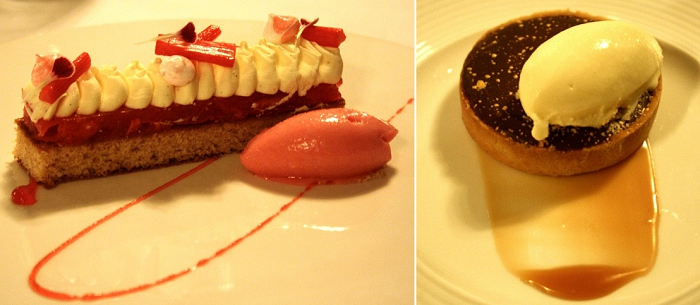 Breakfast in the Garden Room is quite an event at Jesmond Dene House, with everything you could possibly want to start the day.  We enjoyed the Continental Breakfast spread, which included Neil Robson's smoked salmon, home-cured gravlax, cured meats, Continental cheeses, delicious pastries, banana bread, French set yoghurts, Bircher muesli, cereals, fruit compote and poached pears.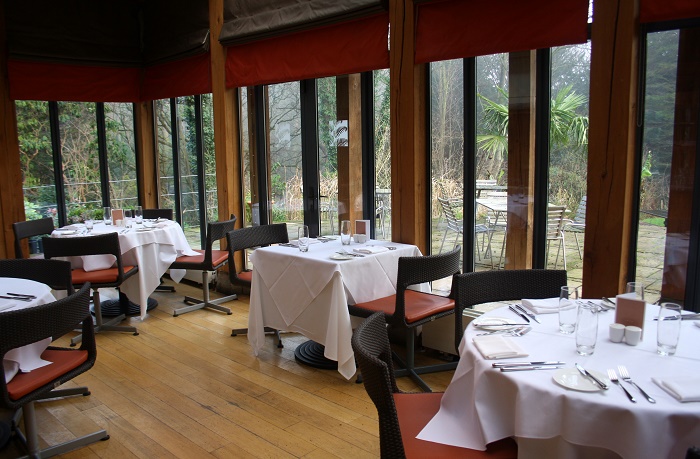 You can also order hot dishes such as Haggis and duck egg with salsa verde, Grilled Craster kipper, Eggs Benedict or French toast with the Continental breakfast included in the price.  Be sure to leave plenty of time for a long, leisurely breakfast – it's worth it!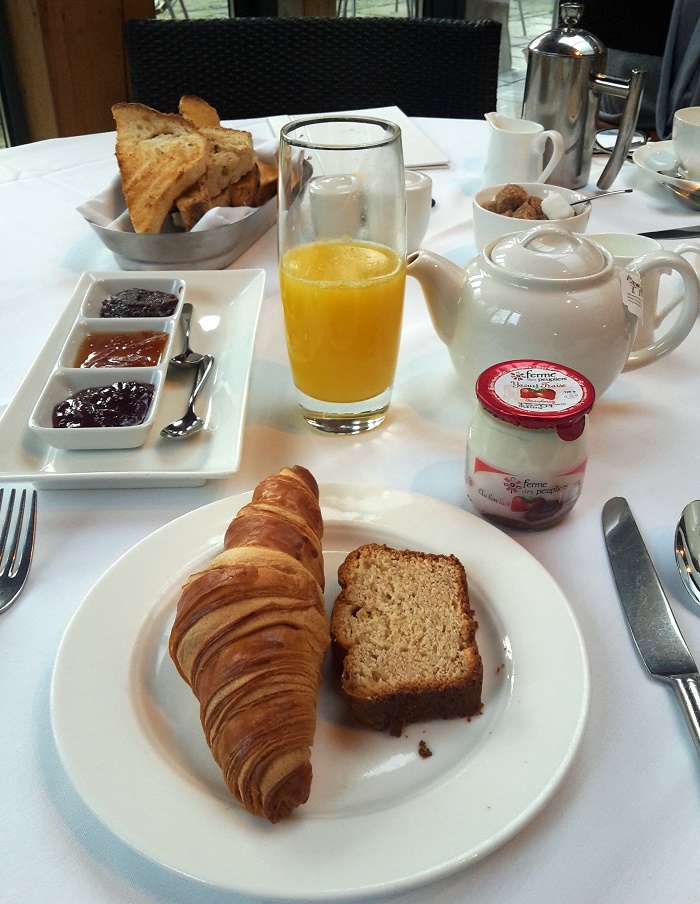 Jesmond Dene House feels like a secret hideaway retreat surrounded by lush greenery, but it's also close to Jesmond's lively Osborne Road and Newcastle city centre for shopping and dining.  We loved our relaxing staycation and will no doubt be back at Jesmond Dene House soon – a decadent afternoon tea on the terrace among the palm trees is high on my 'to do list'.
For more information and booking, visit: www.jesmonddenehouse.co.uk
Chérie City was a guest of Jesmond Dene House
Photos by Chérie City and Jesmond Dene House