Hotel Adlon Kempinski is the grande dame of Berlin hotels, standing majestically on the corner of Pariser Platz overlooking the Brandenburg Gate.
It's a legendary hotel with quite a history and a stellar list of iconic past guests including Charlie Chaplin, Marlene Dietrich and Josephine Baker during Berlin's Golden Twenties.  Greto Garbo delivered her famous line, 'I vant to be alone' in one of its rooms while filming Grand Hotel and the hotel also gets a name-check by Liza Minnelli's Sally Bowles in Cabaret. As a fan of historic hotels with character, that alone was enough to get me through the golden revolving door.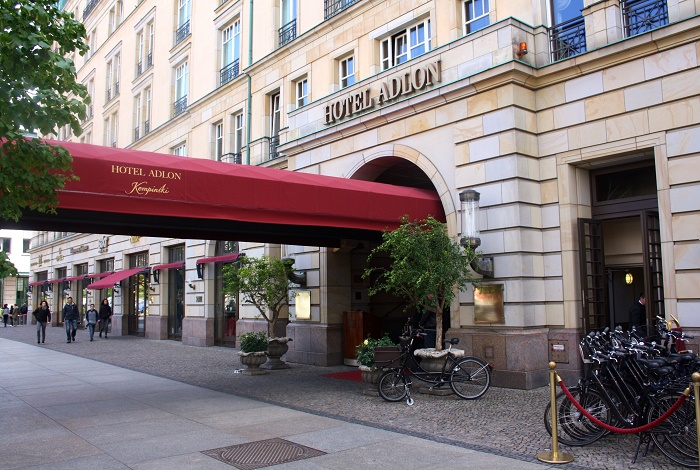 While the Adlon is steeped in history, in fact the building was destroyed in a fire in 1945, leaving ruins in its place for decades before it was entirely rebuilt and restored in the style of the original hotel in 1997.  So accomplished was the regeneration, with its French-style balconies and verdigris roof, that it's easy to believe the hotel had never went away.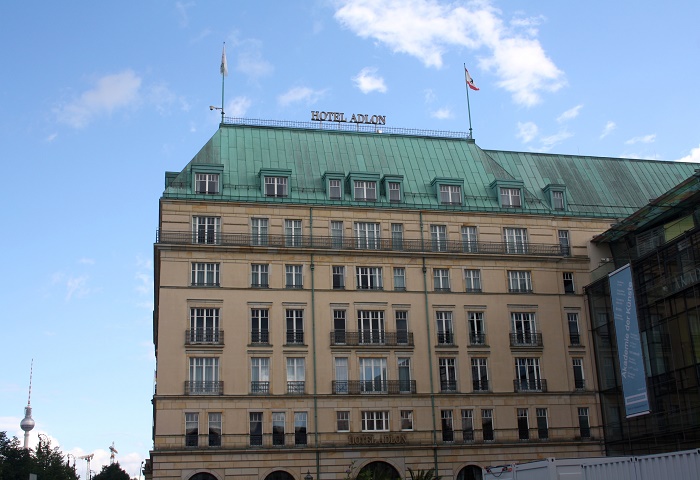 Arriving at Hotel Adlon Kempinski, to a red carpet and a flurry of traditionally-dressed luggage porters, you know you're somewhere very special.  The bright, flower-filled Lobby Lounge and Bar offers plenty of old world glamour and a sense of calm, with a pianist playing jazz classics while guests enjoy afternoon tea, or a signature Adlon-Currywurst.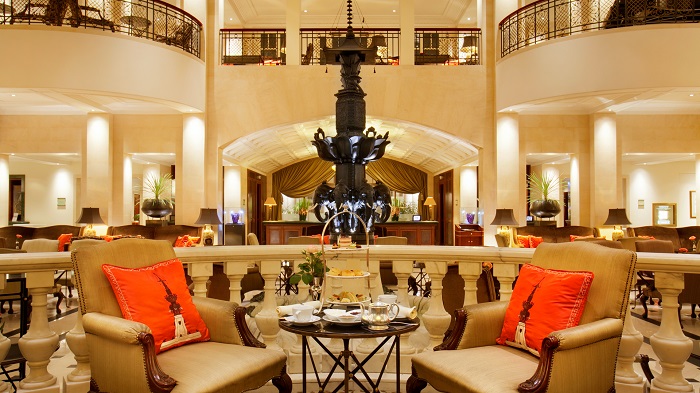 We were warmly welcomed by the front desk staff and were shown to our Junior Suite with a spectacular view of the Brandenburg Gate.  The circular entrance hall soon became my walk-in dressing room, as it was handily lined with fitted wardrobes and had a centre table and an additional door to the bathroom – excellent hotel room design, no?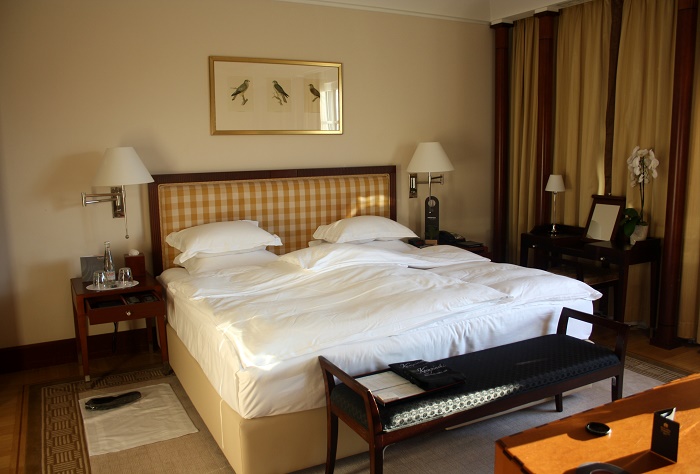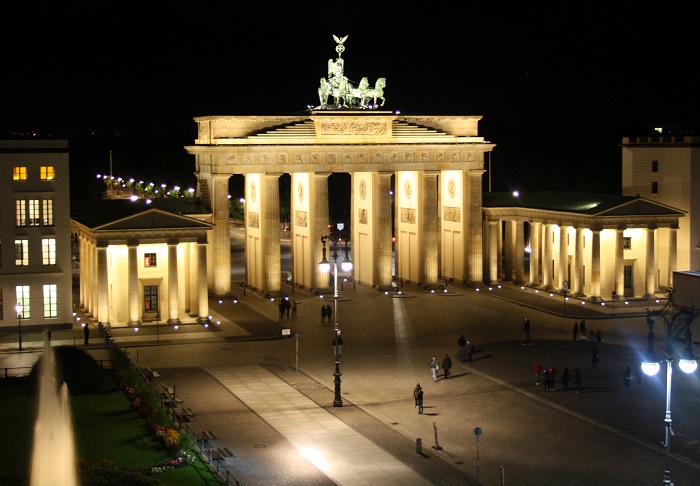 Sliding doors led on to the large open-plan suite, designed in a colour palette of cream and ochre with highlights of mahogany and cherry wood.  It felt stately yet cosy with a plush suede sofa in the living area and a very comfortable king-size bed.  On the executive writing desk was an iPad for use during our stay and thankfully free wifi (it's hard to believe but some high end hotel groups still charge for this).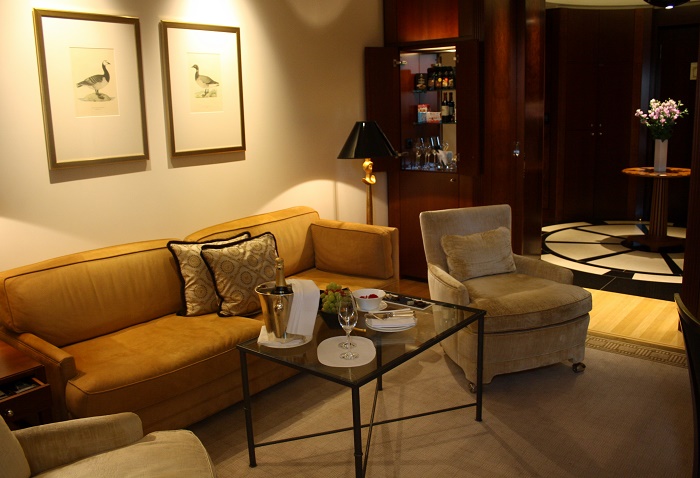 We were kindly welcomed with Moët & Chandon Champagne chilled on ice, copious fresh fruits and the most exquisite hand-made chocolates on a bed of mini chocolate chips (most likely for decoration but I couldn't resist grazing on them later).  There was also complimentary bottled mineral water by our beside and our room was thoughtfully turned down for our late-afternoon arrival.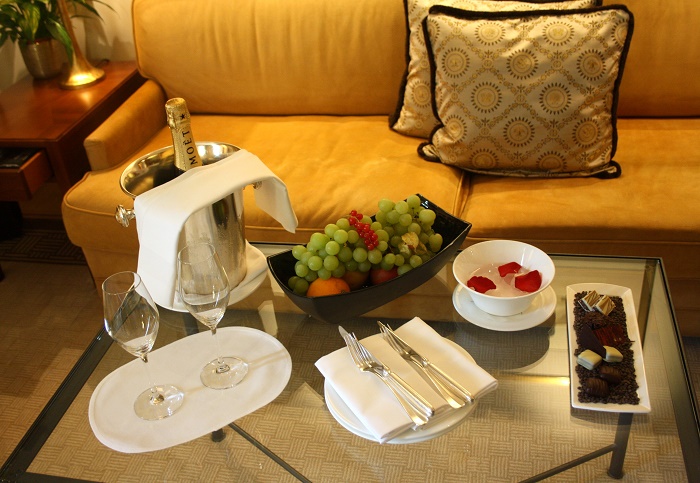 Another lovely touch was the wake-up call complete with complimentary tea and mini pastries delivered to our room.  Be sure to request a wake-up call the night before, so you can start the day in the sweetest way possible.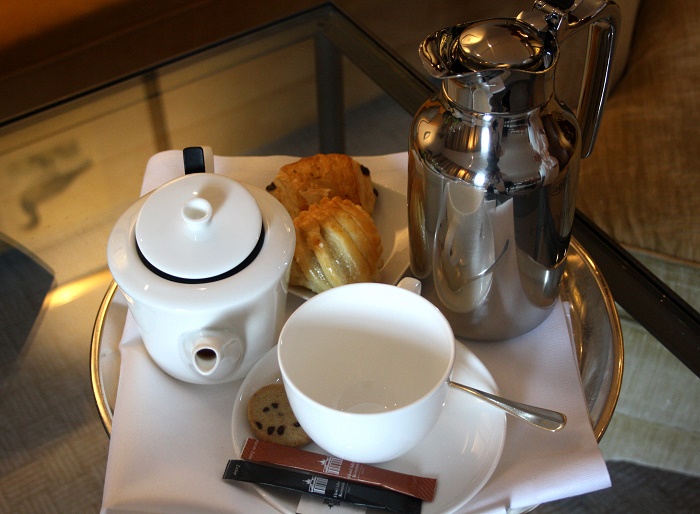 The sleek mahogany wood and black granite bathroom was a real highlight, with a deep soaking tub in the centre of the room, a powerful walk-in shower, double sinks, plush bathrobes and slippers, a full set of Elemental Herbology bathroom products and Blaise Mautin bath salts.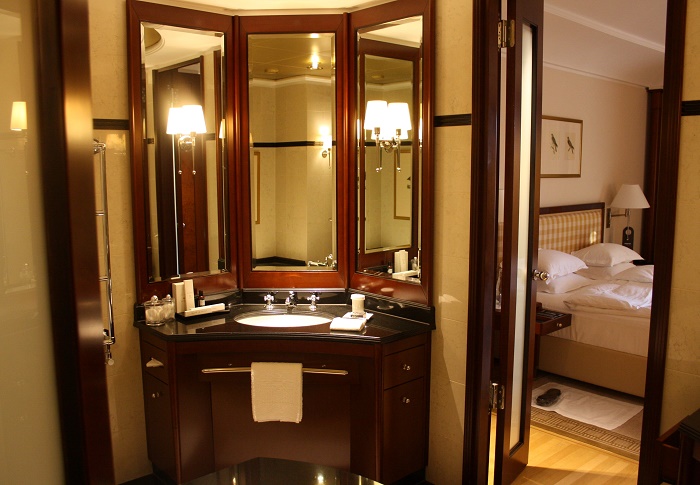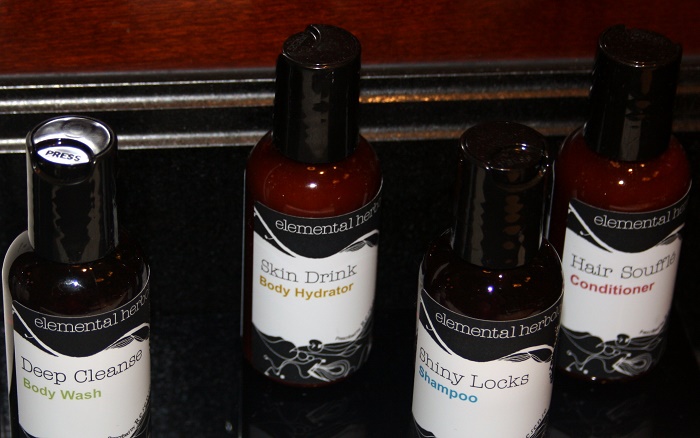 After settling in to our suite, we hit the pool and sauna to unwind after a day of travelling.  I was thrilled to find an opulent, Italian garden-inspired oasis with a tranquil, perfectly heated pool and a blissful whirlpool. The separate and mixed sauna and steam room were some of the hottest, most effective that I've encountered and there are plenty of mini Evian bottles and iced teas to keep you cool and hydrated.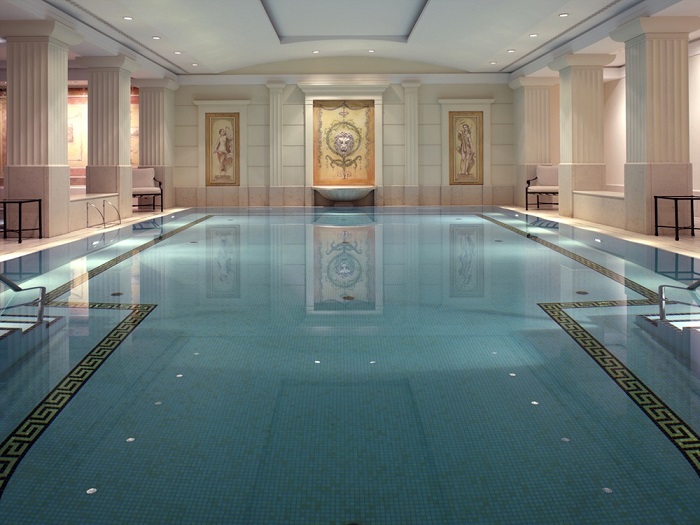 The three-level Adlon Spa by Resense is quite spectacular, with beautiful Asian-style interiors by Anne Maria Jagfeld, stylish treatment rooms and a yoga studio.  I highly recommend treating yourself to a spa treatment there if you have time for some serious pampering, as the spa is really something to see.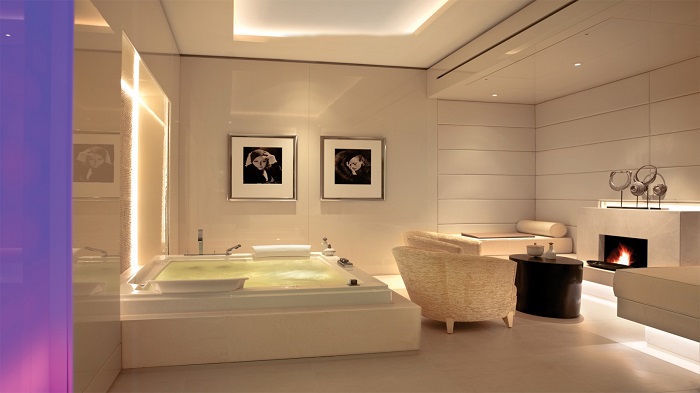 Dining is a big event at Hotel Adlon Kempinski with no less than four restaurants.  The crown jewel of the hotel is the two Michelin star Lorenz Adlon Esszimmer with innovative fine dining by Chef de Cuisine Hendrick Otto and the hip, seductive pan-Asian Sra Bua by Berlin's renowned chef Tim Raue.  Le Petit Felix serves sunny Mediterranean dishes with a focus on the south of France while Quarré Restaurant is a classic brasserie where breakfast is served.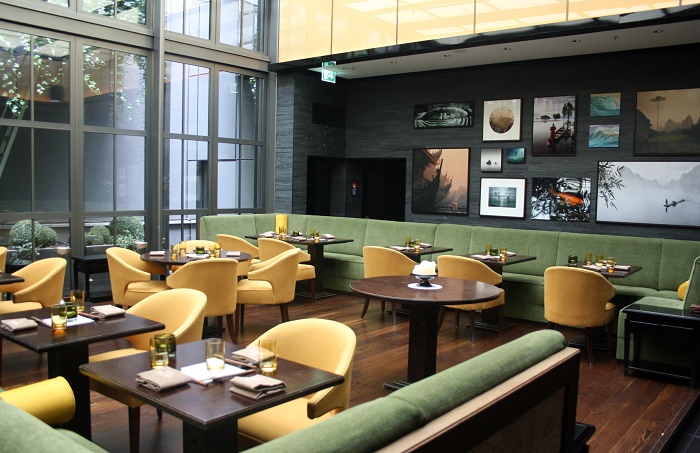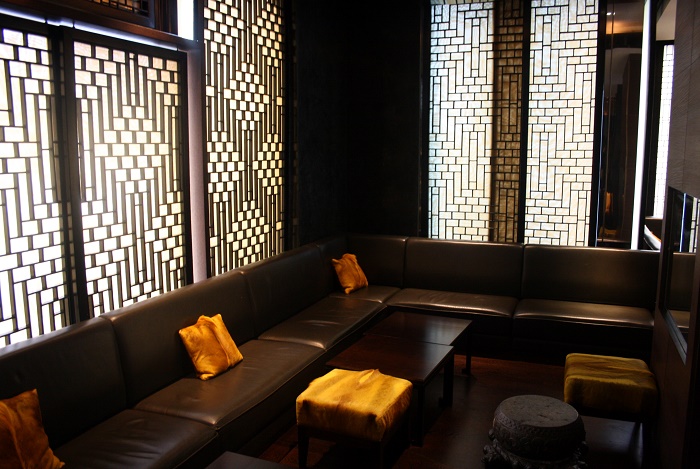 And what a breakfast it was!  The bountiful breakfast buffet with live cooking stations is widely known as the most luxurious in Berlin – where else is Champagne and a selection of caviar included?  You'll want to schedule at least an hour to navigate the offering and indulge in pancakes, pastries, cured meats and smoked salmon before ordering some tasty Eggs Benedict (also included) to really ensure you're set up for the day.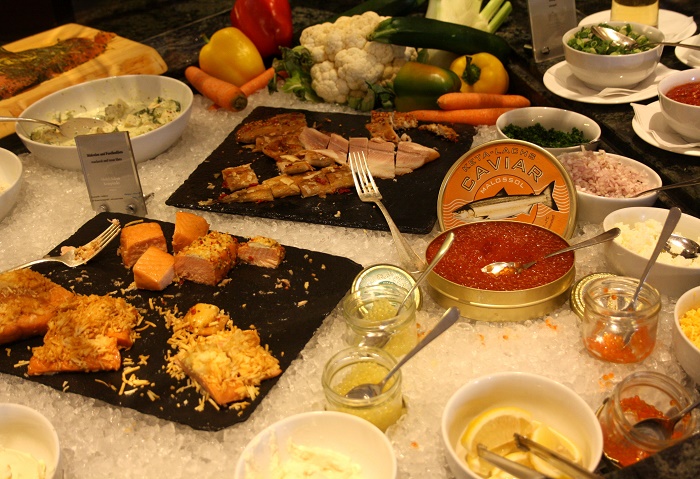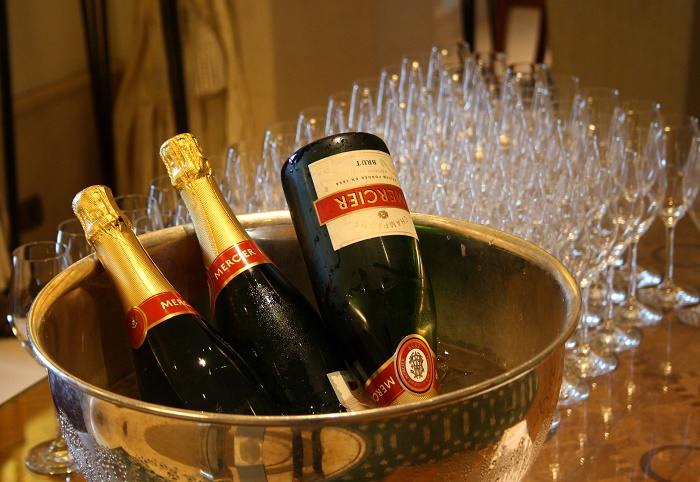 As if the breakfast buffet of dreams wasn't enough already, our charming waiter presented us with a paper bag of Berliner doughnuts to munch on later – such a fun, thoughtful touch.  We left feeling comfortably full and ready to explore the city.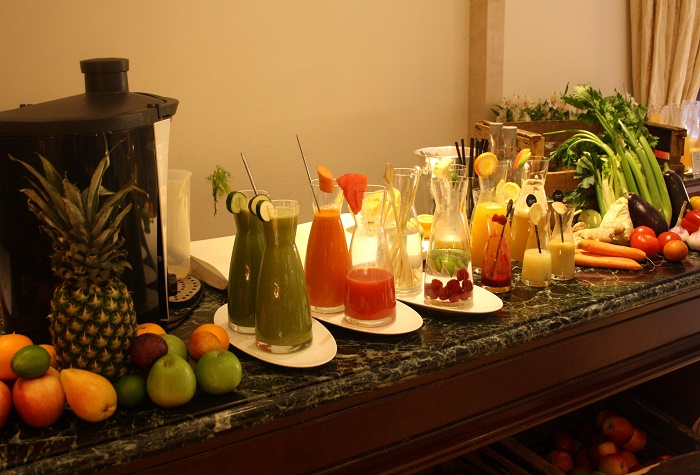 While this prestigious part of Mitte isn't the most lively at night, I thoroughly recommend staying at Hotel Adlon Kempinski if you're planning to see sights such as the Brandenburg Gate, the Reichstag, the Holocaust Memorial, Potsdamer Platz and the leafy Tiergarten.
Our stay at Hotel Adlon Kempinski was so memorable, luxurious and incredibly relaxing.  The friendly, enthusiastic staff really enhance the charm of the hotel and we always felt welcome and well looked after – everything that you could possibly desire from a five star Berlin hotel.
For more information and booking, visit: www.kempinski.com
Chérie City was a guest of Hotel Adlon Kempinski
Photos by Chérie City and Hotel Adlon Kempinski