Kanada-Ya made a big impact when it launched on St Giles High Street last year and it has remained my preferred London ramen bar since.  It hasn't always been easy to grab a walk-in seat due to its popularity and petite size, but thankfully, Kanada-Ya has met demand and earlier this month opened a second ramen bar on Panton Street, just off Haymarket.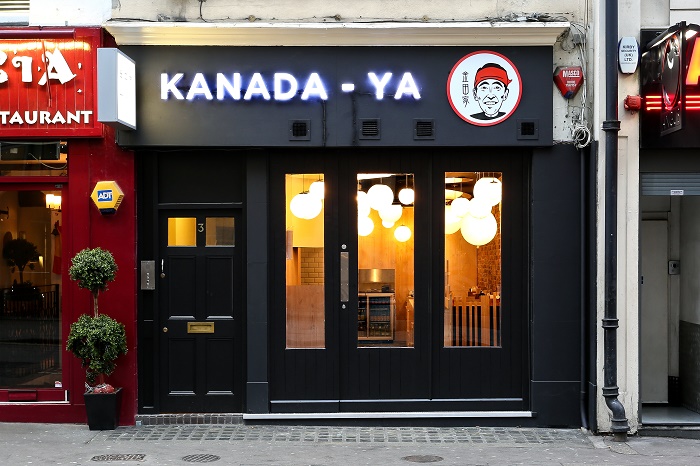 Kanada Kazuhiro's new ramen bar is thankfully larger and set across two floors, with two bookable tables for groups of 5-7 as well as the usual walk-in tables and counter.  Designed by Spaced Out Ltd, Kanada-Ya Haymarket has a casual, minimal feel with simple light wood furniture and red accents.  It's comfortable enough, but is definitely the kind of place for a quick and tasty refuel, rather than lounging over drinks.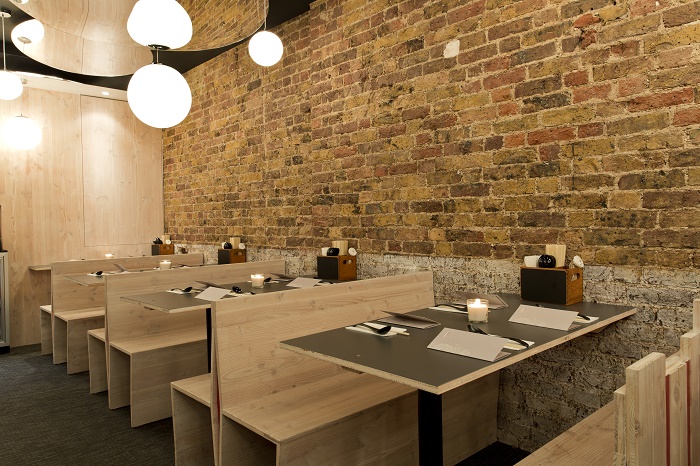 The menu has also been modestly expanded to include two more side dishes and Japanese ice cream for dessert.  The focus remains on the ramen, which is quickly served up piping hot in large bowls with a number of extras, so you can customise it to your own taste.
We visited on Monday evening just before Christmas and arrived to find an orderly queue forming outside. It didn't take long to be seated and we started by ordering iced Oolong tea – a lovely, refreshing drink in a can without any added sugar.  For something stronger, Kanada-Ya serves a good range of bottled cocktails, Japanese craft beer, rare Japanese whiskies and wine selection.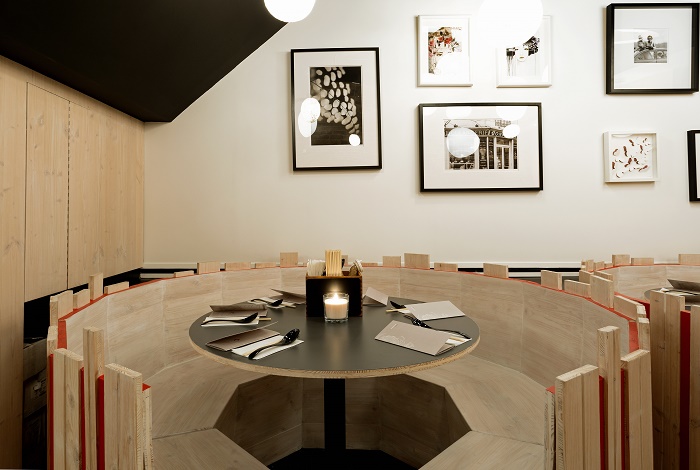 I was excited to try Kanada-Ya's spin on one of my favourite Japanese bites – Chicken Kara-age.  The tender chicken thigh was well-marinated in ginger, garlic and soy and fried with a little more batter than I'm used to, but still delicious and satisfying.  It was not at all greasy nor in any way spicy but the seasoning certainly packed a punch.  There's also a side of Paolo's Spicy Kale to choose from, if you're after something healthier.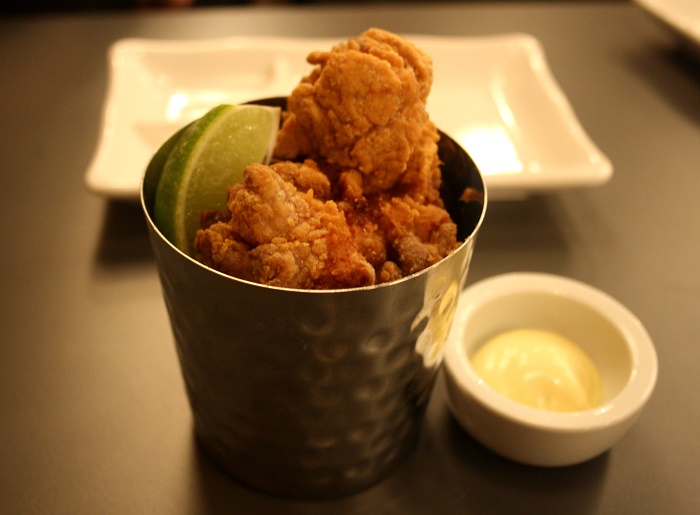 To follow, Steven went for the Original Ramen, which made such an impression on us the first time we visited Kanada-Ya St. Giles.  It was exactly how we remembered, with a rich, creamy 18-hour pork bone broth, plenty of springy, hand-pulled noodles, earthy wood ear fungus, finely-sliced spring onion and a large sheet of flavoursome nori.
Of course, the star of the show was the chashu pork belly with a deep honey barbecue flavour and a silky, melt-in-the-mouth texture.  This house-marinated pork really is rather special and sets Kanada-Ya apart from other from rest.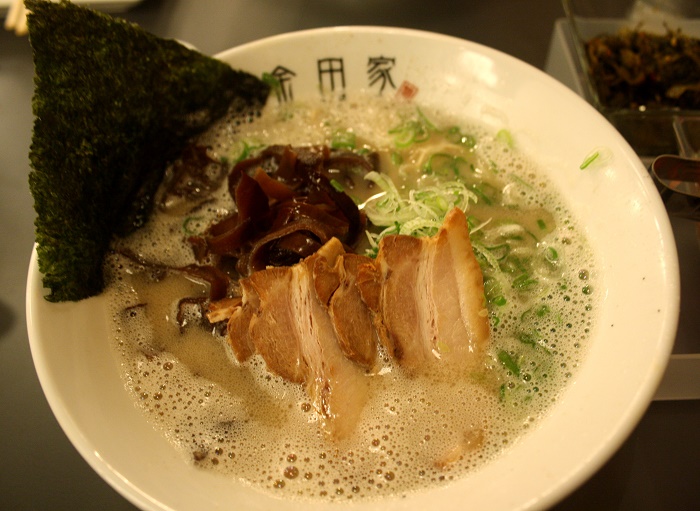 I wanted to try something new and happily, the Chashu-Men was just as tasty and comforting as I'd hoped.  The ramen base was exactly the same as the original, but the bowl was lined with generous slices of succulent chashu pork collar.  The slices of pork were larger and leaner, with hardly any fat at all, and the portion size was almost double.  The pork collar still had that sweet chashu flavour, but it was much more subtle than the intense pork belly in the Original Ramen.  Both types of pork are absolutely delicious, it just depends on your mood and hunger levels.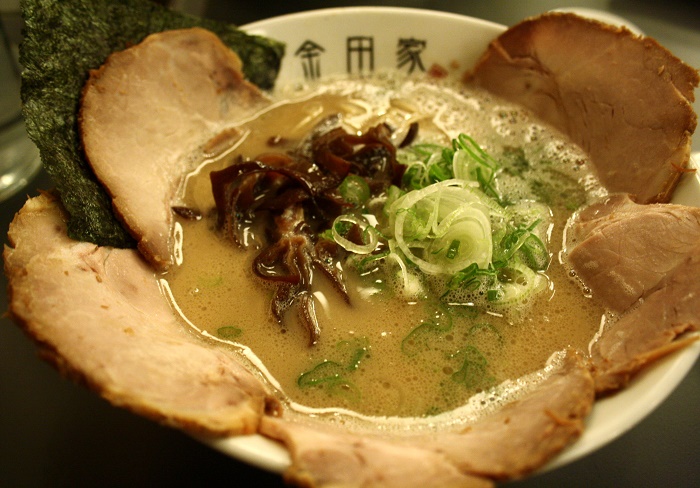 It's essential that you save some room for the dreamy Matcha Soft Serve.  The smooth, not overly sweet whipped ice cream was packed full of matcha green tea, giving it a bold flavour without any bitterness.  It's the perfect light dessert to cool down after a bowl of hot ramen and leave you with a bit of a matcha high.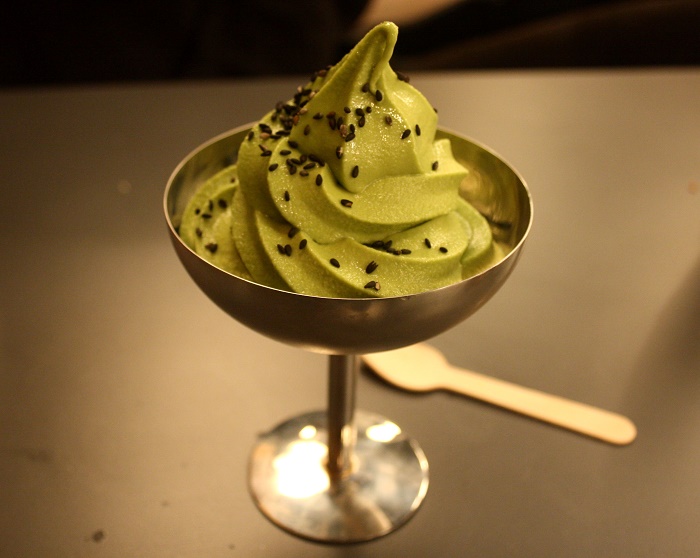 There are still so many ramen bars to work my way through in London and beyond, but Kanada-Ya has set a standard that will be hard to beat (although I'm up for the challenge).  If you're in the mood for a ramen fix, or want to see what all the fuss is about, Kanada-Ya is where you need to be.
For more information, visit: www.kanada-ya.com
Chérie City was a guest of Kanada-Ya Haymarket
Photos by Chérie City and Kanada-Ya Haymarket