Our recent trip to Paris was a whirlwind of foodie delights and as ever, we made lots of new discoveries.  I usually plan our meals with military precision but decided to loosen things up this time and go wherever our hearts and stomachs took us.
When we arrived in Paris and settled in to our lovely room at Grand Hotel du Palais Royal, a lazy Sunday afternoon was in full swing.  Our Paris trips are almost always mid-week, so it was a rare pleasure to see Parisians and visitors strolling around with their pooches, kissing in the Tuileries and making the most of a sunny weekend.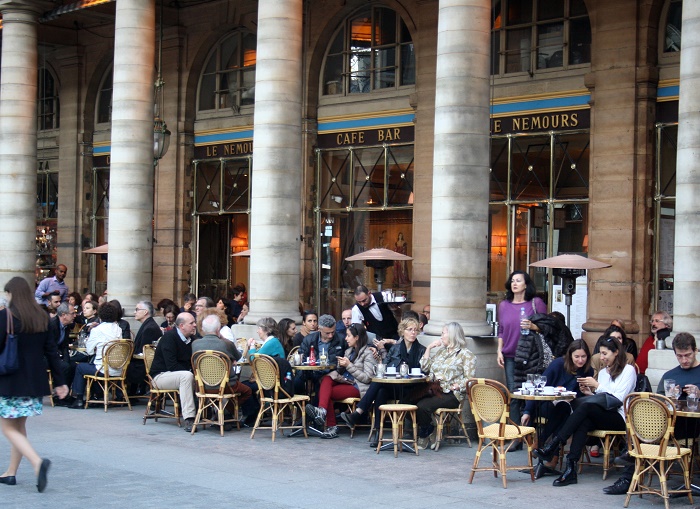 One of my favourite people-watching spots in Paris is the terrace of Cafe Le Nemours on Place Colette, sandwiched between the Louvre and the Palais Royal.  We managed to score an outside table and ordered two Croque Madames for a tasty refuel.  I'm always on the hunt for these traditional Croques with bubbling, oozing Gruyère, crispy buttered bread and a runny egg yolk (none of that slim slice of pain Poilâne nonsense).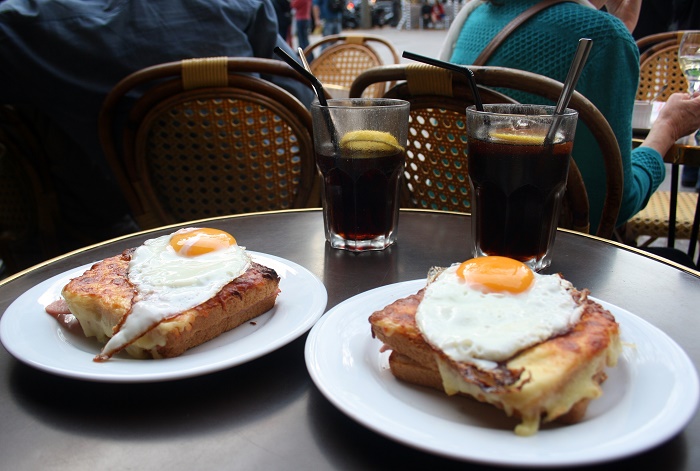 As much as I tend to seek out creative neo-bistros and hip new bars, I also love a bit of Parisian old world charm.  The kind of institutions that have been serving up exemplary steak frites to the hungry masses for decades without a care for the latest trends.
There's no better place to find these gems than around the Palais Royal with its many traditional arcades nearby.  So later that evening, we headed to Bistrot Vivienne set in the characterful, early 19th century Galerie Vivienne for a relaxed supper.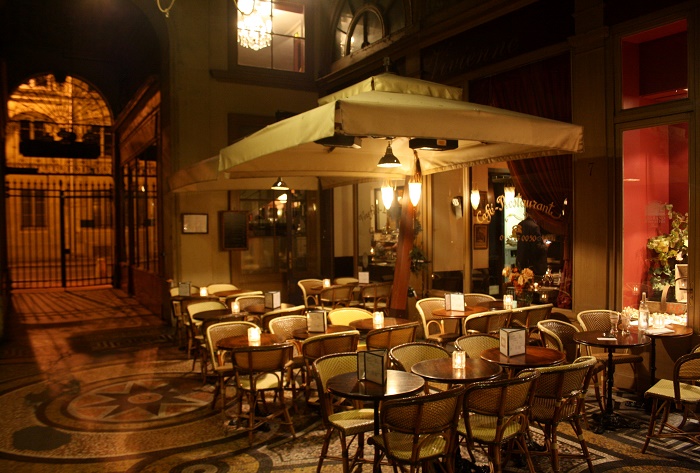 We both had our hearts set on steak frites and washed them down with a Monaco instead of the usual red wine.  My Scotch beef onglet steak was tender and lean, served perfectly medium with a velvety, mild gorgonzola sauce.  Steven's Scotch Beef entrecôte with Guérande sea salt had a more mature flavour and a melt-in-the-mouth texture and was served with pot of a tangy, herby Béarnaise sauce.
The accompanying hand-cut fries are possibly the best I've ever tasted in Paris – hot, crispy, golden and freshly cooked.  We didn't find room for dessert but will no doubt be lured back next time for the Brioche pain perdue and the Bourbon vanilla rice pudding with salted caramel.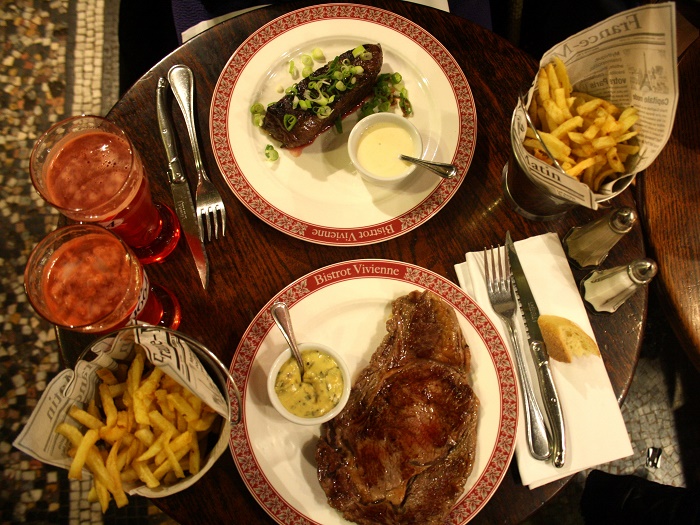 Of course, it wouldn't be a luxury Paris trip without a little casual fine dining and what better than a leisurely three-course lunch at Le Lulli, the stunning restaurant at Grand Hotel du Palais Royal?
I loved the restaurant's relaxed atmosphere and contemporary design with a pretty winter garden referencing nature in the Palais Royal Garden.  It was quiet when we visited but is generally popular among the local business crowd and ladies who lunch, looking for something special and more private than nearby bistrots.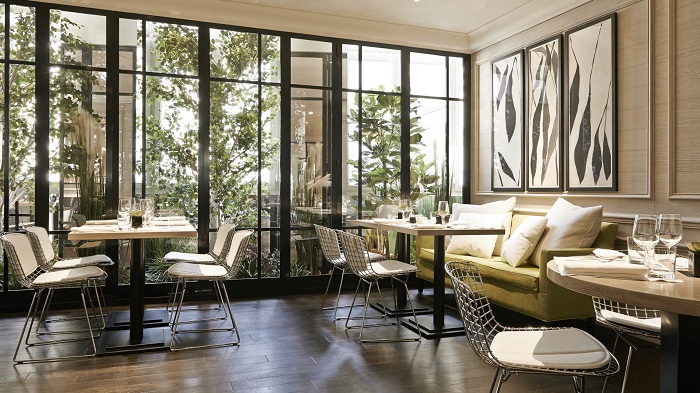 At the helm of Le Lulli is Executive Chef Clément Le Norcy, who honed his skills under the guidance of Michelin starred chefs at Hotel Auberge du Jeu de Paume in Chantilly, L'Abbaye Saint Ambroix and Hotel Le Saint-James and Le Gabriel in Bordeaux.
I started with the most delicious Gambas with roasted sucrine and shellfish vinaigrette.  The plump gambas were perfectly cooked and had an Asian twist with the slightly sweet vinaigrette and tiny mushrooms infused with soy.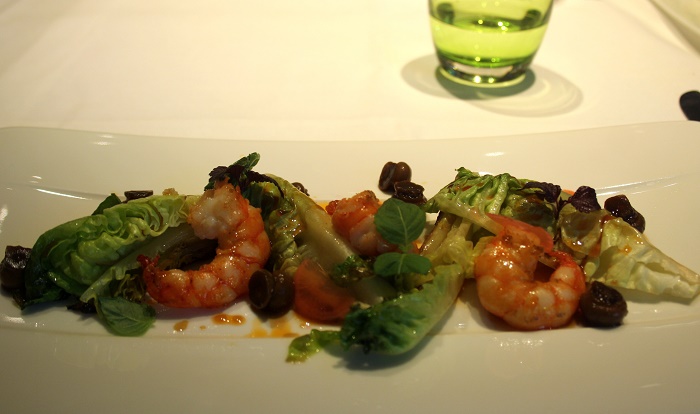 Steven's Salmon marinated with rose berry, cucumbers and spring onions was a delight with plenty of nicely-cured salmon, mini blinis and tempura spring onion.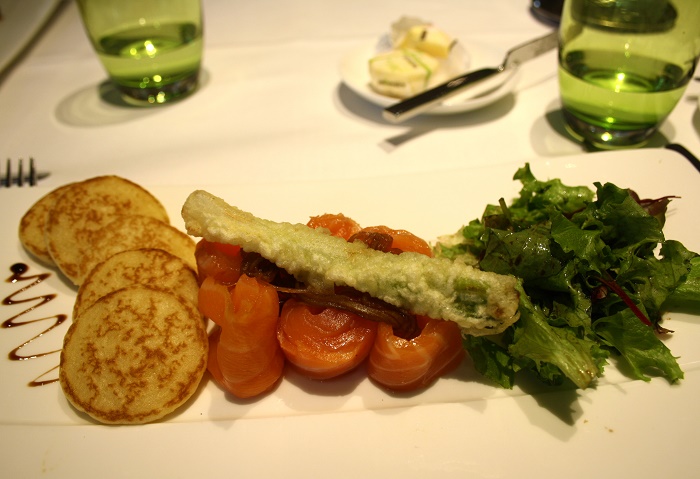 After the previous evening's indulgent steak, I went with a light and healthy Cod with mashed mushrooms and pistachio pesto.  It was succulent and crispy on top and the accompanying sauces were full of flavour with a smooth texture.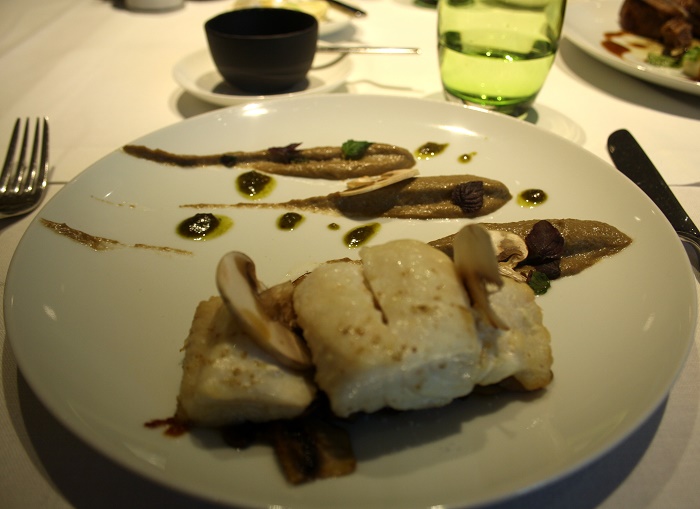 The winning dish, however, was Steven's Lamb marinated with thyme and lemon, grilled leeks and spiced yoghurt.  The tender, lightly glazed lamb was ever so satisfying with a rich, meaty jus and delicate, fresh leeks.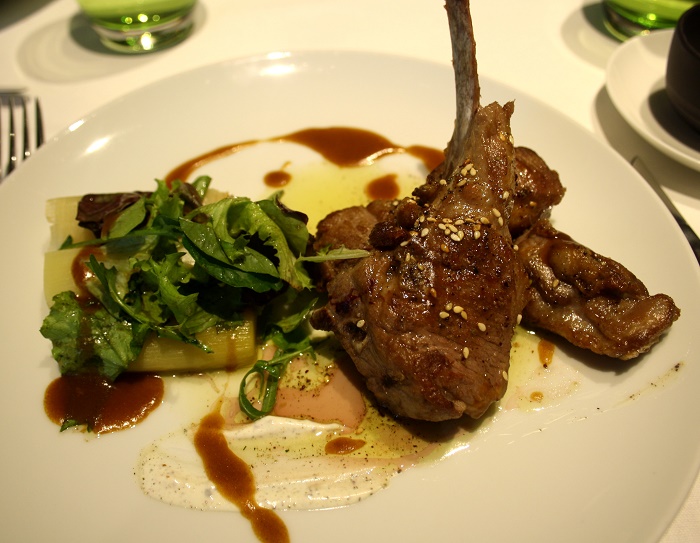 Our meal ended on a high note with delicious desserts and a pot of tea.  My Entrement Chocolat, described as melty and crunchy from Tanzania, was simply heavenly.  The exquisite, velvety milk chocolate mousse (obviously made from very high quality chocolate) was filled with sticky sponge and topped with a chocolate sablé biscuit and drops of shimmering fruit gelée.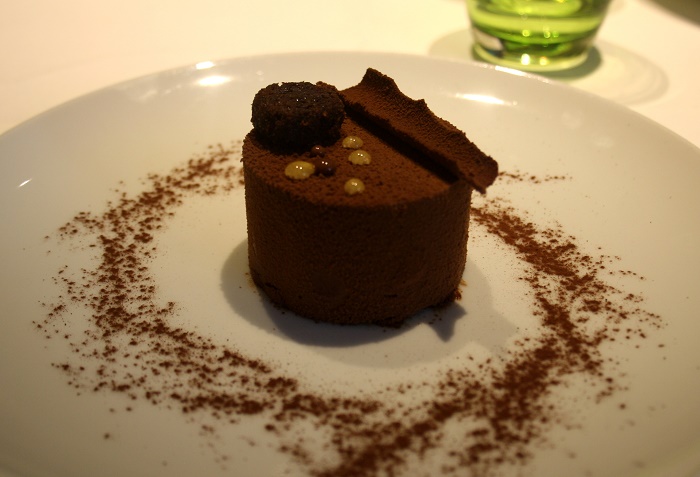 Steven's Lemon tart was a refreshing classic with zingy lemon curd softened by lightly-whipped meringue, a buttery pastry base and crunchy lemon sugar tuiles.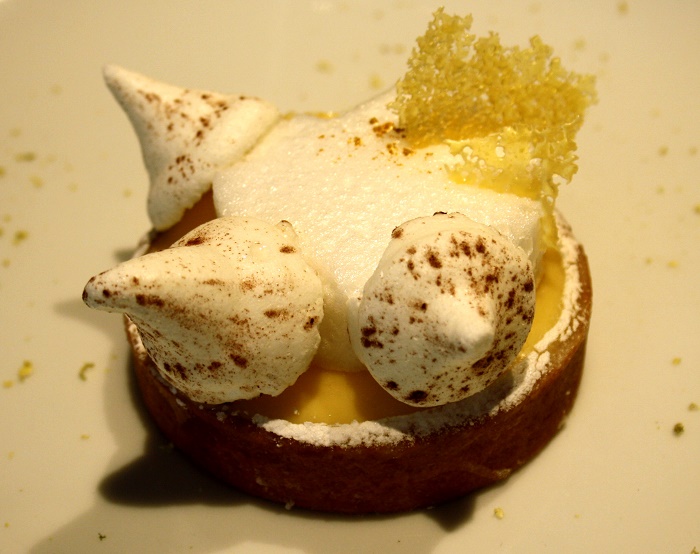 We walked off this delicious, memorable meal around the Palais Royal Gardens and the Tuileries before checking out the Perspective Playground by Olympus at our favourite art space, Palais de Tokyo.
That evening, it was back to Le Lulli Bar for an aperitif with a long-time Twitter friend.  We chatted about all things Paris and travel over the most fantastic cocktails – head barman Maxime Rousseau's cocktails are so tempting it took us a while choose.  My cocktail, Le Louvre, was a potent, fragrant blend of Hendick's Gin, iced tea, hibiscus syrup and lime.  If you're in the mood for bubbles, there are over 30 types of Champagne available.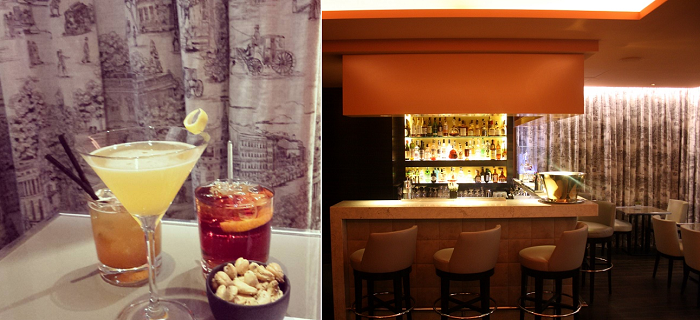 After cocktails, we raced across town to meet our friends Coralie and Sunny at Glou in the Marais.  We have Coralie to thank for suggesting this cosy, loft-style bistrot by ex-food writer Julien Fouin.  It's all about simple, honest cooking with a focus on organic ingredients from French terroirs and natural, biodynamic wine.
My Perigord chicken with Paris mushrooms and potato purée was the very best of comfort food and Steven was impressed with the Cod fillet with fennel choucroute and black olive oil.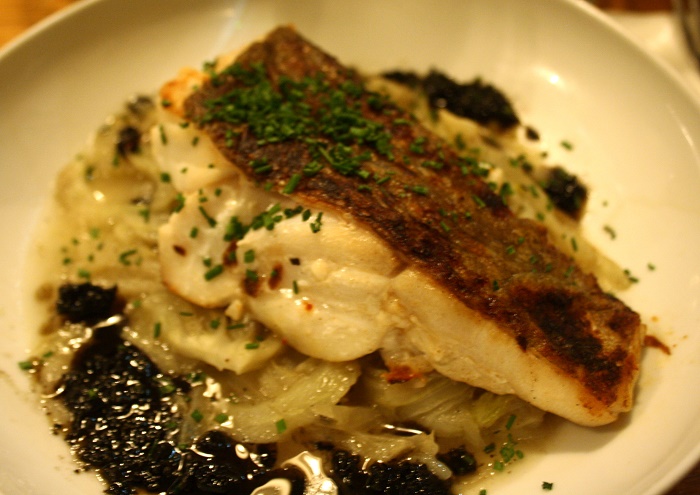 Coralie enjoyed her Grilled plaice with potato purée and while the vegetarian Moussaka had run out, Sunny was brought a platter of rich, creamy vegetable-based dishes.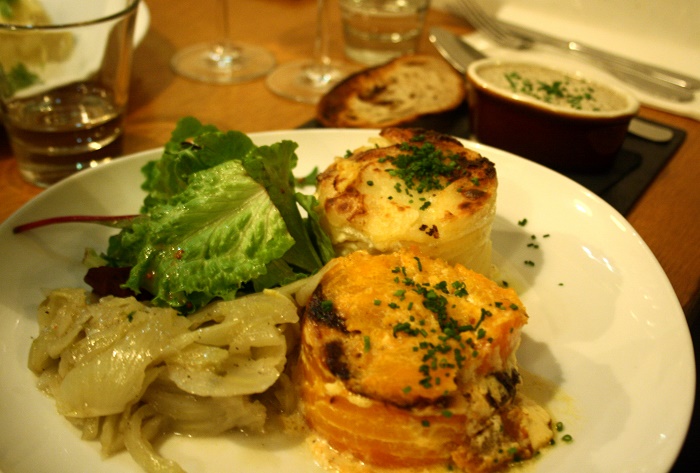 Desserts were typically French Tarte Tatin and Caramel rice pudding, which were executed well and with few surprises.  Glou is a great spot if you're in the mood for fresh, home-cooked food in a pleasant atmosphere with friendly service – we would certainly visit again.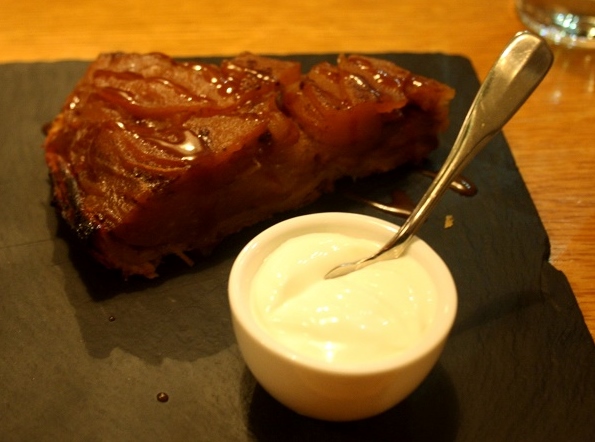 Of course, a trip to Paris is only complete with at least one beautiful cake.  I was delighted that our hotel was so close to the Sébastien Gaudard Patisserie Salon de Thé des Tuileries, as I've wanted to visit since discovering his first patisserie on the rue des Martyrs last year.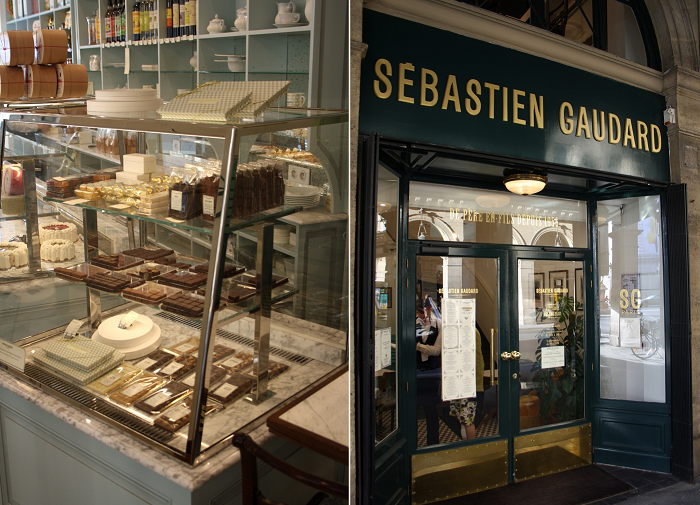 Since we were running late for the Eurostar (time is always too short in Paris), we ordered cakes to take out as a special treat for the train ride home.  A great idea in theory, but the baggage scanners aren't always patisserie-friendly and they looked a little rough and ready, but still edible.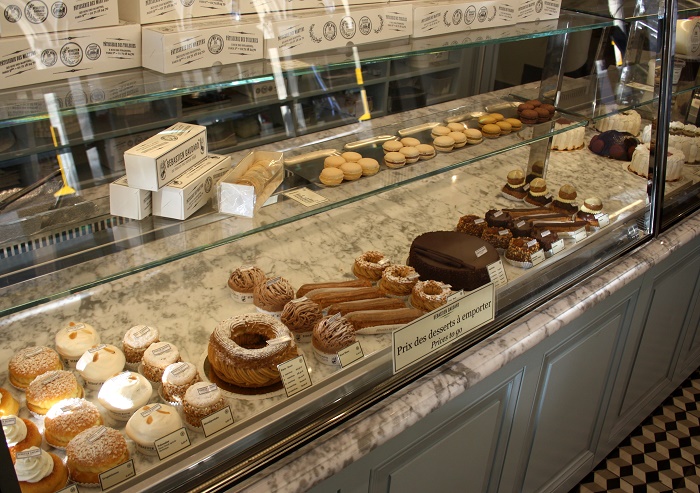 Steven's Rum Baba was a classic done exceedingly well, but my Religieuse au Chocolat wasn't really to my taste.  I rarely meet a cake I don't like, but the dark chocolate filling was a little too heavy and intense (the selection at Ladurée remains undefeated as my favourite).  I am however undeterred and will continue to work through Sébastien Gaudard's sweet repertoire on my next trip.
Our trip to Paris was a foodie success and there are still plenty of restaurants on my wish list for next time – Rachel's, Monsieur Bleu, Lazare, Paris-New York and Le Grand Colbert to name but a few.
Have you tried any of these cafes and restaurants?  Where are your favourite foodie spots in Paris?
Photos by Chérie City (restaurant interior by Le Lulli)
Chérie City was a guest of Le Lulli as part of a two-night stay at Grand Hotel du Palais Royal