Food is a real highlight of a stay at the five star eco destination resort Costa Navarino in the southwest Peloponnese. Whether you're in the mood for authentic Greek mezze, a big juicy steak or the freshest sushi, it's sure to be a memorable meal.
Since it was my first visit to Greece, I was excited to explore the country through its mouthwatering cuisine.  Every meal we had was a winner and I discovered some new dishes, as we as trying the famous souvlaki.
Our first lunch at Costa Navarino was a long, leisurely Greek affair with plenty of grilled meat on the terrace of Kafenio & Deli, a casual cafe in the centre of the resort.  Our host Maria ordered a selection of signature starters for the table – my favourite grilled talagani cheese (similar to Cypriot halloumi), fried bread topped with fresh sun-kissed tomatoes and crumbled feta, fluffy pita bread and of course the staple Greek salad.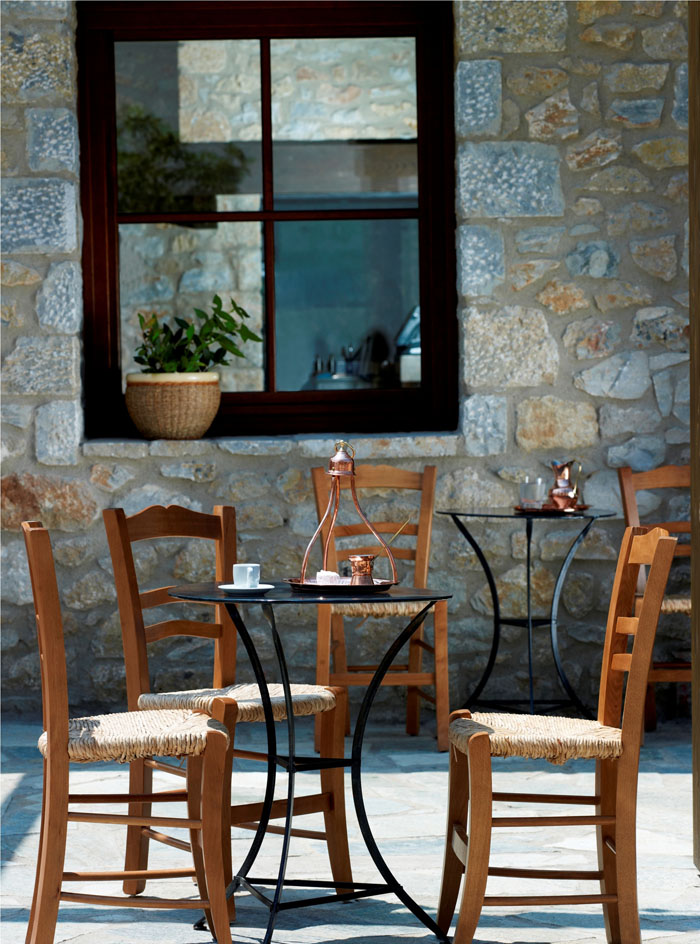 We all followed with souvlaki, served either on a stick with all of the trimmings as a wrap with everything jam packed inside (even the fries).  My juicy, herby chicken thigh souvlaki was absolutely delightful and I couldn't get enough of the yummy pita bread with minted Greek yoghurt.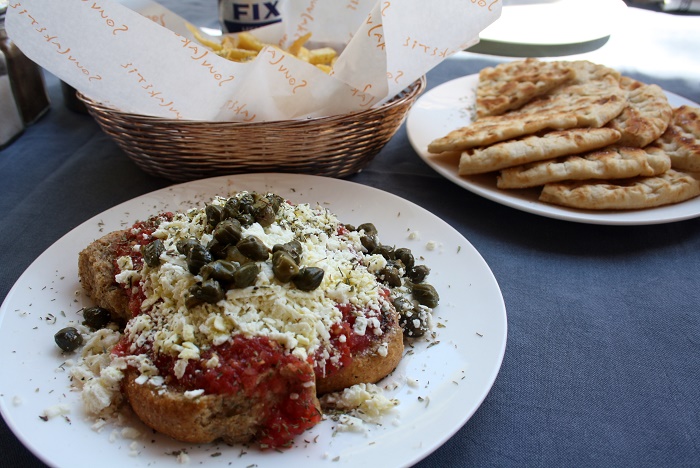 Lunch ended with a typically Greek dessert platter of baklava and spoon sweets – whole candied fruits drenched in sticky syrup.  It was the perfect start to a foodie trip and kept us full for the rest of the day.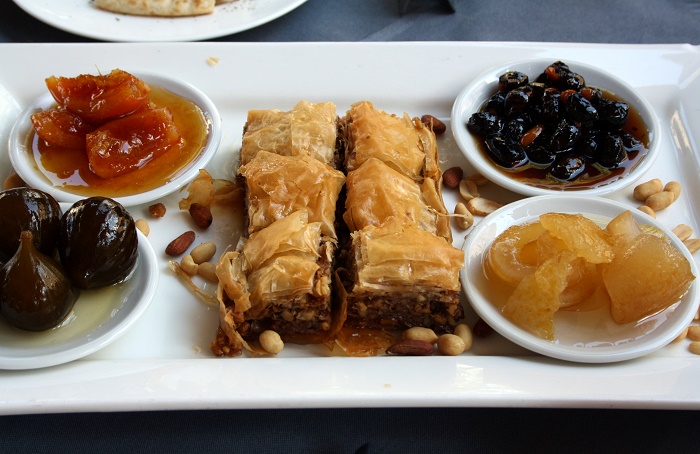 Dinner that evening was at Flame restaurant, a high end steak house and terrace overlooking the golf course over at The Westin.  The restaurant has a rustic California feel and the cuisine focuses on prime cut grilled meats including American Black Angus and Wagyu.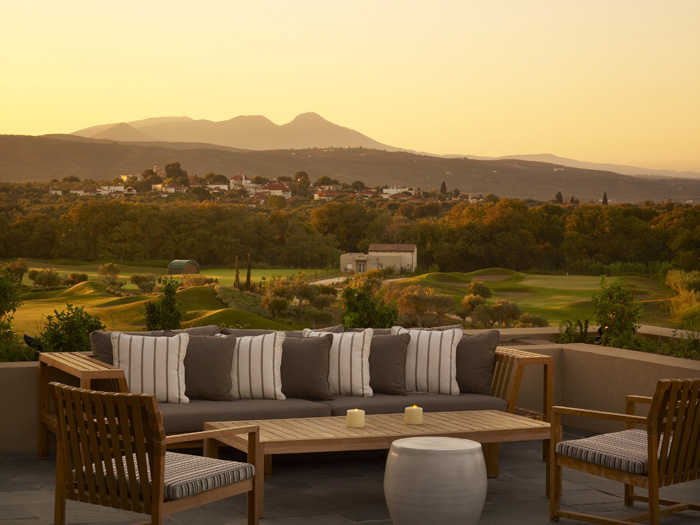 We shared a selection of starters and my favourite was the roasted pumpkin salad with prosciutto, goat curd sorbet and carob dressing.  For the main course, I enjoyed a juicy, lean tenderloin steak cooked perfectly medium, accompanied by some tangy Béarnaise sauce and the most heavenly mashed potato (a firm favourite among our group).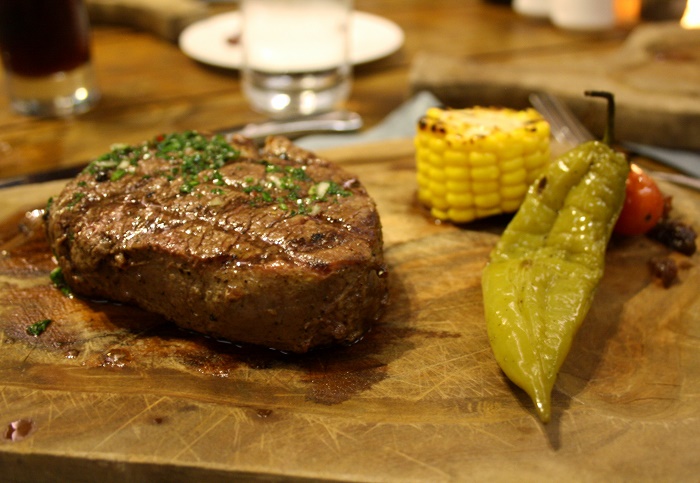 Be sure to leave room for dessert, as there are some real show-stoppers at Flame.  I loved Le Petit Antoine – an indulgent and sophisticated French dessert made of praline croustillant with gianduja chocolate cremeux, milk chocolate Chantilly and toffee caramel.  The signature Flame dessert for two is quite an event – a giant wedge of smooth caramel ice cream was dressed with warm salted caramel, chocolate and macademia by our waiter at the table.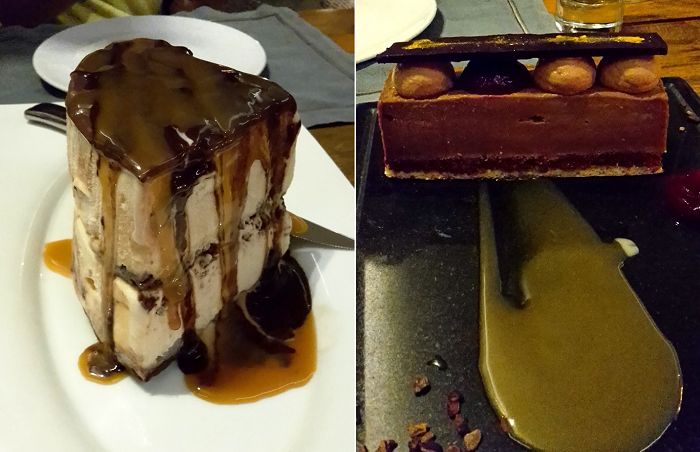 It's hard to pick a favourite restaurant at Costa Navarino, but I really enjoyed our leisurely late lunch at Barbouni, a chic open-air seafood restaurant on The Dunes Beach.  It has a chilled out beach club vibe and winds down at 5.30pm, so as not to disturb the protected caretta caretta turtles.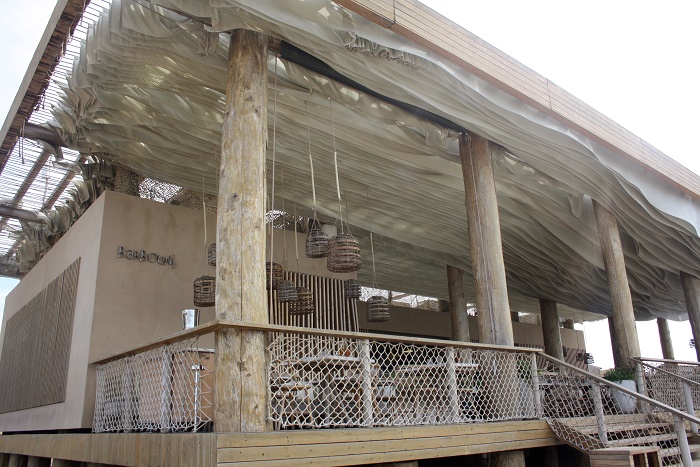 We sipped on iced tea cocktails and exotic smoothies and grazed on mouthwatering calamari, grilled octopus, shrimp salad, grilled talagani cheese (seriously, you can never have too much of this), fava bean puree and taramasalata with pita bread.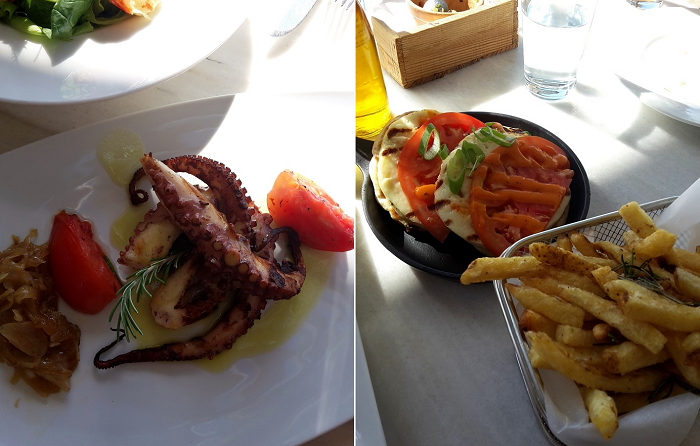 The signature main dish is a basket of deep-fried barbouni (whole red mullet), but I was tempted by the Grilled king prawns garnished simply with fresh salad leaves and lemon sauce.  I was admittedly sceptical when our waiter recommended ordering just one or two prawns, but when they arrived my jaw nearly hit the floor.  They were the most enormous prawns I've ever seen – veritable beasts of the sea – and happily they tasted just as impressive as they looked.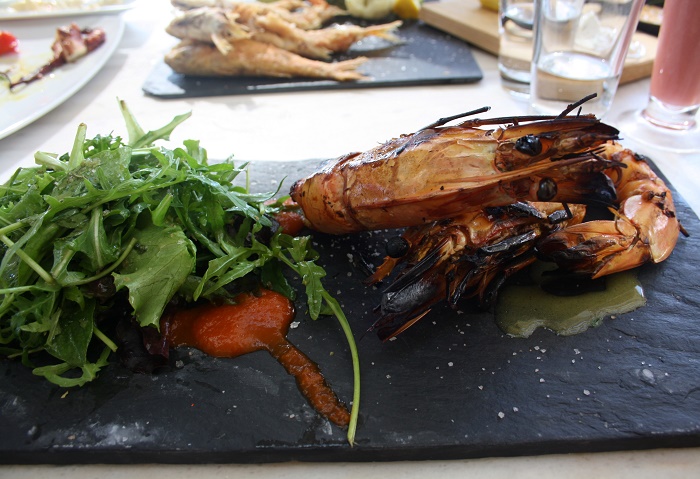 To end the meal on a sweet note, we shared the most delicious Croustillant – an uplifting dessert with a smooth chocolate cremeux, crunchy praline base and strawberry sorbet.  I highly recommend scheduling a lazy day at the beach with a long lunch at Barbouni.  It's so dreamy that you won't want to leave, unless it's to hop over the sand to a beach chair to soak up some rays.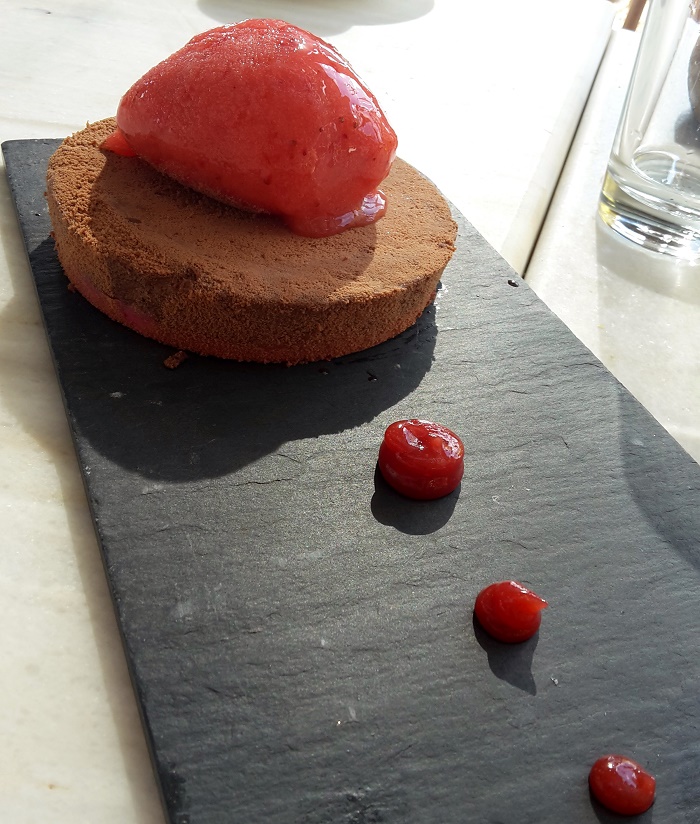 We only had a few hours between our final mouthful of dessert at Barbouni and a cookery class learning to make authentic Greek dishes.  Luckily our philosophy walk through the olive groves, contemplating the philosophical relationship between a sound body and mind, helped reawaken our appetites.
The Costa Navarino cookery school is set in a traditional Greek home, perched on a cliffside overlooking the sea.  We arrived in time to take in the magical sunset views and our hosts Lulu and Hannah set us to work kneading, rolling and chopping dough to make fresh Greek pasta.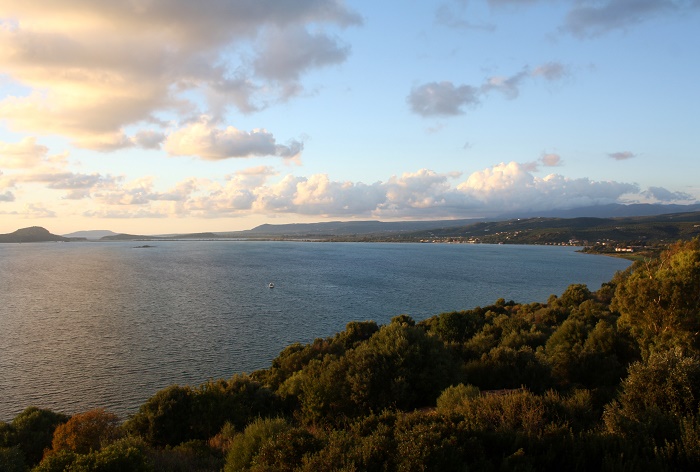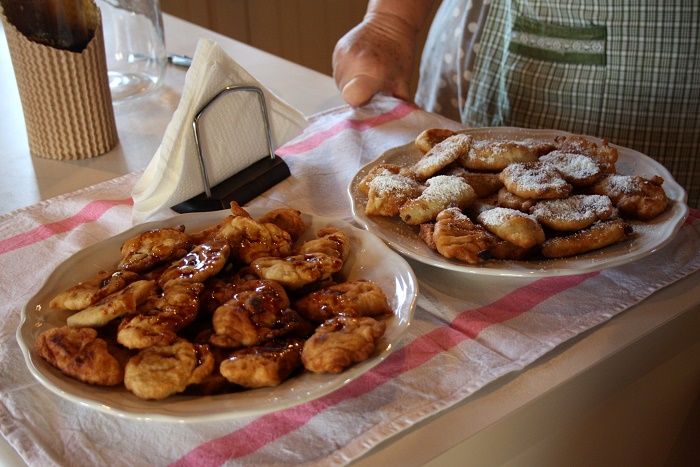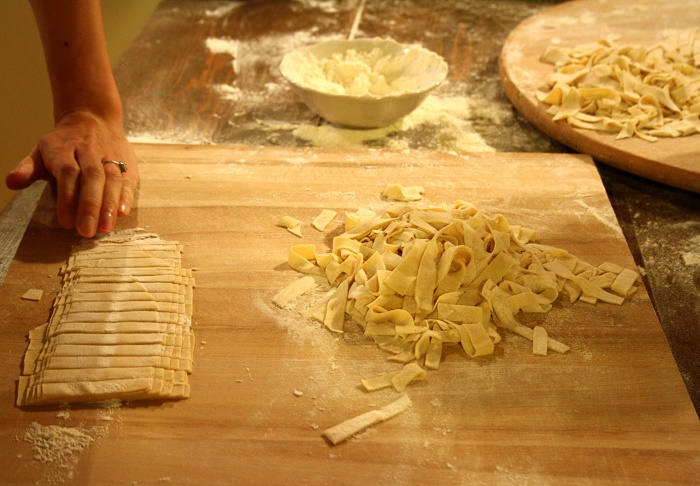 To reward our (not so) hard work, we were treated to a beautiful feast of slow-cooked chicken with preserved lemons and olives, our very own fresh pasta seasoned with cinnamon and crumbled feta, Greek salad, fresh olives and copious amounts of wine.
For dessert, we were served traditional Greek Halva – a moist, sticky semolina pudding that's quite different to the Persian and Turkish halva that I know.  It gave us a much-needed sugar boost for the final part of the evening – Greek dancing!  The ladies cranked up the stereo and we twirled and hopped around the courtyard while they taught us the steps – a perfect last night in Greece.
Of course, breakfast is as important a meal as any and a morning spent at Pero Restaurant really is a special occasion.  Let the morning sunshine wake you up on the sleek terrace or enjoy the cosmopolitan café culture feel under the arches – it's your choice.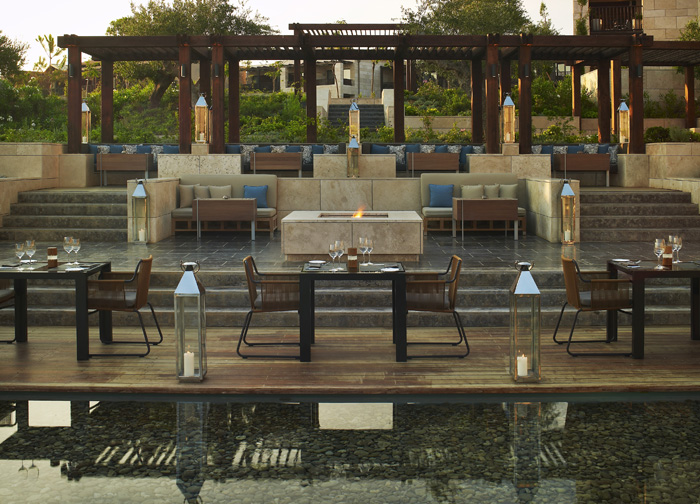 The breakfast buffet is truly bountiful with comforting hot dishes, made-to-order omelettes, mini pastries, pancakes, crepes, waffles, meats and cheeses, cereal, yoghurt, fresh juices and even Champagne for that extra bit of decadence.
Each morning, I started with orange-flavoured Greek yoghurt topped with lots of seeds and dried fruits, pancakes with maple syrup and my favourite banana, custard and chocolate mini pastries. On our final leisurely morning, I couldn't resist adding scrambled eggs, bacon and hash browns into the mix, making that holiday feeling last a little longer.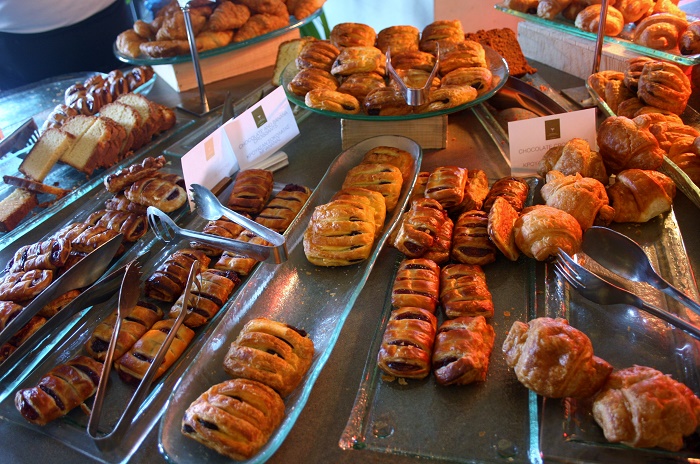 Also worth a mention is the excellent room service at The Romanos.  We arrived late in the evening after a long day of travel and were ready to just chill out and unpack.  I personally love ordering room service, as it feels so indulgent eating restaurant quality food in the comfort of your own room.  My enormous Chicken Caesar salad and half roast chicken served with fries were just so tasty and the ideal hotel room treat.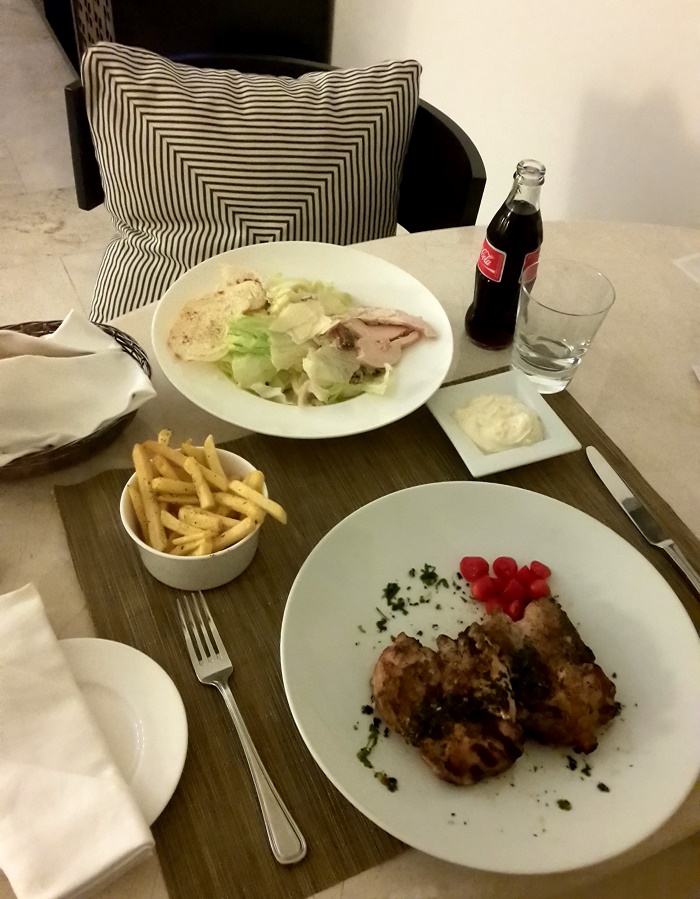 As if top notch hotel food wasn't enough, Costa Navarino also has its own food and local ceramics brand, Navarino Icons.  The gourmet food products include artisanal extra virgin olive oil, marmalades, pasteli sesame seed bars, pure honey and those delectable spoon sweets.  Happily, they are available in the UK at Harrods, so you can get a taste of Costa Navarino before visiting.
Costa Navarino is a fabulous resort for foodies and with the picturesque tavernas of Pylos and Gialova just a short drive away, there's plenty of choice in the Greek region to keep your palate inspired.
Rates at the two hotels at Navarino Dunes start from: The Westin Resort Costa Navarino: from €220, and The Romanos, a Luxury Collection Resort from €390. To book and for further information visit www.costanavarino.com
For further information on Anazoe Spa and the signature treatments available please visit www.anazoespa.com
Aegean Airlines offers daily flights from London Heathrow and London Gatwick to Athens. For more information please visit www.aegeanair.com 
Chérie City was a guest of The Romanos at Costa Navarino
Photos by Chérie City and Costa Navarino