Berlin may be best-known for its signature currywurst, schnitzel, fresh pretzels and Berliner doughnuts, but its thrilling food scene has an international outlook.
With such innovative food, cool design and mostly affordable prices, you will be spoilt for choice on a city break in the German capital.  My list of Berlin dining hotspots is ever-growing, but here are a few top places that you won't want to miss…
Yumcha Heroes
This petite canteen in hip neighborhood Mitte serves top notch dim sum from 12 to 12 every day.  It's a contemporary take on the traditional Chinese tea house, offering a wide selection of steamed and fried dumplings, as well as soups, salads, grilled meats and chef's signature dishes.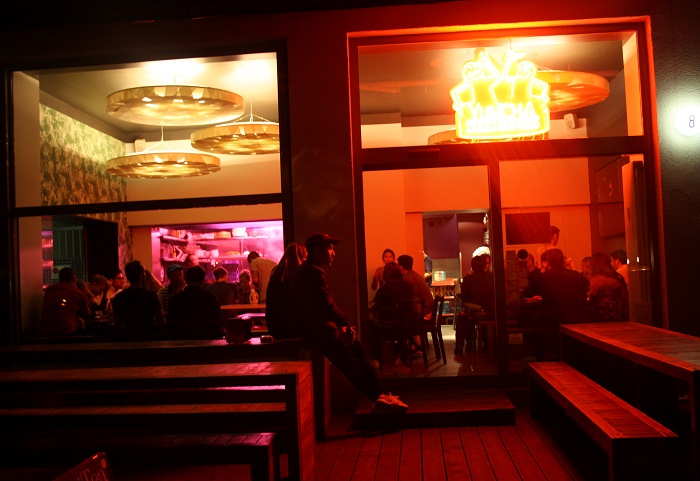 Yumcha Heroes is in a family of celebrated, design-led Chinese restaurants in Berlin, including Long March Canteen, Toca Rouge and Soya Cosplay, so you know you're in good hands.  In fact, it's such a popular place that we counted ourselves very lucky to score a corner table as a walk-in at around 9pm – I didn't realised at the time that they do in fact take reservations.
We started with a few dim sum, which are offered either steamed in a bamboo basket or grilled with pak choi.  The generously-filled, hand-minced Black Beef Dumplings were punchy and well-seasoned, while Orange Prawns boasted whole, plump king prawns and a subtle ginger flavour.  My favourite Xiao Long Bao (Shanghai dumplings filled with hot broth) were a real joy to eat and Cho You Bao – an enormous steamed bun filled with sweet pork – was fluffy yet substantial and ever so moreish.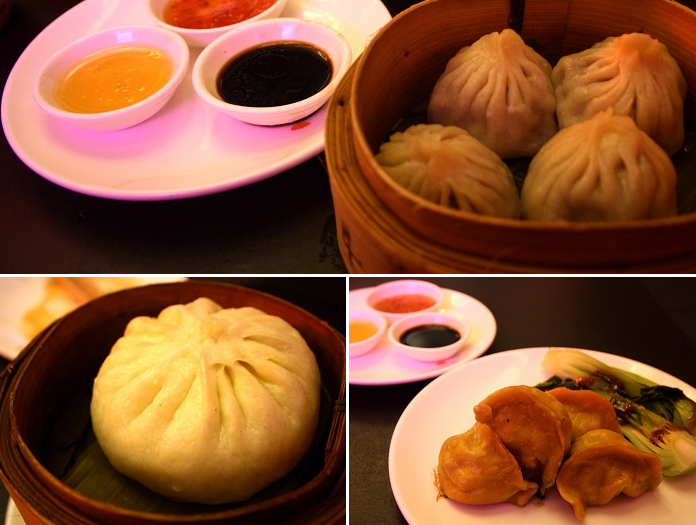 Yumcha Heroes does dim sum in its own unique way, and that's hearty, high quality and big portions.  Be sure to get a table close to the open kitchen, so you can watch your tasty parcels being hand-wrapped.
NENI
Israeli chef Haya Molcho's debut restaurant NENI regularly tops 'Berlin's best restaurants' lists and it's easy to see why.
Located on the 10th floor of the 25hours Hotel Bikini Berlin, NENI and the adjoining Monkey Bar offer spectacular, panoramic views of the Berlin Zoo.  However, it's the home-style cooking inspired by Haya's nomadic travels that draws the crowds.  Her signature cuisine – with a focus on small plates for sharing – is an eclectic blend of Persian, Russian, Arabic and Israeli with a few Spanish, German and Austrian influences.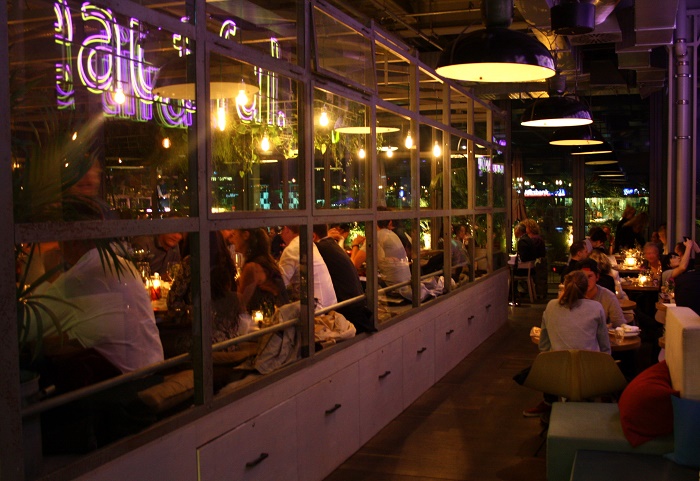 While daytime at NENI (the initials represent Haya's four sons), is like dining above the treetops, the evening is a slick, sexy affair with dimmed lighting and a lively atmosphere.  As such, it's essential to book far ahead – even then our slot was restricted to 9pm.
We started with a litre carafe of home-made iced tea and grazed on the most amazing Classic hummus, served with two large pieces of warm, freshly-baked pitta bread.  Another delicious small plate was NENI-style Kebab – home-made beef and lamb patties with cilantro tahini and oven-baked vegetables.  This dish was just like the Persian food of my childhood, so by this point I could tell that the cuisine was more than just a fashionable melting pot of cultures.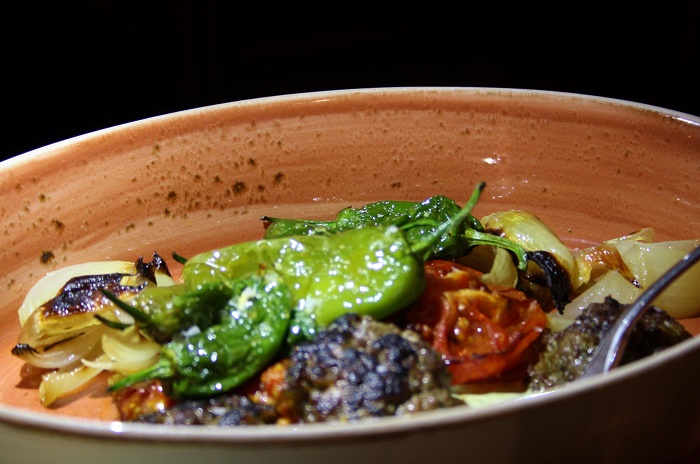 We were both tempted by the Chicken breast strips in a crispy almond coating with sweet potato fries and sweet chili sauce, so we ordered it as a large plate to share.  The chicken was succulent and tender with a flavoursome, crunchy coating and the sweet potato fries were exemplary.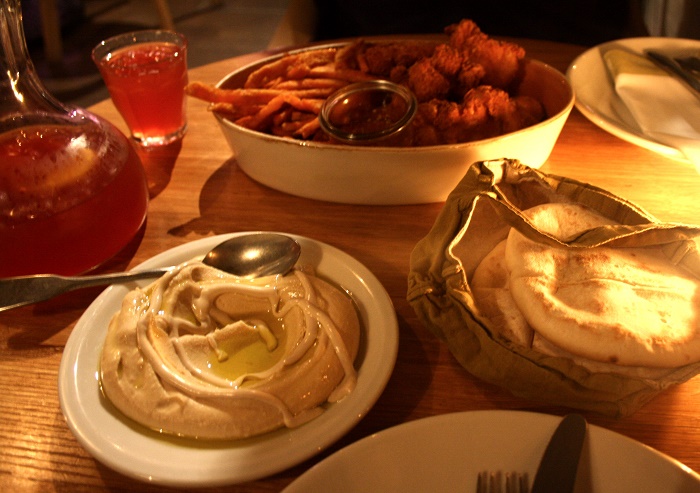 I highly recommend NENI for a stylish, sociable night out in Berlin – it really is a restaurant that you won't want to miss.
Princess Cheesecake
I found my happy place in Berlin and it's a small boutique and cafe called Princess Cheesecake.  I'm pretty sure that Berlin's favourite cake is cheesecake over strudel (from my extensive research on this trip), and here you can find any flavour and style under the sun.  German cheesecake…Austrian cheesecake…New York cheesecake…Russian cheesecake – you name it, they bake it!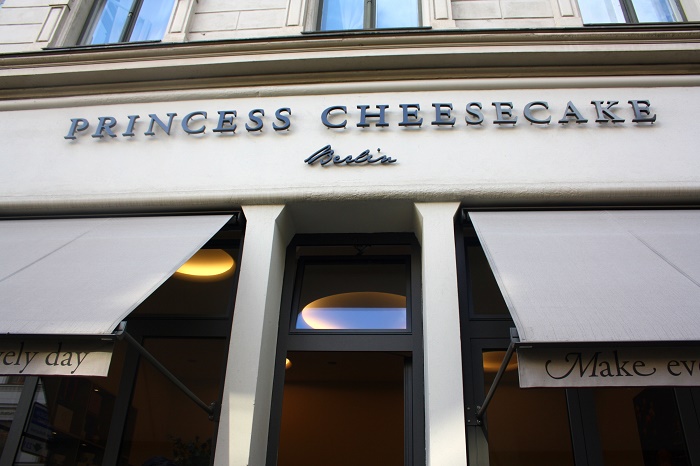 Once you've deliberated over which mouth-watering, luxurious cheesecake to sample, grab a seat in the Marie-Antoinette style tea salon or take in the sun on the pretty, highly Instagramable terrace.  We shared a slice of Dancing the Meringue cheesecake – a delicate and fruity option with a cool, creamy layer of cheesecake studded with tart redcurrants, lightly-as-air meringue and a spiced, crumbly biscuit base.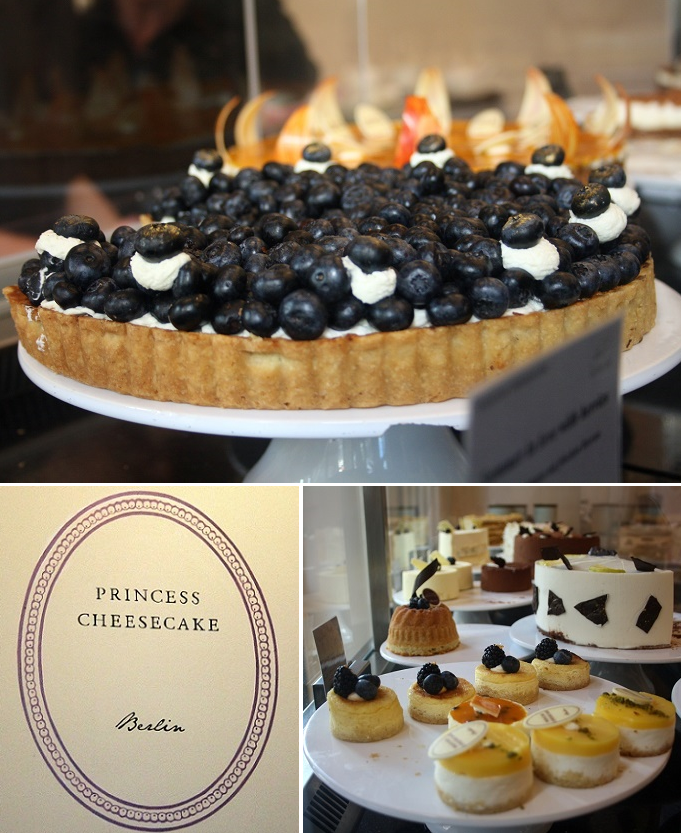 We felt rather virtuous as we sipped on our lovely Samova Earl Grey tea, however cake envy soon ensued as the schoolgirl sitting next to us wolfed down a whole wedge of dense, brick-like New York cheesecake all to herself.  A lesson learned – restraint is not a quality to encourage when at the temple of cheesecake!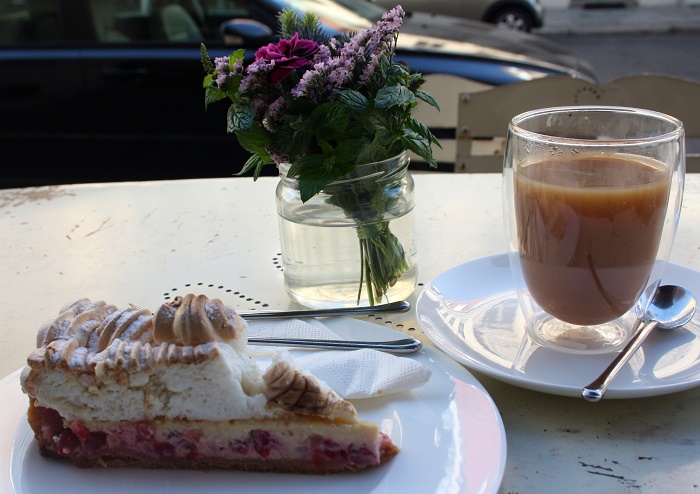 Michelberger Hotel
Since I discovered Fountain of Youth coconut water last summer, I've been dying to check out its creator's home – the Michelberger Hotel in edgy Friedrichshain.  Unfortunately the restaurant was closed on the evening we visited, and we already had our hearts and bellies set on Yumcha Heroes, so we parked up at the lobby bar for some low-key drinks.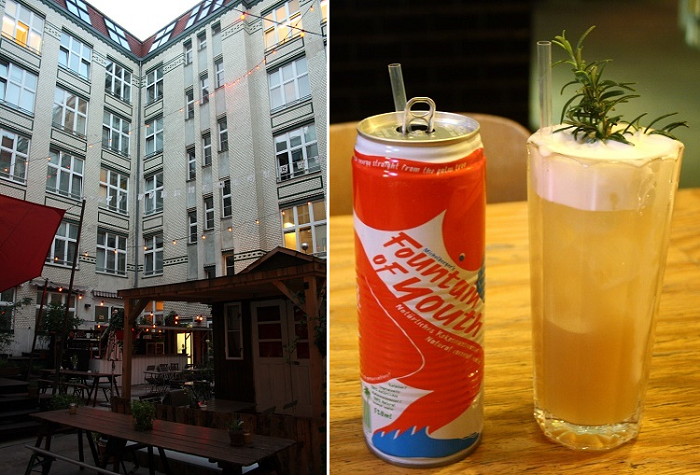 I wanted to get my Fountain of Youth fix, but Steven went for a whisky sour, which was nice and strong and perfectly mixed.  In the summer, the courtyard is the place to be, or if you're in the mood for a indie sing-along shenanigans, finish the night next door at Monster Ronson's Ichiban Karaoke.
Where are your favourite places to eat in Berlin?  Which restaurants are on your foodie wish list?
All photos by Chérie City