Have you ever wanted to live like a Medieval princess, looking out over your manor from the comfort of an opulent four poster bed?
Bailiffscourt Hotel & Spa in West Sussex is the place to step back in time and immerse yourself in ye olde England.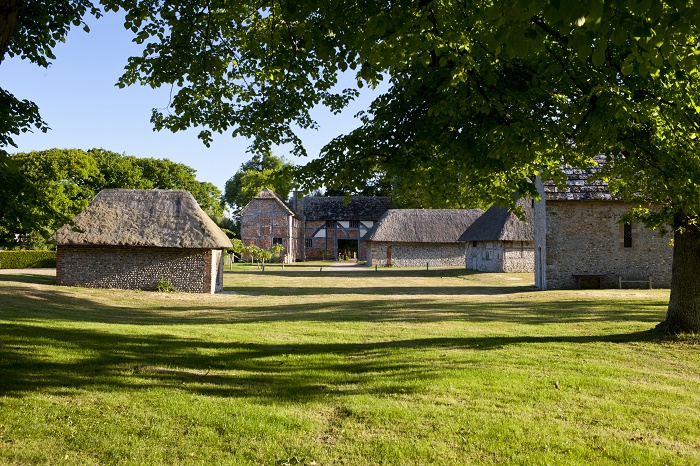 Part of Historic Sussex Hotels, Bailiffscourt Hotel & Spa in fact dates back to 1927, rather than the Middle Ages.  Lord and Lady Moyne commissioned antiquarian and architect Amyas Phillips to model the house on a Medieval country residence, indulging Lady Moyne's love of this age.  There is of course a true relic of the Medieval era to be found at Bailiffscourt in the form of a 13th century chapel in the grounds.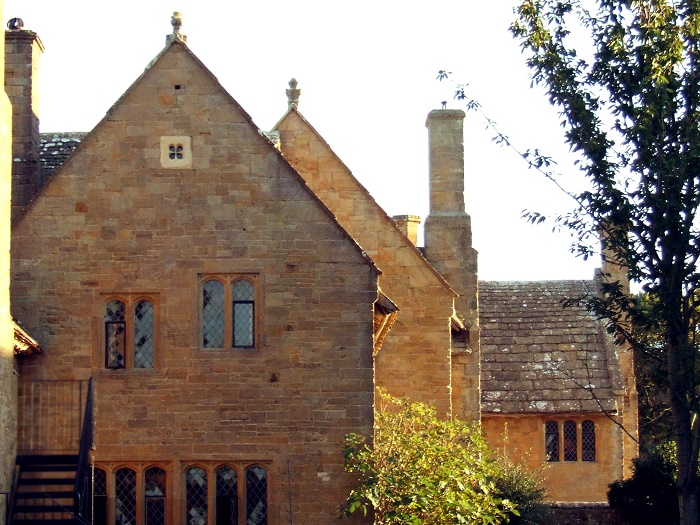 I visited with my Mum for an overnight stay the night before our two-night sailing onboard the Celebrity Eclipse in nearby Southampton.  It only seemed right to break up our train journey and discover beautiful West Sussex for the first time.  We arrived at Littlehampton Station from London Victoria and the hotel was just a short 10-minute taxi ride away.
Bailiffscourt Hotel & Spa is surrounded by 30 acres of land with luscious green fields, wildlife such as roaming peacocks and nearby pebbly Climping Beach.  Sadly the weather was not on our side and we were battling powerful gales that prevented us from exploring the hotel's picturesque surroundings (we did have a stunning view from our window, though).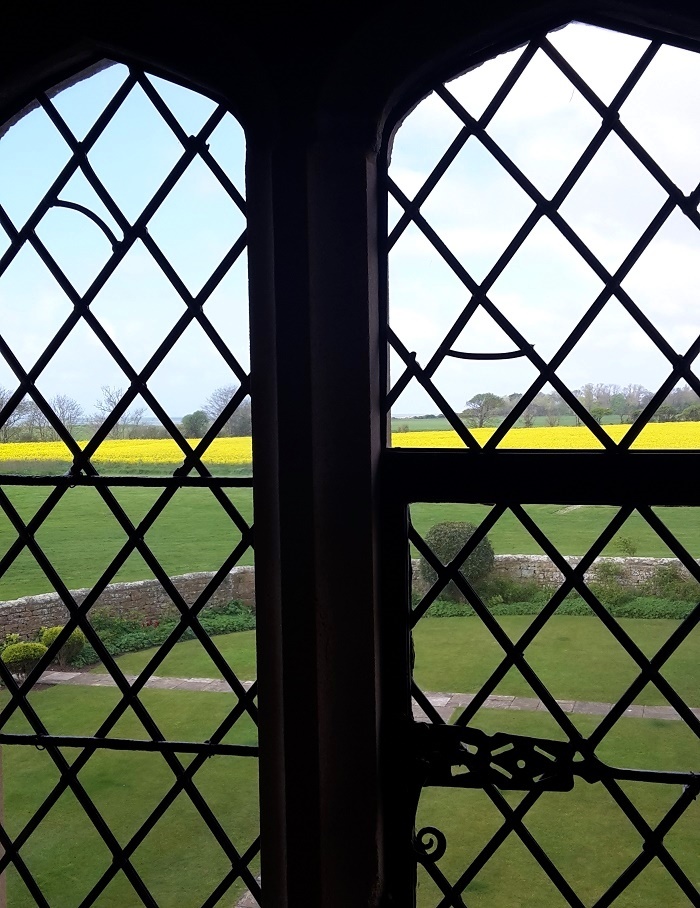 The hotel features 39 charming rooms and suites located in the Medieval House and a series of smaller building, some of which can be accessed through an underground tunnel.  We checked in and were taken through the maze of lounges with open fireplaces to our signature Junior Suite in the Medieval House.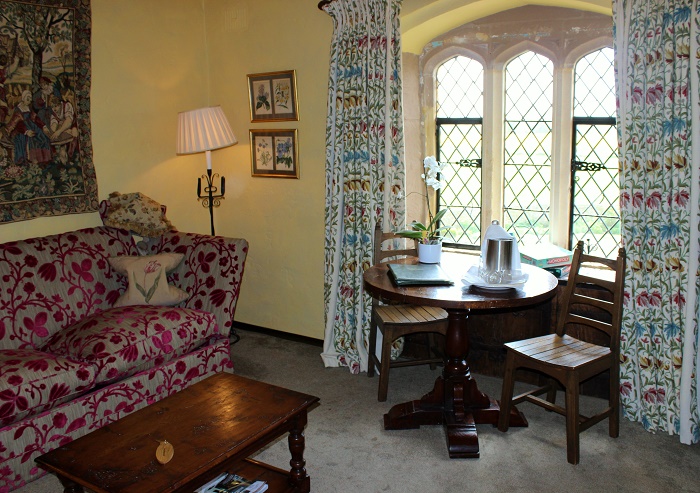 The large, period-style room was certainly impressive, designed in warm ochre with bright floral and dark wood highlights.  Its interiors felt very authentic with a grand four poster bed, stone walls, mullioned windows, oil paintings and tapestries.
Other room features include a separate comfy seating area, large flat-screen satellite TV and posh tea and coffee facilities with a beautiful Polish pottery tea set and cafetiere.  We were delighted with the selection of proper ground coffee and a selection of black and herbal teas, as well as a glass pot containing delicious home-baked biscuits.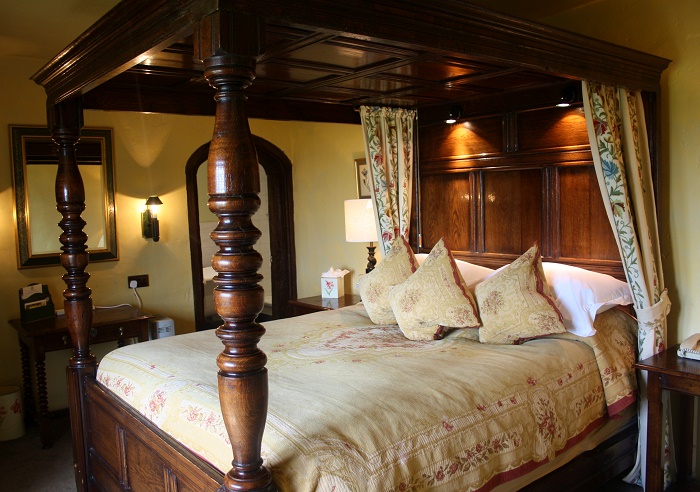 We were also kindly welcomed with a bottle of Champagne on ice and a hand-written note, as well as bottled mineral water.  There were even some board games provided, in case we felt like a rare digital detox (the hotel offers free wifi, but the signal is rather weak).
Happily, the large bathroom wasn't in the slightest bit Medieval, in fact, it appeared to be very new.  It features a fabulous walk-in shower, roll-top bath, extra-wide towels, plush bathrobes and slippers, colourful Pip Studio accessories and two full sets of Temple Spa bathroom products.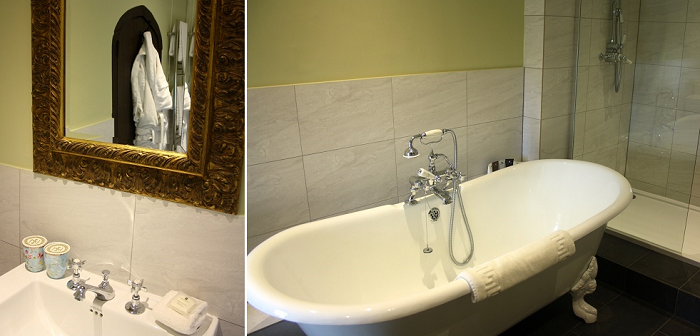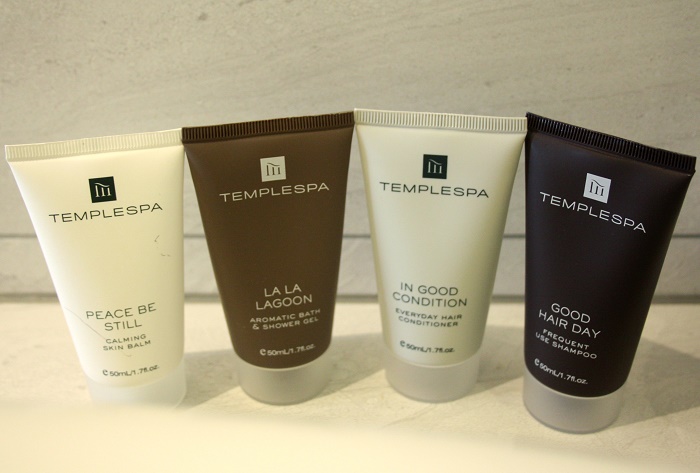 The gem of Bailiffscourt Court is the amazing spa, where you can easily spend hours unwinding.  The spa is a real contrast to the historic interiors of the hotel, housed in a contemporary barn with high ceilings.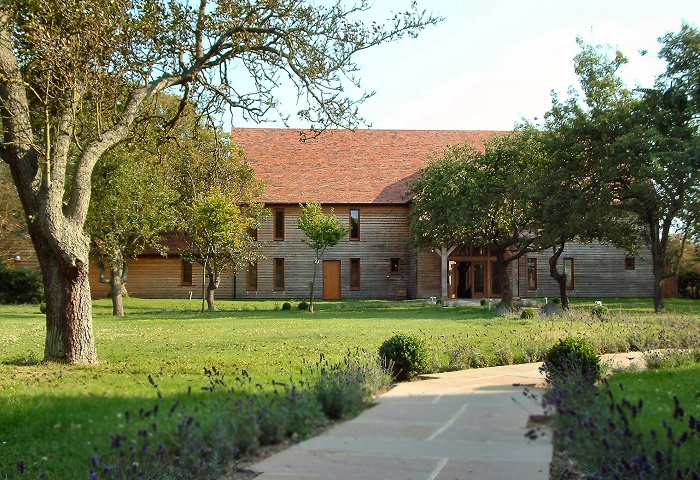 We loved the 12-metre indoor pool that was just the right temperature (I often find hotel pools too cold) and spent a long time in the hot, bubbling jacuzzi.  There's also a fabulous sauna and steam room, plenty of pool loungers and a relaxation room with refreshments.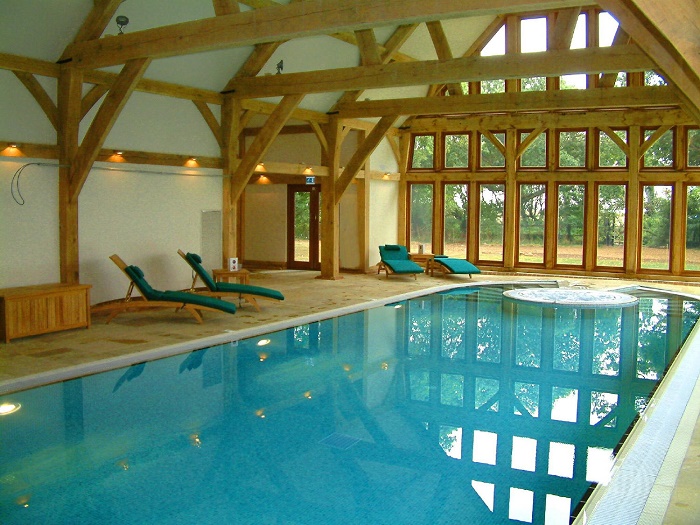 I enjoyed the most heavenly Drift Away Massage (55 mins) using lovely Temple Spa products.  It really was one of the most effective, enjoyable massages I've ever had and I was so deeply relaxed that I almost did drift away.  My friendly, intuitive therapist Laura worked on my back, legs and with medium pressure and then finished with a dreamy shoulders, scalp and face massage.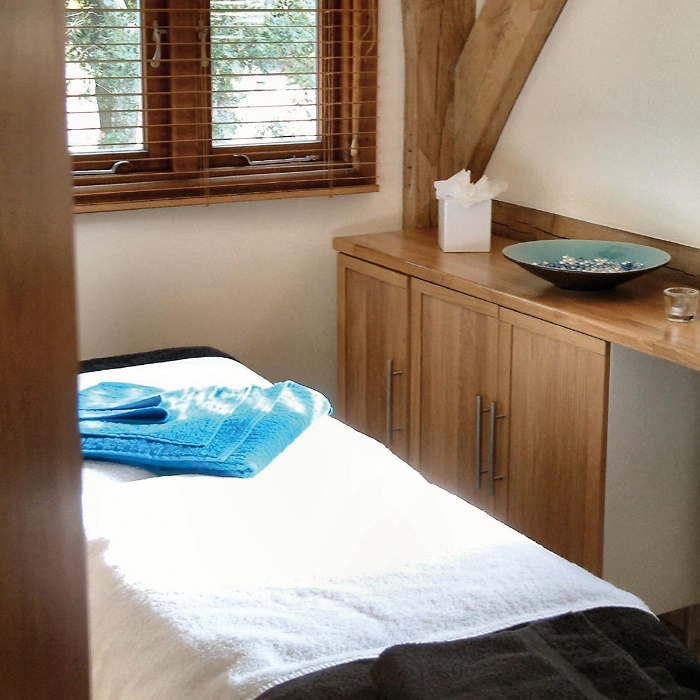 In the evening, we dined at the hotel's Tapestry Restaurant, which serves a modern British menu by head chef Russell Williams.  I would've liked the restaurant to have the boisterous atmosphere of a Medieval banquet hall, but perhaps as hotel guests, we were all just too polite and chilled out from the spa!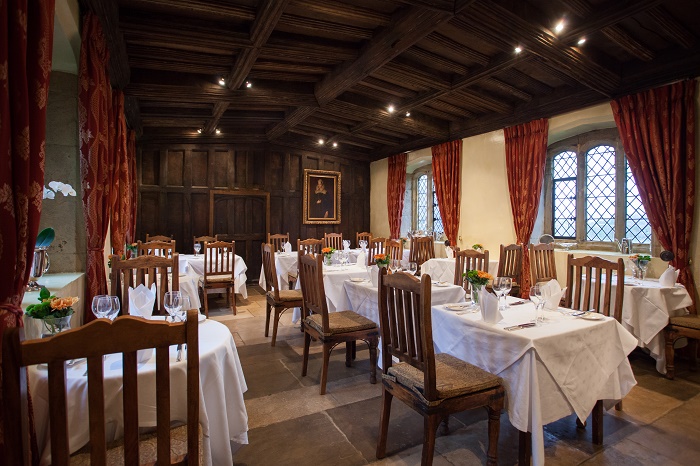 I started with the Grilled scallops with cauliflower soup, baby spinach and Parmesan crisp.  The scallops were well-cooked but the cauliflower soup lacked seasoning and the dish needed another flavour such as chorizo or pancetta to add some saltiness.
The tastier choice was my mum's Poached duck egg with artichoke puree, chargrilled ciabatta, baby spinach and wild mushrooms, which was rich and well-balanced.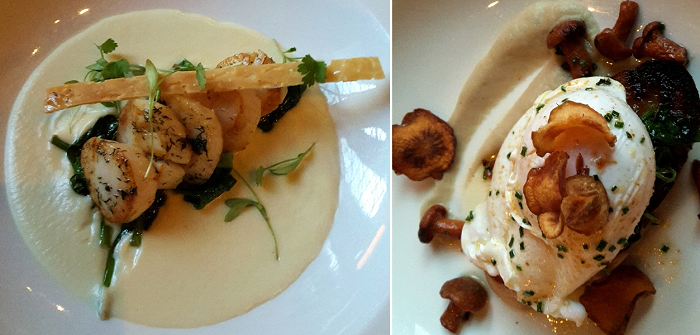 We both really enjoyed our main courses – they were indulgent, colourful, well-presented and had plenty of flavour.  I loved my perfectly medium Honey glazed duck breast with braised chicory, confit duck leg and prune faggot, potato puree, spiced plum sauce and parsnip crisp.
My mum went for a lighter but equally yummy Beetroot and ricotta ravioli with barbecued winter squash and red onion, toasted pinenuts, sage and squash puree.

My dessert of Hot chocolate souffle, white chocolate cream and Bellini sauce was pleasant but much too big for one person.  However, my mum's Glazed lemon tart with gin and tonic sorbet was zesty, fresh and just the right size.

After a glorious night's sleep in our four-poster bed, we enjoyed a tasty breakfast in the Tapestry Restaurant.  The breakfast selection was very good with hot dishes, glazed carvery ham, cheeses, pastries, mini muffins, granola, porridge, Greek yoghurt with fruit compote and seeds and fresh juices.  In the warmer months, guests can take all meals in the pretty courtyard filled with roses.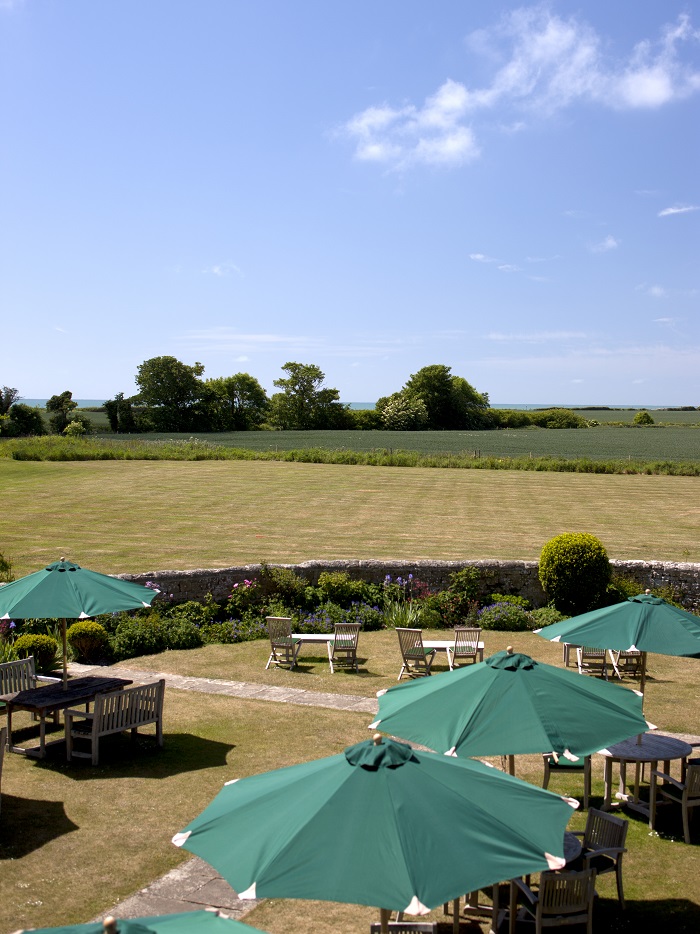 Bailiffscourt Hotel & Spa is an idyllic retreat in beautiful surroundings and the highlight of our stay was the outstanding spa.  For a weekend of pampering and fresh sea air just a short train ride away from London, Bailiffscourt offers the perfect escape.
For more information and booking, visit: www.hshotels.co.uk
Chérie City was invited by Bailiffscourt Hotel
Photos by Chérie City and Bailiffscourt Hotel