Min Jiang has been on my foodie wish list for a while, so I was delighted to visit with a small group of food and lifestyle bloggers for a photography masterclass and dinner.
This fine dining Chinese restaurant on the tenth floor of the Royal Garden Hotel Kensington opened in 2008 to rave reviews, particularly about its wood-fired Beijing duck.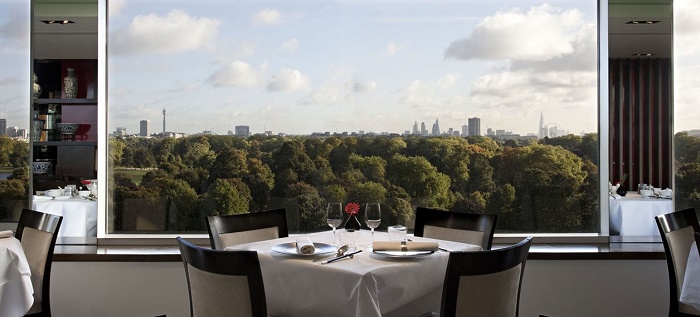 Really good Chinese food is one of my favourite indulgences, so I was looking forward to sampling some of Min Jiang's signature dishes while marveling at the panoramic views over Kensington Gardens.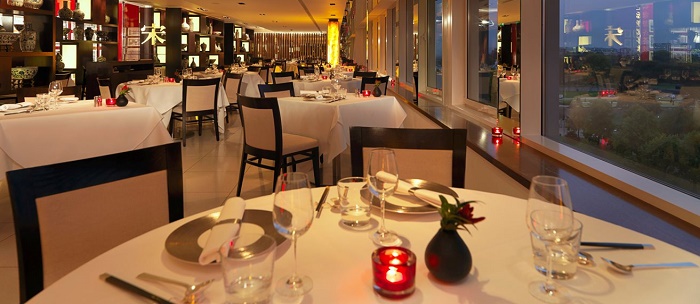 But before we could pick up our chopsticks, we had some snapping to do with professional photographers Rafe Abrook and Oli Sander.
We took over Min Jiang's gorgeous deep red private dining room to talk all things photography.  We took away plenty of expert tips for improving our food photography and had some time to practice shooting Min Jiang dishes with guidance from the pros.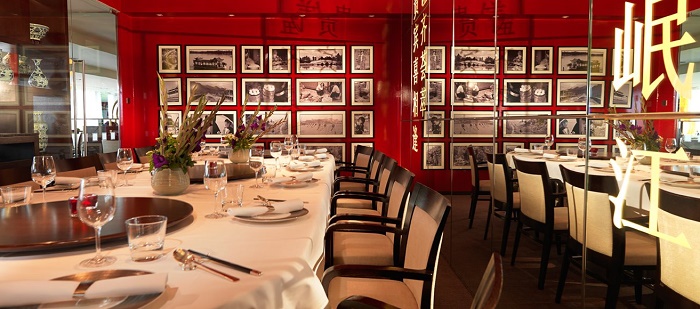 Rafe and Oli recommended investing in a portable camera light to combat the yellow glare of the tungsten lighting usually found in restaurants.  The super cool light sabre may be a bit intense for the dinner table, but the smaller box size can fit in your handbag for a quick lighting fix on the go.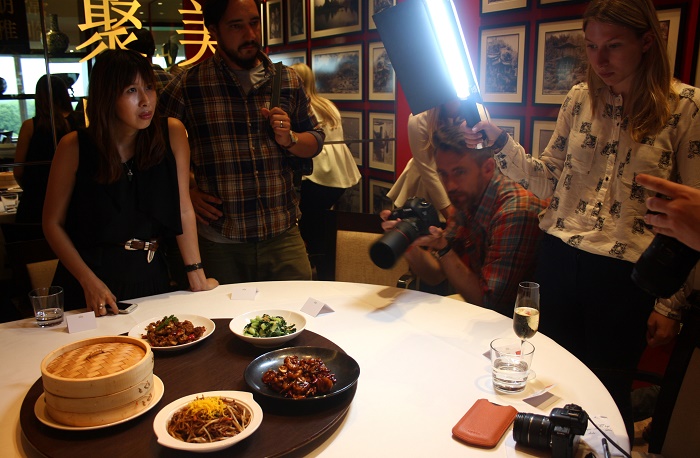 We then moved into the main dining room for a cosy dinner – cameras still out, of course!  First up was the Steamed Dim Sum Platter in four different flavours.  The delicate parcels were cooked perfectly and generously filled – my favourite was the prawn Har Gau.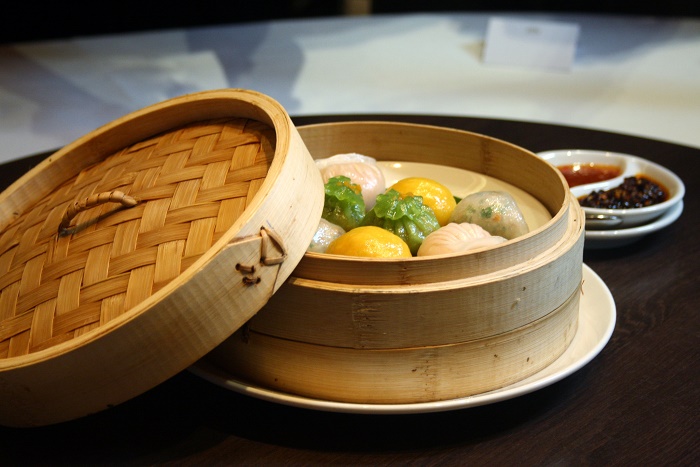 Bi Feng Tang Soft Shell Crab with Garlic and Chili was crunchy and flavoursome with crispy fried onions and large pieces of red chili.  I'd expected it to be a fiery dish, but it was actually quite subtle and utterly moreish.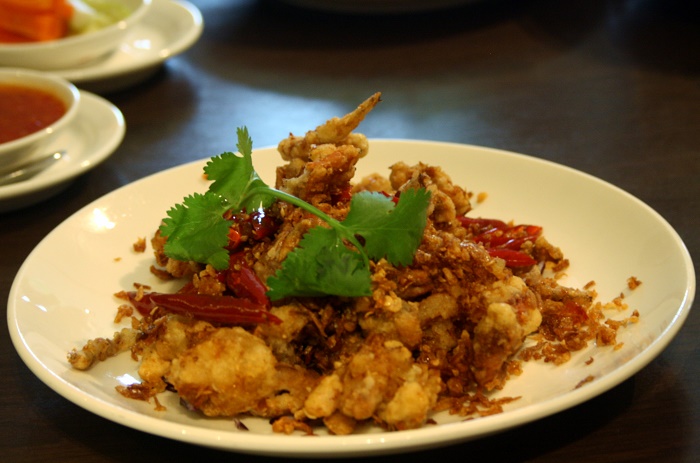 Min Jiang's Legendary wood-fired Beijing Duck is indeed worthy of high praise.  The meat was tender and juicy with a good amount of fat and crispy, lacquered skin.  It was served with light and airy pancakes, a mouth-watering hoisin sauce, extra pieces of scorched skin and all of the usual trimmings.
Thankfully a second plate was brought out, so we could continue rolling these exquisite pancakes.  It's certainly hard to exercise restraint and any kind of etiquette when sharing such a special, luxurious dish with hungry foodies, but I think we're all still on speaking terms.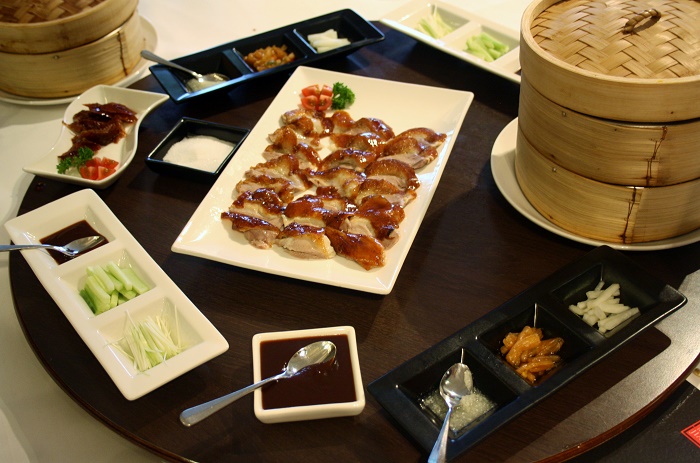 For the main course, we shared a few signature dishes.  Sauteed Gong Bao Tiger Prawns were covered in a deliciously sticky ginger glaze and punctuated with roasted cashews and chili.
Diced Rib Eye of Beef with Black Pepper Sauce had a smoky, chargrilled taste and was ever so tender, doused in a rich, mellow sauce.  It went perfectly with the steamed, wilted Pak Choi with Garlic.
Our individual bowls of Fried Noodles were super tasty, but the portion size was a bit small and I found only a sliver of the second serving of roast duck.  It was a taster dinner though, so the typical set menu noodle servings may be more substantial.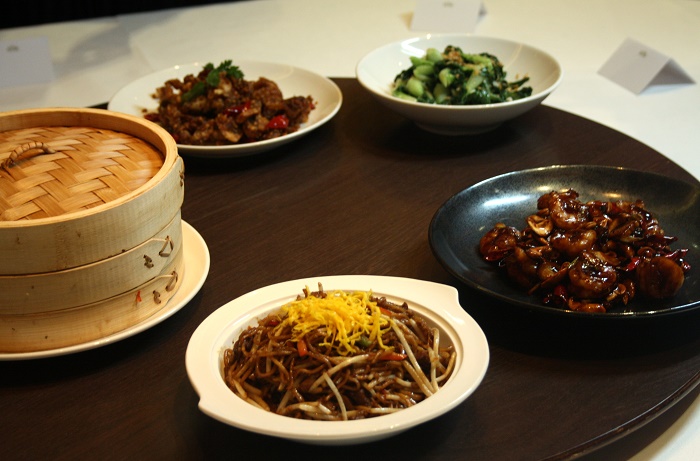 The Seasonal Fruit Platter was beautifully presented and refreshing but not the most exciting dessert to end the meal.  Min Jiang does actually have a rather tempting dessert menu, so you can look forward to trying treats such as Poached Black Sesame Dumpling, Mango Cream with Sago Pearls and Pomelo or the Chilled Orange and Ginger Soup.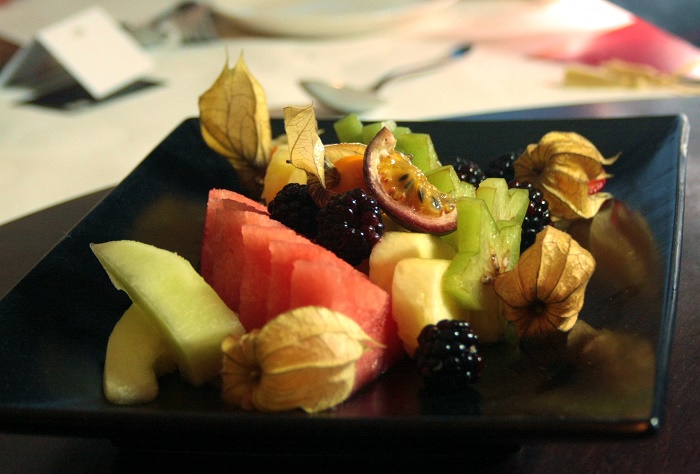 Min Jiang is a great destination restaurant for a celebration with exceptional food that matches the impressive views.  It has a grown-up, contemporary-classic feel and is likely to become a London institution for top notch Chinese fine dining.
For more information and booking, visit: www.minjiang.co.uk
Chérie City was a guest of Min Jiang
Photos by Chérie City (interiors by Min Jiang)