One of my all-time favourite meals is a good roast, so I was thrilled to be invited to an exclusive Carving Master Class with Mark Hix at Brown's Hotel in Mayfair.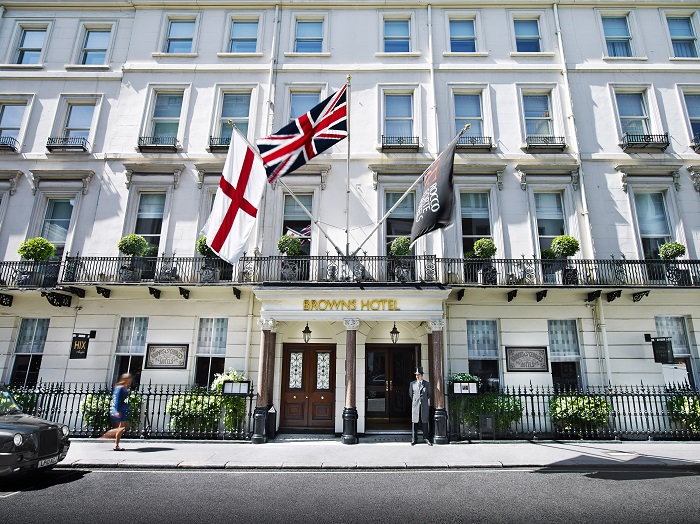 HIX restaurants are known for their top notch British meat and seafood, so where better to learn how to wield a carving knife than at HIX Mayfair?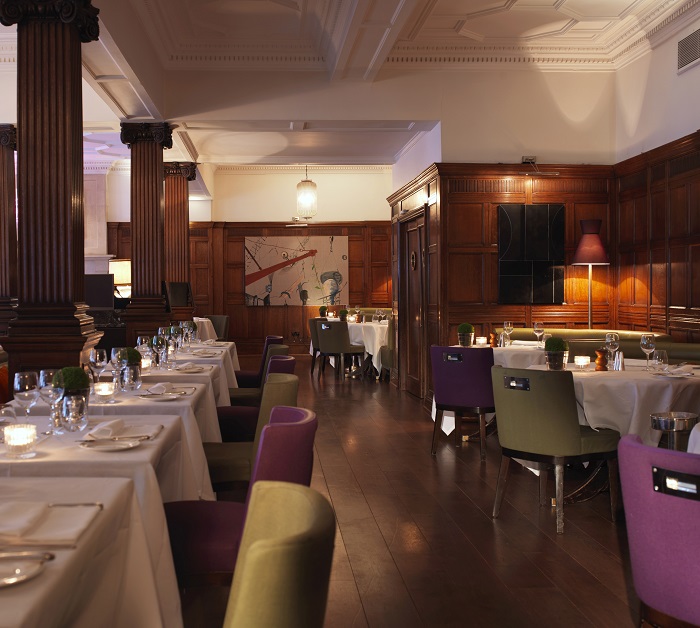 The master class was hosted in the elegant Clarendon Room with wall murals painted with verses from Rudyard Kipling's The Way Through the Woods and views over Dover Street.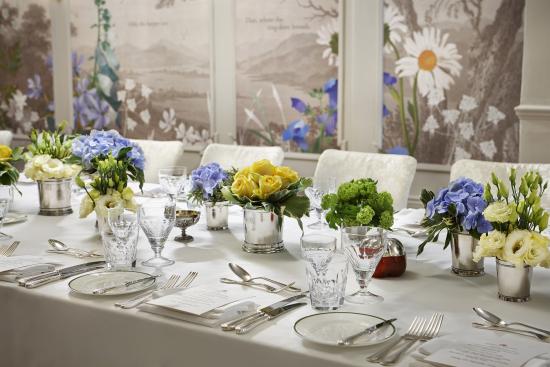 I'd imagined the event would simply be a demonstration and Q&A but it was in fact a private dinner for a small group hosted entirely by Mark Hix for over two hours.  It was a rare treat to spend an evening with a renowned chef in this intimate setting and be able to chat freely.
We started the evening with a welcome drink before sitting down to get carving.  Mark spoke about the quintessentially British art of carving and introduced the cuts of meat that we'd be sampling during the dinner.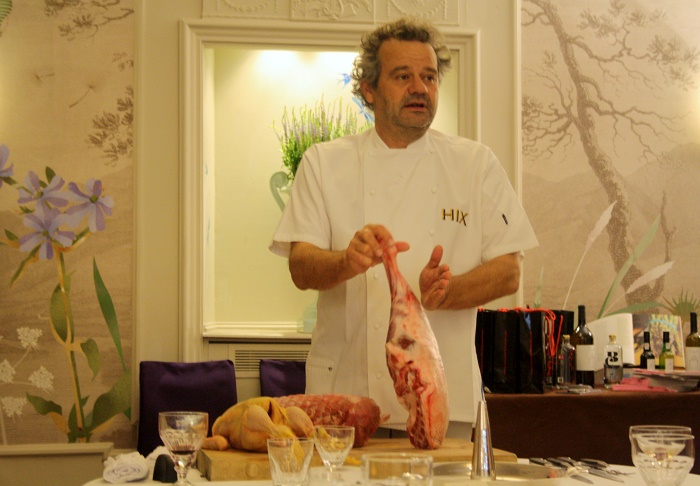 He then invited us to each come up and try carving a whole fillet of smoked salmon into thin slices for our sharing starters.  It made for a good ice-breaker and luckily there wasn't too much pressure to be an instant carving pro.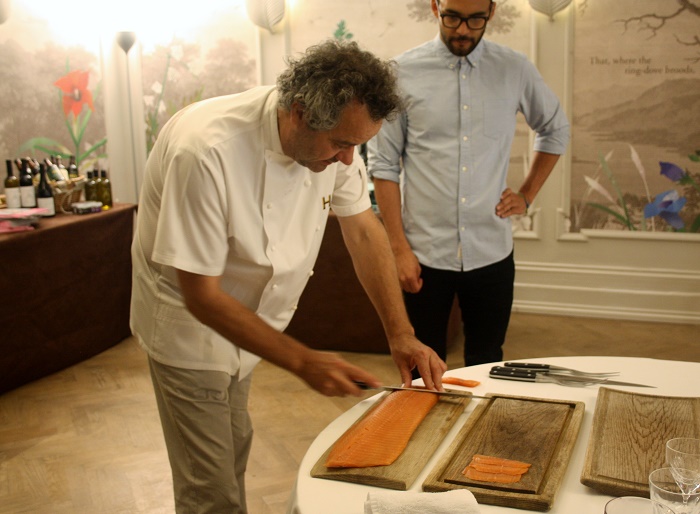 The Albemarle smoked salmon 'Hix cure' was a million miles away from your regular supermarket smoked salmon with deep, oaky flavours and a melt-in-the-mouth texture –  I couldn't get enough of it.
It was accompanied by some very moreish Whipped broad beans with Herefordshire goat's curd and grilled flatbreads and a fresh, tangy Isle of Wight tomato and lovage salad with Sarson's malt vinegar.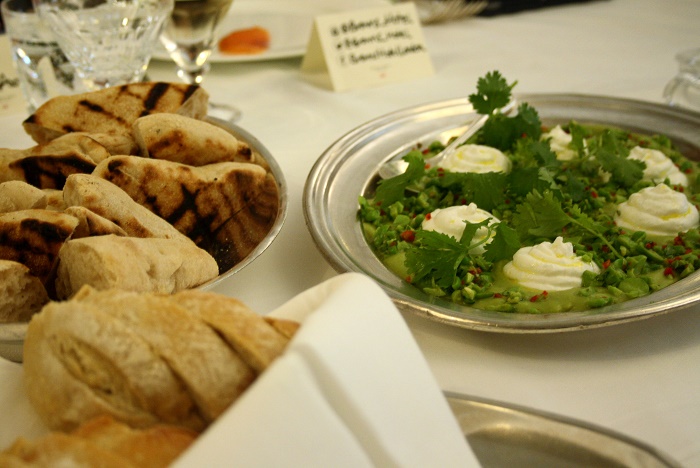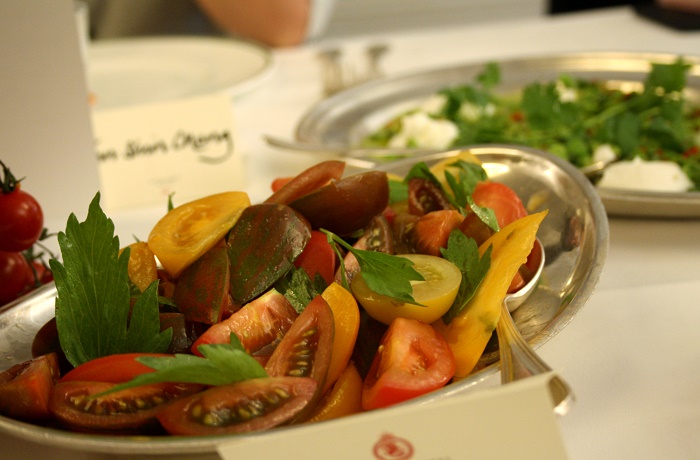 Our first main course meat was Roast Swainson House Farm barn-reared Indian Rock chicken served with Charlotte potato and green onion salad.
This is the signature Hix chicken – full of theatre and spectacle impaled on a spike with outstretched claws.  It is of course more natural than the usual trussed up chickens, but I can't help thinking it has a rather comical Tim Burton-esque appearance.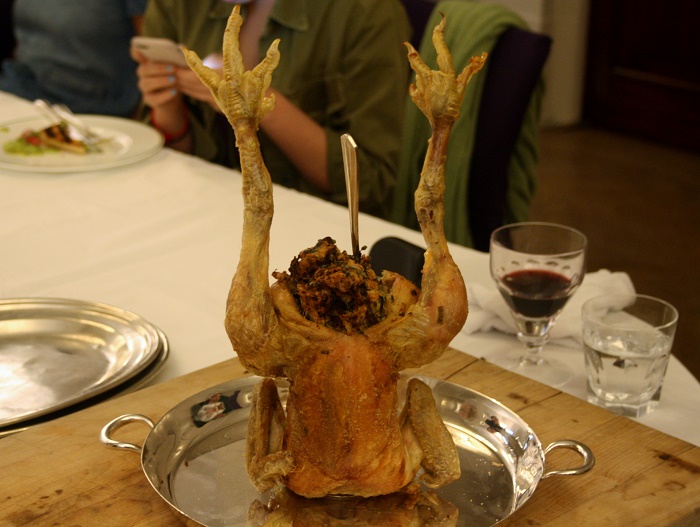 I was the first in our group to carve the bird and I hesitantly got hold of the claw and sliced downwards to remove the leg, revealing the breast meat.  Once it was carved down to the bones, we all chose our cuts and helped ourselves to the side dishes served family-style.
This was one delicious chicken with flavoursome meat, golden, crispy skin and a tasty stuffing made with fresh sage, fried onions and chicken livers.  The potato salad was a nice summer alternative to the usual trimmings, but we still kept with tradition and enjoyed it with gravy.
I asked Mark the best way to make gravy and he told us that it's difficult to get really good gravy if you prepare it at the same time as the meat from the roasting juices.  He advised simmering chicken wings and necks with some roasted vegetables in a pressure cooker and making large quantities in advance, storing in the freezer until the next roast.
The meat was paired with Mark Hix's own wine (in collaboration with fellow restaurateur Mitch Tonks) – 2013 Tonnix White, Quinta de la Rosa, Douro Portugal.  Being part of the YBA scene, he asked his mate Tracey Emin to etch a drawing for the label – it's definitely the coolest bottle of wine I've ever seen.
I could have easily wolfed down more of the chicken, but it's worth pacing yourself as there are still two other meats to indulge is and the portion sizes just seem to increase.
Next up was the Herb-baked leg of Launceston lamb with Minted cucumber, samphire and shallot salad.  The magnificent joint of lamb was cooked in hay to lock in moisture and keep the meat soft.  The lamb was incredibly succulent and juicy with a layer of browned, melted fat.  I'm not a fan of cucumber, but the salad looked colourful and fresh.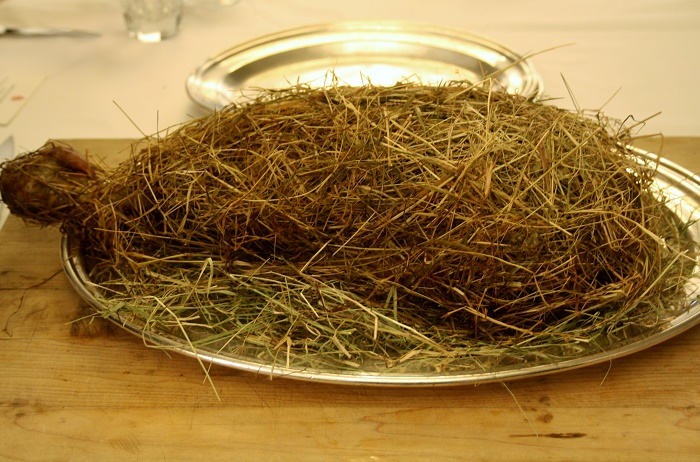 To round off the meat feast, we enjoyed Roast Boccadon Farm rib of veal with Broad bean and Wye Valley asparagus salad.  This was my favourite, as the veal was so lean and tender with a very clean taste.  By this point I think we let Chef handle the carving and were treated to chunky, substantial halved ribs each.
The veal was paired with another excellent HIX wine – 2013 Tonnix Red, Quinta de la Rosa, Douro Portugal (there's also a rosé wine in the collection).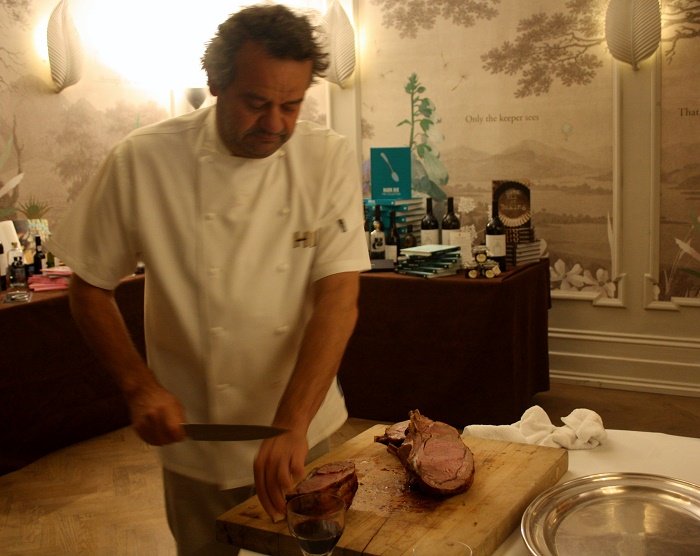 Of course there's always room for dessert and this one was a very boozy Oakchurch Farm strawberry and Tonnix white port trifle.  It was light and fruity with vanilla-scented cream, velvety custard, sponge soaked in copious amounts of white port and jelly studded with fresh strawberries.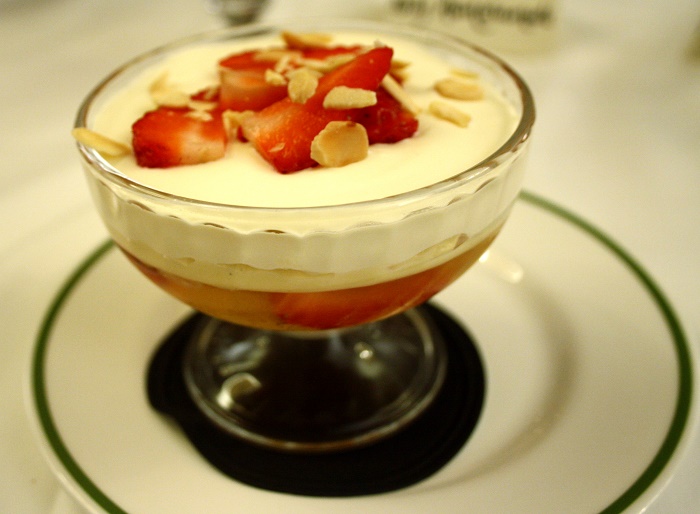 Usually a big roast might end with an afternoon snooze, of which lucky Brown's Hotel guests will have the privilege, but we finished with a round of espresso (Jasmine tea for me) and exquisite Cider brandy truffles.
Before leaving, we had the chance to select a Mark Hix cookbook, which he kindly signed and personalised.  I chose the HIX Oyster and Chop House book and look forward to trying some of the recipes.
As if that wasn't enough, we were kindly given a goody bag packed with Cornish sea salt, hillfarm rapeseed oil, some insanely decadent Hix Fix morello cherries in Somerset cider brandy, a copy of the first HIX Magazine and a Brown's Hotel apron.
The Mark Hix Carving Master Class was such a fun, friendly private dining experience and I highly recommend it for carnivorous foodies looking for something a bit special.
Two-hours classes are hosted by Mark Hix every month (priced at £185 per person) and include a feast of sharing starters, all of the featured cuts of meats with wines to match, dessert and a goody bag including a signed cookbook and Brown's apron.
Forthcoming dates: Wednesday 24th June, 29th July, 30th September, 28th October & 18th November 2015.  For more information and booking, visit: www.roccofortehotels.com
Chérie City was a guest of Browns Hotel
Photos by Chérie City and Browns Hotel