On my recent trip to Paris, I had the pleasure of enjoying dinner at STAY Paris Le Faubourg, the new restaurant by three Michelin star chef Yannick Alléno at Sofitel Paris Le Faubourg.
The renowned French chef brings his exciting Simple Table Yannick Alléno concept directly from Asia, where he has already opened STAY restaurants in Dubai, Taipei and Beijing.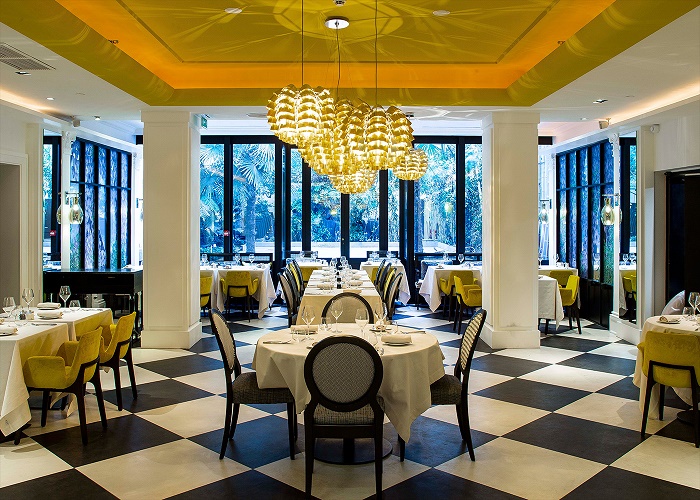 In Paris, STAY sits comfortably between Yannick Alléno's two casual Terroir Parisien restaurants and the ultra-exclusive Alléno Paris at Pavillon Ledoyen.  The menu is inspired by his worldwide travel, offering dishes with Southeast Asian and Japanese influences, as well as exploring French gastronomy.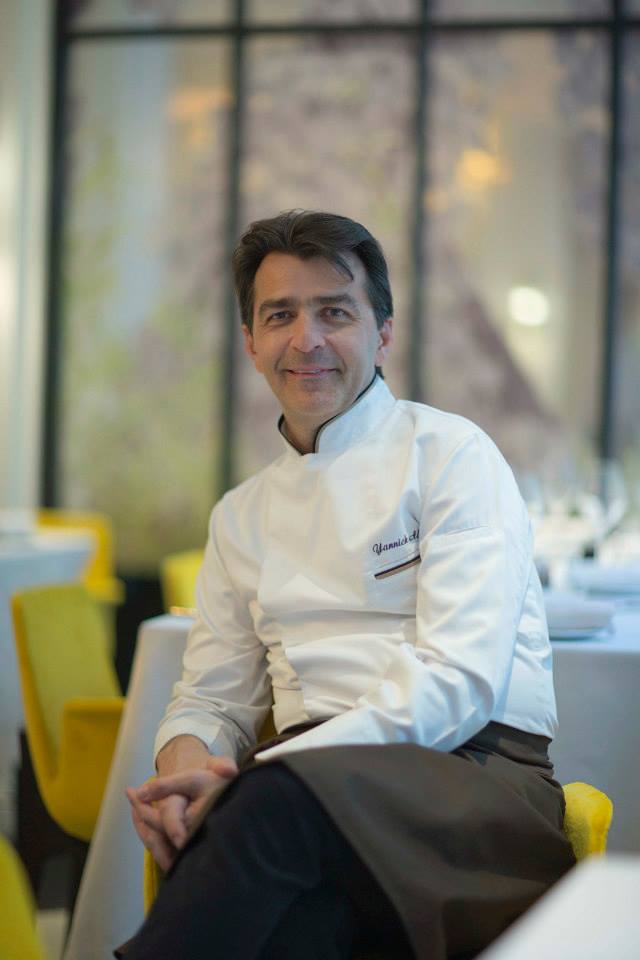 When I stayed at Sofitel Paris Le Faubourg last year with my mum, we enjoyed breakfast each morning in the bright, airy and ever so chic restaurant that was previously named Les Collections.
The breezy character of the restaurant remains with just a few design tweaks and a new highlight colour of zesty yellow.  There's also a private dining Communal Table for six to eight people and a chic courtyard terrace where you can dine among the fragrant flowers, palms and fountains.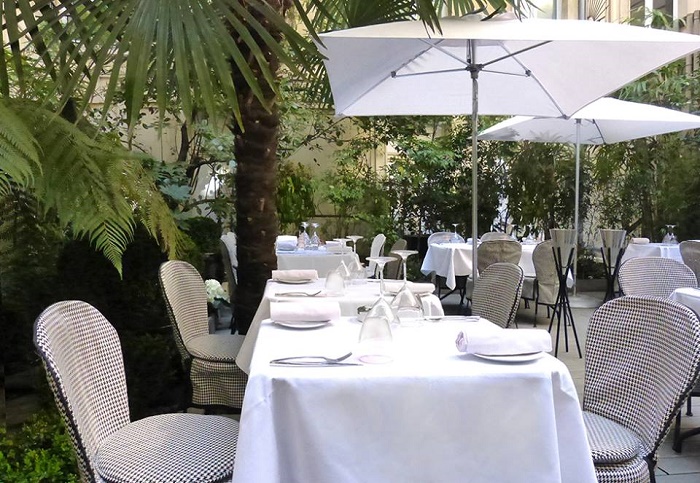 At the helm of STAY Paris Le Faubourg is Executive Chef William Girard, who started working for Yannick Alléno at Hotel Scribe in Paris and has since overseen top restaurants across Asia, including STAY and Sweet Tea in Taipei.  Not only is he passionate about introducing Paris to the STAY concept, but he's also a colourful character with a playful sense of humour.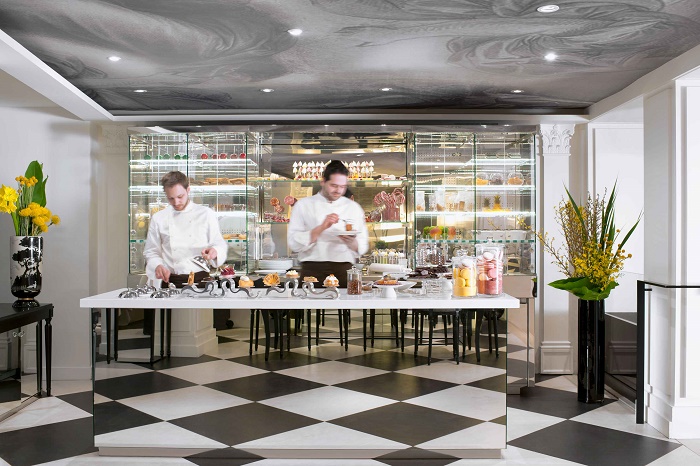 We began our evening in style with a glass of Laurent-Perrier Champagne while navigating the menu.  To start, I ordered the Dublin Bay Prawns à la Polonaise (€32), as I've always had good langoustines in Paris.  This dish was an absolute delight with incredibly tender, plump chilled langoustines in a typical Polonaise style with a twist.
They sat atop a tangy, lightly creamy sauce and were topped with separated, finely-shaved egg whites and yolks, tiny breadcrumbs, burst-in-the-mouth vinaigrette pearls and fresh chives.  It's a deliciously light and flavoursome starter that really invigorates the tastebuds.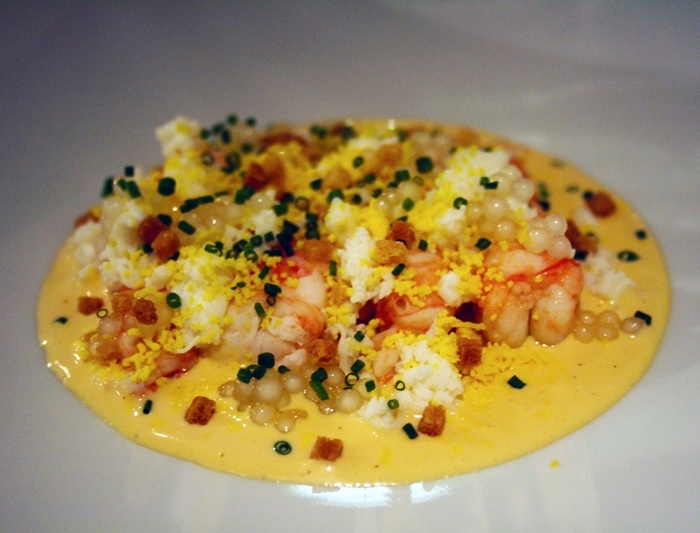 Steven went for the beautifully-presented Tuna Tartare with Niçoise-style salad (€22).  The lean, ultra-fresh tuna had a clean and natural taste and was perfectly complemented by blanched asparagus spears, halved quail eggs, red peppers, thinly-sliced radishes and a light herb sauce.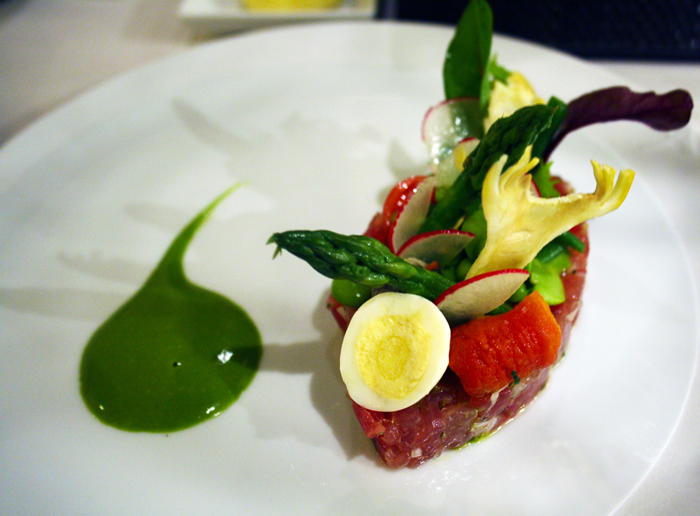 It's hard to resist a proper Parisian steak and it's even more tempting when you know that Yannick Alléno sources his meat from one of the best butchers in Paris.
I tried the Beef Fillet 'fleur de sel' (€48), which came with a choice of sauces and one side dish.  My steak was ever so lean and succulent, cooked perfectly medium à la plancha with nicely browned edges and a coating of fleur de sel.
The succulent meat just melted in the mouth and was served simply with a baby gem lettuce leaf brushed with the meat juices.  The smooth Béarnaise sauce came in a petite jug on the side and was punctuated with tiny pieces of shallot and torn fresh tarragon.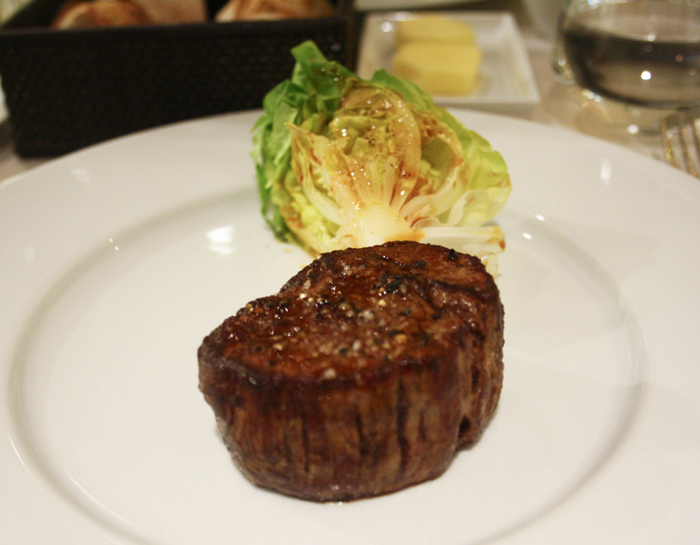 My side dish of Gratin Dauphinoise Louis Grondard (€10) was just heavenly and so indulgent.  Slow-cooked in its own crock pot, the exemplary gratin was creamy with slightly sweet potatoes, plenty of garlic, butter and herbs and topped with bubbling, golden rustic cheese – French comfort food at its very best.
But where does Louis Grondard come in with this divine potato dish?  The celebrated Michelin star chef was Yannick Alleno's mentor at Paris institution Drouant and his secret recipe is certainly worthy of this thoughtful tribute.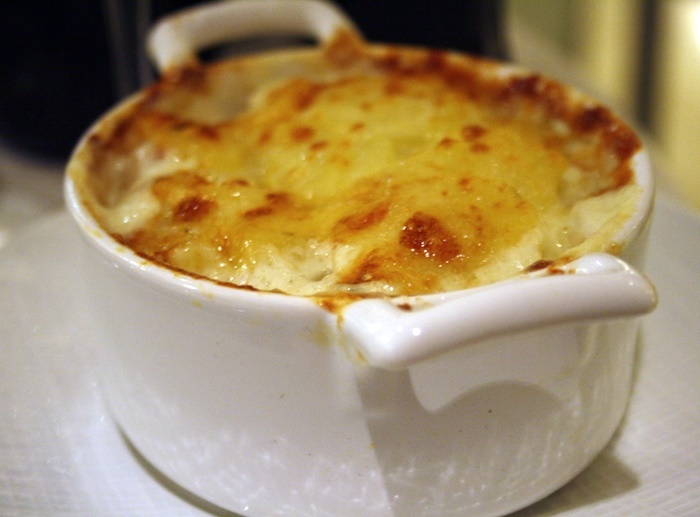 Steven tried the classic Beef Tenderloin Cafe Faubourg with fine French Fries (€48).  The steak was very tender and full of flavour, served with a creamy, meaty sauce studded with aromatic Asian peppercorns.  The French Fries were just as they should be – crispy, golden and hand-made with high quality potatoes.  This is undoubtedly one of the finest steak frites in Paris and believe me, I've tasted many.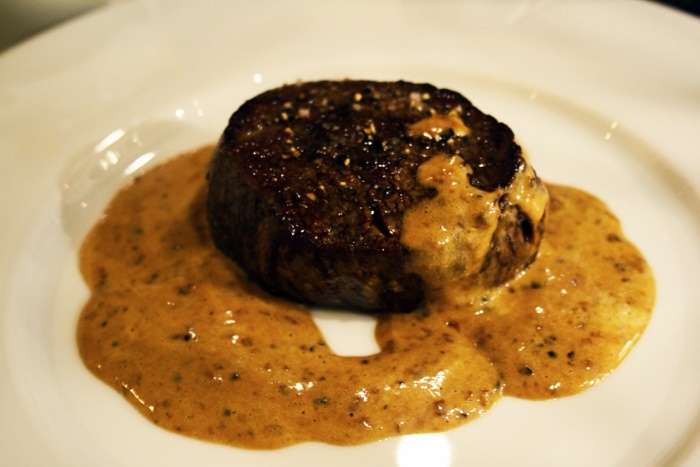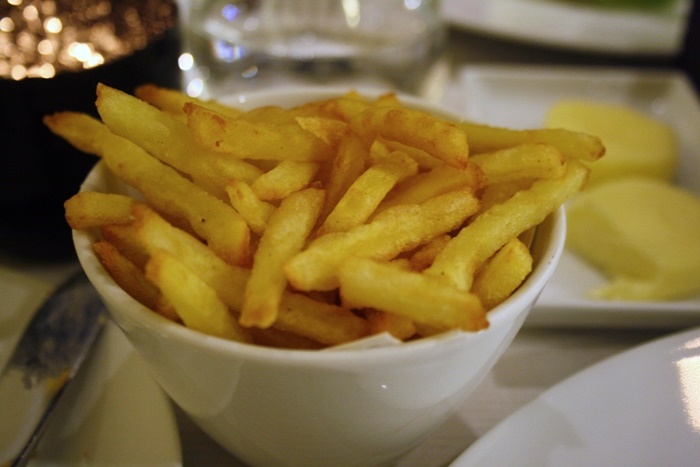 A real highlight of dining at STAY is the magnificent Pastry Library, which guests are invited to visit to choose their dessert.  This is a chance to have a dessert 'consultation' and a bit of banter with the chefs, who present the desserts while plying you with hand-made chocolates, marshmallows lollipops, nougat, caramels and hazelnut brittle.
You can then watch them assembling your dessert and customising it to your preferences.  It's a leisurely, unhurried experience that makes you feel just like a kid in a sweet shop (albeit with the city's best chefs at the counter).  Seeing the desserts through the glass window and the fun inside the restaurant was too much for non-dining guests – they couldn't stop themselves from popping in to ask for a lollipop or two.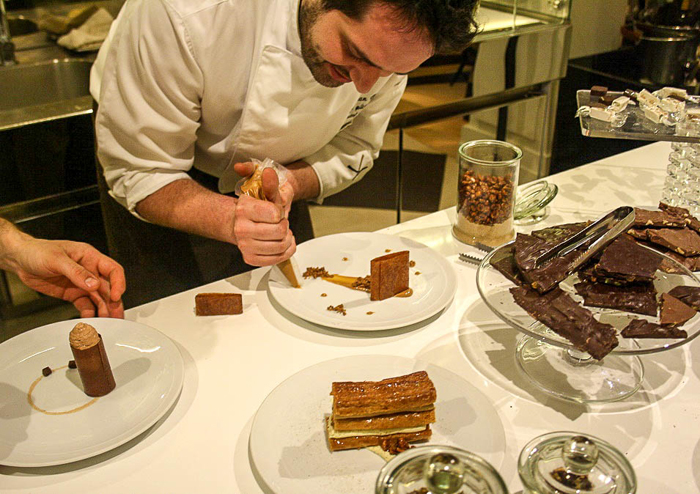 For dessert, I went for Gavottes with hazelnut ice cream garnished with smooth caramel, candied hazelnuts and flecks of gold leaf.  Gavottes are traditional French crispy lace crepes and STAY's hand-made versions were lovely and crunchy and went nicely with the velvety hazelnut ice cream.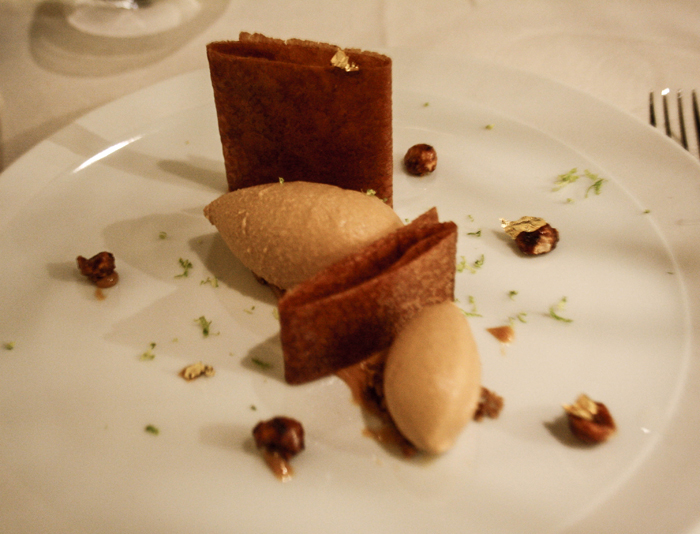 Steven tried a Chocolate Cone filled with a lightly whipped milk chocolate cream.  We loved the artistic presentation with a chocolate disc spiked through with a chocolate stick, finished with gold leaf and tiny chocolate cookies.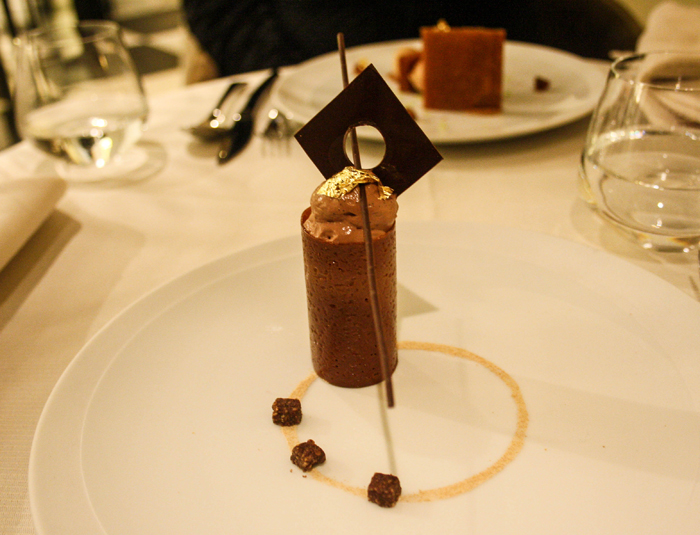 As if dessert wasn't enough, our sugar high reached its climax with a selection of petit fours to accompany our Earl Grey tea, served in a signature Sofitel Asian-style cast iron teapot.  We grazed on bite-size chocolate éclairs topped with a glossy ganache and gold leaf, mini pistachio macarons and some inventive lemon meringue tarts.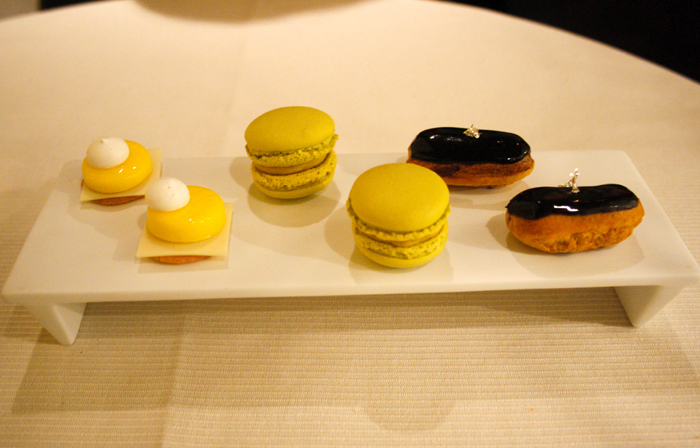 STAY Paris Le Faubourg is the perfect spot for a relaxing meal in stylish surroundings, whether you're in the mood to go all-out French or enjoy an international dish.  Sofitel Paris Le Faubourg is one of my favourite central Paris hotels and I'm always wowed by Yannick Alléno's cooking, so for me, it's a match made in foodie heaven.
Chérie City was a guest of YUZU Yannick Alléno
Photos by Chérie City and STAY Paris Le Faubourg