Cooking at home is one of my pleasures in life, however it can quickly feel like a chore without the right preparation.  Coming home to a fridge filled with only alcohol, condiments and nail varnish or lacking meal ideas can easily give me the cooking blues.
So, when Gousto offered to send me a fresh food box that would see me fed like a queen for three consecutive days, I jumped at the chance.
Gousto is a handy recipe kit delivery service offering a choice of tantalising new dishes every week with the ingredients and instructions for how to make them.  It's ideal for time-poor folk who want a delicious home-cooked meal without the hassle of trawling the supermarket or planning days ahead.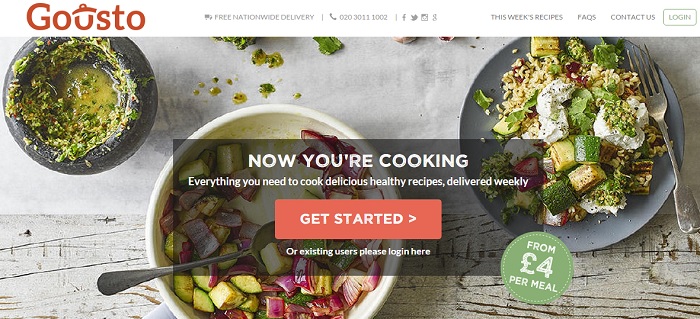 Gousto was founded in 2011 by two foodie friends – Timo and James –  who loved cooking but constantly found their hectic London lives getting in the way of a good meal.  Today, Gousto is based online and offers nationwide delivery, so everyone in the UK (with just a few postcode restrictions) can experience the service.
My three recipe box for two people arrived on a Friday lunchtime ready for a weekend of cooking.  I wasn't actually at home when the box was delivered to my apartment building, but I was pleased to see that the large box was packed full of biodegradable thermal wool and thick ice packs to keep it nicely chilled until around midnight.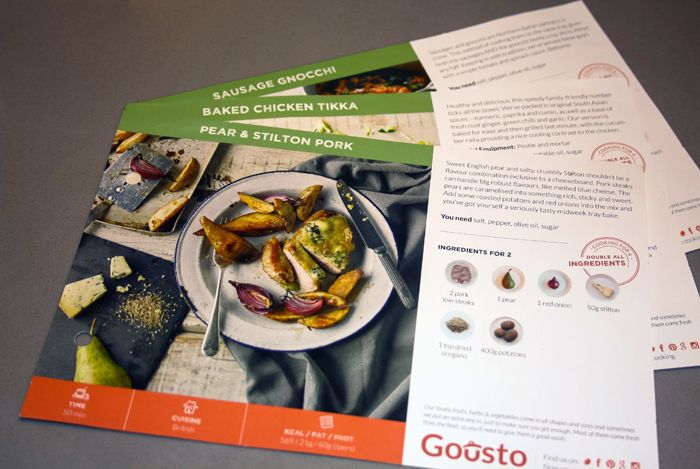 It was exciting unpacking the box and seeing the lovely, fresh ingredients that I'd be using that weekend.  A great feature is that all ingredients are pre-measured, so you don't need to spend time weighing on scales or deal with wastage.
The first dish I tried my hand at was Baked Chicken Tikka served with brown rice and cucumber raita.  Being Persian, cooking rice never fazes me, but I hit the first and only hurdle when I didn't own a pestle and mortar to grind the South Asian spices for the tikka paste.  My #middleclassfail didn't cause too much bother though, and within minutes the chicken thighs were well-marinated and ready to bake in the oven and finish under the grill.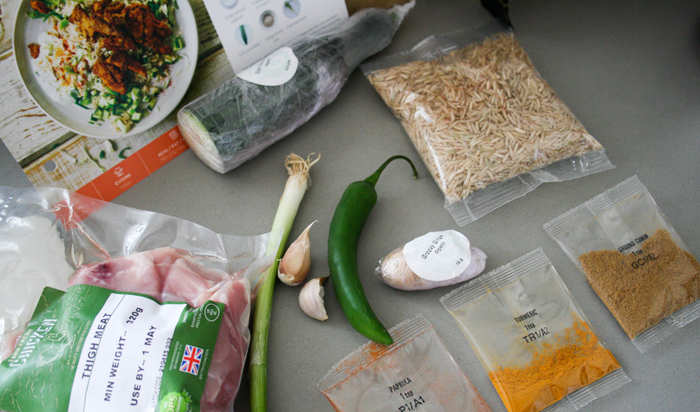 The nicely charred chicken was so tasty and we found the brown rice filling, making it a satisfying, healthy dinner.  I would definitely try making my own curry paste from scratch again, as the spices are pretty straightforward and it helps avoid preservatives or colourings that you might find in a jar of pre-made paste.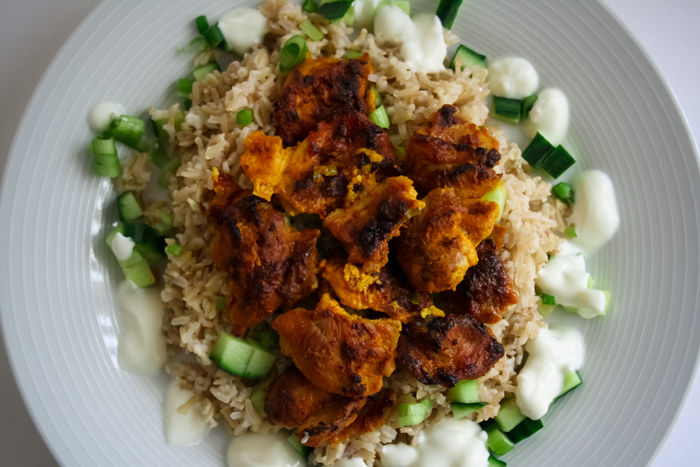 Next up for Saturday night was a hearty northern Italian meal of Sausage Gnocchi.  The plump sausages were very high quality and sourced from a farm in Lincolnshire, like much of Gousto's produce is.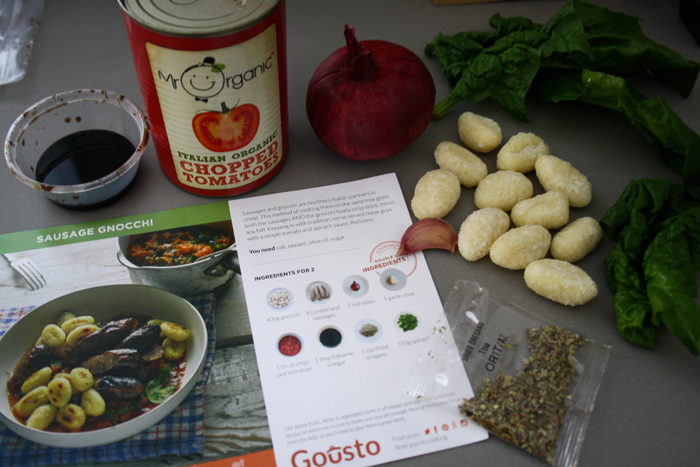 This recipe was ridiculously easy, as the sausages and gnocchi are simply oven-baked on the same tray.  We fried up some onion and garlic and added it to simmering organic tinned tomatoes to make the sauce.  A few minutes before serving, we added some Balsamic vinegar and torn fresh spinach to the sauce to jazz it up a little.
The results were spectacular – herby, flavoursome sausages, crispy, golden gnocchi and a tangy, rich tomato sauce.  Bellissima!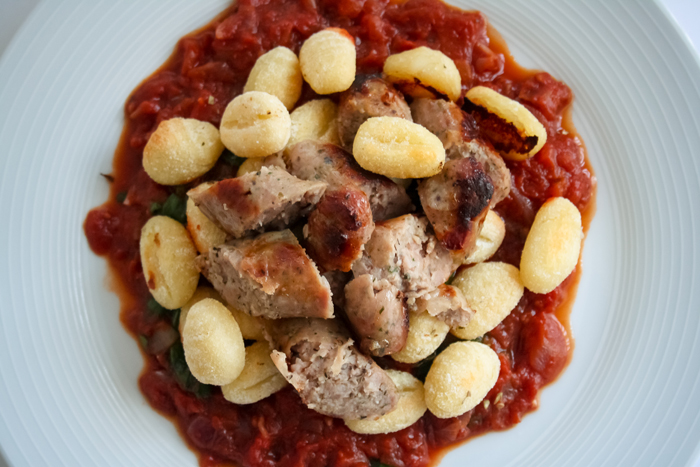 Our final meal was a rather posh one – Pear & Stilton Pork.  I thought this recipe would be out of my comfort zone and had reservations about the 50 minute cooking and preparation time, but it was actually just as easy as the other recipes.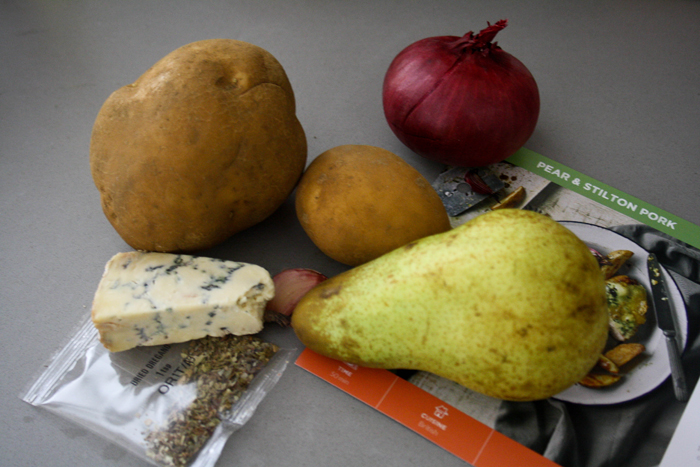 We parboiled potatoes cut into wedges, ready to be oven-baked with thick slices of red onion.  The pears were then fried in a little butter and added to the tray while the pork steaks were pan-seared for a few minutes.  The pork was then also added to the tray with a generous topping of crumbled blue Stilton.
This dish was superb and really tasted like restaurant quality, if I do say so myself.  It's the kind of dish that you could prepare for a dinner party and really please your guests.
I was very impressed with Gousto, from the well-designed recipe cards and professional service to the excellent quality of the ingredients.  A three recipe box for two people is priced at £34.99 with free delivery and there are a few different packages available for both meat and vegetarian boxes.
The price may sound substantial at first, but when I consider how much I spend on three days' groceries (that's if I don't cave in and eat out one night) and the joy of not having to battle my local supermarket (because there are often mini battles there), it's actually a rather appealing deal.  Then there's the fact that the ingredients are all premium/organic/farm-sourced and not your regular supermarket fare, so they would cost more if bought individually.
Following an ill-fated gym membership that I ended up tied to a few years ago, I'm often hesitant to sign up to anything with regularity, but I am certainly tempted by Gousto.  Boxes are delivered weekly as standard, however you can pause or cancel your membership at any time with no strings attached.  It's a good balance of commitment and flexibility, so you can fully enjoy the service but cut back occasionally if needed.
If you want to try out Gousto for yourself, get £20 off your first box with the code: CHERIECITY20.  For more information and to buy online, visit: www.gousto.co.uk
Chérie City received a complimentary Gousto box for review
All photos by Chérie City