The warm weather seems to have just sprung upon us this week, so now is the time to start protecting skin in the sun.  On my Celebrity Cruise of the Caribbean, I had the chance to try out some Ultrasun sun care products tailored to my skin requirements.
Highly-acclaimed sun protection brand Ultrasun is designed and created by Swiss sun care experts and is a beauty industry favourite.  Unlike other sun care brands that require top-ups during the day, Ultrasun's revolutionary technology allows a safe once-a-day application.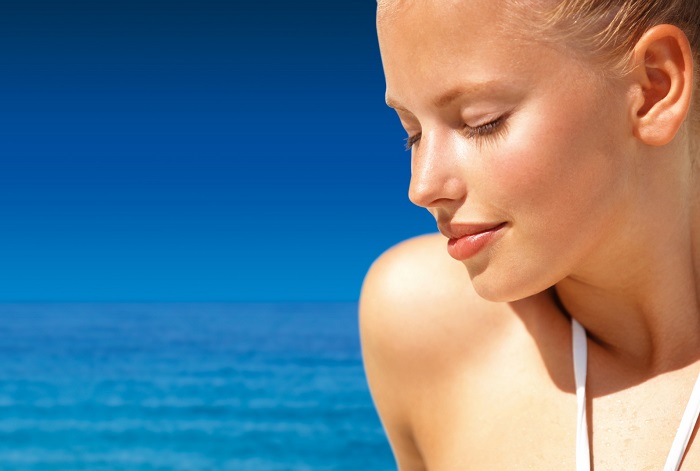 As if that wasn't enough, the formulas are free from emulsifiers and perfume, reducing the risk of allergy and making them suitable for children and those with sensitive skin.
I tried the Family SPF 30 (150ml/£25), which is the 'go to' body sun cream for very sensitive skin (basically everyone can use it).  The lotion has a light, non-greasy formula that instantly hydrates the skin and is quickly absorbed.  The hygienic airless pump dispenser also prevents product deterioration and contamination, so no pesky sand can find its way in.
Texture is important for me when choosing sun care, as I can't bear oily or sticky sun creams that sit on the skin.  Amazingly, the Ultrasun SPF30 lotion simply feels like a regular body lotion, so you can wear it comfortable in the city as well as the beach.  My skin never burned once on my trip, even on my shoulders that are proven to sun damage, and it helped avoid any prickly heat.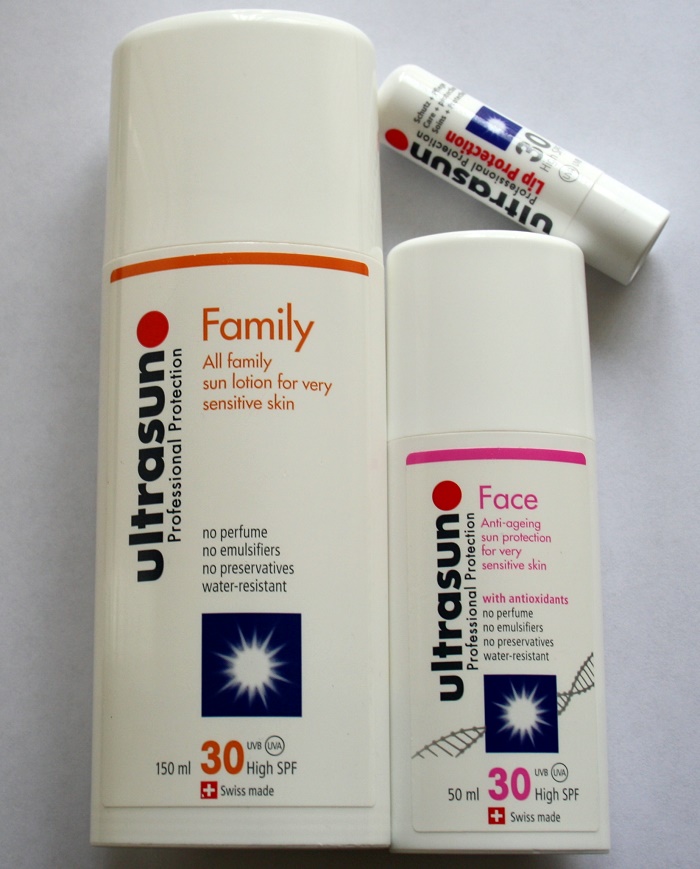 Equally effective is Face SPF 30 (50ml/£20), which can be used instead of your daily moisturiser for all-day protection.  Its anti-ageing formula includes Ectoin to prevent UVA-induced premature photo ageing, Superoxide Dismutase to neutralise free radical activity and Boron Nitride (the Science of Softness) to reduce the appearance of fine lines.
It's rare for me to find a light, non-comedogenic sun cream for the face that doesn't make my combination skin break out, but Ultrasun has really nailed it.  I will be wearing it everyday from now through the summer in London, as it only needs to be applied once and won't make my make-up melt off in the heat.
For the final touch, try Ultralip SPF 30 (15ml/£6) – a rich, velvety lip protector enriched with blackcurrant seed oil to moisturise and reduce inflammation and chapping.  It's effective in both hot and cold climates and has a long-lasting, luxurious balm texture that feels pleasant on the lips.
I also used it on the aeroplane and it stood well against the arid atmosphere and stifling heat of the dreaded red-eye return flight.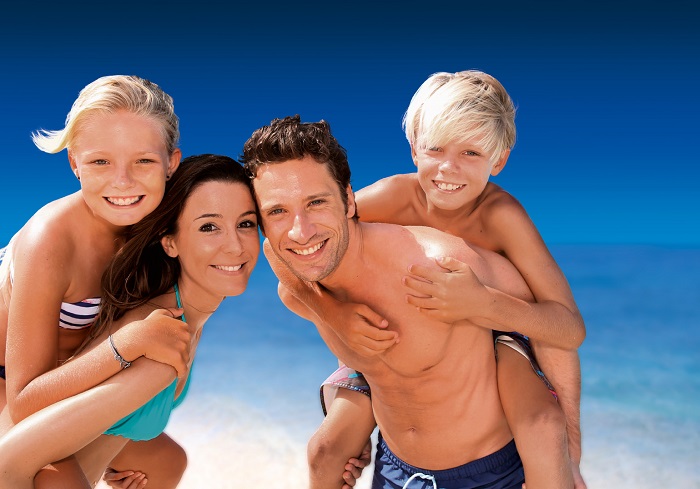 Of course, choosing a good sun cream isn't enough, it needs to be applied properly for it to be effective.  How often have you applied your suncream on the pool lounger or on the beach ((I know I have)?  This should be avoided, as it can evaporate when applied in direct sunlight and won't have as much time to bond with the skin.
Instead, apply sun cream to cool, dry skin 30 minutes before going outside and use one teaspoon for the face and at least one teaspoon for each part of the body.
Ultrasun is at the higher end of the suncare market, but the high quality, effective formula and cutting-edge technology make it worth investing in.  It's also long-lasting with 150ml bottle giving protection for one person for up to two weeks when applied to the whole body.
Want to delve a bit more into the science of sun care?  Ultrasun UK Sun Expert Abi Cleeve shares her advice on staying safe in the sun…
How important is using a facial SPF for preventing premature ageing?  Protection is vital for reducing the signs of ageing. Don't just think in terms of SPF, UVA is actually just as vital. These are the rays that penetrate so deeply they cause loss of elastin, collagen and damage of our DNA. It is this damage that we see as ageing – increased wrinkles, pore size and slackened skin, alongside decreased elasticity, radiance and firmness.   The UVA filter percentage is key here. Ultrasun filters them to over 90% of UV rays and protects from UVB (that's the SPF reading) simultaneously.  To give you a benchmark, Australian minimum standard UVA filter is 90%, EU is 33%.
Should it be used all-year round in UK weather? Absolutely, but pick your protection to suit your needs and environment.  Reach for the 50+ in extreme conditions, but on a bright February morning walk Face 30 would be ideal.  Think in terms of skin tone, where you are in the world and how much sun exposure you have had to help you make the right decision.  90% of UV rays penetrate through cloud  and UVA passes unhindered through glass.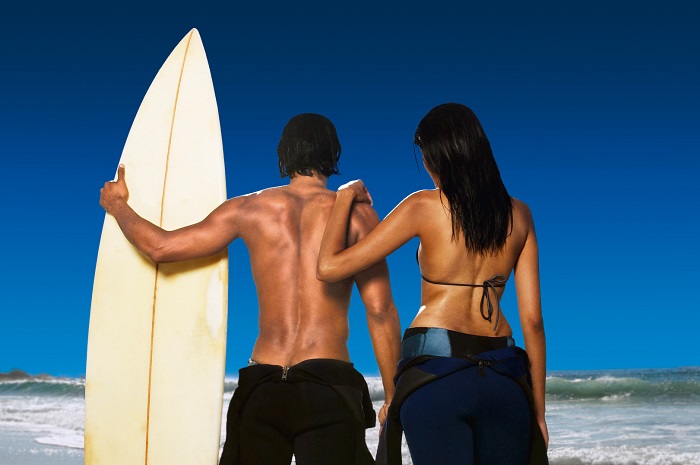 Can Ultrasun help prevent pigmentation and age spots?
Pigmentation is one of those things that you don't necessarily worry about until you have it, but when you do it can be very distressing. Many people, particularly women find the condition embarrassing so Ultrasun wanted to give their customers something that would both protect and care for their skin, whilst decreasing the visibility of existing pigmentation.
In recent years, the only way to treat pigmentation has been with lasers that are costly and sometimes painful. Thankfully Ultrasun has now developed an anti-ageing sun protection cream with anti-pigmentation technology that is suitable for even the most ultra sensitive of skins.
What are your tips for getting an even, healthy tan?
A good sun protection product does not affect the natural tanning capacity of the skin.  Top tips for keeping you safe in the sun at home and away:
1. Understand shade: To avoid the peak potency of the sun, take shade breaks between 11-3pm. Over 90% of UV can penetrate light cloud cover, and this remains a common mistake and reason for sunburn – both in the UK and abroad. Shade given by trees and parasols only gives protection from around 70% of UV rays. Out of the shade, remember a simple shadow rule: The shorter your own shadow, the higher the sun and the greater the risk.
2. Pick the right SPF factor: Skin that is not used to the sun is less able to protect itself. Under the influence of UV rays, the skin begins to thicken and starts producing melanin. These processes take 10-20 days to take place, so use extra protection while your skin is adjusting to the sun. Know your sun account and that there is a difference between an SPF of 50 or 50+. An SPF 50 is tested to be exactly that but a 50+ must achieve at least an SPF 58 to get that all important "+" sign.
3. Rehydrate your skin after sun exposure: After sunbathing, the skin needs a regeneration time of at least 12-14 hours. During this time, some of the damage to cells will be repaired, so ensure you use a good quality aftersun product that will help to accelerate this process by ensuring the skin is rehydrated
4. Remember to drink plenty of water: This will ensure that your skin (and body) stays hydrated throughout the day.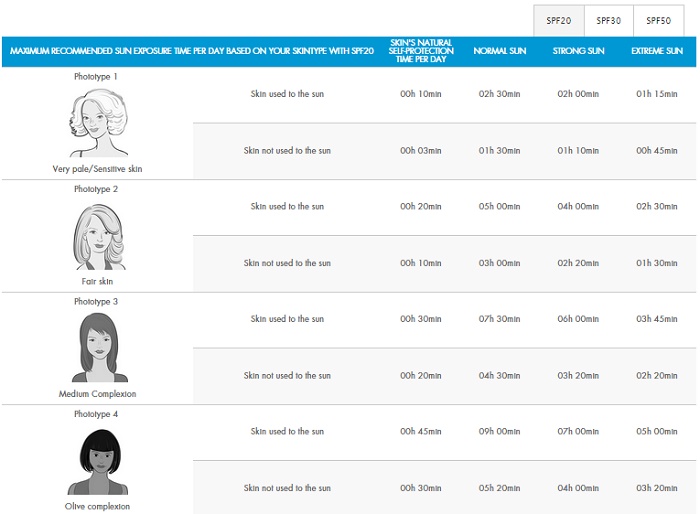 How nourishing is Ultrasun for the skin?
Ultrasun products are free from perfumes, mineral oils and preservatives such as parabens that can cause reactions, discomfort and put your skin under pressure. You want to support and help your skin's own natural ability to protect itself and balance moisture levels. The skin is a very powerful organ, and because it's on the outside its ability to deal with the environment by constantly evolving and renewing itself is really quite impressive. Skin can do this job uninterrupted when we choose products that help rather than disrupt.
What is the best way to protect hair in the sun?
Harmful UVA and UVB rays have the power to cause damage from the inner structure of the hair right through to the hair shaft itself, making it brittle and porous. Not only does over exposing your hair and scalp deplete hair of its natural protective oils, it can also cause damage to the cellular structure of the hair causing faded colour, frizziness, split ends and thinning hair.
Prolonged sun exposure without any proper protection can also dry out the hair and disrupt the cells of the hair cuticle which, if left untreated, increases the chance of hair loss, and leaves the hair prone to severe breakage.
The Ultrasun Daily UV Hair Protector provides an innovative complex of anti-oxidants and exclusive UV filters for the hair and scalp. This ground-breaking product offers protection against damaging environmental influences such as UVA, UVB, chlorine and salt water, and prevents fading of natural and colour treated hair.
For more information and to buy online, visit: www.ultrasun.co.uk
PR samples
Photos by Ultrasun and Chérie City