London has no shortages of fine dining Japanese restaurants, but Belgravia restaurant Kouzu is rather special.
Housed in a Grade-II listed 19th century mansion overlooking Victoria's prestigious Grosvenor Gardens, Kouzu certainly looks the part.  Inside, the design is sleek and contemporary with a downstairs cocktail lounge and floating mezzanine with omakase sushi bar, united by a stunning chandelier adorned with glowing blossoms.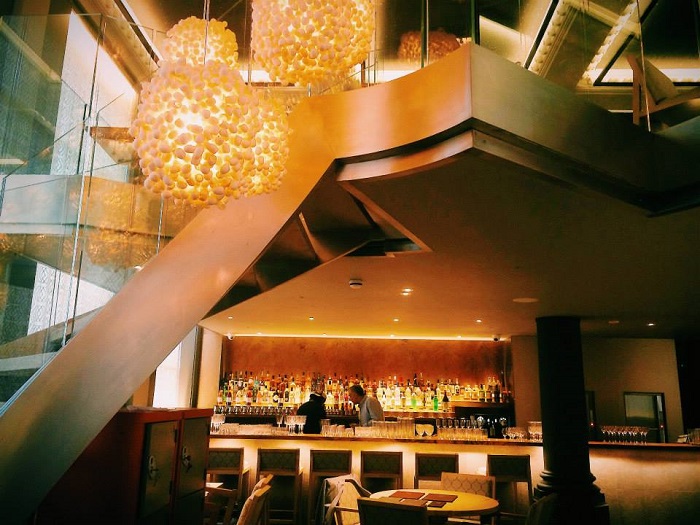 At the helm is Chef Kyoichi Kai, who has over 30 years experience in some of the world's top restaurants including London's Zuma and The Arts Club.  His new style of Japanese cooking has a lightness of touch and is authentic yet creative.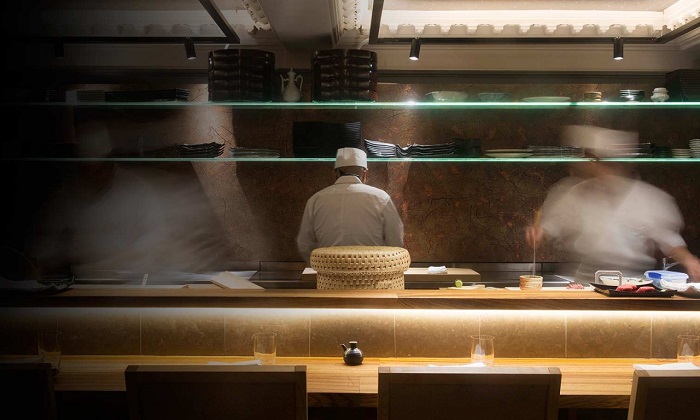 We visited for a leisurely lunch and were seated at a comfortable table on the cosy, triangular mezzanine level.
In the evening, I can imagine Kouzu being dimly-lit and sexy with the buzz of chattering, however in the early afternoon, it seems to attract the expense account crowd (well it is Belgravia, after all).  While most diners were rather subdued, we were seated close to an amusing group of cheeky chappy estate agents bragging about how much they dropped at Morton's and Novikov the other night.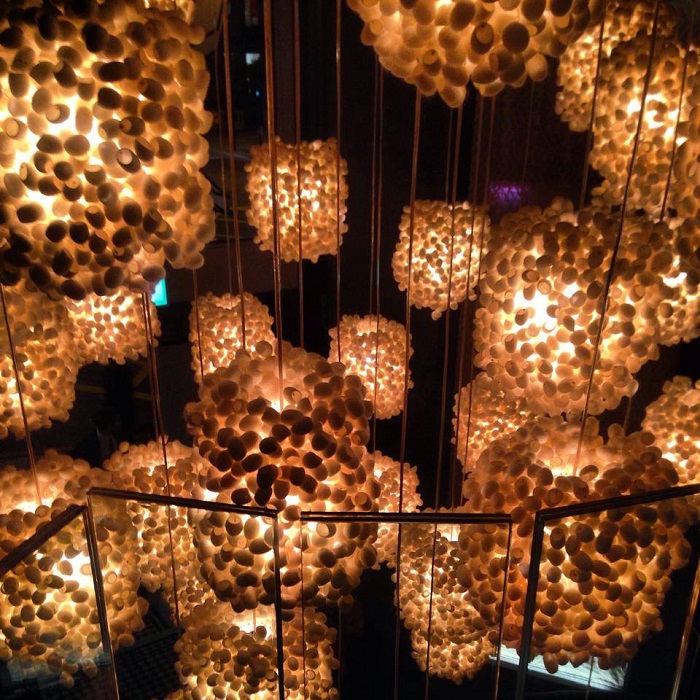 Unlike our spirited neighbours who were knocking back the G&Ts, we sipped on fresh mint tea throughout our meal.  If cocktail hour had been a little closer, I definitely would have been tempted by one of the innovative Japanese-inspired concoctions.
There are so many tempting dishes on the menu at Kouzou and happily most of them are easy to share.  We started with an absolutely delicious Beef Fillet Tataki (£17.30).  The generous slices high quality beef were mostly pink and tender with lightly seared edges. They were nicely marinated in a zingy soy sauce with prominenent flavours of ginger and garlic.  The julienne salad of watercress, red onion and yellow and red peppers was a perfect accompaniment.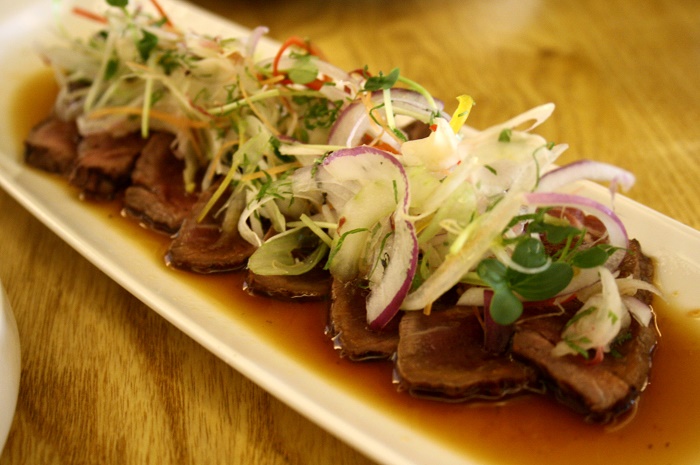 Salmon with Yuzu Soy Dressing (£11) was a light and uplifting start to the meal.  The chilled salmon had a clean taste and silky texture and was doused in a refreshing, zesty dressing with plenty of fragrant yuzu.  The herby ravigote sauce, crunchy sesame seeds and fresh coriander finished the dish nicely.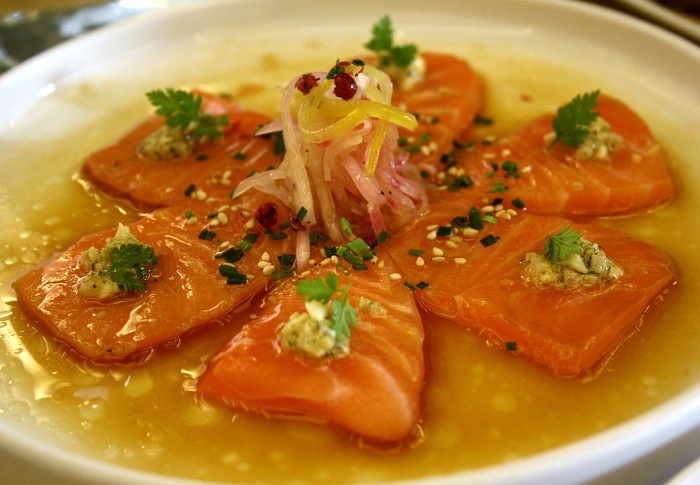 Ordering at least a few pieces of sushi is a must at Kouzu, as it really is rather special.  We shared one portion of my favourite sushi – Prawn Tempura Roll (£10) – which comes with six pieces.  Tasty pieces of plump prawn tempura were rolled with creamy avocado and daikon cress and finished with eel sauce and white sesame seeds.
The sushi rice was ever so light with a little crunchiness on the outside and the chef advised not to dip the sushi into soy sauce, as it was already seasoned enough.  I loved the Prawn Tempura Roll and could have easily devoured the whole plate myself.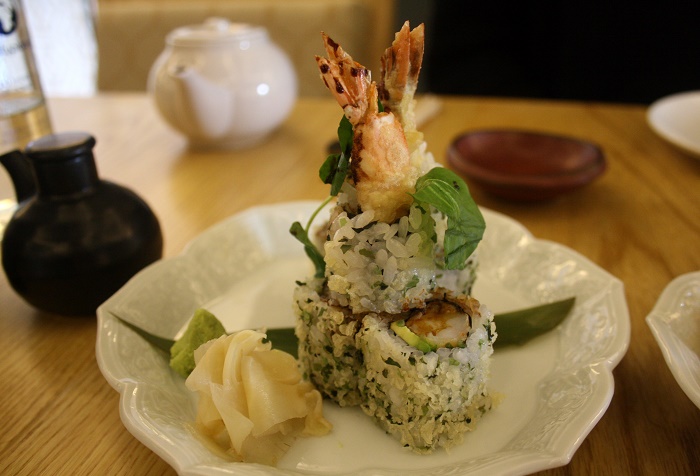 We were also treated to a piece of Aburi Nigiri each, which our waitress recommended as the very best.  My Scallop Aburi Nigiri (£8.50) had a fresh, straight from the sea flavour and a silky, melt-in-the-mouth texture.  We were told to eat it with the scorched side on our tongue to really experience the flavours and the difference in texture.
Steven tried the Toro Aburi Nigiri (£8.50) with tender, mellow medium-fatty tuna from the belly, which is apparently the most expensive and sought-after cut.  Aburi Nigiri also doesn't require soy sauce, but there's a garnish of pickled ginger, if you want some extra sweetness.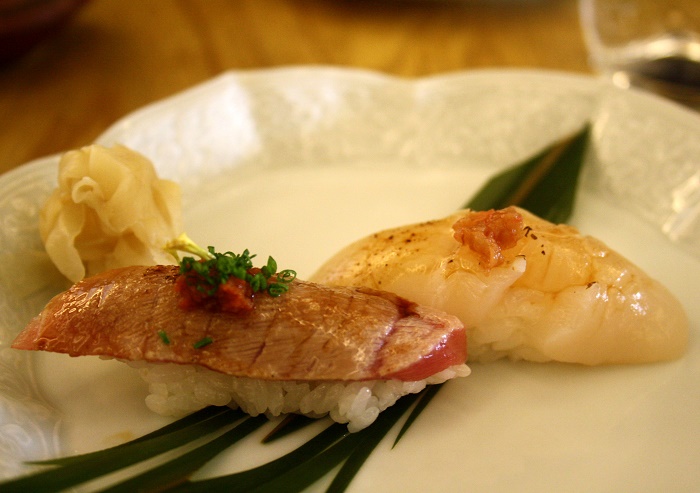 For the main course, I couldn't resist ordering the restaurant's signature dish – Roasted Black Cod (£28).  The high quality black cod was succulent and flaky with sweet, subtle miso glaze mostly on the skin.  I tend to prefer black cod that's lightly caramelised and blackened on the fillet itself, however this lighter version was still very enjoyable.
The fennel and celery salad was a healthier alternative to rice and the zesty, uplifting orange and yuzu sauce finished it off nicely.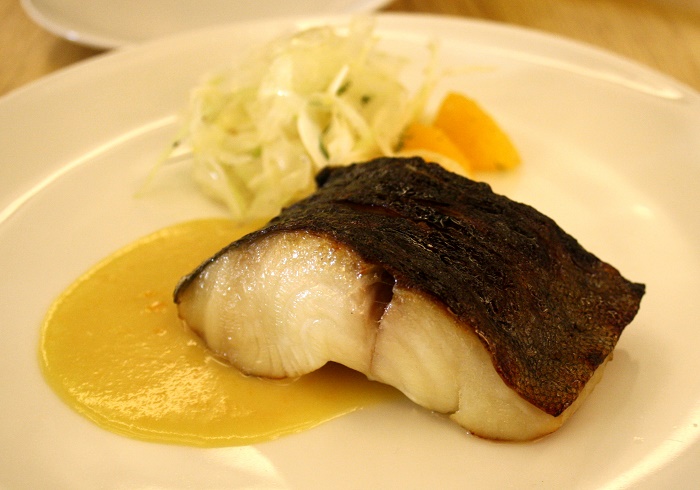 I'd heard great things about Kouzu's Roasted Baby Chicken with Chilli Sauce (£24) and it definitely lived up to expectations.  While the Roasted Black Cod was delicate and elegant, this was a bold dish to stir the senses.  The roasted corn-fed chicken was tender juicy in the middle and coated with a crispy, well-seasoned golden coating.  It was cut into manageable pieces, so you could fully enjoy the different textures and tastes of the chicken.
The chilli sauce was sticky and punchy with just the right amount of heat and the julienne vegetable were a good accompaniment.  This is the dish to order if you're after some comfort food done extremely well.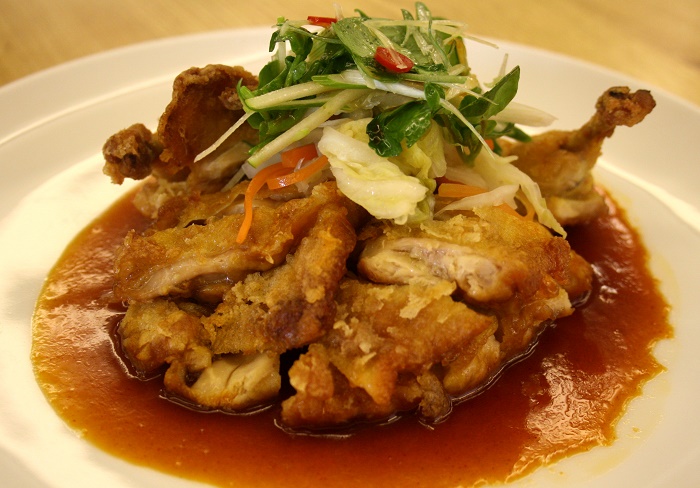 For dessert, I went for a classic Chocolate Fondant (£10.50) and as expected, it was divine.  The dark chocolate fondant had a soft cake textures and was filled with molten milk chocolate ganache and served with luxurious salted caramel ice cream, chocolate crumble and a burnt sugar crisp.
An added Japanese element might have been interesting, but then again, why mess with perfection?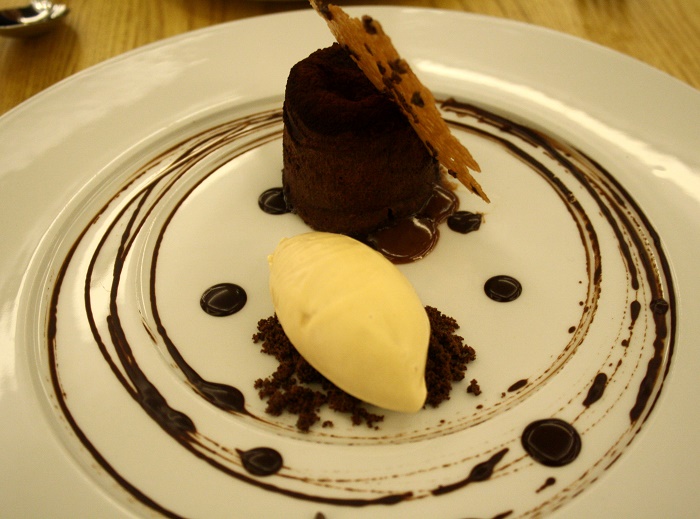 We were also wowed by the White Chocolate Mousse (£9.50) with lemon cream, hazelnut streusel and fresh lemon sorbet.  This dessert seemed a little more conceptual in its presentation and we loved the glossy, zingy mousse contrasted with the crunchy and powdery textures.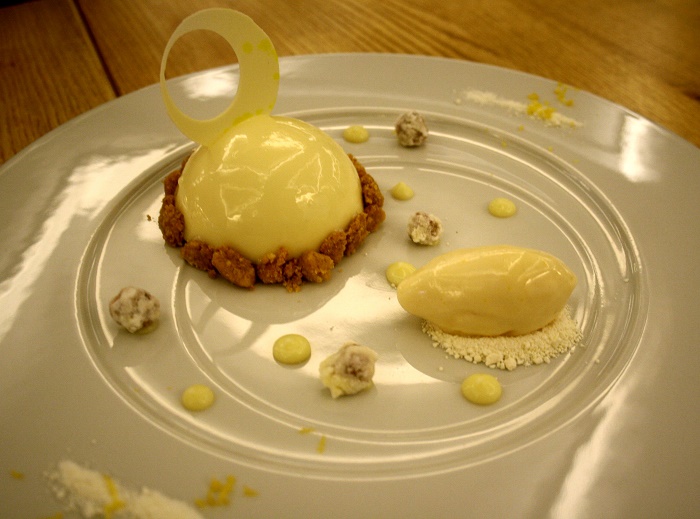 Kouzu is a real gem with superior food, sleek interiors and a stylish Belgravia location.  The staff are knowledgeable and passionate about Chef Kyoichi Kai's cuisine, however I felt the service could loosen up a little – my sushi plate was taken away as I was still munching and my napkin was instantly refolded when I briefly left the table.
Kouzu can become pricey if you want the full experience – and I fully recommend this – however there's a set lunch menu with some of the most tempting dishes (£20 for two courses, £25 for three courses) that offers excellent value.  With its relaxed atmosphere and truly memorable, Kouzu is definitely a restaurant that I can see myself returning to again and again.
For more information and booking, visit: www.kouzu.co.uk
Chérie City was a guest of Kouzu
Photos by Chérie City (interiors by Kouzu)