The highlight of our recent stay in Miami was a beautiful dinner at The Restaurant at The Setai Miami Beach.
The luxury five star hotel occupies a prestigious spot on Collins Avenue and brings a touch of the Far East to South Beach with sleek, Asian-inspired interiors.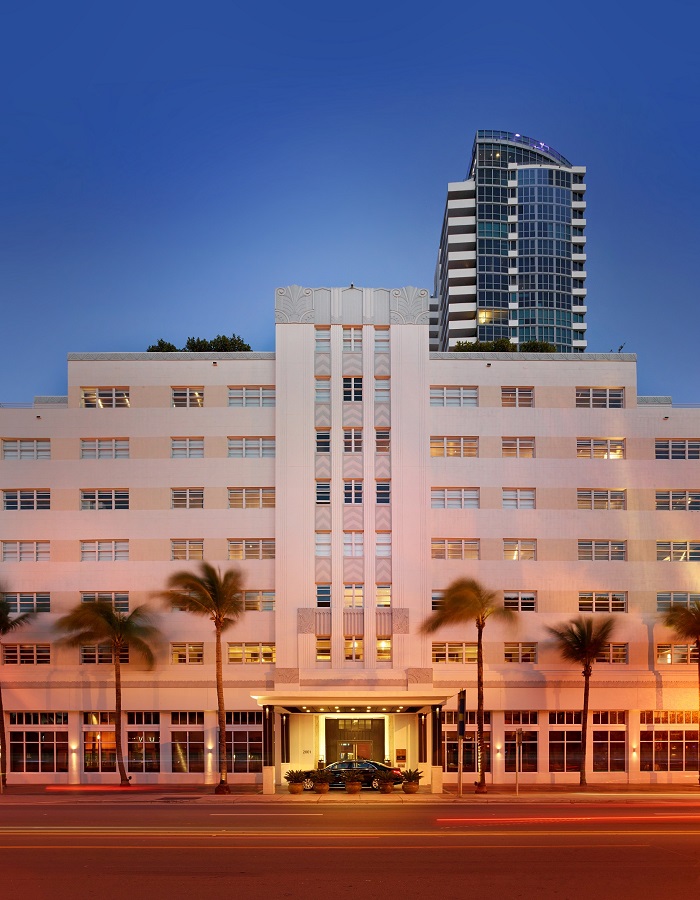 A member of The Leading Hotels of the World, The Setai boasts an authentic Art Deco facade and was originally built in 1938 as the Dempsey-Vanderbilt Hotel.  It now also includes an adjacent 40-storey glass residential tower.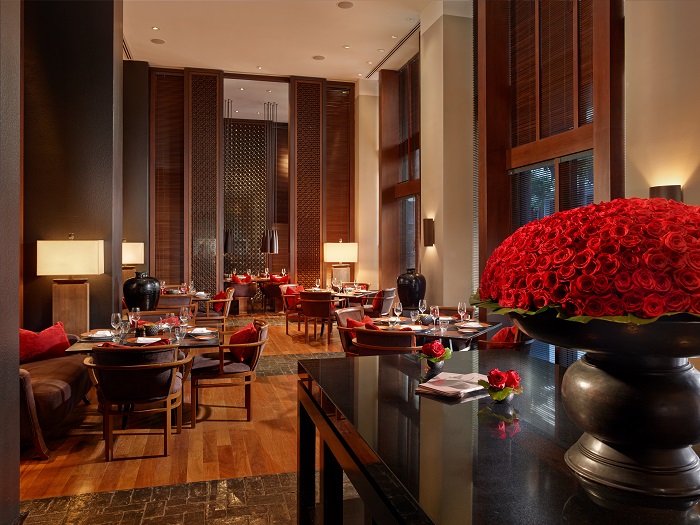 Arriving at The Setai, it immediately feels sophisticated and seductive with dimmed lighting, a buzzing atmosphere and a hint of aromatic incense to stir the senses.
The interiors are both grand and minimal with accents of Burmese teak, Indonesian bronze and dark grey bricks sourced from Art Deco buildings in Shanghai.
The hotel is equipped with an impressive number of amenities including three pools all set at different temperatures, four restaurants and bars and The Spa at Setai by THÉMAÉ.
We visited on a lively Saturday night and were warmly greeted and shown to our lovely table in the courtyard.  A wedding with elegant, well-heeled (and very lucky) guests was in full swing on one side of the courtyard, so we had the chance to watch the celebrations while dining.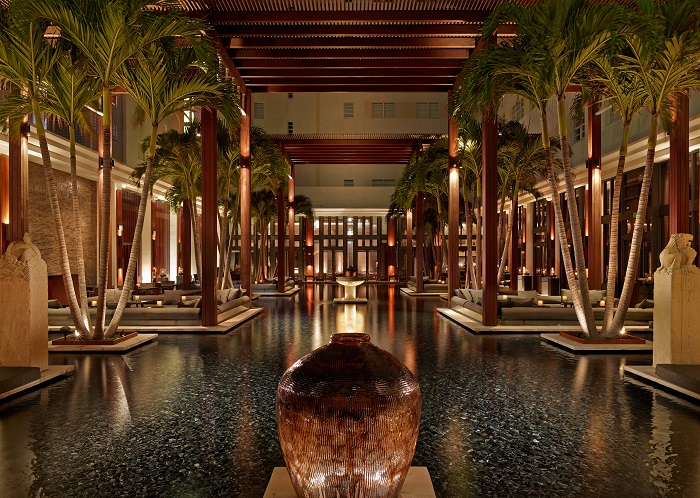 While The Setai Grill is dedicated to Asian specialities, Executive Chef Mathias Gervais has created a stunning Mediterranean menu for The Restaurant at The Setai.  The dishes are inspired by the traditional flavours and cooking techniques of Europe's 'Sun Coast' and are as light as they are tasty.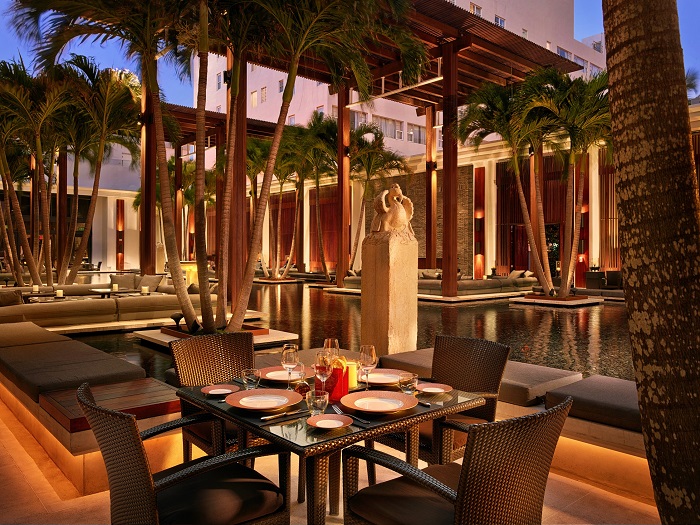 We started our meal with a round of expertly-mixed cocktails from the bar.  My Plum Tart was sweet and potent with a mix of home-made plum wine, Bombay Sapphire Gin, cranberry juice, fresh lime juice, dememera sugar and orange bitters.
Steven's Rose Hip Whiskey Sour was a classic with a pretty, fragrant twist.  It was an easy-to-drink blend of orange peel-infused Glenrothes Alba, Kaval rose hip liqueur, calamansi lime juice, simple syrup and egg white.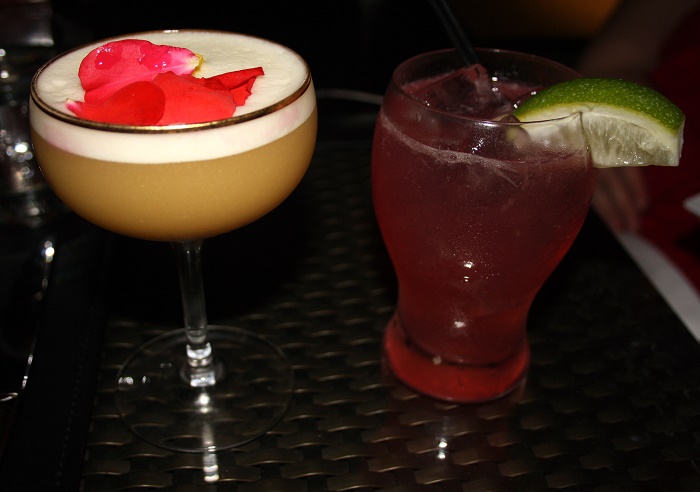 We always endeavor to try completely different dishes, but I forgot to check Steven's order when at the last second I also opted for the Lobster Salad ($29).  Of course, it wasn't a decision I regret as it was an absolutely divine starter.
A generous amount of chilled, meaty poached Maine lobster was accompanied by chunky pieces of watermelon and zesty pink grapefruit segments.  It was marinated in a punchy, tart citrus dressing and garnished with delicate frisée and piquant chili strands.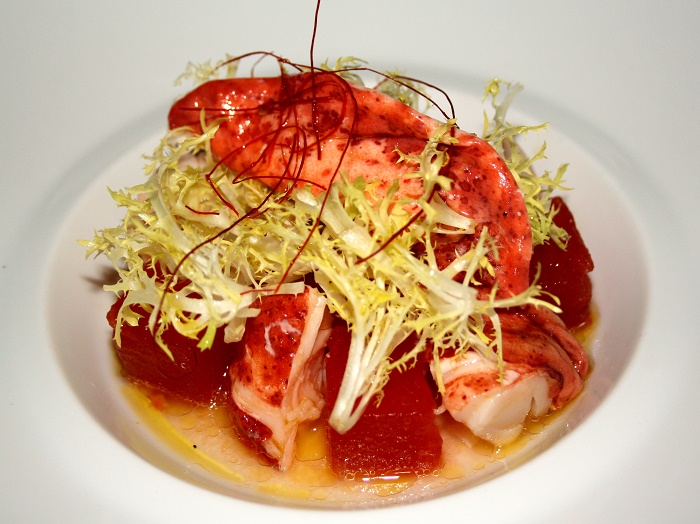 I followed with Giant Prawns ($48), grilled "a la plancha".  Two prawns may sounds rather meagre for a main course, but these little beasts were simply enormous.
The plump, succulent prawns were served shelled with the heads decoratively reattached.  They were nicely seared to golden brown and full of flavour without much seasoning needed.  They were served with a selection of perfectly-cooked seasonal vegetables including whole asparagus, sweet carrots, courgettes, broccoli and cherry tomatoes.
The prawns were finished with an emulsion of Pata Negra, which gave the dish just a touch of saltiness without overpowering the natural seafood flavours.  It was a light yet satisfying dish that let the ingredients do the talking and it didn't require any side dishes.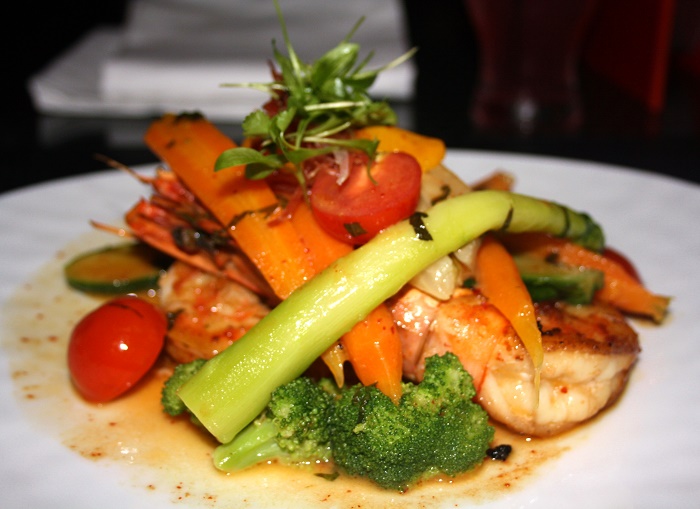 Steven went for a slightly more indulgent Pat LaFrida Bone-In Short Ribs ($42).  The slow-braised beef was incredibly juicy, tender and the finest quality.  It was served with comforting potato gnocchi that was pillowy and light as air and doused in a rich, meaty jus.
The flavours were intensified with typically Mediterranean Niçoise olives and a silky, aromatic herb crème fraîche that melted beautifully over the beef.  Even though this was a more extravagant choice, it still had a lightness of touch.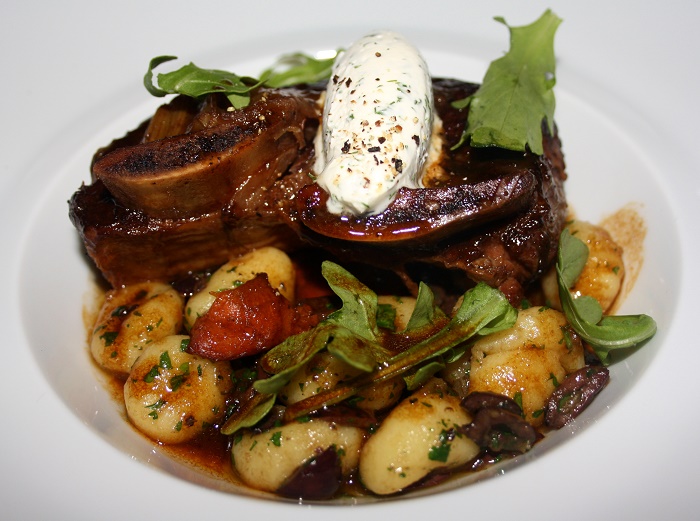 For dessert, I couldn't resist the Bavarois Cake ($13).  The pretty, pink dessert featured a crunchy pistachio biscuit base and was layered with cool raspberry cream, zingy passion fruit mousse, fine sponge and a vibrant blackcurrant glaze.  It was finished with uplifting lemon sorbet, biscuit crumble, a chocolate curl and a few dots of raspberry coulis.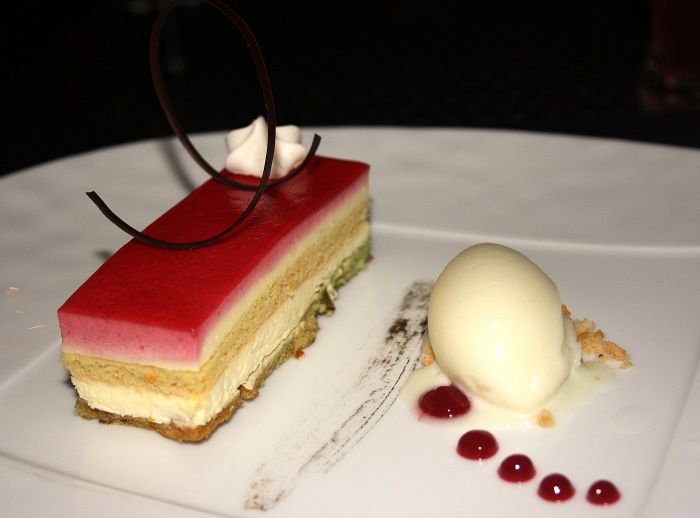 Steven went for a classic Baba au Rum ($12).  The golden, brioche-like Neapolitan cake was doused in high quality Jamaican rum and served with plenty of lightly-whipped, vanilla scented crème Madame and luxurious vanilla ice cream.
It was a traditional European dessert done extremely well with no surprises or tweaks needed.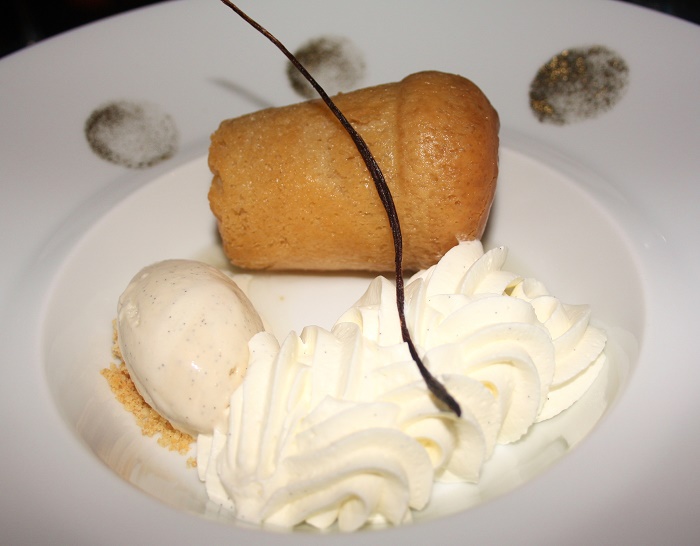 We finished the meal with peppermint tea served in Asian-style cast iron pots, accompanied by dainty, freshly-baked Madeleines.  Leisurely sipping away, we spent time soaking up the atmosphere and enjoying the balmy Miami weather.
We left this blissful oasis of calm feeling relaxing and well-nourished before experiencing Collins Avenue in its full neon-sprawling, Saturday night glory.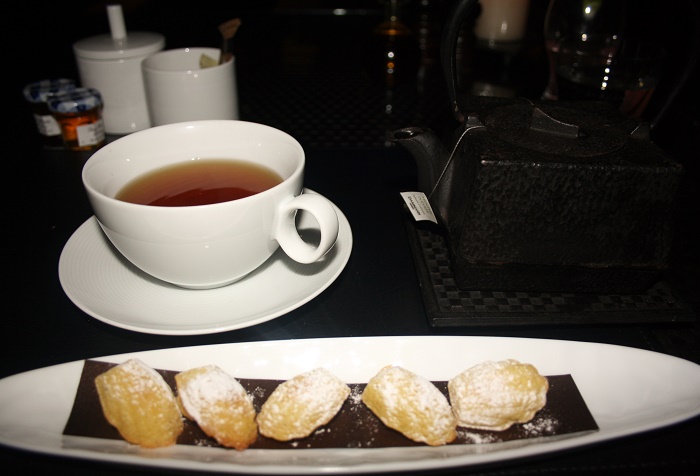 The Restaurant at The Setai is a fabulous spot to experience exceptional food and people-watch in exquisite surroundings.  Service is not only warm and attentive but experience and intuitive.  It was a very memorable meal and if this is the standard of The Restaurant, I can only imagine the joys of staying at The Setai.
For more information and booking, visit: www.lhw.com/thesetai
Chérie City was a guest of The Setai
Photos by Chérie City and The Setai