L'ETO Caffe is a boutique chain of cafes that I always recommend to friends looking for a stylish, cosy place to enjoy exquisite tea and cake in London.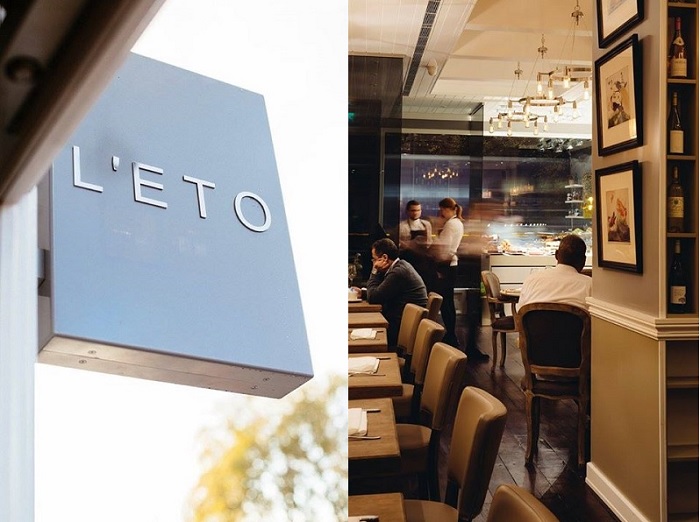 There are now six branches across west London and central and the latest opening – L'ETO Caffe Brompton – is perfectly located for a leisurely refuel when visiting the V&A, Natural History Museum and Harrods.
The eye-catching display of colourful salads and tempting cakes is enough to lure you in, but that's not the extent of L'ETO Caffe's offering.  The main menu boasts some creative, mouthwatering dishes and the cooking is truly accomplished.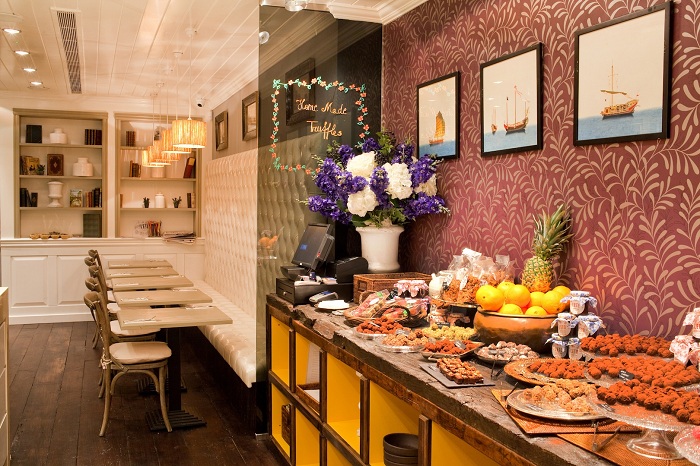 We visited on a chilly evening just before Christmas and watched the skaters beneath the twinkling lights at the Natural History Museum ice rink before heading on to dinner.  This part of London is just so romantic and charming during the holidays.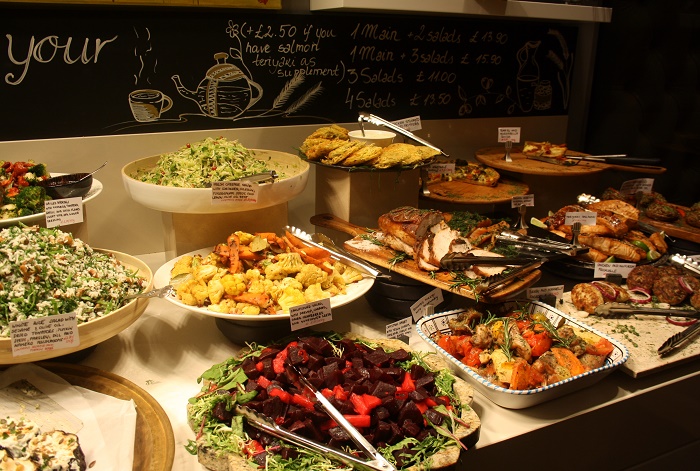 L'ETO Caffe Brompton has the same elegant townhouse feel as nearby L'ETO Caffe Kings Road, with homely furnishing and cosy nooks.  The new menu launched that evening, so we had the chance to try the chef's latest creations.
I started with Burrata, heritage carrots, olive crumble and basil oil (£12.95).  The very generous portion of burrata was cool, creamy and silky while the rainbow of lightly pickled heritage carrot ribbons added a fragrant, sweet and sour flavour.  The varied tastes made the dish exciting and the olive crumble took me back to summer in the Mediterranean.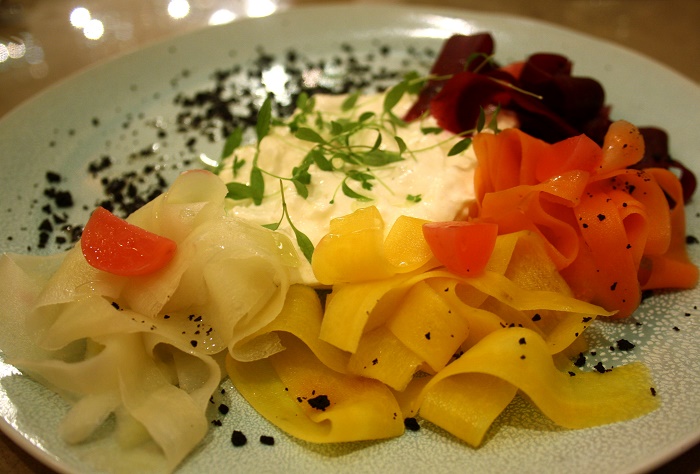 Steven tried Tomato and mozzarella stuffed gnocchi, pesto and pine nuts (£8.90).  The gnocchi was light and fluffy with a rich, smooth filling and served with the most delicious fresh pesto.  It was beautifully presented and was just the right size for a satisfying starter.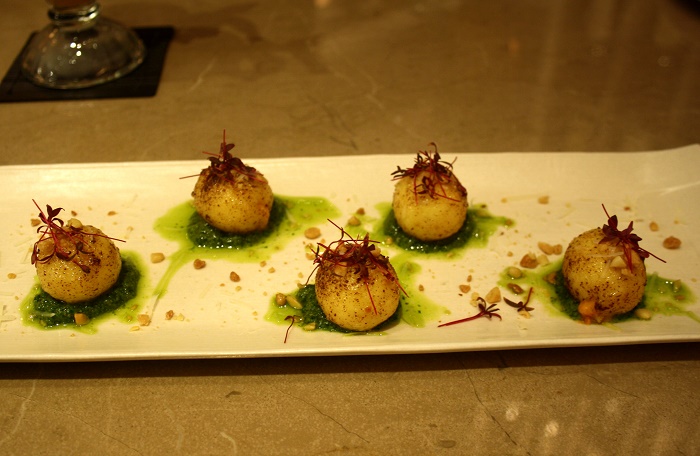 For my main course, I couldn't resist the Slow-braised veal cheeks, lemon-potato crème, butter shallots and five-spice jus (£16.95).  This dish was an absolute delight and winter comfort food at its very best.  The slow-braised veal was so tender, flaky and plentiful, covered in a rich, meaty jus with a very subtle hint of five spice and topped with sweet caramelised onions and pistachio dust.
The smooth lemon-potato crème worked surprisingly well, with a good amount of zest, and the butter shallots finished it off nicely.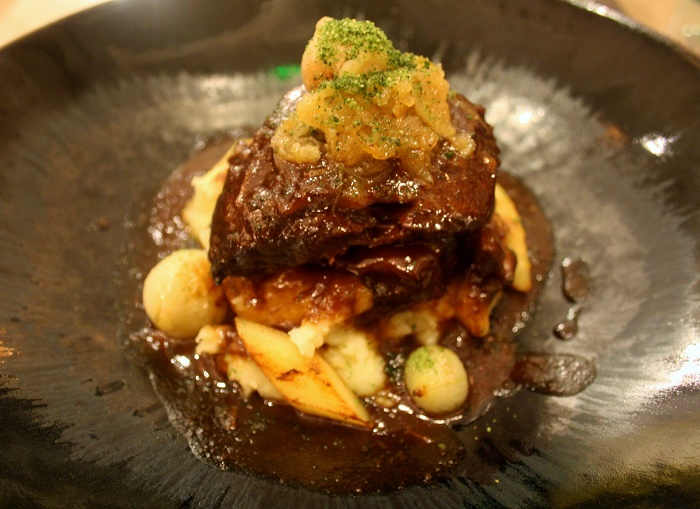 Steven went for the lighter option of Black leg chicken supreme, giant cous-cous, Putanesca sauce (£17.95).  The succulent, juicy chicken was cooked on a charcoal grill, so it had a lovely smoky taste.  The giant cous-cous cooked in the chicken juice was a fantastic accompaniment (one I'll now be trying at home) and the puttanesca sauce added a spicy, fragrant kick.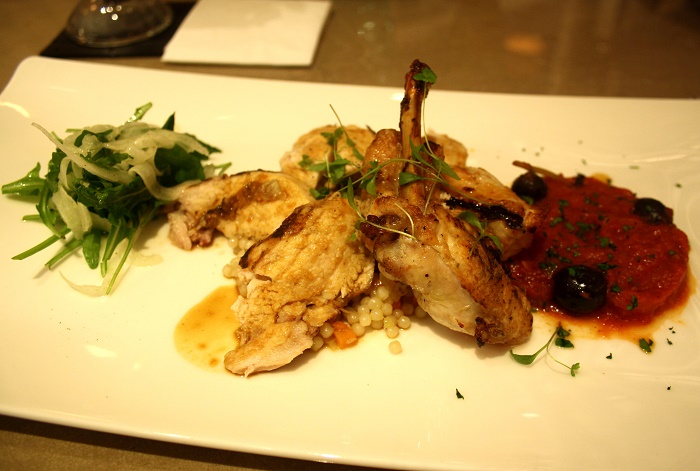 It would be crazy not to leave room for dessert and bespoke tea infusions at L'ETO Caffe.  The traditional Russian Honey Cake is the cafe's signature dessert (it really is heavenly), but we went for something different this time.  My dreamy Strawberry Napoleon was pure indulgence with layers of soft pastry and vanilla custard, topped with fresh strawberries.  The cake was so big that I had the remaining half packed up to enjoy later at home.
I accompanied it with a calming Fresh Mint and Lemon Tea – how pretty are the glass teapots!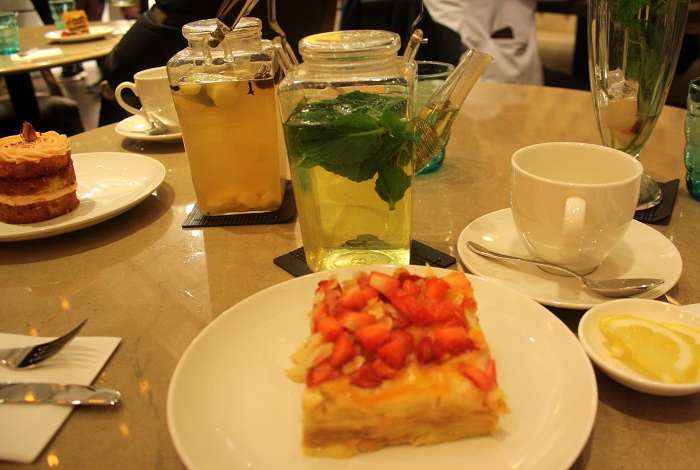 Steven's Rose and Lychee Cake tasted just as good as it looked.  The golden sponge cake was layered with rose raspberry jam and fragrant lychee buttercream frosting.  He washed it down with a potent, warming infusion of ginger, honey and lemon.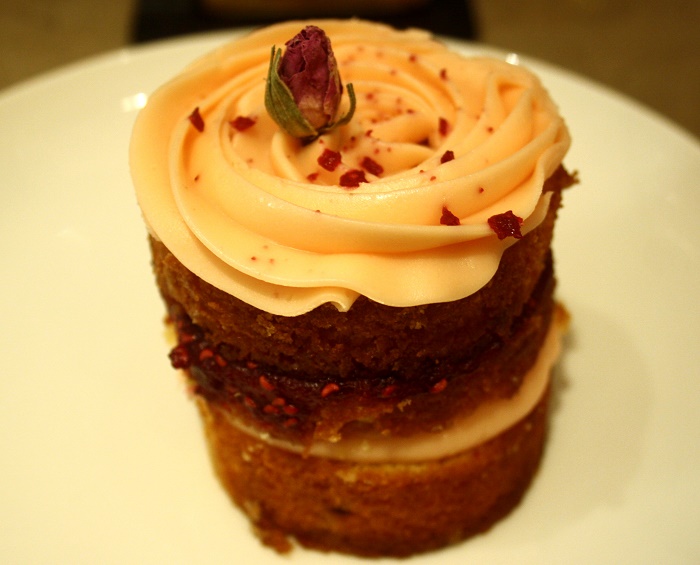 L'ETO Caffe Brompton is a fantastic addition to this historic, cultural neighbourhood and it's sure to make a trip to the V&A that little bit sweeter.
For more information, visit: www.letocaffe.co.uk
Chérie City was invited by L'ETO Caffe Brompton
Photos by Chérie City (interiors by L'ETO Caffe)