Finch's has the feel of one of London's 'new generation' pubs, where slick design and interesting food are just as important as the drinks.
Now part of Young's Pubs, Finch's was founded by Henry Hobson Finch in 1865 and was previously known as The Master Gunner.  It was recently re-named as a tribute to its first owner and has a brand new look and classic British menu.  It also specialises in local craft beers and features coffee by Climpson & Sons.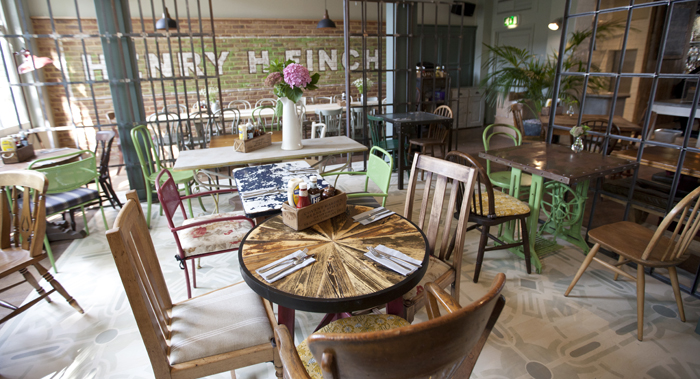 The pub has a prime location opposite Finsbury Square, within walking distance of Shoreditch, Spitalfields and Liverpool Street Station, so it's ideal for after-work drinks.
The modern interiors have a sweet garden feel and on the lower floor is Henry's Den, a cosy snug with its own bar and a plasma TV.
We had a lovely table in the back dining room with my reservation name spelled out on a Scrabble board – a thoughtful touch.  The pub was busy and had a buzzing, relaxed atmosphere, although we found it a little chilly.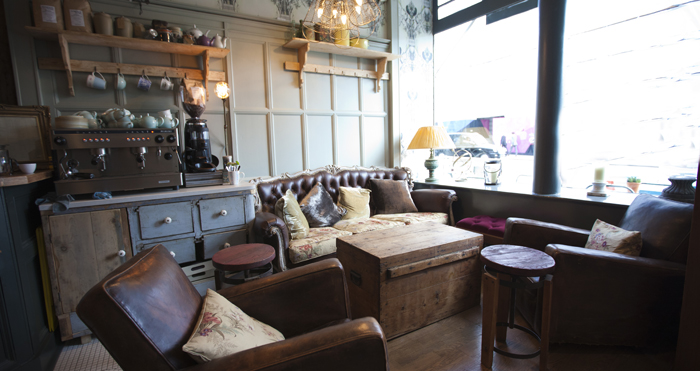 I started the with Crispy ham hock terrine, roasted apple puree, radish and pea shoots (£5.95).  When they arrived, they were more like piping hot croquettes than a terrine, but for me that was even better.  The flaky, juicy ham hock was coated in crisp, golden breadcrumbs and went perfectly with the smooth, sweet roasted apple puree, crunchy radish and fresh pea shoots – a great start to the meal.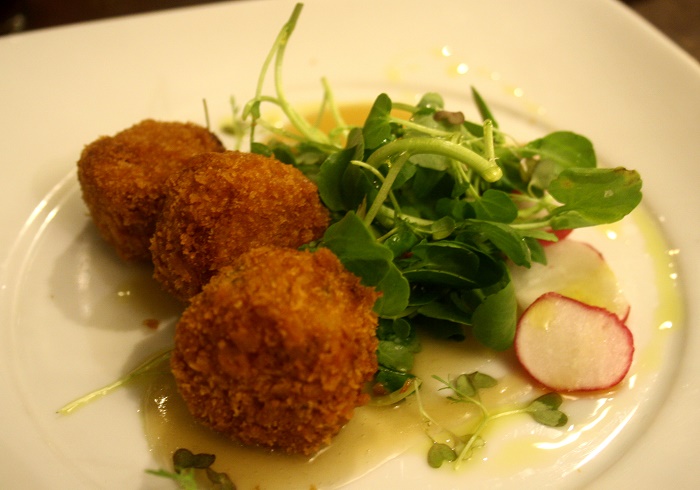 Steven's Macaroni cheese and chive Scotch egg, mustard and leaves (£5.95) literally dwarved my ham hock croquettes – it was enormous!  The warm, creamy macaroni cheese encased in crunchy breadcrumbs was tasty and comforting, however the soft-boiled egg in the middle was cold.  The mustard was needed to lift the flavours and we found the portion size was just too big for a starter.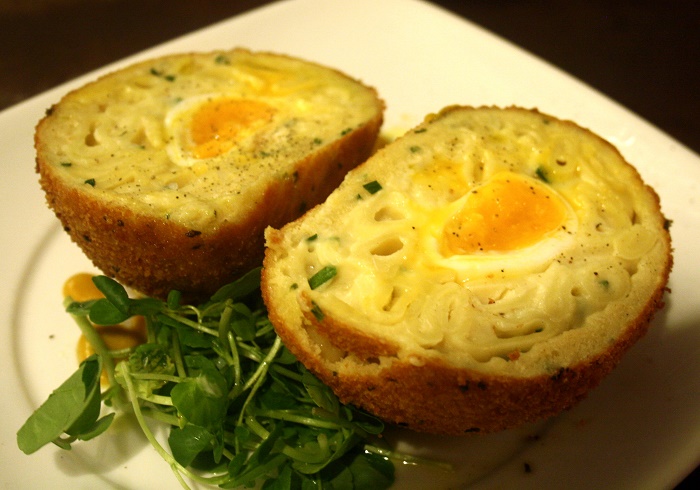 I followed with the nicely-presented Marmalade duck breast, potato fondant, carrot puree, chargrilled leeks, orange cream and herbs (£12.95).  The medium-cooked duck breast was tender and succulent with caramelised skin from the marmalade glaze.
I loved the fragrant, silky carrot puree, flavoursome chargrilled leeks and the surprisingly light orange cream.  The potato fondant was infused with fresh herbs but was a little dry.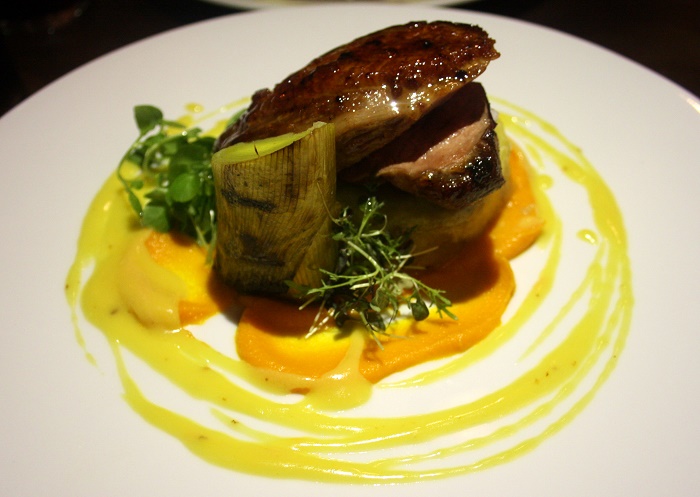 Steven went for a pub classic of Young's battered fish, triple cooked chips, pea puree and tartar (£11.95).  The fish was meaty and substantial with just the right amount of golden, crispy beer-batter.  The thickly-cut traditional chips were home-made and moreish, served with a tangy pea puree and creamy tartar.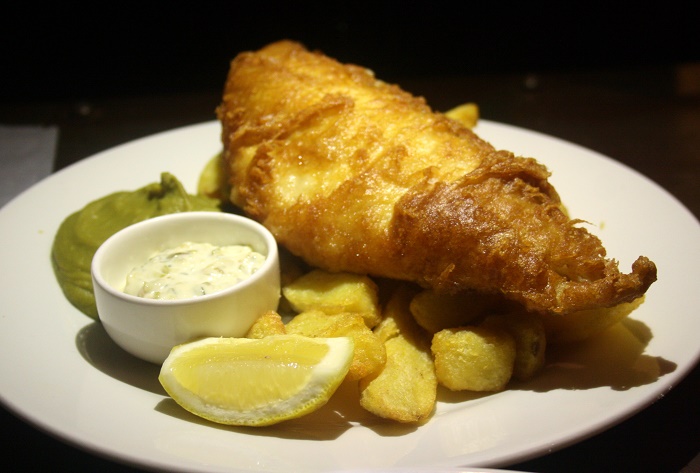 For dessert, I couldn't resist the indulgent Chocolate salami, pistachio ice cream and crumble (£5.95).  The rich chocolate salami was made up of velvety dark chocolate, pistachios, sliced almonds and Digestive biscuit pieces, along with a generous splash of brandy to give it a kick.
The luxurious, silky ice cream and crunchy crumble rounded the strong flavours and were good accompaniments.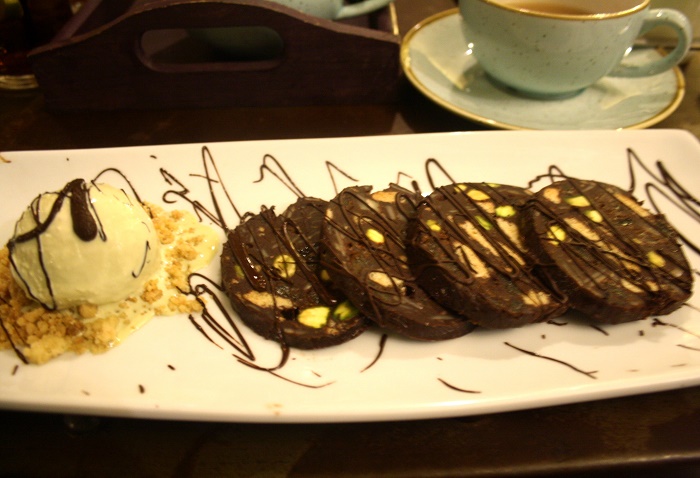 Steven finished with the Pear, walnut and date pudding with butterscotch and vanilla bean ice cream (£5.95).  The pudding was light and moist with a subtle hint of pear and a very sweet butterscotch sauce.
We ended the meal with pots of Earl Grey tea, which were thoughtfully-presented on a rustic tray with mini bottles of milk.
Finch's is a cut above your average London pub with delightful staff, attractive design and a tempting menu of old favorites and more creative dishes.
For Christmas celebrations, I recommend hiring Henry's Den or you can simply enjoy the festive menu with two courses for £24.95 or three courses for £27.95.
For more information and booking, visit: www.finchspub.co.uk
Chérie City was a guest of Finch's
Photos by Chérie City