Roast Restaurant in Borough Market is a London institution, serving up modern British dishes in an elegant setting.
The restaurant is located in the market's very pretty Victorian Floral Hall and has great views over the bustling stalls and a glimpse of St Paul's Cathedral on the other side.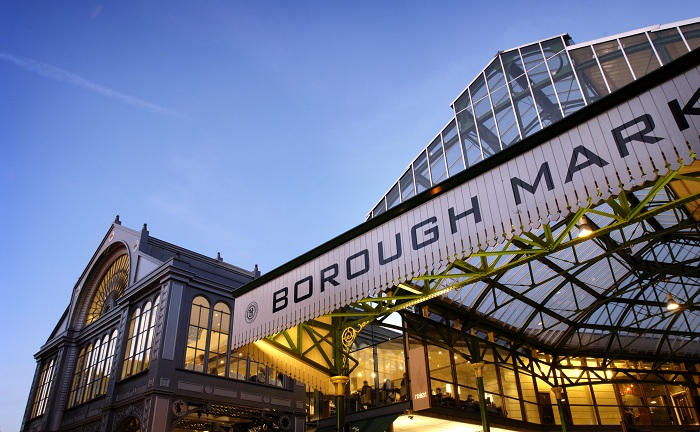 The world-renowned food market is a wonderland of fresh produce and tempting street food, so it can be easy to overlook restaurants there in favour of choosing a few bites from different stalls.  Of course, Roast has this sorted too with its delicious hot carved meat sandwiches (which I've indulged in more than a few times) and breakfast butties at the downstairs Roast To Go.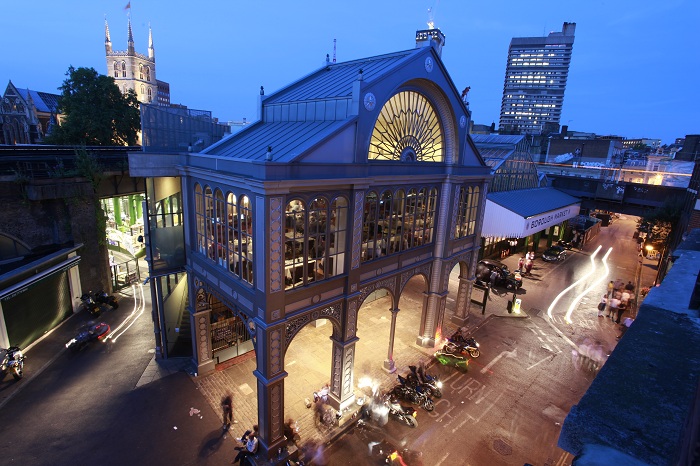 On first impressions, Roast seemed more formal than I'd expected, with a busy front desk, live pianist and tables of suited and booted City workers – not forgetting some of the front of house staff were wearing headsets.  Don't let this put you off, however, as the atmosphere was actually very jolly and celebratory, in that quirky, quintessentially British way.
The crowd at Roast appeared to be long-time Londoners (many of them families and groups of friends) who have probably been visiting for years and there was certainly a lively, convivial atmosphere.  Owner Iqbal Wahhab, who also founded the Cinnamon Club in Westminster, has a talent for creating these 'good time' restaurants that become timeless staples of the city's dining scene.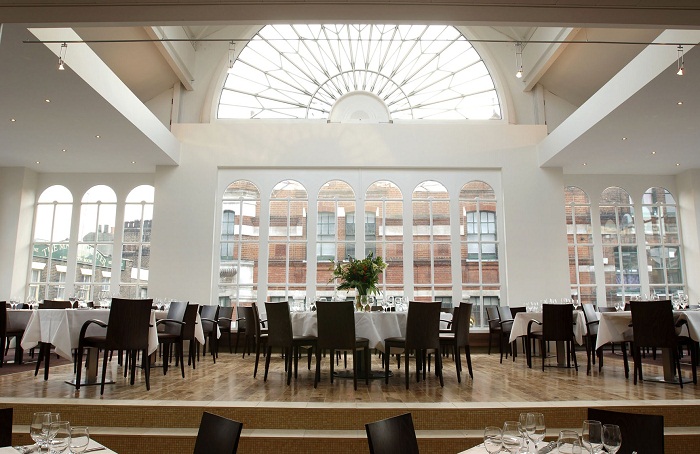 Our corner table on the upper mezzanine had a delightful view and felt private enough to really relax.  We were warmly greeted by the competent staff and were welcomed with a glass of Champagne along with a basket of excellent home-made bread and fine salted butter.
I started with the Seared Isle of Mull hand-dived scallops with cream potato and garlic butter (£16.25).  Presented nicely in a half-shell, the plump, succulent scallops were perfectly golden brown on the outside and had a tender centre.
The accompaniments of smooth, buttery creamed potato and herby garlic butter were simple yet ever so tasty.  However, I can't help feeling that the high price for this starter may be more palatable if the scallops were served with more complex ingredients than the humble potato.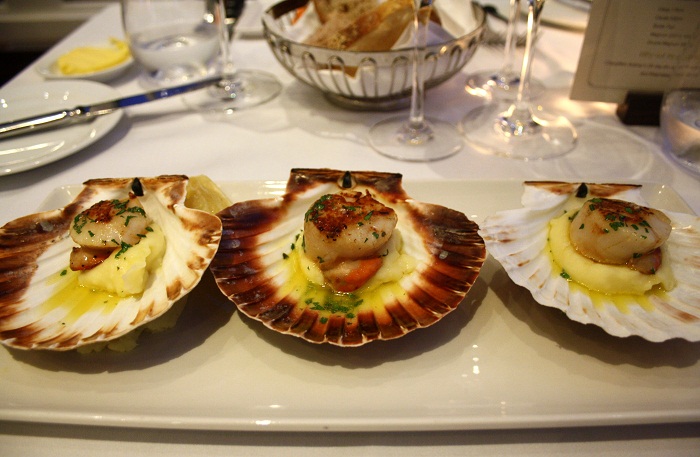 Steven tried the Gin-cured Loch Duart salmon with pickled cucumber (£12.75).  The high quality smoked salmon had strong, zingy aromas of gin and was served with slices of juicy dill pickle.  Like the scallops, it was a light and fresh start to the meal, in anticipation of some hearty meat.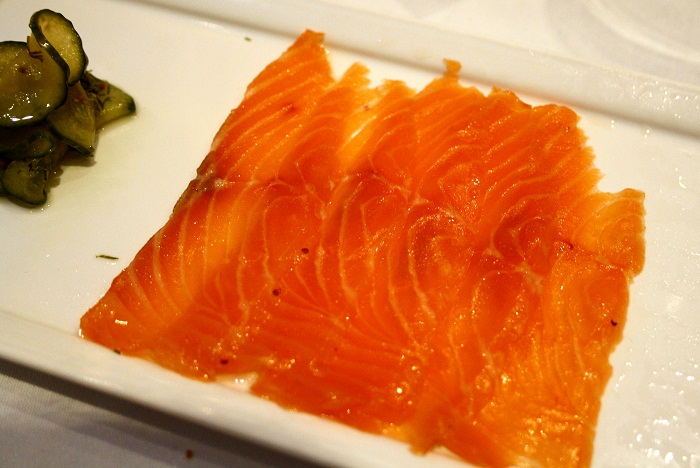 For the main course, I tried the Roast Ripley Castle red leg partridge with creamed Brussels sprouts, wild boar bacon and chestnuts (£24.50).  It was a comforting, autumnal dish and substantial enough not to need any sides.  The beautifully-roasted partridge was cut into four section, all with naturally different flavours – my favourite was the lean and tasty breast portion.
The partridge was served with lovely creamed Brussels sprouts, although only half of the sprouts were creamed while the others were simply steamed, to avoid them overpowering the dish.  It was also accompanied by subtly spiced chestnuts, thick-cut bacon and an incredibly rich, meaty jus.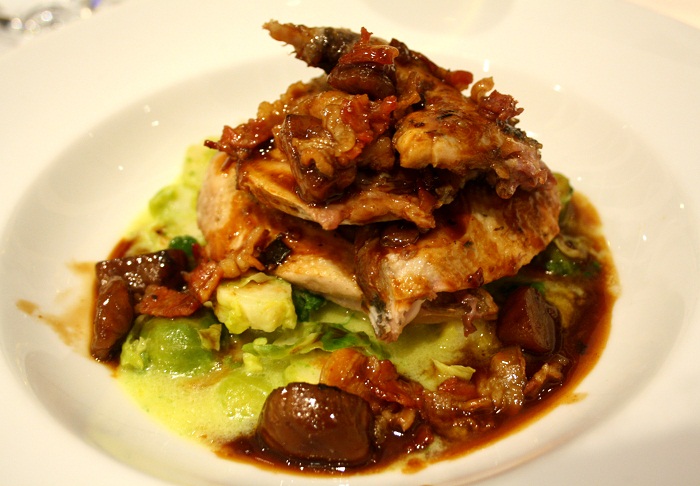 Steven tried the restaurant's signature dish – Slow-roasted pork belly with mashed potatoes and Bramley apple sauce (£22.50).  The tender, well-seasoned pork just melted in the mouth and was cooked with lots of fresh sage.  The exemplary crackling was thick and crunchy – well worth indulging in if your teeth can handle it.
It was served with a small mound of whipped, creamy mashed potato and tangy Bramley apple sauce to give the meat an edge.  It was a fantastic, satisfying dish and worthy of high praise.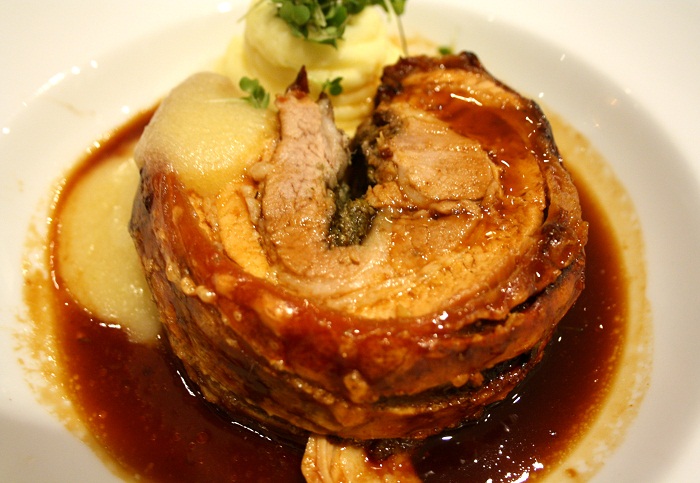 For dessert, I couldn't resist the Chocolate mousse cake with caramelised orange and Cornish clotted cream (£7.75).  The incredibly decadent cake had a moist fondant-style base and was baked with a layer of velvety, rich dark chocolate mousse.
I'd expected the oranges to be warm and caramelised, but they were simply doused in a sweet syrup.  The Cornish clotted cream helped round the bold chocolate flavours.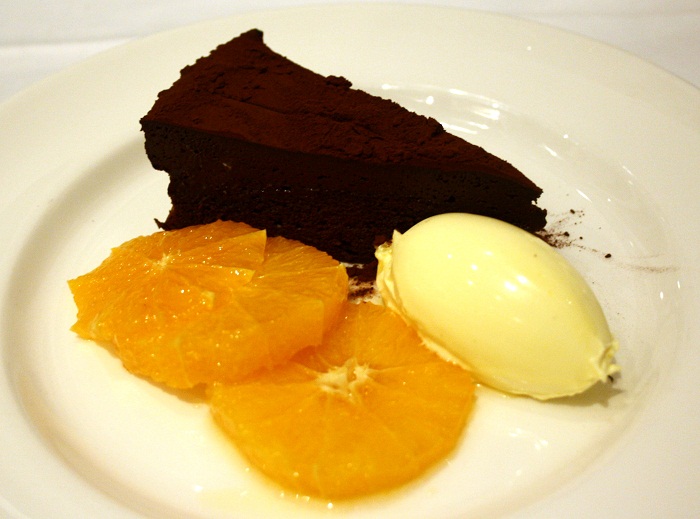 Steven ordered a classic Bramley apple and blackberry crumble (£7.50).  It arrived piping hot in a cast iron dish and had a pretty light purple colour from the blackberries.  The stewed fruit was juicy and delicious while the thick layer of crumble was sweet, crunchy and golden brown.  The jug of smooth, creamy custard was studded with tiny vanilla seeds and finished off the dish perfectly.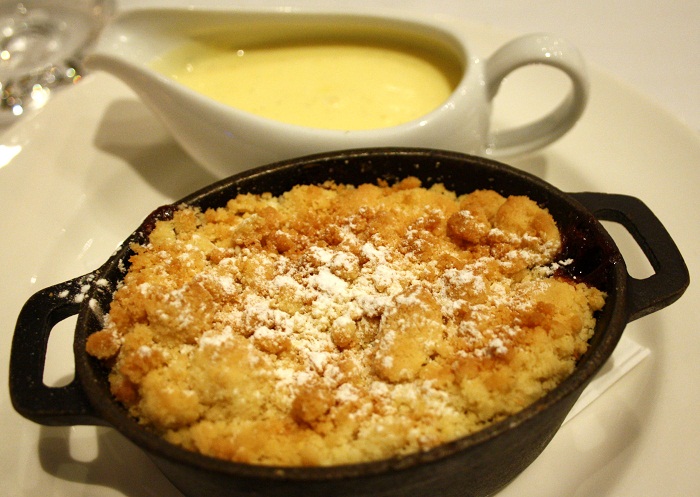 To round off the meal, we enjoyed pots of excellent White Jasmine and Earl Grey tea, served with sticky caramel rice crispy bites.  If you fancy something stronger, there is a tempting selection of pudding cocktails and sweet wines.
Roast Restaurant is a great choice for a special night out with friends and family, as the food and service are excellent and there are plenty of crowd-pleasing dishes.  It's worth noting that many guests were enjoying Roast's competitive pre and post-theatre dinners at £30 for three courses and the restaurant already had plenty of atmosphere at this early time.
For more information and booking, visit: www.roast-restaurant.com
Chérie City was invited by Roast Restaurant
Photos by Chérie City (interiors by Roast Restaurant)