W Barcelona is one of the city's most striking contemporary luxury hotels, towering over the Barceloneta beach.
Designed by Catalan architect Ricardo Bofill, the shimmering glass and metal structure has a distinctive sail shape and is one of the city's tallest buildings.  It's where Barcelona's chic set hang out, boasting a fabulous pool scene and hot restaurants including Carles Abellan's BRAVO24.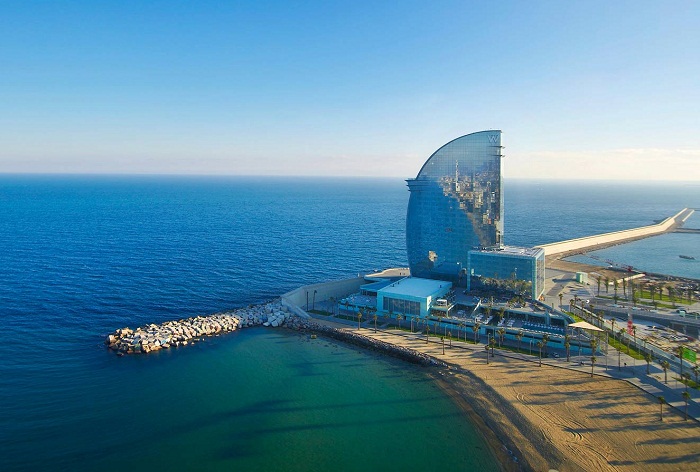 On our first night in Barcelona, we spent the evening at SALT, the hotel's casual, seafront dining spot which includes a restaurant and bar, terrace and beach club.
Designed by Isabel López Vilalta, SALT has a romantic, boho-chic beach look with a pale wood deck, slouchy sofas, twinkling lights, canopies and highlights of azure.  It has a cool, laid-back Ibiza vibe with summer DJ sets and a beach area made using imported powder white sand (the Barceloneta is an urban beach, after all).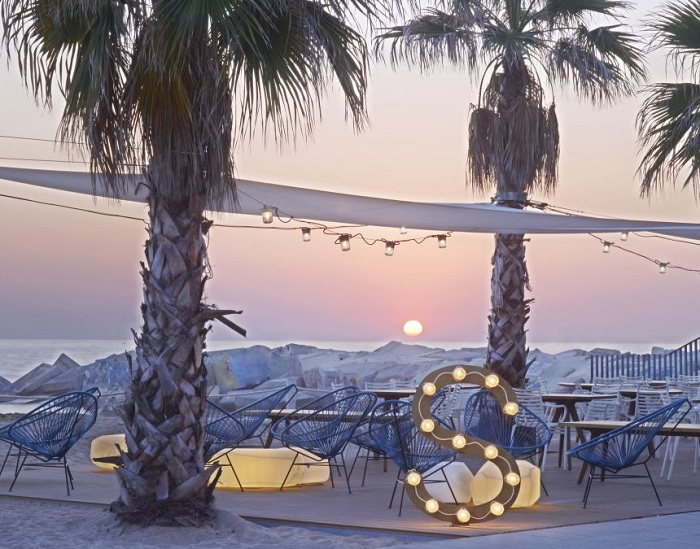 Sadly you don't have the opportunity to step inside the impressive hotel itself when dining at SALT, however that may be a bonus if you just want to go straight from the sea to the sofas in a kaftan with sexy beach hair.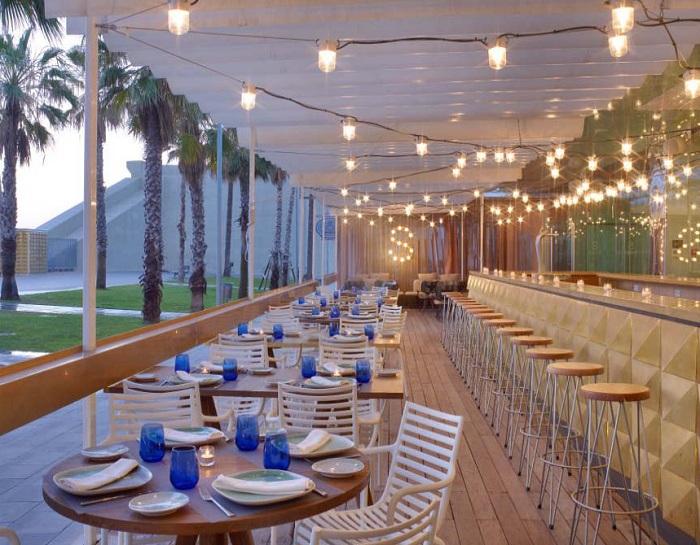 Chef Sergio Dominguez's tantalising cuisine is Californian meets Mediterranean and ranges from healthy grazing dishes to indulgent comfort food.
We had a fantastic table on the terrace where we could watch the runners and skateboarders on the boardwalk and enjoy a stunning sunset.  We were warmly greeted by our friendly waiter, who like many restaurant staff we met during our trip, had lived for a few years in London and had recently moved back to Barcelona.  I imagine the beach, warm weather and outdoor lifestyle are good incentives to return – life here certainly seems appealing.
We started the meal with a tasty Catalan classic of Croquettes (€9), which were served piping hot.  They had a crispy, golden breadcrumb coating and were filled with a moreish mixture of shredded meat, potato and cheese.  The smooth aioli dip had just the right amount of garlic and was a mouthwatering accompaniment.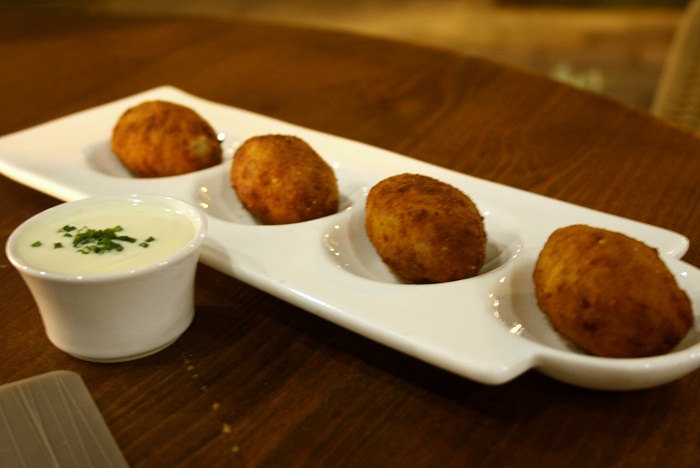 Also from the grazing menu, we shared the Cod Steak (€14).  The plump, flaky supreme of cod was beautifully-grilled and ever so fresh.  Its acccompanying Romesco sauce (a speciality from Tarragona) was light, tangy and smoky with flavours of red pepper, almonds and punchy vinegar.  It dressed the sliced potatoes well and livened up the cod, plus the portion size was generous for a starter.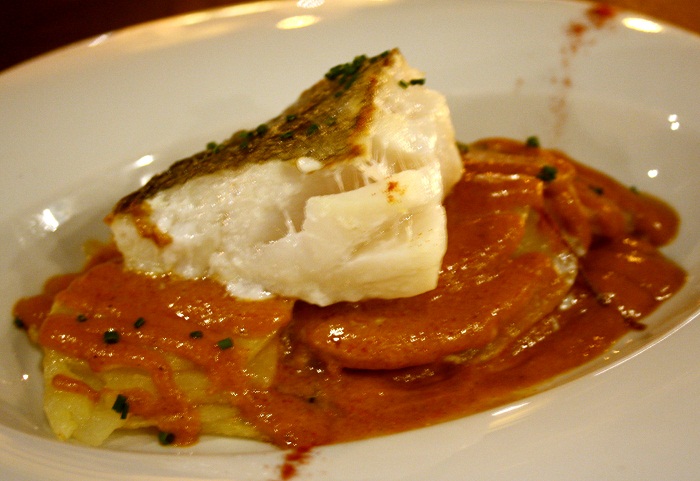 While there are plenty of health choices on the menu like ceviche and superfood salads, SALT is all about the gourmet burgers.  I ordered the Classic Angus (€17), which came served on a wooden board with a slate hot plate.  The enormous monster burger had a juicy, thick and mature Angus beef patty and was cooked medium as requested.
It was packed inside a sweet toasted sesame bun and garnished with gooey Cheddar cheese, two rashers of smoky bacon, a flavoursome sundried tomato relish, creamy avocado and fresh salad.  The fries were plentiful, crisp and nicely salted, but they didn't really stand out.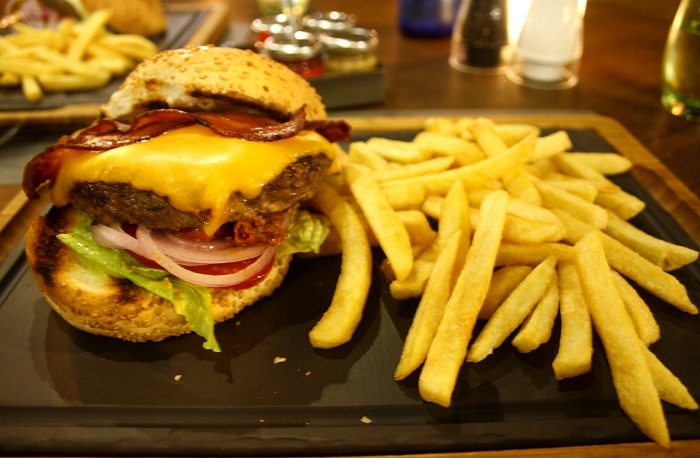 Steven went for the Angus Twist (€18) and also acquired some of my burger that I couldn't quite finish.  The Angus Twist had French-Japanese influences with oozing brie, peppery wasabi mayo, very subtle air-dried tuna and peppery wasabi mayo (€18).  Both burgers were satisfying and full of flavour, but the Classic Angus had the slight edge with the combination of Cali-style ingredients.
Midway through our burgers, we felt a few tiny droplets of rain (the only ones of our trip) and immediately the electric roof covered over the terrace.  Even if the weather isn't perfect, you can still enjoy al fresco dining without facing the elements.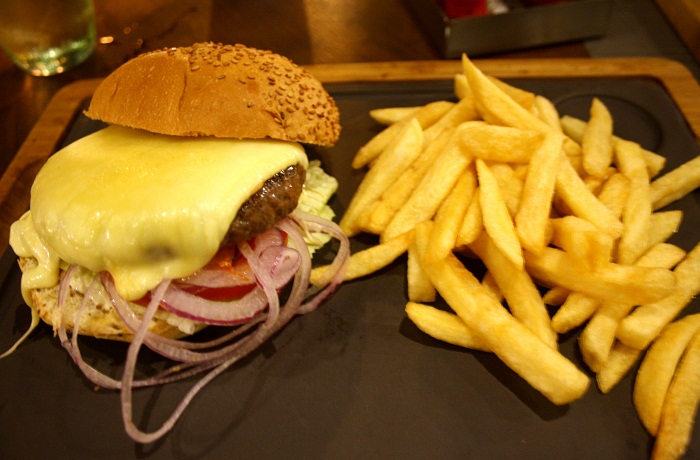 Deciding between the tempting desserts might've been challenging, but the chefs saved us the trouble with a fabulous sharing platter of mini treats.
My favourite was the Sweet burger – a velvety dark chocolate 'patty' studded with toasted hazelnuts, packed between a moist sponge 'bun' and covered in juicy mango, raspberry sauces.  Another highlight was the SALT Townie – a luscious chocolate fudge brownie baked in a tart, which was incredibly decadent and rich.
The Cheesecake sundae was light and sugary while the Catalan Creme was a classic done exceedingly well, with a burnt sugar crust and chocolate chip biscotti for dipping.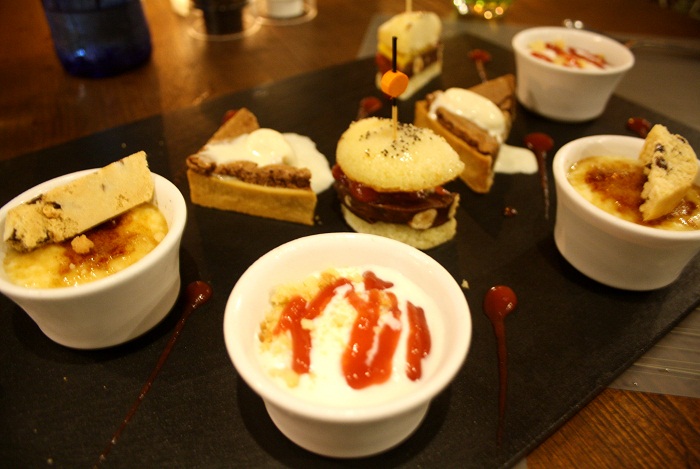 We were both a little tired from a full day of travelling to sample the cocktails, but the well-edited menu of classics with a twist is definitely worth checking out.  We did however enjoy some fresh mint tea to round off the excellent meal and took a long stroll along the seafront to walk off the burgers.
SALT is a fabulous spot on the Barceloneta for a chilled-out, stylish meal or low-key drinks.  From the cool lounge music to the beach-luxe design and charming staff, SALT just gets everything right.  There are plenty of beachfront restaurants and snack shacks dotted along the coastline, but SALT is rather special and an ideal choice for a memorable sundown dinner.
For more information and booking, visit: www.saltbeachclub.com
Chérie City was invited by SALT at W Barcelona
Photos by Chérie City & SALT at W Barcelona