The restaurant at Hotel Amour is one of my favourite spots in Paris for a fun, stylish night out.
Tucked away on rue Navarin in hip South Pigalle (SoPi), Hotel Amour is an affordable boutique hotel with a popular restaurant and terrace.  Co-owned by the inimitable graffiti artist and entrepreneur André Saraiva (Le Baron, La Fidelité, Monsieur A.) and Thierry Costes, the hotel is always buzzing with a cool crowd of Parisian creatives, fashion folk and clued-up travellers.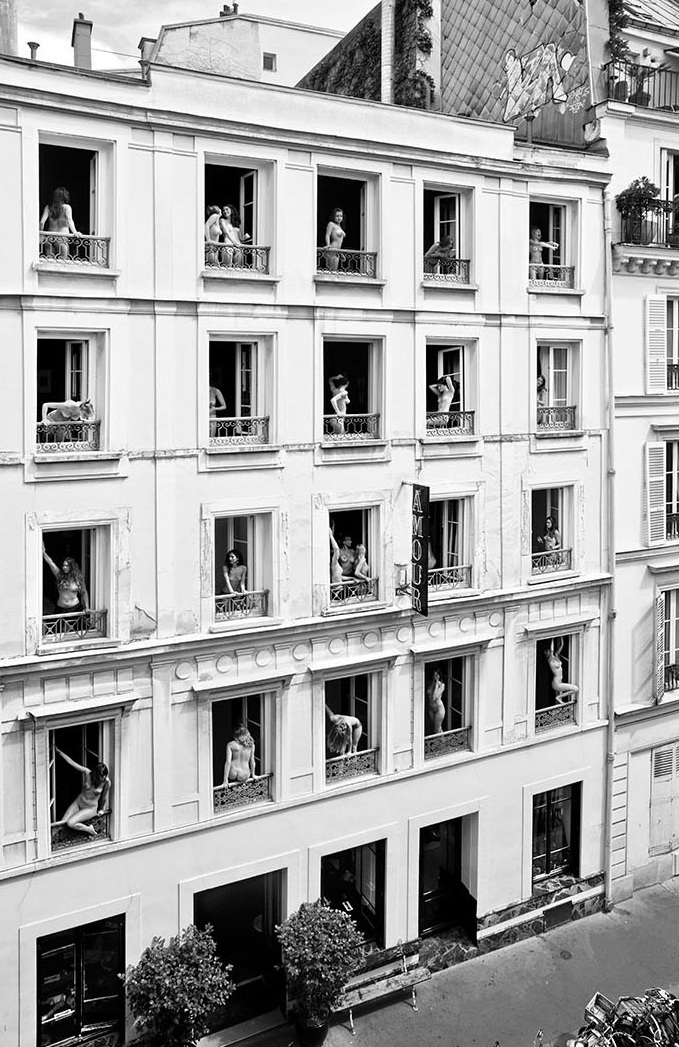 Many of the rooms are designed by artists such as Pierre Le-Tan, Mark Newson and Sophie Calle and there's plenty of erotic artwork to live up to the hotel's name – it is in racy Pigalle, after all.
Sure, new hotels and restaurants open in Paris all the time, but there's something timeless and sexy about Hotel Amour – it never seems to go out of style.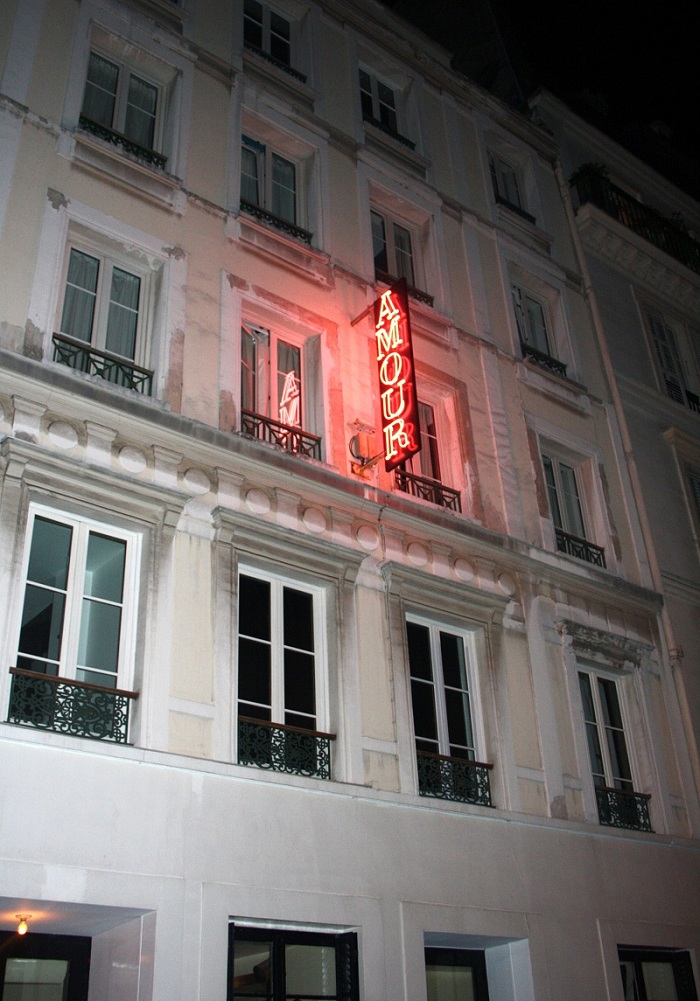 I knew there was nowhere else I wanted to spend my recent 30th birthday than the restaurant at Hotel Amour.
Not only does it have a great atmopshere, a romantic garden and good food, but there are also tons of great bars nearby (check out Glass, Dirty Dick, Chez Moune, Le Dépanneur and Le Mansart).  Also, we were conveniently staying in the neighbourhood at the delightful Hotel Josephine.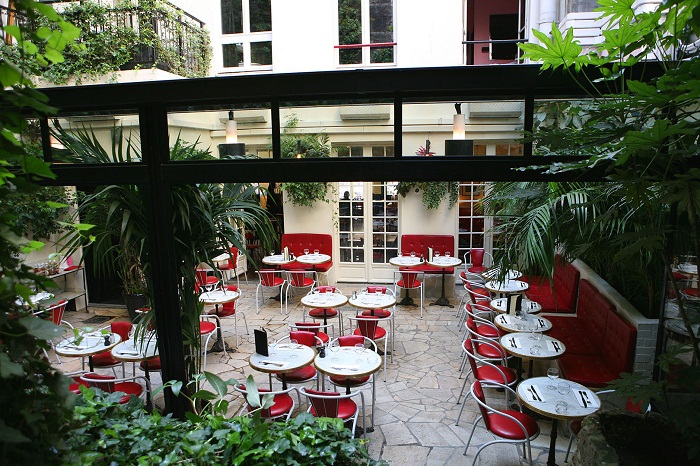 We caught up with our Parisian friends Coralie and Sunny, who managed to secure us a fantastic table on the terrace overlooking the lush outdoor garden.  The evening started on a high with an unexpected birthday present for me – a very Parisian boho-luxe leather purse (Coralie has excellent taste in accessories).
We began by ordering some cocktails – Coralie and I both went for a deliciously sweet Amaretto Sour topped with toasted almonds while Sunny and Steven went for the stronger, sharper Godfather Sour.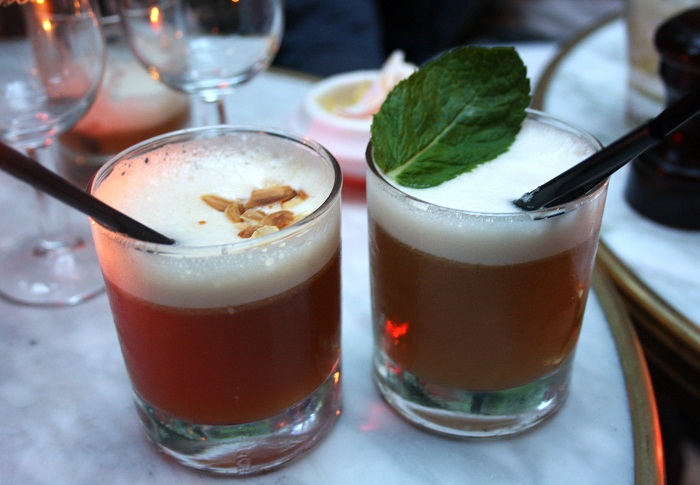 After ordering, we were brought a basket of really good rustic bread served with a pot of French salted butter.  The butter covers are printed with the cool Hotel Amour logo and even the wine glasses are engraved with André's signature scrawl – they sure know a thing or two about branding.
Being indecisive and deep in conversation, it took us a while to decide what to order, but our charming waitresses were so relaxed and patient.  As usual, I was tempted by the Cheeseburger (€19), which was cooked perfectly medium and spiked with a jazzy cocktail stick.  The lean, well-seasoned beef patty was smothered in gooey cheese and packed in a seeded demi-brioche bun.
Happily, they came with a big bowl of crispy, delicious French fries – in fact the portion size was so generous that I could easily share them with the table.  On other occasions, I've ordered the Poulet Roti (€19), which is equally moreish and comforting.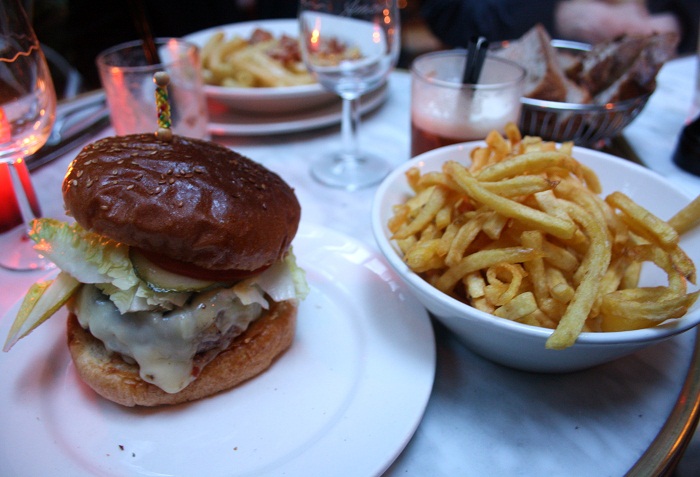 Coralie and Steven both ordered the Gratin de Macaronis au jambon blanc (16.50).  The long tubes of macaroni were perfectly cooked and baked with thick-carved, flavoursome ham and lots of cream, Emmental and Gruyère.  The portion size wasn't particularly big, but the richness of the dish made it a satisfying choice.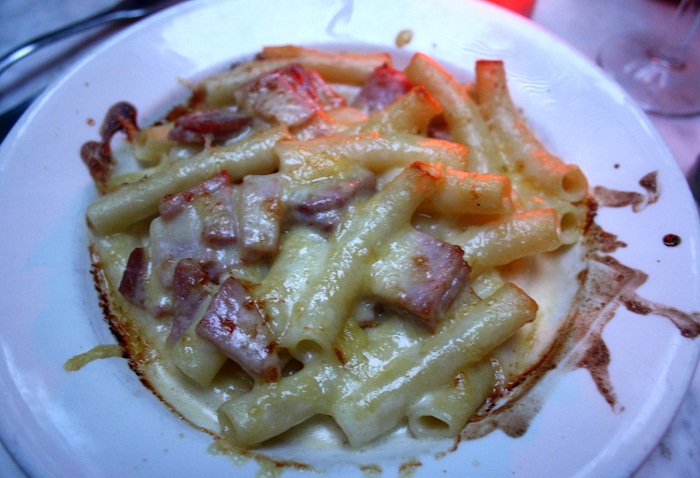 Sunny's Salade de Légumes (€18) took quite a while to arrive after a Salade Nicoise was mistakenly sent out.  Luckily, there were plenty of fries and bread to munch on while he was waiting.
It seemed only fair that Sunny's Chocolate Ganache (€9.50) dessert was the clear winner.  The velvety, decadent milk chocolate ganache was served on a cookie crumb and topped with toasted hazelnuts and a sprinkling of sea salt.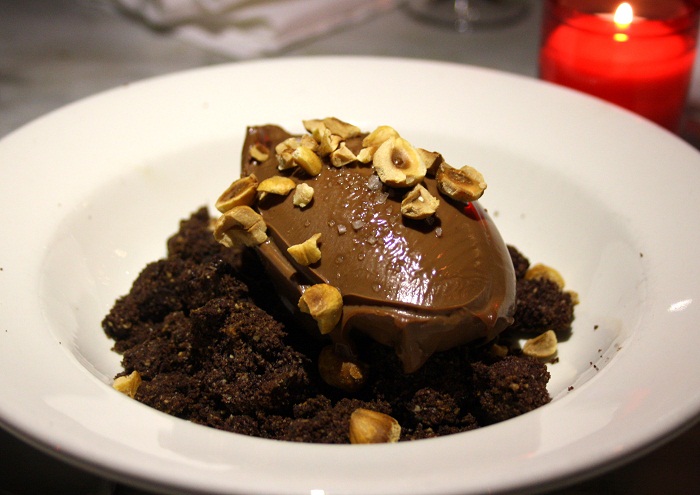 Coralie ordered a classic Café Gourmand (with a Mariage Frère tea instead of coffee), which included a platter of four nicely-presented mini desserts.  Steven and I shared a large slice of home-made Crème Caramel.  It tasted fantastic but it was comically unattractive – a large slab of bubbly cream sitting in a moat of light caramel sauce, rather than the petite, quivering desserts that I've had before in Paris brasseries.
Hotel Amour is great for a spot of people-watching, catching up with friends or enjoying a few cocktails on the terrace.  There's room for improvement, but its charm always wins me over and I know I'll be lured back there time and time again.
For more information and booking, visit: www.hotelamourparis.fr
Photos by Chérie City & Hotel Amour Paris