Sunday Brunch is quickly becoming an established London ritual with so many different cuisines and concepts to choose from.
For a truly indulgent Sunday, the best luxury brunch can be found at the Terrace Grill & Bar at Le Méridien Piccadilly.  The three-course brunch is set out as a bountiful buffet with hot and cold options and a live carving station.  As it that wasn't enough, a free-flow of Prosecco makes the experience even more decadent.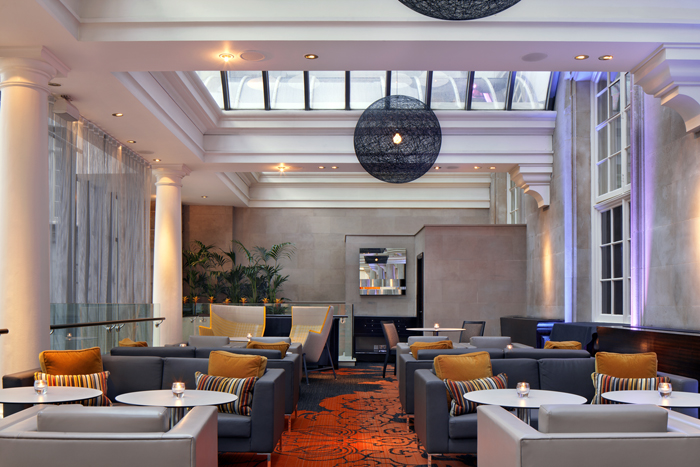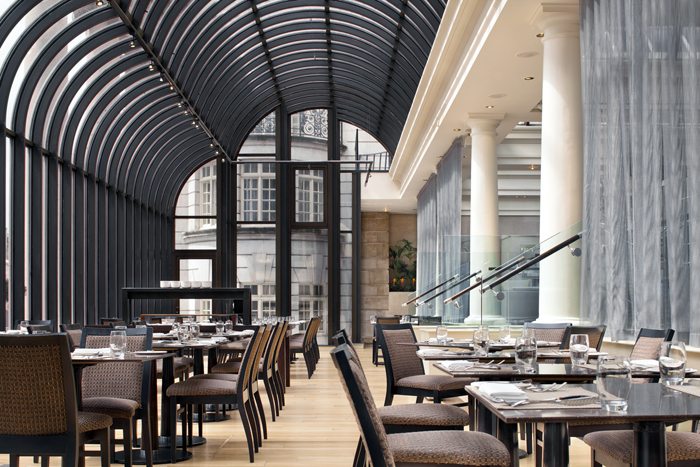 When we arrived, brunch was already in full swing and almost every table in the main dining room was taken up by 'in the know' brunchers.  It attracts a well-heeled, convivial crowd of local couples, families and friends as well as hotel guests.
Our table overlooked the elegant Moet & Chandon Summer Terrace, with striped deck chairs, striped deck chairs, white and gold life rings and parasols.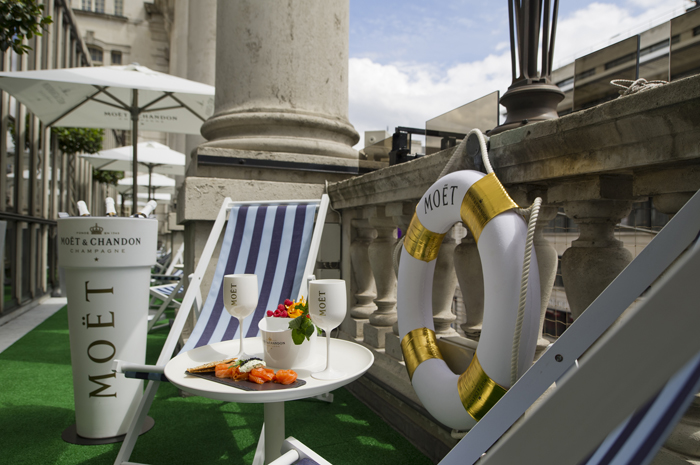 A talented singer performed acoustic jazz and soul classics with her guitarist while the lovely Valentino worked the room, topping up the glasses of Prosecco and chatting with guests.  What could be more fabulous for a lazy Sunday!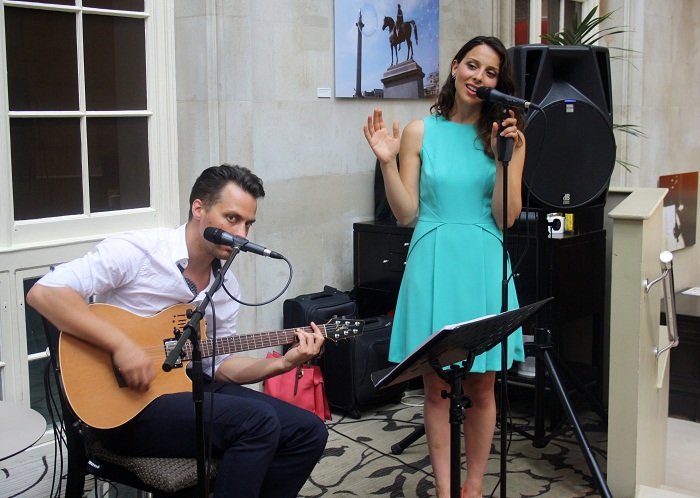 The different brunch courses are divided into separate stations with the dessert table on its own on the lower mezzanine.  We started with a few bites from the salad station station, which offers poached salmon Nicoise salad, cured hams and salami, smoked salmon, pickled red cabbage, potato salad, spicy cous cous salad and a choice of dressings.
The roast turkey and prosciutto ham were delicious and I couldn't resist adding some Brie and Gruyère from the dessert station to make up a charcuterie and cheese plate.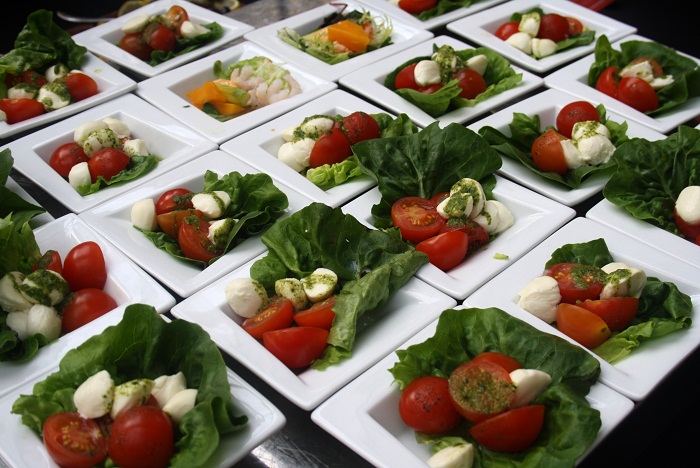 The tapas and bowl food station includes hummus, marinated olives, sweet tomato confit, peppered mackerel spread and Caesar salad.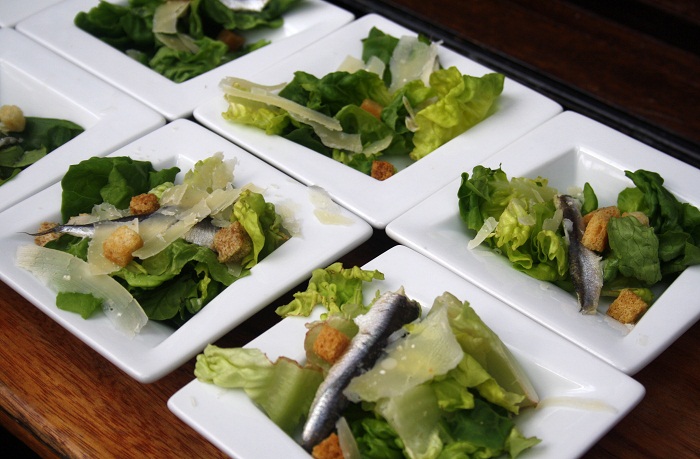 I particularly liked the fresh and tangy crayfish, asparagus and mango cocktail.  The Italian-style tomato, mozzarella and pesto salad was also summery and light enough not to fill you up before the hot dishes.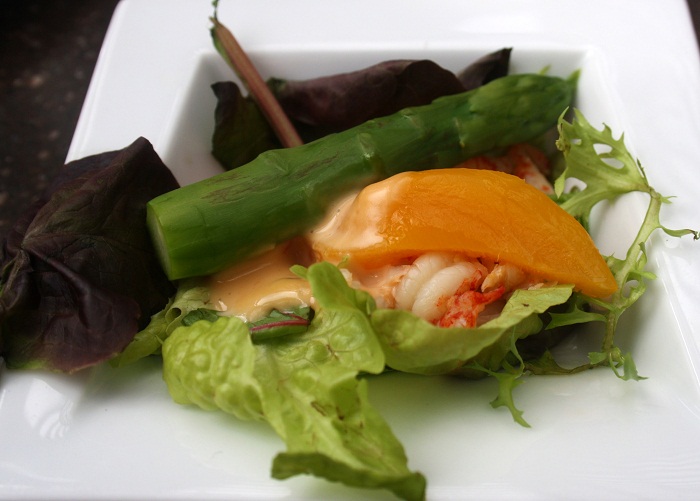 The highlight of the brunch is the live carvery station, where you can make up a Sunday roast with a variety of slow-cooked meats straight from the oven.  The chef carves slices of roast sirloin beef, roast leg of lamb and roast chicken to order and you can even choose which cuts you prefer.
The roast sirloin beef was tender and juicy while the roast chicken was succulent and infused with fresh herbs.  I accompanied the meat with some fluffy, crispy Yorkshire puddings, aromatic lemon and herb stuffing, herb roasted potatoes, slow-roasted carrots, creamy carrot and swede mash, steamed mixed greens and a generous amount of rich gravy.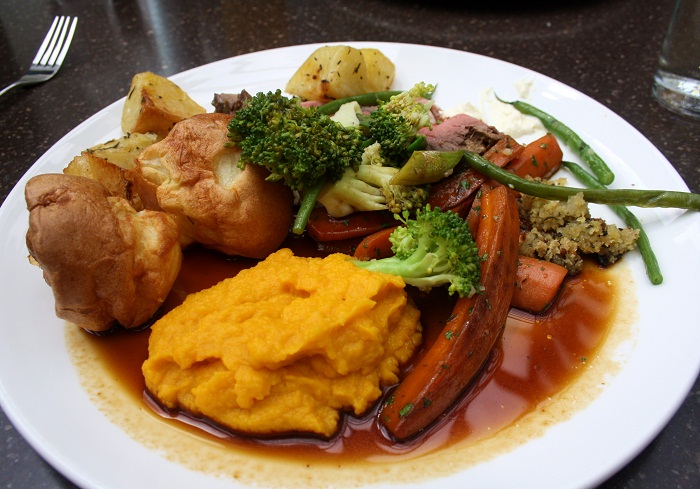 The hot buffet also includes a soup of the day, mushroom risotto with truffle oil, gnocchi and breakfast items such as sausages, bacon and hash browns.  It's tempting to overload on the roasts, or even go back for seconds, but the other main dishes are ever so tasty and worth trying.
Be sure to save lots of room for dessert, as the generous array of colourful sweets is just so tempting.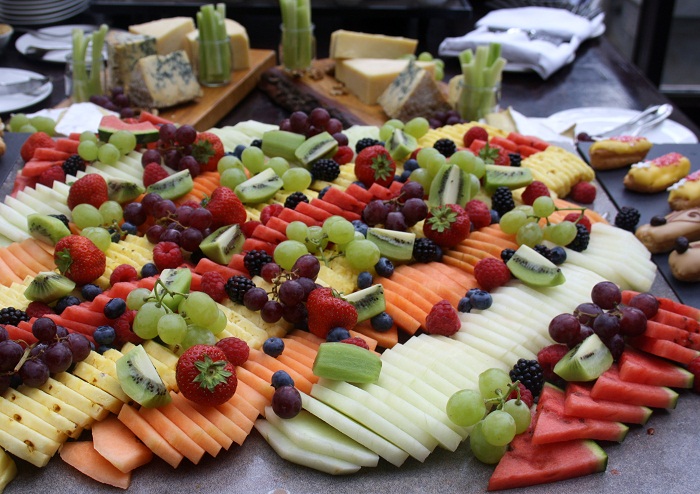 Start with Chef's Mum's recipe Apple Crumble with lashings of fresh custard.  It's a classic done extremely well with plenty of juicy apples stewed with cinnamon and an exemplary, crunchy crumble topping.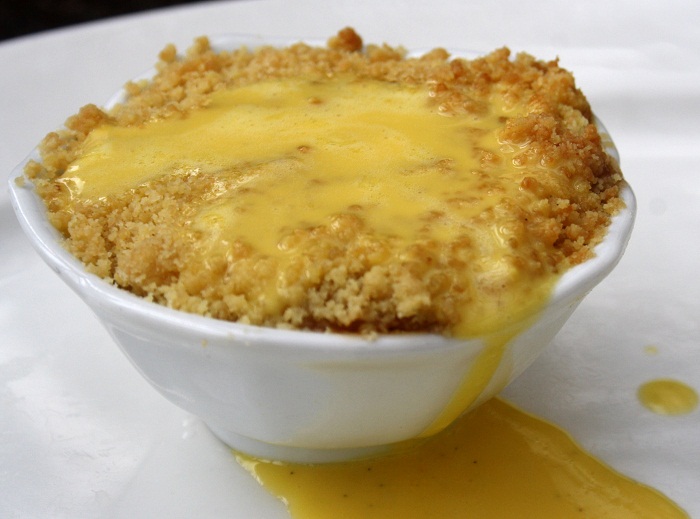 The main feature is the selection of exquisite éclairs in flavours including lemon, chocolate, coffee, pistachio, strawberry and vanilla.  They were delicious and perfectly bite-size – a nod to the hotel's contemporary French style.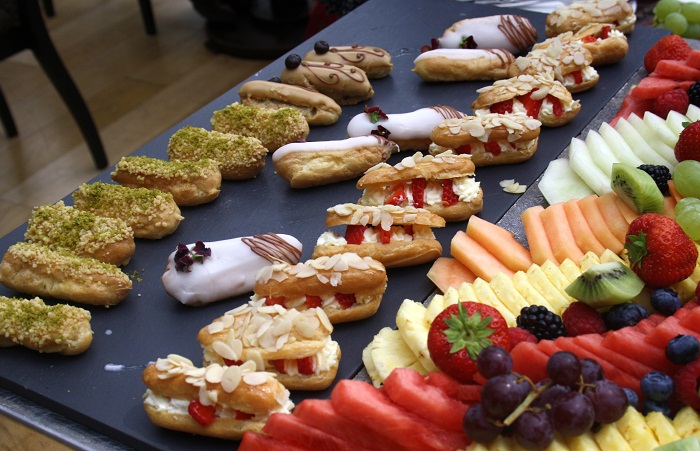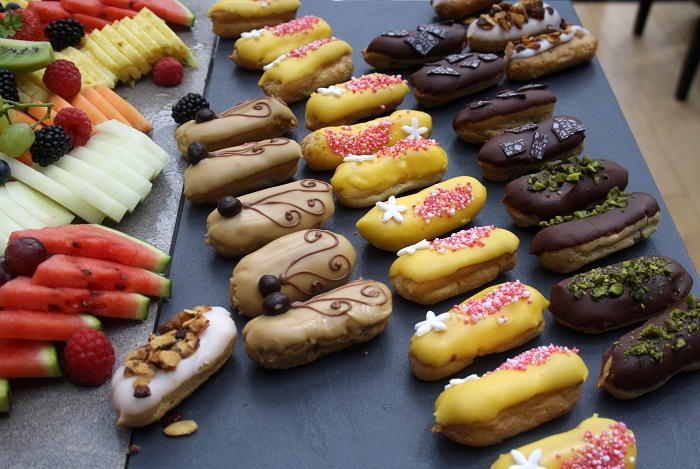 Those with a sweet tooth will love the home-baked cupcakes and the velvety smooth strawberry and chocolate dessert pots.  Of course, you can still work towards your five-a-day with luscious, exotic fresh fruit.
The Terrace Grill & Bar is a perfect spot for a stylish Sunday Brunch with excellent food and a lively, warm atmosphere.  I liked that you can get up and walk around between courses and set the meal at your own pace.  It's a relaxed style of brunch that I would happily go back to again and again.
Sunday Brunch at the Terrace Grill & Bar at Le Méridien Piccadilly is priced at £39 per person, £49 with a free flow of Prosecco.  For more information and booking, visit: www.terracegrillandbar.com
Chérie City was a guest of Le Méridien Piccadilly
Photos by Chérie City (interiors by Le Méridien Piccadilly)