Our first evening in Lisbon was spent in style with a spectacular dinner at one Michelin star restaurant Feitoria at Altis Belém Hotel & Spa.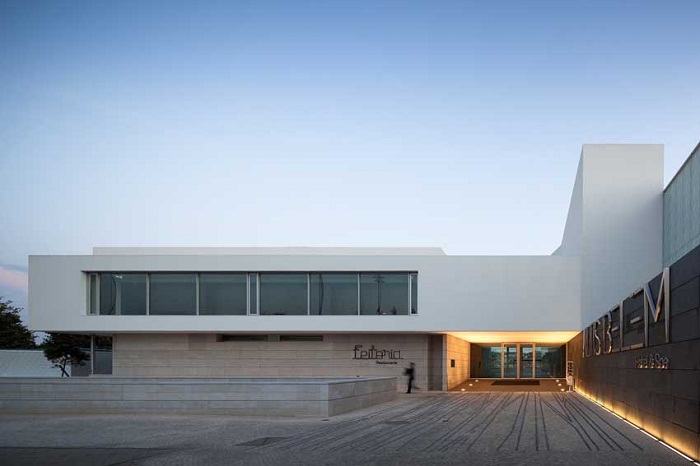 The sleek five-star design hotel has a picturesque seafront location in historic Belém with stunning views over the Tagus River.  Its design is super-minimal and chic with floor-to-ceiling windows and a travel theme inspired by the trade routes from the Far East, Africa and the Americas.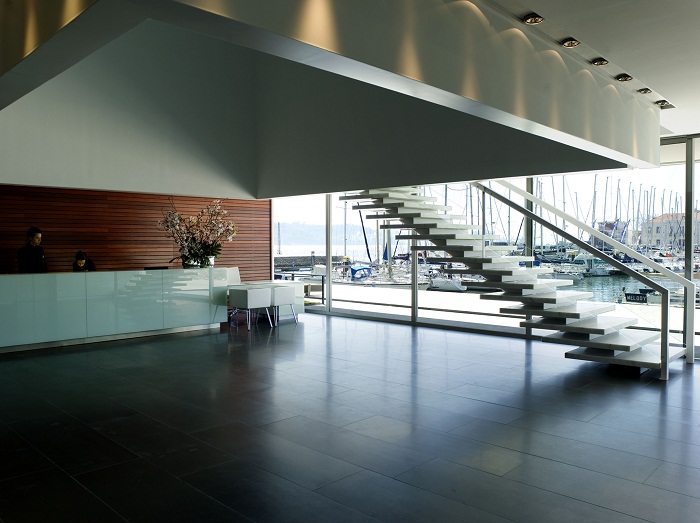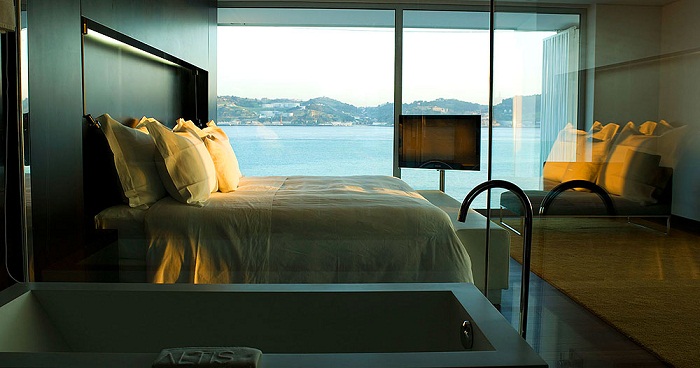 The hotel feels very peaceful and sophisticated – a little bit of zen by the sea.  Alongside a Michelin star restaurant, Altis Belém Hotel & Spa features the stylish Cafeteria Mensagem, Bar 38°41′ and BSpa by Karin Herzog.
Feitoria continues the cool design with floor-to-ceiling windows, dark wood panelling, touches of gold and an attractive Asian screen at the entrance.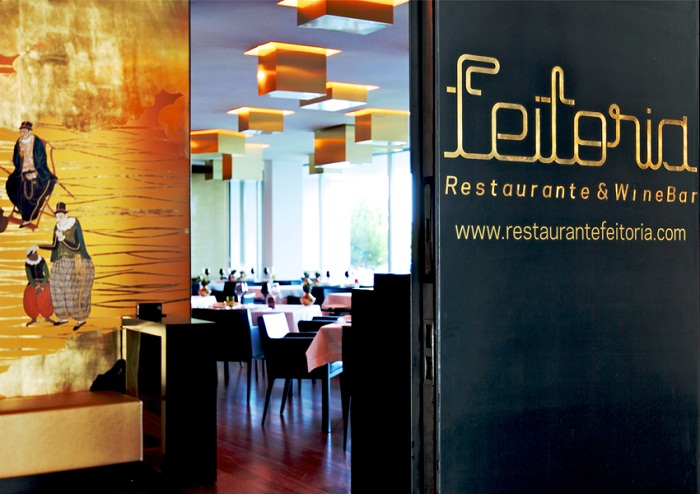 We arrived just as the restaurant was opening, so the beginning of our meal was almost like private dining.  Our table by the window overlooked the sea and we had some great sunset views during our dinner.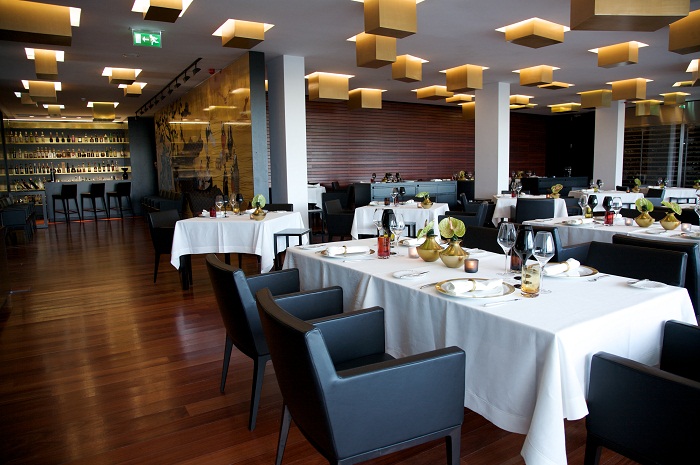 Chef João Rodrigues prepared a special five-course tasting menu for us, with a number of amuse-bouches and wine pairing.  A member of staff introduced each course, telling the story behind the dish, the chef's inspiration and the origins of the ingredients.  The ceremony and gravitas dedicated to the dishes made each course feel special, like a culinary journey through Lisbon.
The first little bite was an Orange macaron with salmon served inside a plant pot.  The savoury macaron was full of intensity with deep flavours and interesting textures from the bursting salmon eggs.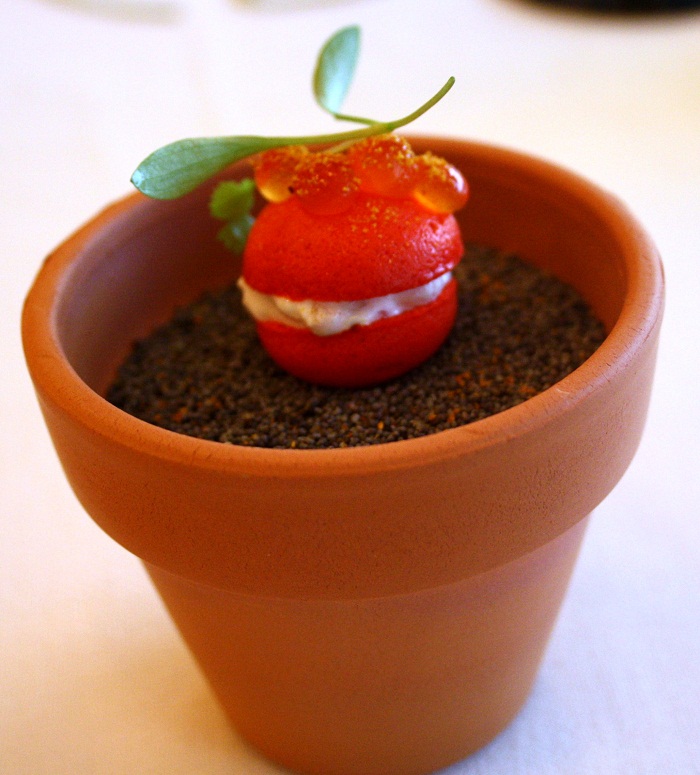 Feitoria's delicious home-made olive and sun-dried tomato bread was given ceremony with an impressive apparatus of olive oil, sea salt and two different types of butter.  It's so difficult to resist filling up on bread and butter when it's done as creatively as this.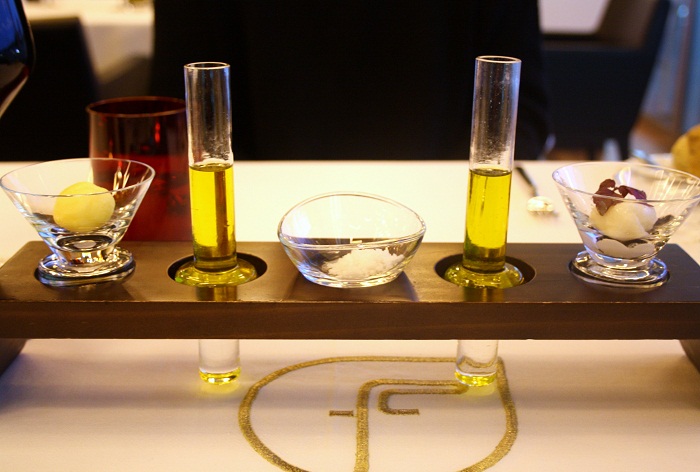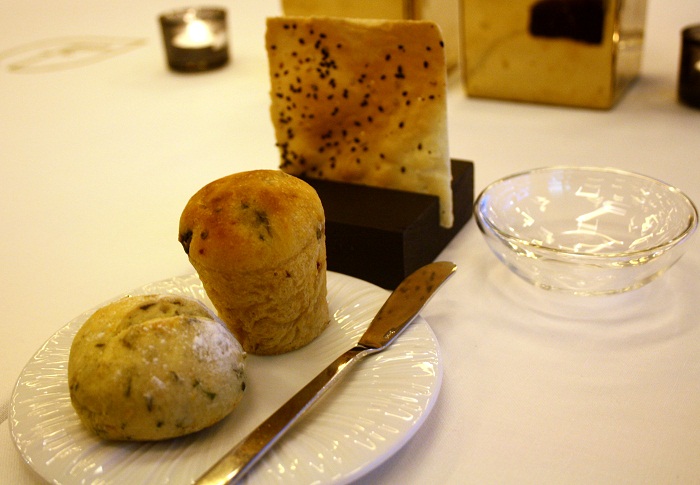 Marinated red snapper with pomegranate jus was tender and doused in a zingy, sweet and sour jus – a real taste of summer.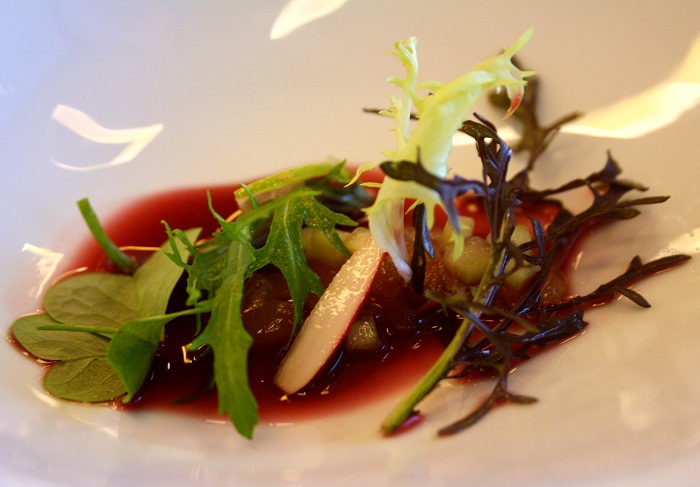 Copita brioche and tomato Azeitao cheese crisp was a new take on typical Portuguese specialities.  The brioche was sweet and fluffy with a perfect little morsel of Copita cured ham.  The Azeitao cheese was smooth and creamy, neatly packed inside a bite-size pastry case and topped with a juicy tomato relish.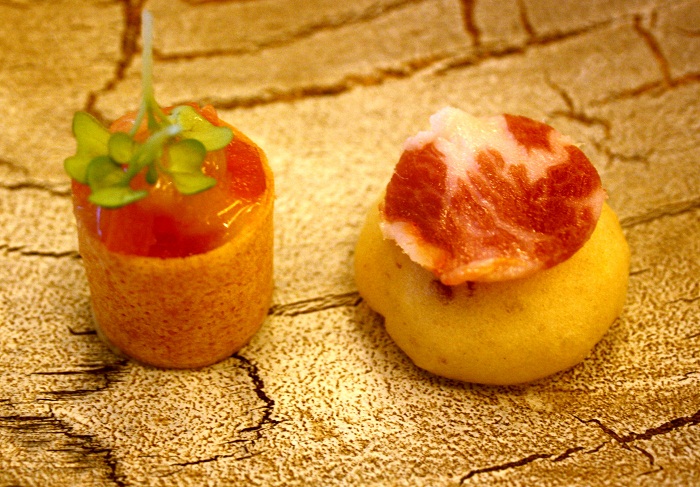 'Fiel Amigo' – cod fish and tripe was another light and summery dish with moist, flaky fish, sautéed tripe and a flourish of foam.  Each course onwards was paired with fantastic red and white wines from Porto, Algarve, Douro, Colares and Alentejo.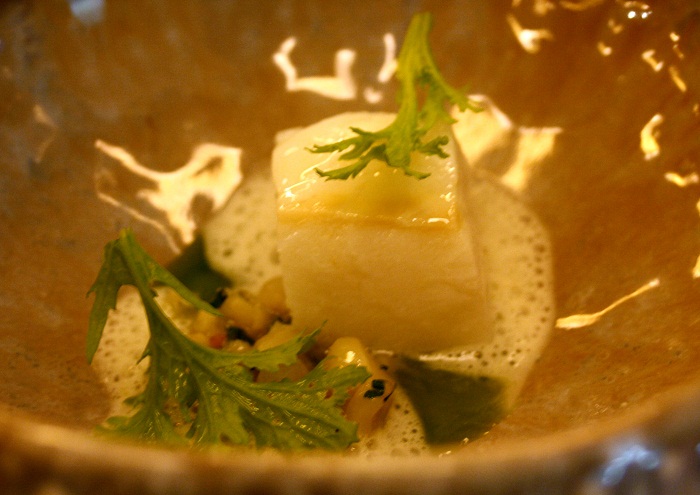 Our first main tasting dish was Sautéed scallop, Iberian cured ham, wild mushrooms and crab tempura.  Scallops are my favourite dish to order for a starter and Feitoria's scallops were an absolute triumph.
The plump, nicely seared scallops were accompanied by the most delicious crab tempura, crispy, high quality Iberian ham and subtle wild mushrooms, finished with foam.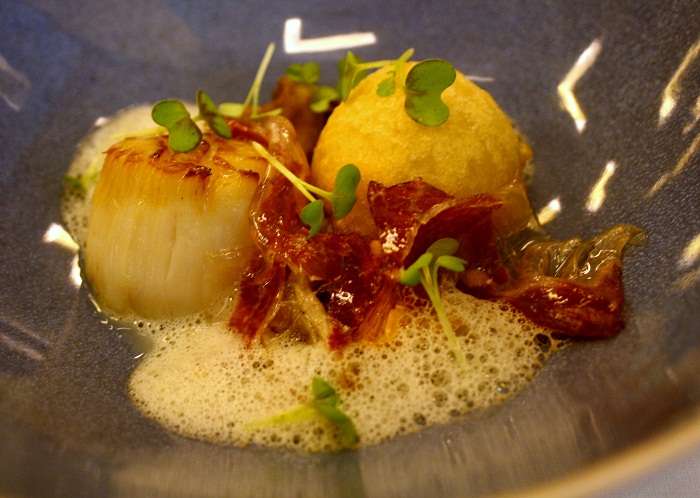 This was followed by Ricotta, spinach and egg yolk ravioli oxtail stew and black truffle from Perigord.  The silky home-made pasta was cooked perfectly al dente and the creamy filling worked well with the rich, slow-cooked oxtail stew.  Shaved black truffle added a luxurious touch and an earthy flavour.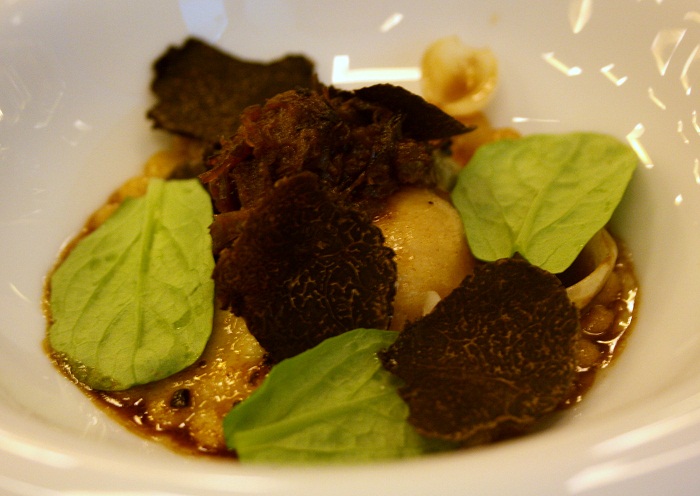 My favourite fish dish on the menu was Sea bass with Alcacer do Sol lobster rice, lime and coriander.  The herb-crusted sea bass was a little piece of heaven while the gooey yet firm lobster rice featured a generous chunk of succulent, fresh lobster.  The dish was accompanied by delicate asparagus, pea shoots and a saffron foam.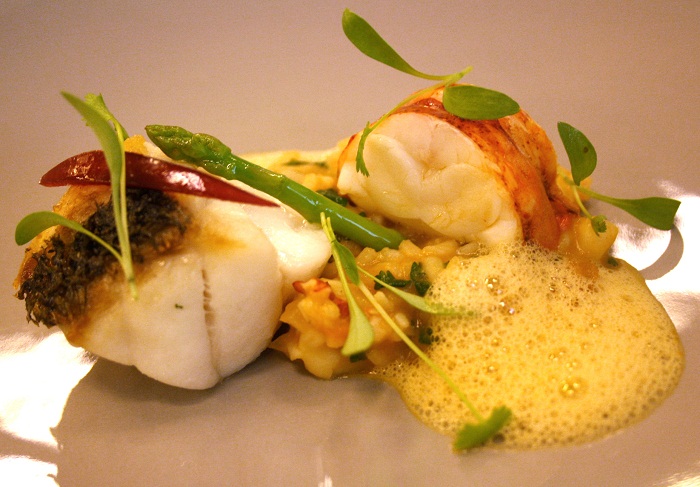 A highlight of the meal was the Black Angus entrecote, stuffed potato, quail egg and creamed turnip greens.  I was already feeling very full by this point, but there's always room to be found for a good piece of steak.
The medium-cooked Black Angus entrecote was so tender, juicy and satisfying.  I loved the smoky, sweet stuffed potato and the colourful, flavoursome creamed turnip greens.  The dish was finished with a rich, meaty jus and burnt fresh herbs – absolute perfection.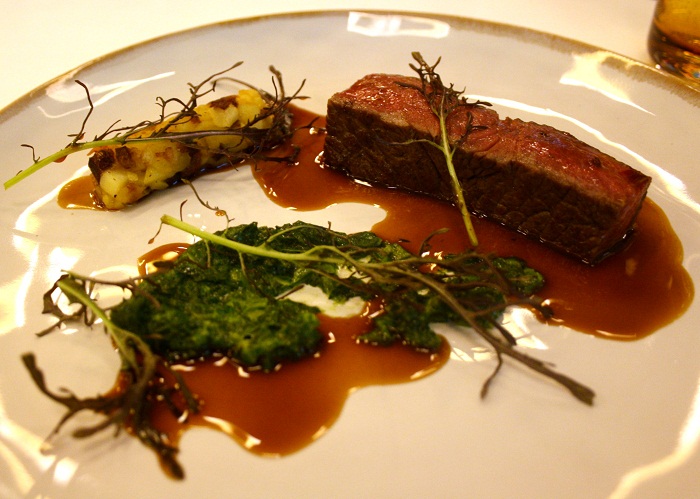 Dessert was a refreshing, uncomplicated Wild berry mille-feuille with raspberry sorbet.  Layers of flaky pastry were packed together with silky vanilla creme patisserie and fresh raspberries.  It was accompanied by glossy raspberry sorbet, fresh raspberries, mini mounds of meringue and torn fresh mint.
It was a delightfully light yet exquisite end to an indulgent meal.  The tasting menu usually ends with tea or coffee and petit fours in the form of whimsical, colourful cake and chocolate pops.  We were so full of rich food and wine that we couldn't quite find room for them and instead walked off the meal on a tour of the hotel.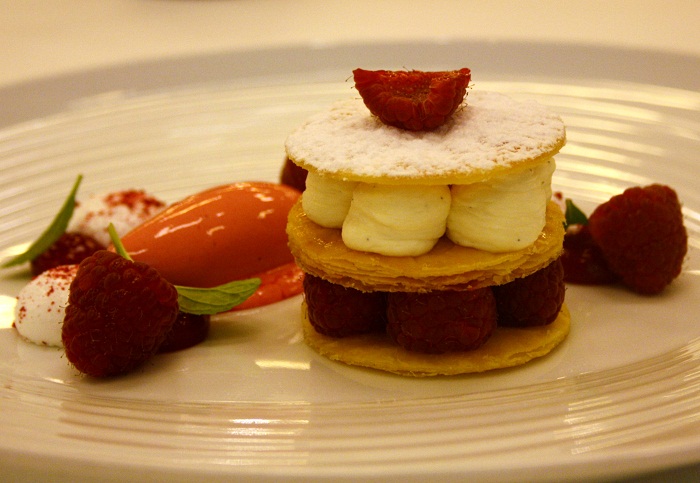 Feitoria is a stunning restaurant with impressive views, slick design and a calm atmosphere.  Chef João Rodrigues' cooking is sophisticated and interesting with a strong focus on excellent, seasonal ingredients.
Make a day of visiting Belém's famous monuments and cultural institutions (and of course Pasteis de Belém) and end with fine dining and a glorious sunset at Feitoria.
For more information and booking, visit: www.altishotels.com
Chérie City was a guest of Feitoria
Photos by Chérie City (hotel images by Altis Belém Hotel & Spa)