Flores do Bairro is a stylish, bijou restaurant on the ground floor of Lisbon's five-star Bairro Alto Hotel.
A member of Leading Hotels of the World, Bairro Alto Hotel boasts a prime position on Luís de Camões Square between historic Bairro Alto and hip Chiado.
Its acclaimed restaurant Flores do Bairro has the intimate feel of a neighbourhood restaurant and is one of three dining options at Bairro Alto Hotel.  Guests can also enjoy spectacular views over Lisbon and light bites from the fourth floor BA Terrace or a refreshing cocktail at the hotel's popular Cafe-Bar BA with nightly DJs or live music.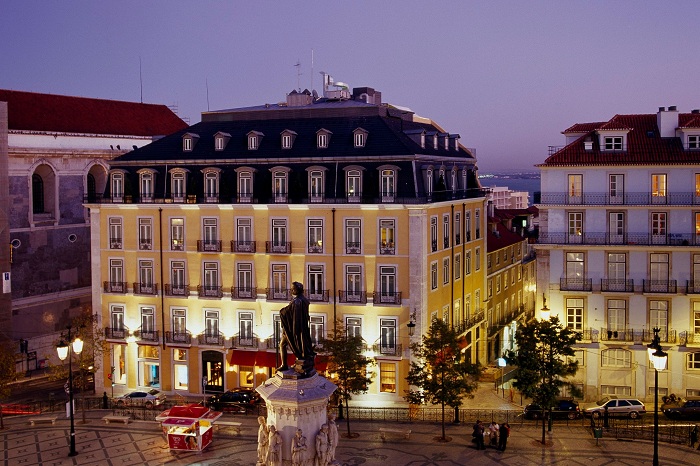 Redesigned earlier this year, the colourful, retro-contemporary restaurant is decorated in shades of warm orange, olive and cream with striped feature walls which reminded me of Missoni.  It's an intimate, bright dining room with comfortable banquette seating and views over the square.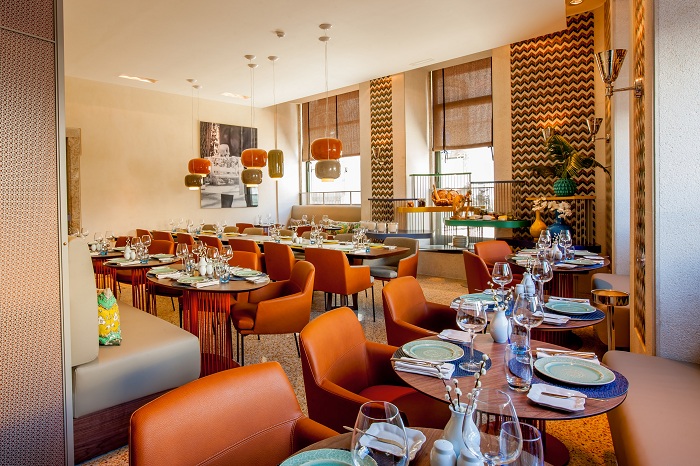 Flores do Bairro takes inspiration from a typical 'bairro' kitchen, combining tradition with a modern outlook.  Talented Portuguese chef Vasco Lello's menu combines the city's signature dishes with Asian influences, using the very best seasonal ingredients.
We visited for a light lunch before exploring Bairro Alto and Chiado.  The restaurant was quiet when we dined, but I imagine it to be a popular spot during the high season.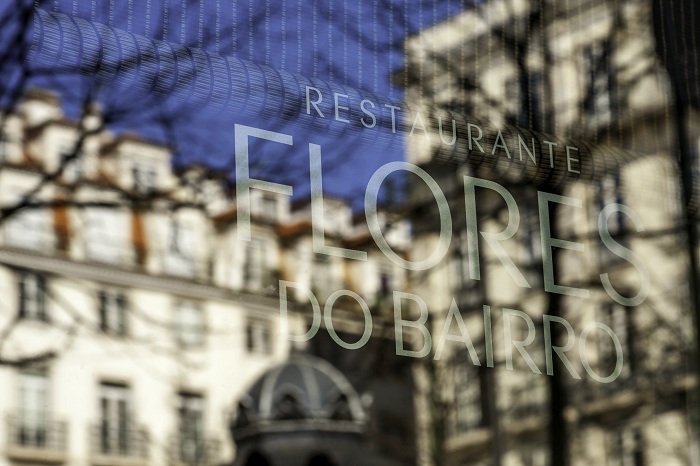 Chef Vasco Lello prepared a selection of sharing plates for us to graze on.  To start the meal, we were brought a basket of freshly-baked bread with cute little trays of excellent olive oil, pickled vegetables and the most amazing tomato and olive tapenade, which I found rather addictive.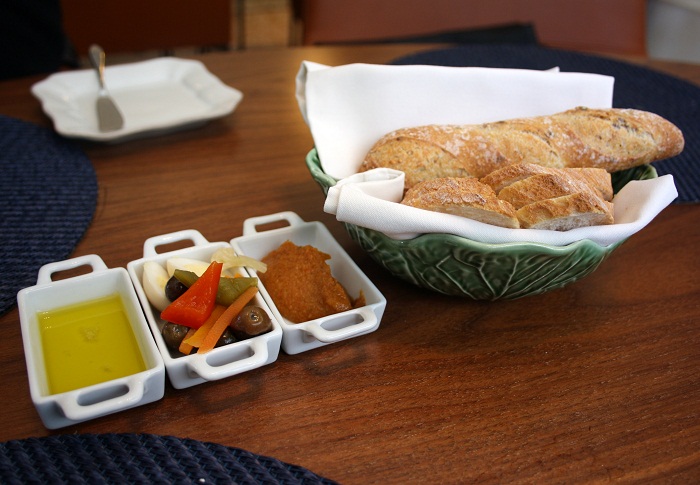 The first dish to arrive was a colourful Octopus salad with peppers and coriander.  The octopus was tender and meaty and was marinated in a tangy, aromatic juice with plenty of olive oil and garlic.  The small diced peppers, red onion and fresh torn coriander added some sweetness and gave it a summery feel.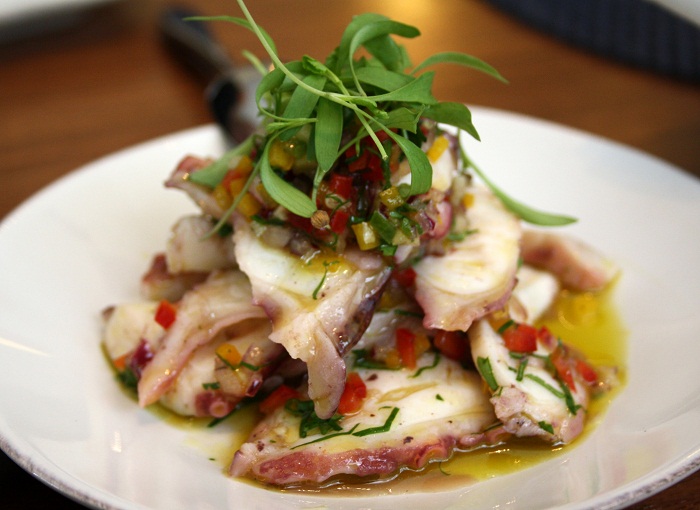 Salmon tataki with soba and sesame was a deliciously fresh and light dish.  The high quality salmon was nicely seared with a fleshy centre and the cold soba noodles with ribbon vegetables were lightly dressed with just a touch of soy and sesame oil.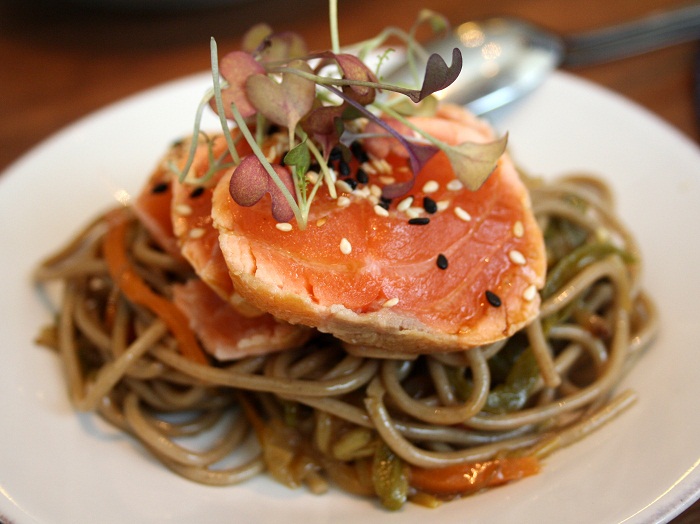 Duck Croquettes with green mango chutney were so moreish and tasty with tender shredded duck covered in crispy, golden breadcrumbs.  They went perfectly with the zingy, uplifting green mango chutney.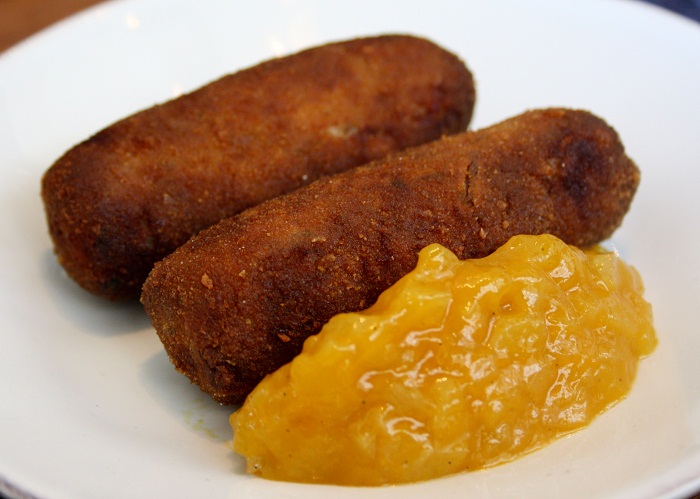 This was followed by a traditional Portuguese seafood stew.  The cast iron pot was filled with an assortment of tender seafood in a strongly-flavoured sauce with crisp toast.  It's not something that I would usually order, but the seafood was very fresh and it's a signature dish worth trying when in Lisbon.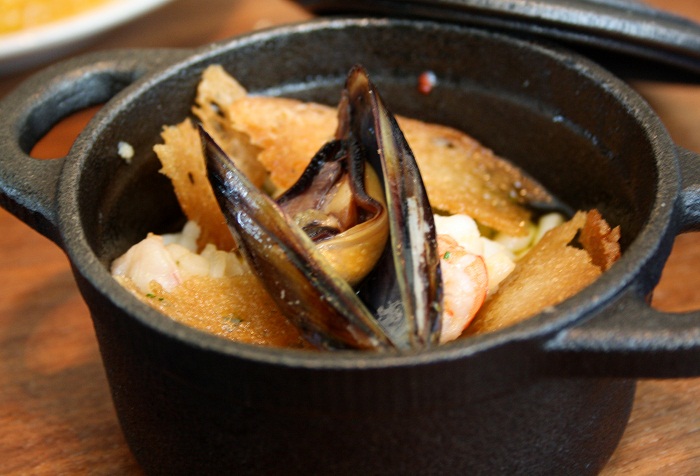 One of my favourite dishes was the Fresh Fish Flores do Bairro style.  Thin slices of cod were deep-fried in very fine breadcrumbs, making the most delicious crispy goujons.  They were well-seasoned and full of flavour, served simply with a wedge of lemon – definitely a must-order dish.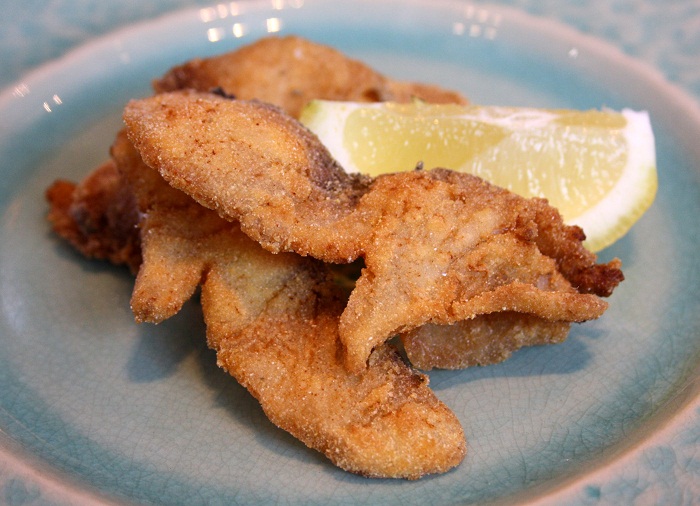 The fish was accompanied by a traditional Cockles rice served in its own Le Creuset pot.  The soft rice and tender cockles came in a juicy broth made with white wine, garlic and fresh herbs.  It was a tasty, rich dish but the portion size was a little overwhelming – we didn't come close to finishing it.
In Lisbon, it's impossible to resist dessert or a cheeky Pastel de Nata after almost every meal.  At Flores do Bairro, we were served a different Lisbon speciality – Traditional yolk pudding and tangerine ice cream.  The dense, set pudding was sweet and not overly creamy with delightful orange and honey flavours.
The heavenly tangerine ice cream was studded with citrus pieces and was served atop crunchy biscuit crumble.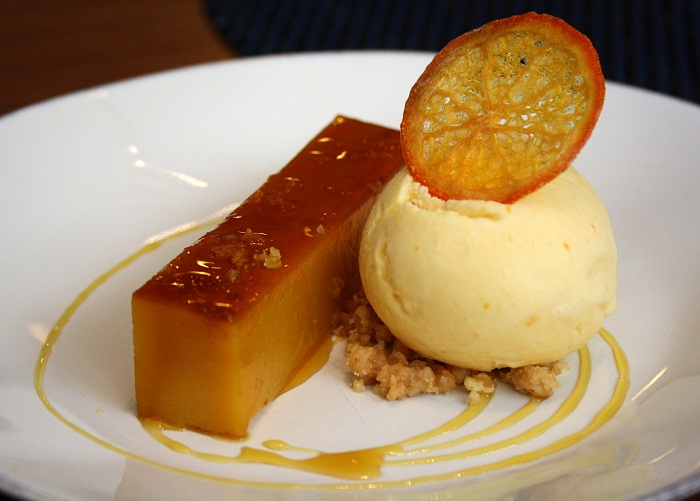 Almond Cake was another delicious dessert that we shared.  The freshly-baked, nutty cake was split in two and filled with decadent almond ice cream and topped with toasted almond flakes.  Both desserts were exceptionally good, so be sure to leave some room for an indulgent sweet at the end of your meal.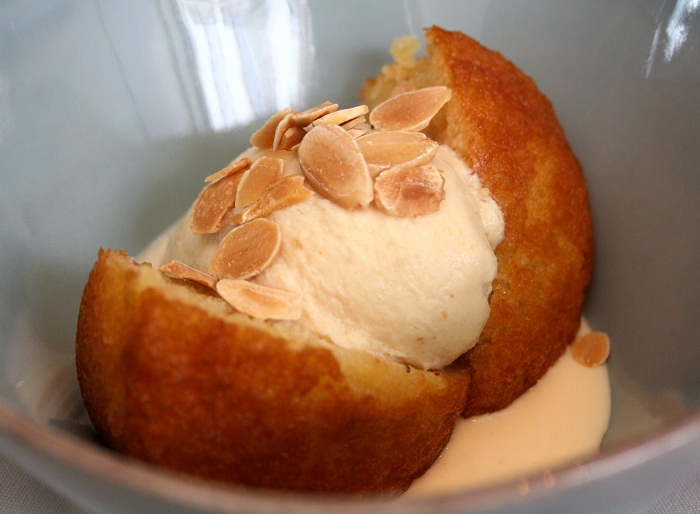 Flores do Bairro is a fantastic restaurant for a light and tasty lunch, or a stylish yet informal dinner in Lisbon's liveliest neighbourhood.  It's perfectly placed for finishing the meal with a coffee on the terrace at nearby A Brasileira or discovering Bairro Alto's quirky cocktail bars.
The staff at Flores do Bairro were so hospitable and friendly, asking which dishes were our favourites and offering some local insider tips for cool things to see in Chiado.  If you're exploring Bairro Alto and Chiado, be sure to make a stop at the delightful Flores do Bairro.
For more information and booking, visit: www.lhw.com/bairroalto
Food images by Chérie City (interiors by Hotel Bairro Alto)
Chérie City was a guest of Hotel Bairro Alto