Notting Hill Kitchen is the kind of restaurant that perfectly captures the magic of the west London neighbourhood and it would be hard not to be charmed by it.
Set across three gorgeous white Edwardian townhouses on leafy Kensington Park Road, Notting Hill Kitchen is understated and quaint with a Portuguese tile sign that gives a clue about the origin of its cuisine (the name of restaurant gives nothing away).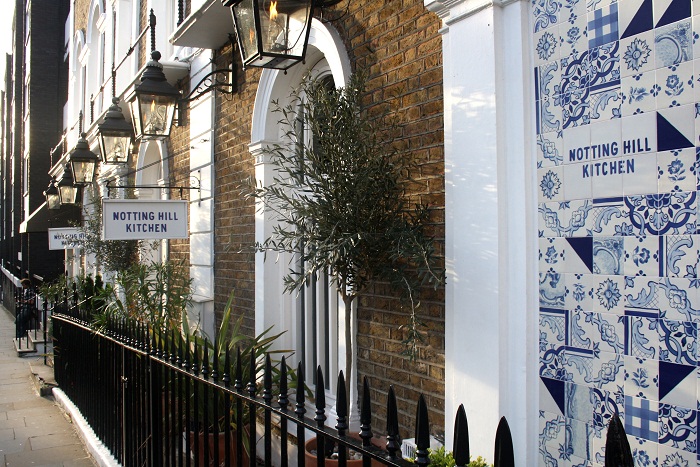 Opened at the end of last year, Notting Hill Kitchen is all about authentic Iberian cooking, offering tapas at the bar or more inventive dishes in the more formal restaurant.
Chef Luis Baena takes inspiration from the Iberian Peninsula and cleverly uses seasonal Spanish and Portuguese artisanal produce to create exciting, modern dishes.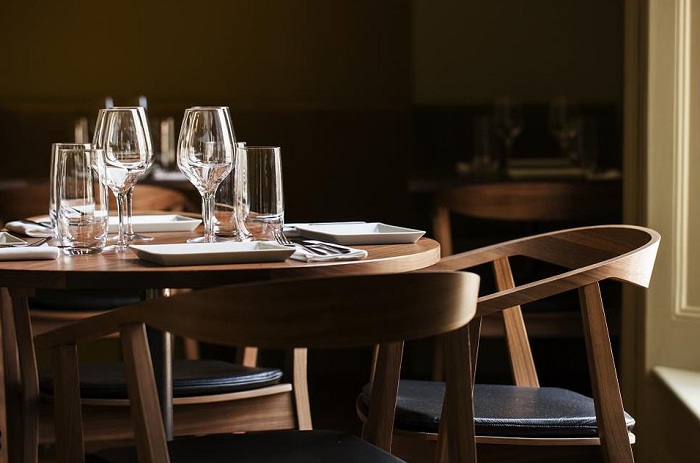 We visited early on a weekday for dinner and I was quickly reminded of how much I like the energy and vibe of Notting Hill – I really must try and make the journey across town more often.
We were warmly welcomed and were seated at a lovely table close to the window (there are at least four separate dining areas).  While we perused the menu, we were brought a bottle of chilled still water and two types of fantastic freshly-baked bread with high quality olive oil and sea salt flakes.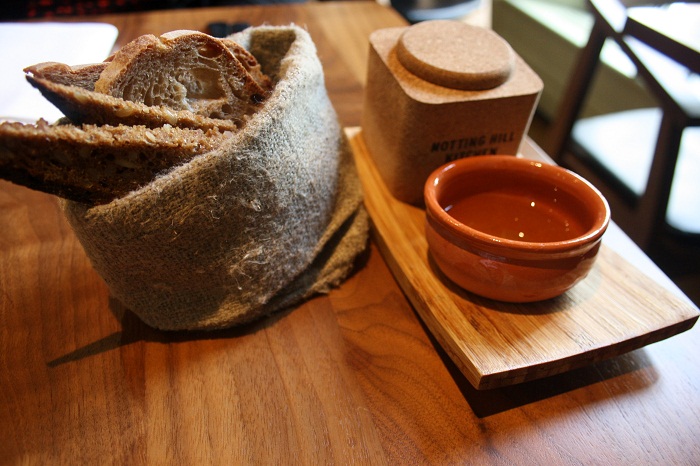 I started with a simple classic of Jamon Iberico Bellota D.O 'Dehesa Extramadura' Gran Reserva 2010 (£9.50 for 40g).  The medium-thick sliced ham was juicy and silky and had a good balance of lean and fat, with rich, fruity flavours.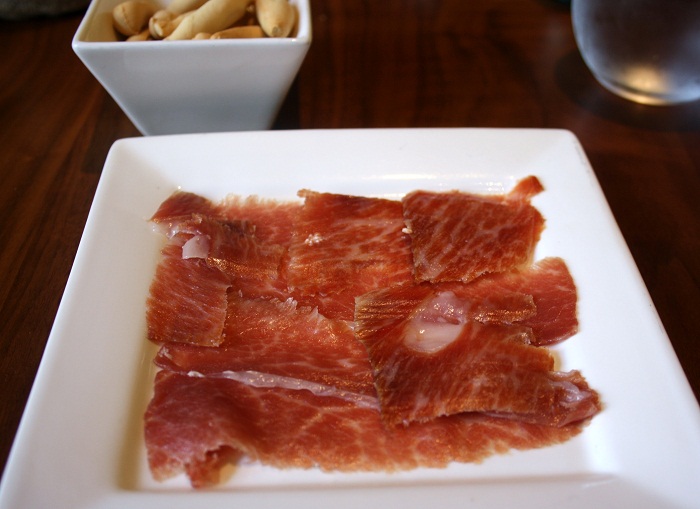 There's no such thing as too much Iberian ham, so we shared Three Jamon Croquetas (£4) from the bar tapas menu, which is also available in the restaurant.  The three bite-size balls packed a punch with gooey, flavoursome cheese and flaky ham encased in crispy, golden breadcrumbs.  It's worth ordering some to enjoy all to yourself – they really are that good.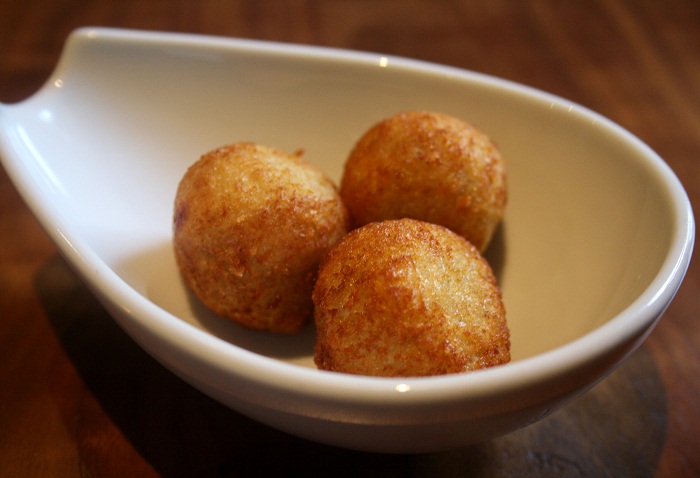 After going to something uncomplicated, I was a little envious of Steven's Diver Caught Scallops with ajo blanco pannacotta, sliver of pork terrine, tomato & crispy onion and 'vilao' dressing (£12).  The plump, fresh scallops were nicely seared and the accompaniments had subtle garlic flavours and interesting smooth and crunchy textures.
They were beautifully-presented and it was nice to get a generous amount of scallops, particularly as one graciously made its way over to my plate (a perk of dining with an obliging boyfriend).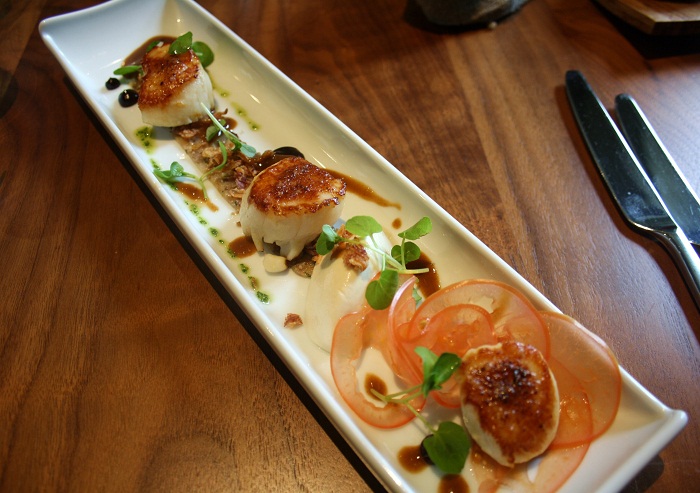 For the main course, I'm not sure why, but I uncharacteristically ordered lamb.  It's not usually high on my list of preferred meats, but I just couldn't resist the Seared Welsh Lamb Loin – mini lamb burger, chickpeas and pumpkin seed butter (£20).
The large piece of lamb was tender and succulent while the mini lamb burger was substantial with a very meaty yet well-seasoned flavour.  The meat was accompanied by stewed chick peas (possibly a few too many on the plate), a spiced cumin-infused pumpkin seed butter, natural vegetable crackers, a rich meat jus and a little chili jam to garnish.
I loved the vibrant colours and strong flavours in the dish and the portion size was very generous.  It didn't really require a side dish, but we had already ordered Patatas Bravas to share.  They were thick wedges of skin-on potato drizzled with tasty aioli and finished with smoked paprika.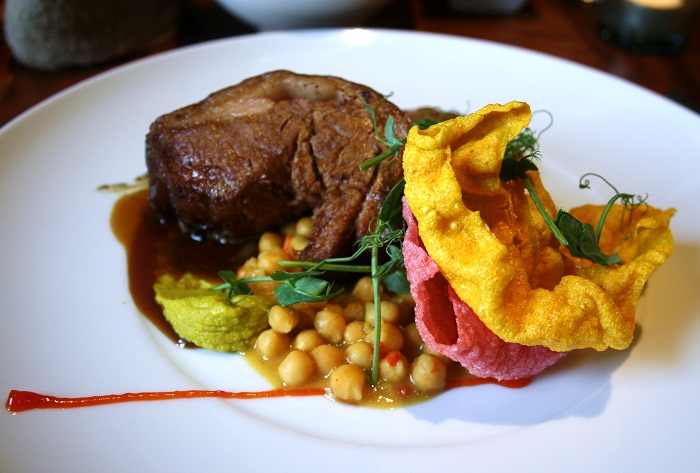 Steven tried the Pork Neck with potato 'risotto', roasted garlic pudding and lupine 'cous cous' (£18).  The large serving of pork was tender, lean and cooked medium.  The potato risotto was thick, garlicky and quite satisfying but the beans were bland and unseasoned.
The dish was tasty enough because of the quality of the pork, but lacked defining flavours and unfortunately arrived rather lukewarm.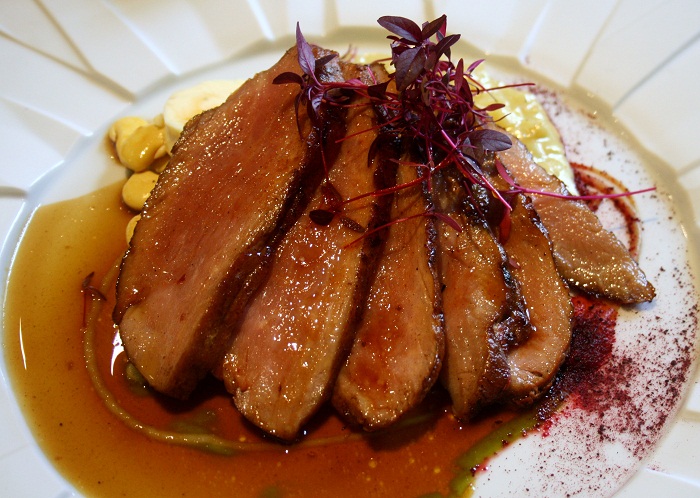 Before dessert, we were brought a surprise round of Port served in little shot glasses.  The Tawny Port was deliciously sweet with depth of flavour and is definitely worth trying.  Perhaps it was to be drunk with dessert, as we were brought another two to accompany our sweets.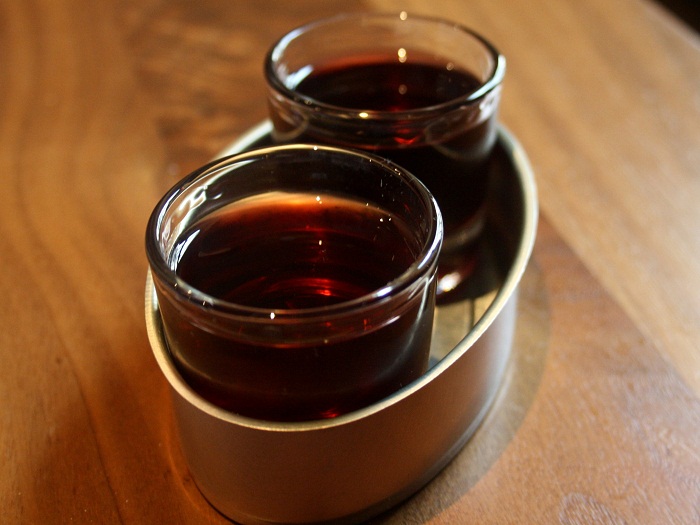 For dessert, I tried to evoke memories of our visit to Lisbon's famous Pasteis de Belem and ordered the Pastel de Nata with cinnamon ice cream (£9).  The delicious custard tart was different to any other that I've tasted, served hot and in a rectangular shape, almost like a millefeuille.
The home-made cinnamon ice cream worked well, as custard tarts are usually dusted with cinnamon and I liked that the crunchy biscuit crumble added texture.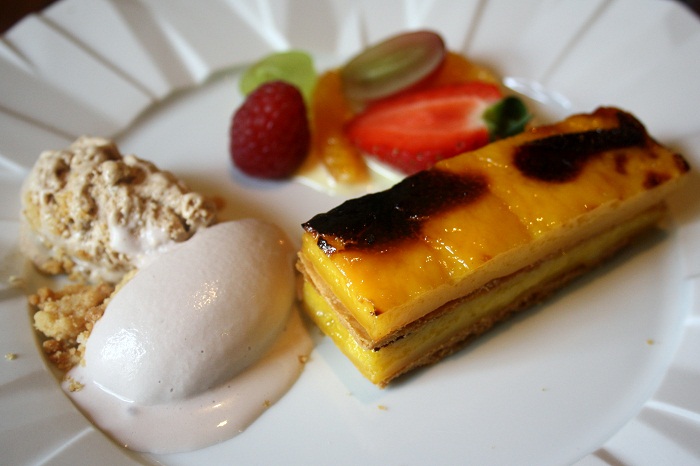 Steven went for the Lemon Cheesecake with chocolate and raspberry (£8).  The cool, creamy cheesecake had a sweet crushed biscuit base and was served with a moreish dark chocolate ganache, vanilla ice cream, caramel popcorn and a small amount of raspberry purée.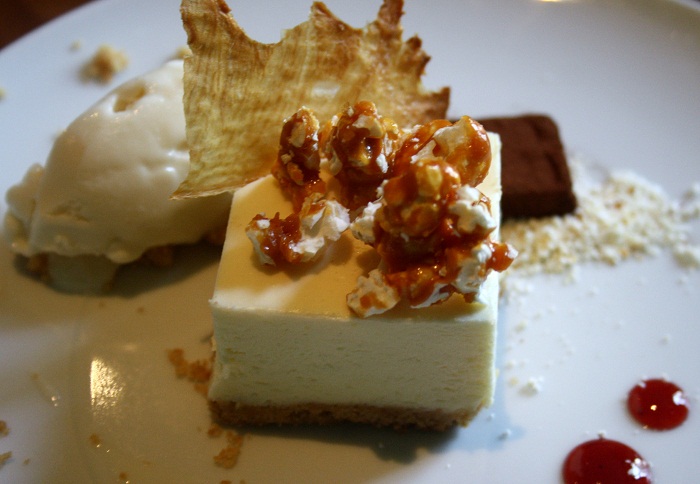 Notting Hill Kitchen is a great local restaurant with masterful cooking, high quality ingredients and fine attention to detail.  The staff are warm, friendly and efficient, however the pace of the service could have slowed down a little, so we could really savour our meal.
Dishes are well-priced considering the upmarket location, experienced cooking and substantial portion sizes.  It's an ideal place for a date, family dinner or a night out with friends – an all-round smart restaurant with character and interesting food.
For more information and booking, visit: www.nottinghillkitchen.co.uk
Chérie City was invited by Notting Hill Kitchen
Photos by Chérie City (interior by Notting Hill Kitchen)