When I first moved to London in 2008, I remember being amazed by the queue snaking around the corner to get a seat at Busaba Eathai in Soho.  Luckily, the queues have since calmed down, but Busaba Eathai's central London restaurants still draw in the crowds.  While hot new restaurants open every day in the city, Busaba Eathai has now reached the status of reliable London classic.
Founded by celebrated restauranteur Alan Yau, the ever-growing casual dining chain is all about authentic Thai food in a stylish, slick setting.  The concept is simple – walk-in only (no reservations taken), communal tables and classic dishes served quickly at reasonable prices.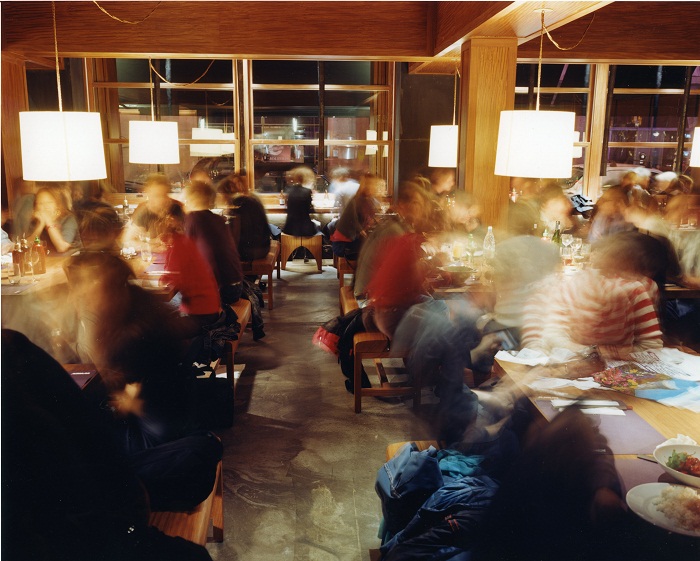 We visited Busaba Eathai's Old Street for an early dinner mid-week and within half an hour or so, the restaurant – and our square communal table – were almost full.  We ordered a refreshing, punchy Lemongrass and Ginger Pressé (£3) each and spent quite some time deciding which dishes to order from the tempting menu.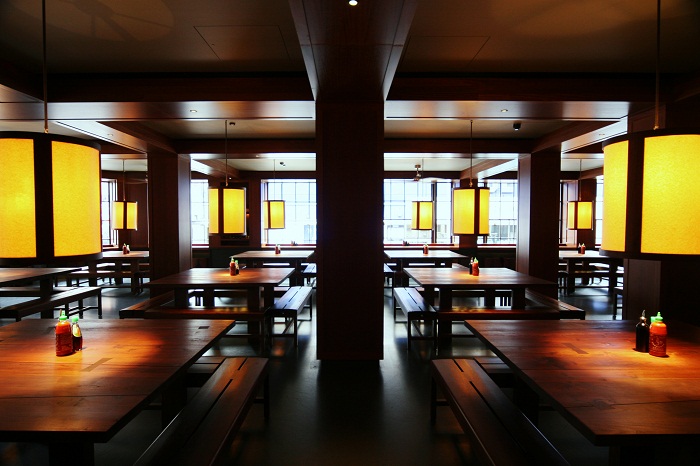 To start, we shared a few small dishes and were really wowed by the Prawn Pomelo with peanut (£4.80).  Little gem lettuce leaves were filled with fresh prawns, fragrant pomelo, crushed peanuts, crispy shallots and fresh herbs.  The sweet and sour flavours worked perfectly with the nuts and a touch of chili added a nice kick.  The flavours instantly took me back to my trip to Singapore and every mouthful was a delight – I really could eat this dish all summer long.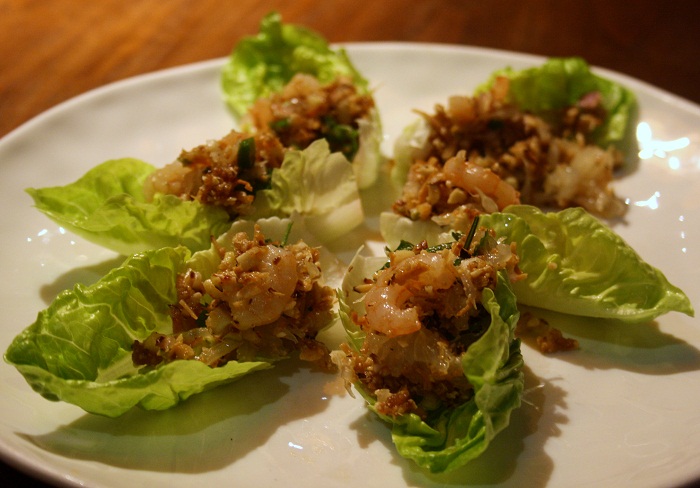 We couldn't resist going for more prawns and ordered Goong tohd (£5.90).  The four butterflied prawn were coated in golden panko breadcrumbs and were served with a tangy chilli lime sauce.  The large prawns were succulent and served piping hot – perfectly light for grazing on before the main dish.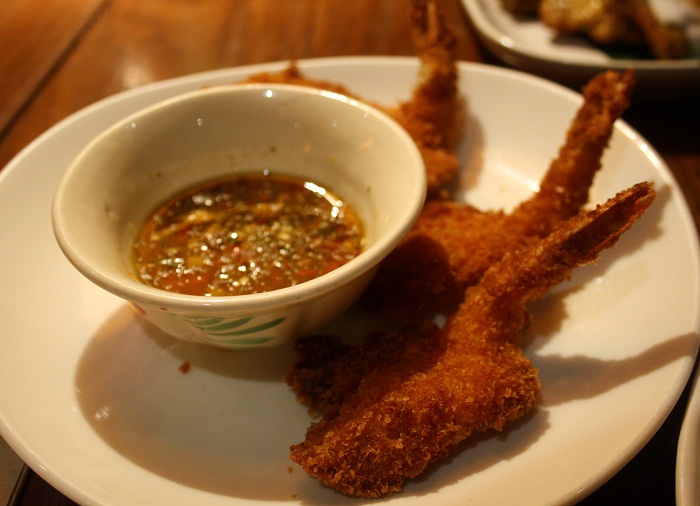 Chicken Satay (£5.50) with peanut sauce was exemplary – tender, lightly spiced, nicely charred on the edges and drizzled in coconut milk.  The spicy, rich peanut sauce was ever so moreish and I saved some for the prawns, as it was the tastier of the two sauces.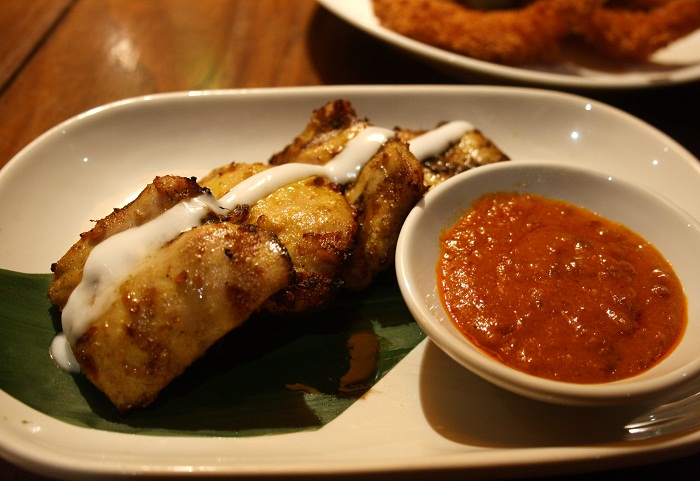 I could have been a little more adventurous for my main course, but I was keen to try Busaba Ethai's take on the classic Pad Thai (£8.40).  A generous amount of delicate rice noodles were served with plump wok-fried prawns, aromatic dried shrimp, large pieces of crispy tofu, egg, crushed peanut, fresh beansprouts and half a lime.
The noodles were lightly covered in a typical Pad Thai sauce, which was slightly sweet, nutty and not overly oily, with plenty of citrus zing from the lime.  It was Asian comfort food at its very best and I managed to finish the dish without tiring of the flavours.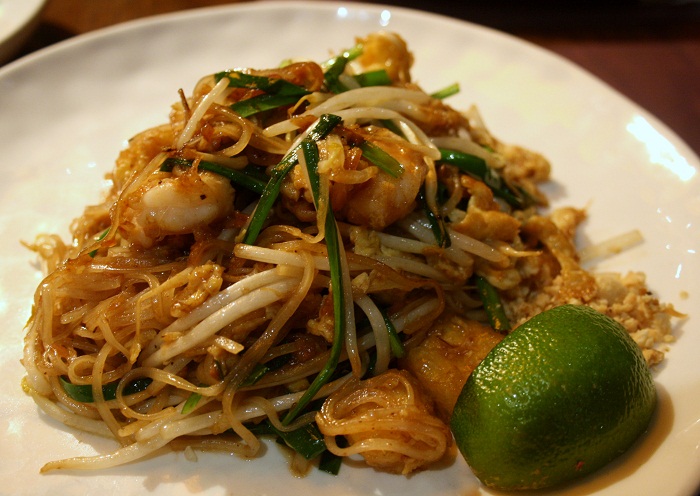 Steven's main dish was Green Curry Fried Rice with chargrilled chicken (£9.50).  Busaba Eathai also offers a regular green curry served with steamed rice on the menu, but this dish was a little different.
Substantial fillets of sumptuous chargrilled chicken were doused in a rich, aromatic green curry sauce packed with chili, creamy coconut milk and lemongrass.  It was accompanied by a mound of Jasmine rice mixed with a dash of the green curry sauce and a colourful salad.
At this point in the meal, my camera inexplicably gave up, so please excuse the incongruous photo style, courtesy of my Nokia Lumia.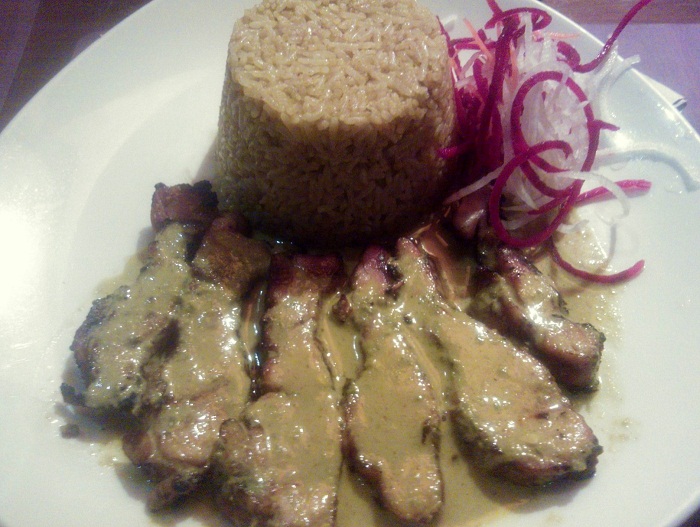 I was a little disappointed to find that none of the Busaba Eathai restaurants offer dessert.  Perhaps they previously haven't proven popular (or never existed at all), but I would like to have finished my meal with an Asian dessert like mango sticky rice, fried bananas or pandan chiffon cake.  With so many exotic fruits in Thai cuisine, surely a few tempting desserts could be offered.
However, my sweet tooth was somewhat satisfied with a delicious Guava Collins (£3.50).  The pink-hued, freshly-squeezed guava juice was sweet and cooling with a hint of lime, coconut and lime leaf – healthy and sin-free.  Of course, there is a way to get a sweet fix, as Busaba Eathai's three teas – lemongrass, ginger and honey and Genmaicha – are served with a cashew and coconut cookie on the side.
Busaba Eathai is a reliable old favourite that in my experience always serves up excellent food without any fuss.  This month sees eight new dishes join the menu, inspired by Executive Chef Jude Sangsida's food discoveries after spending a month back in his home of Thailand.
UPDATE: Busaba Eathai Kingston is now open and guess what…it's serving DESSERTS!  Now you can finish your meal on a sweet note with Mango Sticky Rice, Sweet Plantain Fritters with vanilla bean ice cream and other indulgent treats.
Chérie City was invited by Busaba Eathai
Photos by Chérie City (interiors by Busaba Eathai)