Bond & Brook is one of my favourite places in London for a meeting or a calming pre or post shopping cup of tea.
Part of the Rhubarb group, the second floor restaurant and cafe at Fenwick of Bond Street always feel peaceful and civilised, even when busy – the perfect retreat in the middle of central London.
The design of Bond & brook is ever so stylish with its bright white and oatmeal interiors and slick silver bar.  There are a few flashes of colour on its place settings, menus and the now famous pots of Smarties that are served to every table.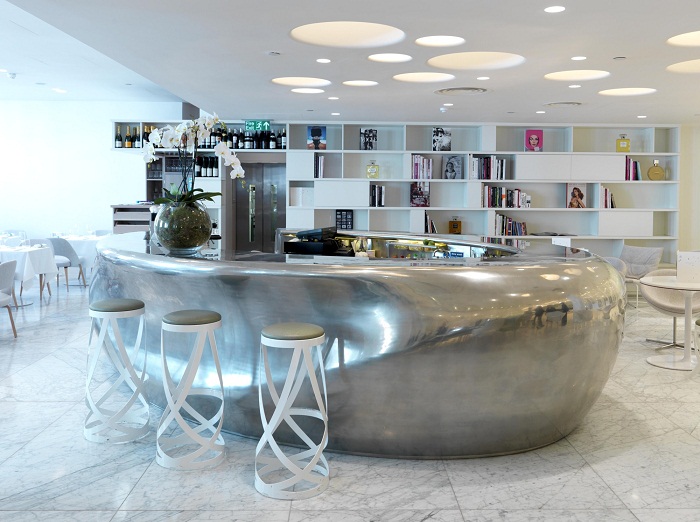 Bond & Brook takes inspiration from fashion and features shelves full of glossy coffee table books, a large fashion print and a background of the Fenwick designer womenswear edit.  It's an appropriately concept considering its location, among the boutiques of New Bond Street and a stone throw away from Vogue House.
To celebrate Royal Ascot – the highlight of the social calendar – Bond & Brooks is offering a rather regal afternoon tea.  I visited last week to sample the Royal Ascot Afternoon Tea and was excited to finally try the food at Bond & Brook, as my usual order is a pot of fresh mint tea and a few Smarties.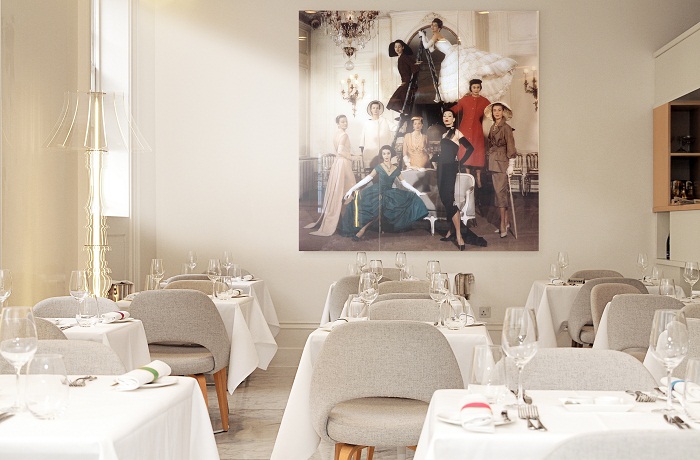 We were seated in a lovely, quiet spot close to the window and were swiftly served our choice of tea – we both went for the Palace Earl Grey.  The silver tea service is elegant and refined and we were promised a refill of hot water for the teapot at the beginning of our meal, so we wouldn't have to try and make our cups of tea last.
We waited a short time for the afternoon tea to be served, which I was happy about as it meant that the food was prepared fresh and set a good pace for the afternoon.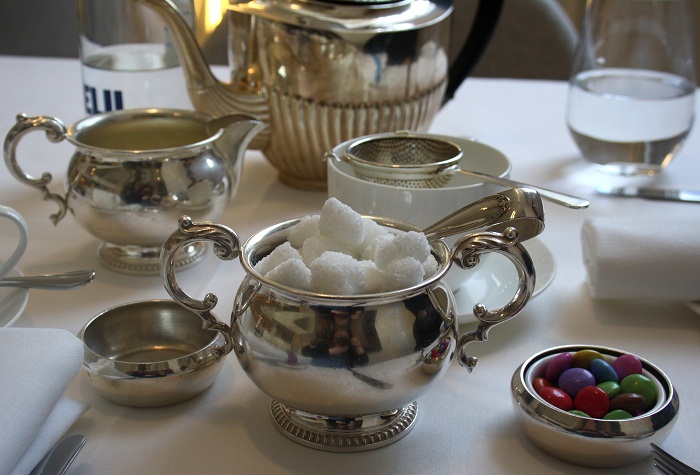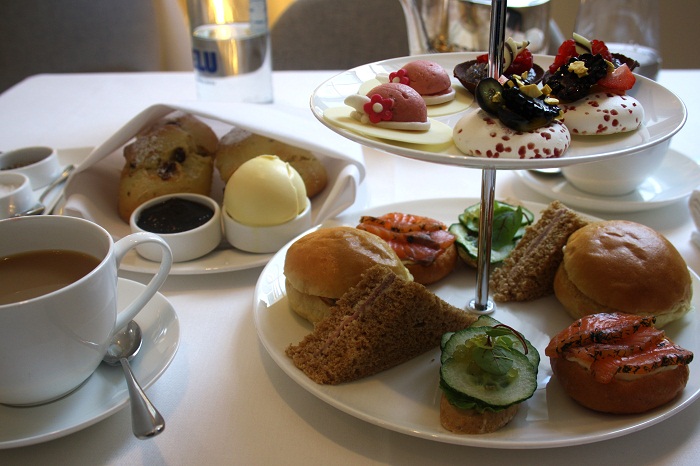 When our afternoon tea arrived, the friendly staff briefly explained the different courses and the inspiration behind it.
The sandwiches were classic with a quirky twist – perfectly suited to Royal Ascot.  The stand-out sandwich was the Gin-cured Royal Fillet of Salmon with aromatic, generous pieces of salmon and cool cream cheese on a half bagel.
Eastcote Beef and Horseradish Cream on granary bread included thin slices of lean beef and subtle, peppery flavours from the horseradish cream.
Heritage Cucumber Caviar and Mint was an interesting, fragrant take on the old British afternoon tea staple while the indulgent Eggs Drumkilbo – eggs, lobster and tomato on a brioche bun – was chosen, as it's a favourite of the royals.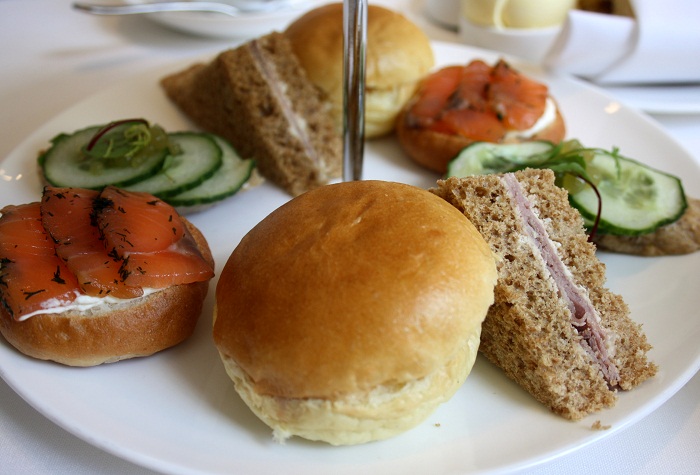 Four substantial, freshly-baked raisin scones kept their warmth inside an enveloped napkin while we finished the savoury course.
The exemplary fluffy and buttery scones were accompanied by a little pot of home-made plum jam and a generous scoop of cool clotted cream.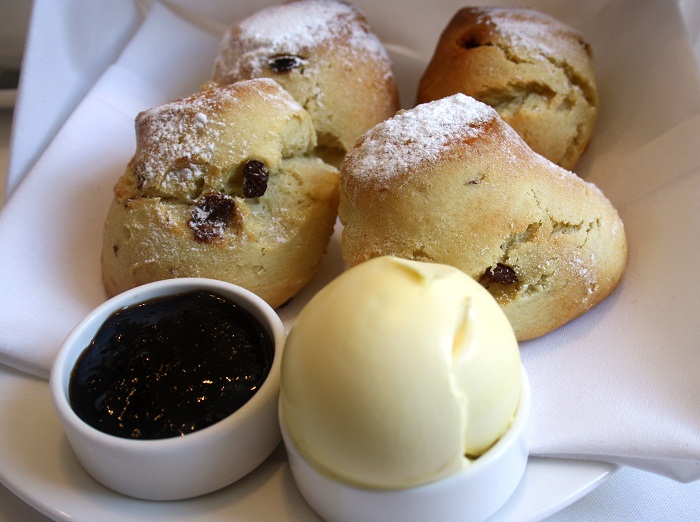 Instead of the second scone, I would have preferred a slice of Battenburg, mini cake loaf or a brownie square to vary the flavours and add a cake texture to the afternoon tea.
Inspired by the elegance of Royal Ascot, the desserts are delicate and perfectly bite-size.  The Edible Ladies Bowler Hat was deliciously sweet and fruity with a bubbly raspberry mousse and silky mango filling with an icing flower atop a giant, thin white chocolate brim.
The Mini Berry Pavlova included a refined, speckled meringue topped with fresh berries, golden honeycomb and a sticky citrus sauce.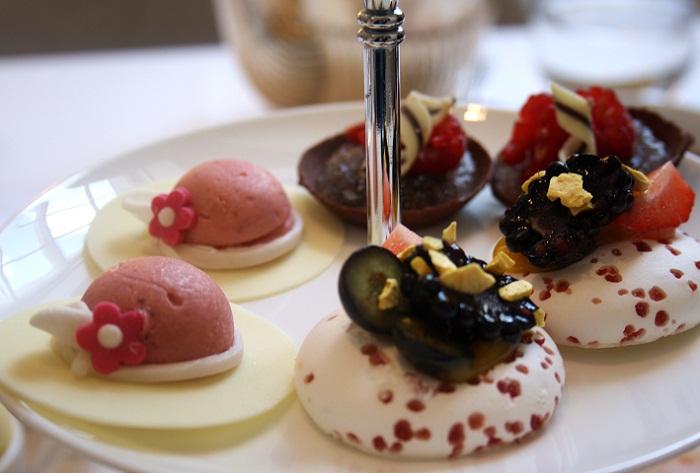 Of course it wouldn't be Royal Ascot with a dash of celebratory booze and the Champagne and Raspberry Tartlet had quite a kick!  The sparkling, refreshing Champagne jelly was set inside a thin chocolate pastry case and was topped with fresh raspberries and a white and dark chocolate curl.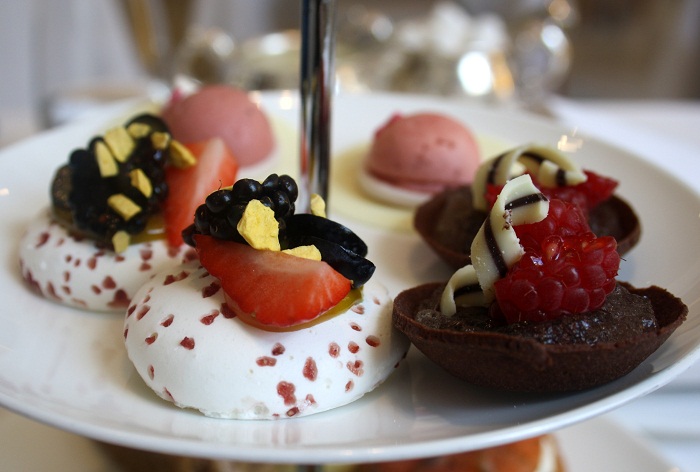 The Royal Ascot Afternoon Tea at Bond & Brook is a delightful treat, even if you won't be sporting a hat at the races.  Bond & Brook is chic and comfortable with friendly staff, plus it's hard to resist a spot of shopping at Fenwick.
The Royal Ascot Afternoon Tea at Bond & Brook is priced at £19.50 and runs until 21st June.  For more information and booking, visit: www.rhubarb.net
Chérie City was invited by Bond & Brook
Photos by Chérie City (interiors by Bond & Brook)