Pavilion London is a stylish new all-day dining brasserie on Kensington High Street, overseen by Michelin star chef Adam Simmonds.
Opening today, the restaurant is part of the Pavilion (formerly Dryland) business members' club, with four floors of slick, luxury serviced offices and working spaces.  However, with its relaxed, non-corporate feel, Pavilion is sure to be a dining destination in its own right.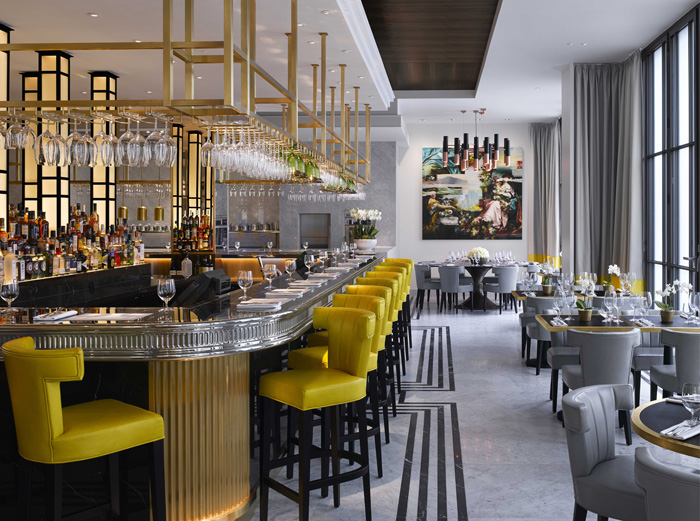 Chef Adam Simmonds made his name at the stately Danesfield House in Buckinghamshire and now brings his inventive, modern cooking to London with a new concept.
Pavilion is a visual delight with elegant, contemporary interiors, interesting artwork and a number of different dining spaces.  The look of the restaurant is timeless, yet very 'of the moment' with painstaking attention to the smallest detail.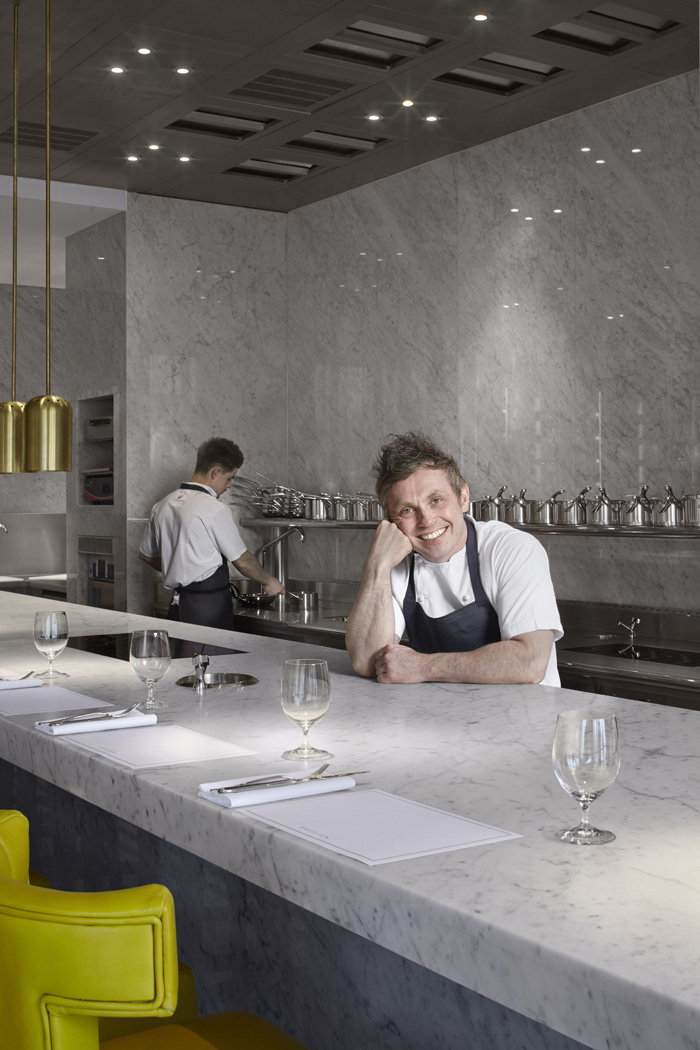 Tucked just inside Pavilion is a petite florist, offering flowers, small plants and hand-made bouquets by Paul Morris.  I like the idea of walking through a flurry of fragrant blooms on arrival and picking up an extra treat on the way out.
The Carrara marble deli counter offers an eye-catching selection of artisan cheeses, British cured meats by Cannon & Cannon, freshly-baked bread and perfect little pastries.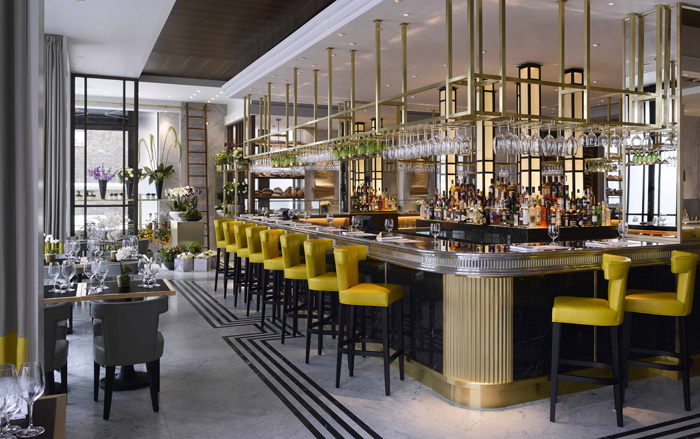 The gorgeous, 22-seater bar with Marquina marble and a pewter top stocks a carefully edited selection of premium spirits by small, independent producers.  The slick leather seats make it comfortable to perch at the bar and there is a separate menu of lighter bar bites including charcuterie plates and a gourmet burger.
We started with some expertly-mixed cocktail at the bar.  Steven ordered a classic Whisky Sour done well, while my No Citrus Punch was a deliciously sweet and potent blend of Rumbullion, banana sugar, cassis, apple and palm sugar.  The easy to drink concoction was mixed in-house and stored in a bottle, then served on ice.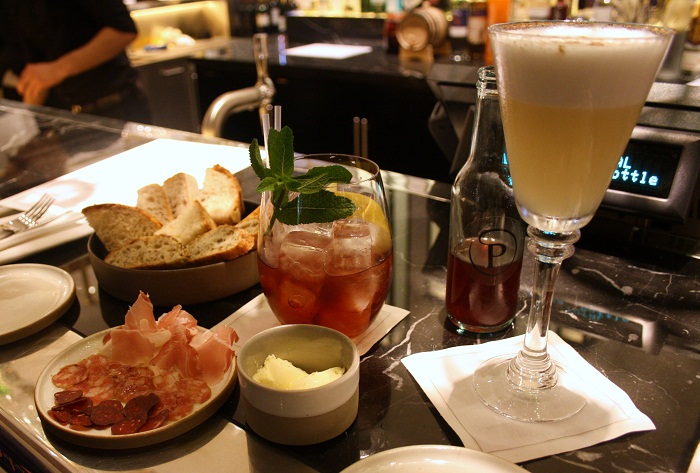 To accompany our drinks, we enjoyed a small plate of charcuterie.  The salty pork shoulder, salami mushroom truffle and chili venison were all moreish and full of flavour, served with slim slices of freshly-baked bread.
I started with Pork Belly – slow-cooked pork belly, homemade black pudding, Scottish langoustine, smoked pineapple, lardo.  The succulent slice of pork belly was perfectly cooked and complemented by plump, fresh langoustines, sweet and smoky pineapple and bold, paper-thin lardo.
The large pieces of silky, melt-in-the-mouth black pudding had a nutty flavour with a hint of vanilla and gave richness to the flavoursome, satisfying dish.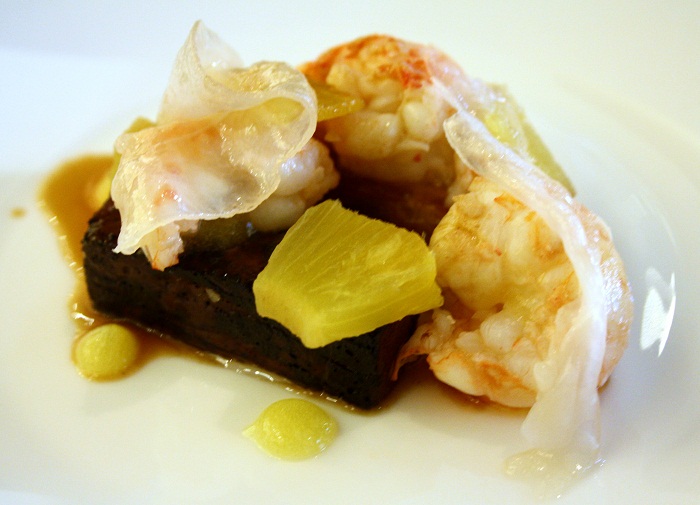 Steven went for the fresh and colourful Salmon & Crab – salmon gravadlax, crab salad, pomelo, avocado.  The smoked salmon was high quality and plentiful, while the crab salad was deliciously fresh and summery.  The pomelo was bursting with juiciness and the avocado gave the dish a subtly, creamy taste, finished with salmon eggs and edible viola.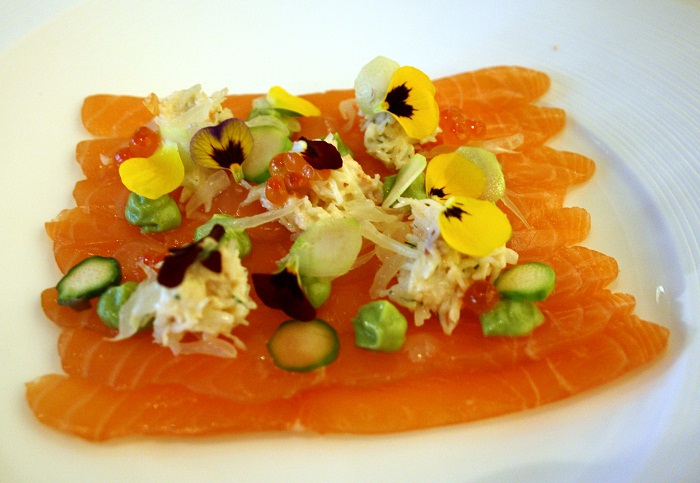 To follow, I was tempted by the Cod – cod 'a la plancha', smoked Boston butt pork, sweet cabbage, roasting juices.  The succulent, chunky piece of plancha-grilled cod was moist and flaky and was served with a rectangular piece of smoked, well-seasoned Boston butt pork.
The mixed beans were infused with fresh herb aromas and the gently braised cabbage was pleasantly sweet and flavoursome.  The roasting juices were poured at the table and were light with a prominent fish flavour.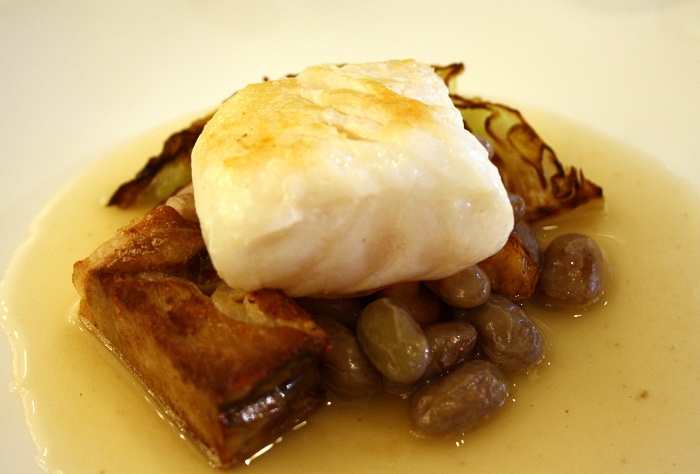 Steven tried the Lamb – roast lamb cutlets, smoked aubergine purée, goats' curd, anchovy salsa verde.  The two lamb cutlets were tender and pink and covered with a meaty jus.  The aubergine purée added a smoky flavour, while the goats' curb was subtle and velvety and the anchovy salsa verde had a touch of fresh mint.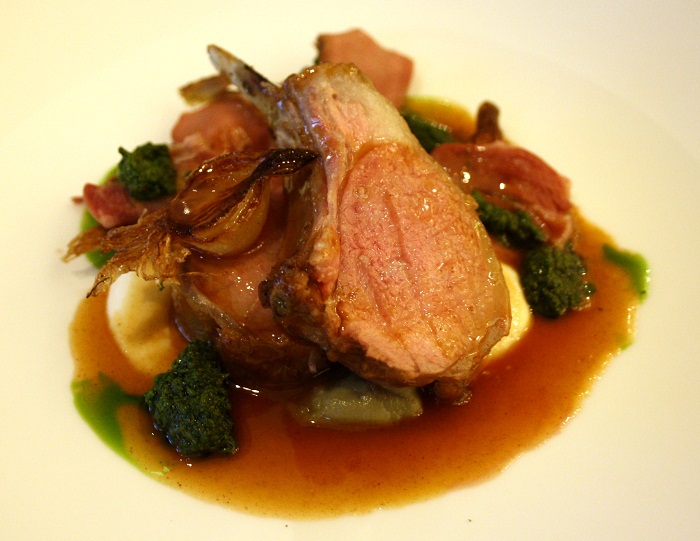 To finish, I went for the Buttermilk – buttermilk mousse, orange blossom 'pain perdu', orange granité.  The light and airy buttermilk mousse was encased in a crunchy sugar and orange curl and the orange blossom 'pain perdu' was a moist, comforting, mini version of the French classic.  The orange granité with sweet and sour orange powder revealed Adam Simmonds' Michelin star history and added a zesty intensity to the dessert.
Perhaps the dessert could have been a little bigger, as there wasn't quite enough buttermilk mousse to proportionally accompany the other elements and the 'pain perdu' left me wanting more.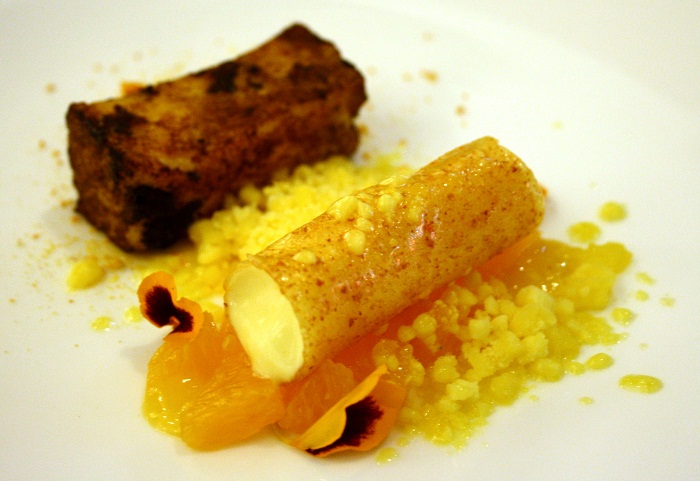 Steven ordered the more indulgent Chocolate – bitter chocolate marquise, mint, aerated chocolate, mint ice cream.  The dark chocolate marquise was made with high quality chocolate and had a glossy, silky texture and rich flavour.  The mint ice cream and mint purée were so natural and authentic, making the dish as far away from a typical chocolate-mint dessert as can be.  The aerated chocolate reminded me of a mint Aero bar, albeit a far superior, deconstructed version.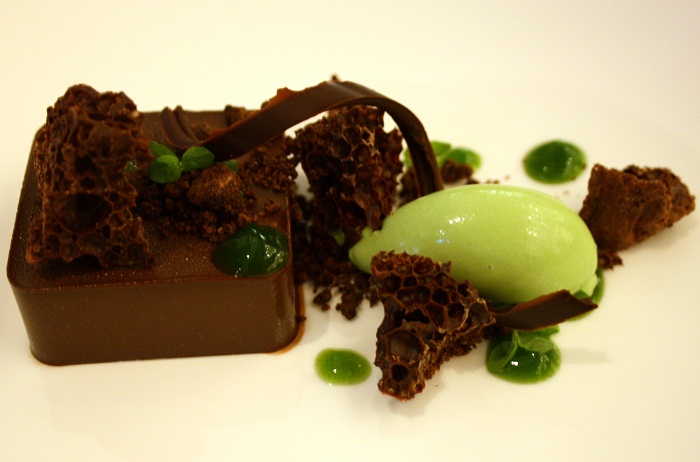 We finished with two Earl Grey teas, which were served in smart glass teapots and elegant china – a promising sign for Pavilion's cafe credentials.
Pavilion is a stylish, sophisticated yet unpretentious restaurant with a buzzing atmosphere and tempting food.  Adam Simmonds' dishes are inventive and well-judged, marrying interesting, unexpected flavours.
Service was already excellent when we visited and the staff are clearly passionate about great food and local produce.  With reasonable prices for the standard of cooking and a great location on Kensington High Street, I can see Pavilion becoming the new place to see and be seen in west London.
For more information, visit: www.kensingtonpavilion.com
Chérie City was invited by Pavilion London
Photos by Chérie City (interiors by Will Bryce)