Sweet Thursday is one of my favourite local discoveries – a colourful spot with the most delicious pizza and a chilled out atmosphere.
The charming Italian restaurant is nestled among a row of shops and restaurants on Southgate Road in leafy De Beauvoir just a short walk away from Kingsland Road.  If you're not familiar with De Beauvoir, it's a pretty part of east London with large Georgian houses and plenty of inviting gastropubs.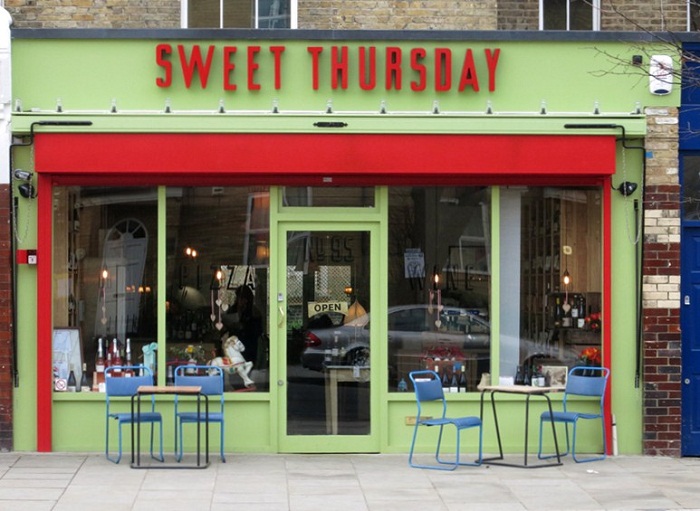 Behind Sweet Thursday are siblings Richard Haines and Rosie Wesemann, who grew up in De Beauvoir with Harry Davies and opened The Scolt Head and The De Beauvoir Deli respectively.  They were joined by bio-chemist turned pastry chef Bethany Chellingworth and artist Tom Halifax, plus chef Martina Vaccari and Giacomo, their experienced pizzaiolo from Naples.
I visited Sweet Thursday when my mum came to visit and we were looking for somewhere nearby with a tempting menu where we could chat easily.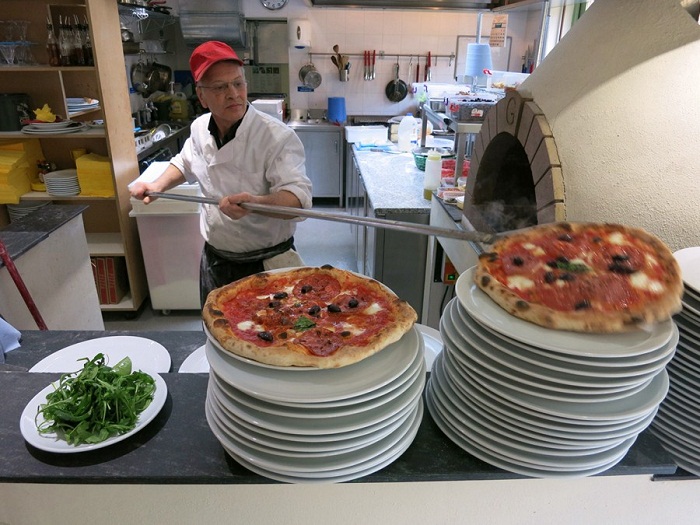 The medium-sized restaurant has an authentic pizza oven and open kitchen and a market offering gourmet Italian produce at the front.  The design is simple and bright with large wooden tables, painted school-style seats and nostalgic prints and maps of Italy.
I like it that the restaurant has a literary connection, inspired by the John Steinbeck novel Sweet Thursday and there's even a framed edition hanging proudly above the bread station.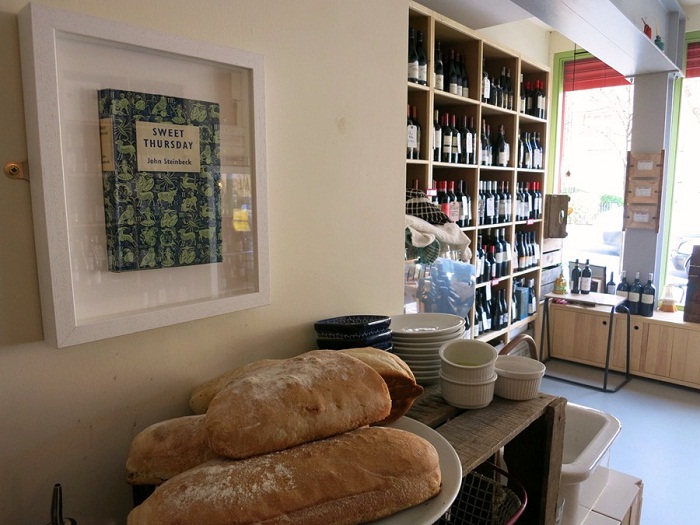 We decided on a few starters to share and couldn't resist some Prawns wrapped in pancetta with chili and garlic (£6.50).  The three plump, succulent prawns were served in their shells, yet they were already separated and wrapped in salty, crisp pancetta.  They came with a bed of rocket and a light tomato and caper sauce, which was tasty but needed a bolder kick of chili and garlic.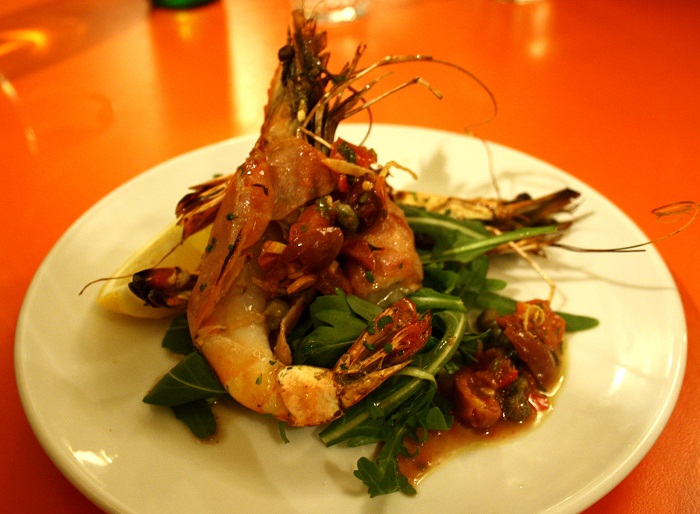 Another tempting starter was the Buffalo Mozzarella with Caponata (£7.50).  The mozzarella was so cool, creamy and flavoursome, drizzled with high quality olive oil and topped with fresh herbs.  The caponata had a rustic, home-made taste with slow-roasted Mediterranean vegetables and plenty of green olives.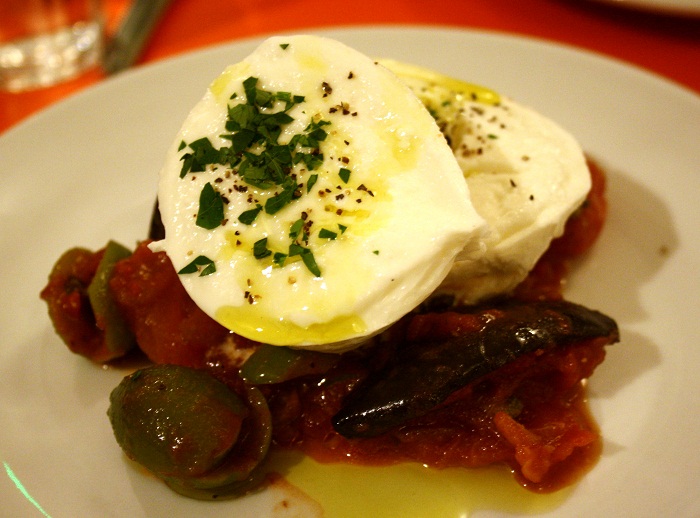 I couldn't resist try the Pizza Crudo – Prosciutto crudo, rocket, tomato, mozarella, parmesan (£11.50).  The enormous pizza was absolutely delicious, with the chewy, bubbly dough that you always hope for with an Italian pizza.  It was very generously topped with the most flavoursome Prosciutto, rich parmesan and peppery rocket.
The tomato sauce was simple and made with sweet, sunkissed tomatoes and there was just the right amount of silky mozzarella.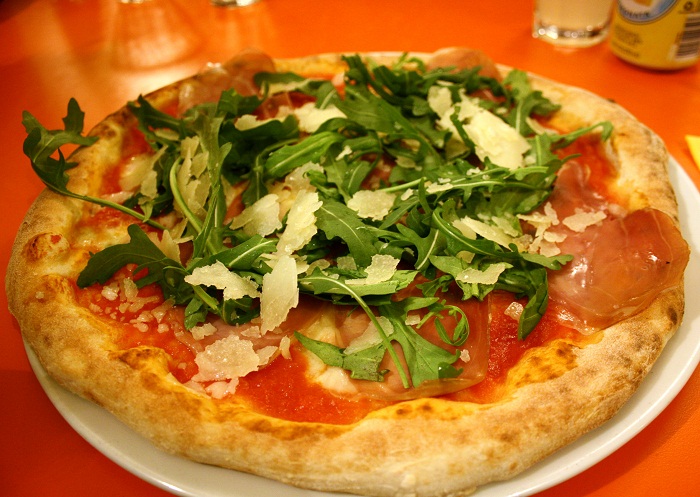 Steven ordered an Italian speciality of Lentils and Tuscan Sausage (£12.50).  The succulent, juicy sausages were well-seasoned with hint of fennel and the rich lentil stew was warming and spicy, with soft, chunky vegetables.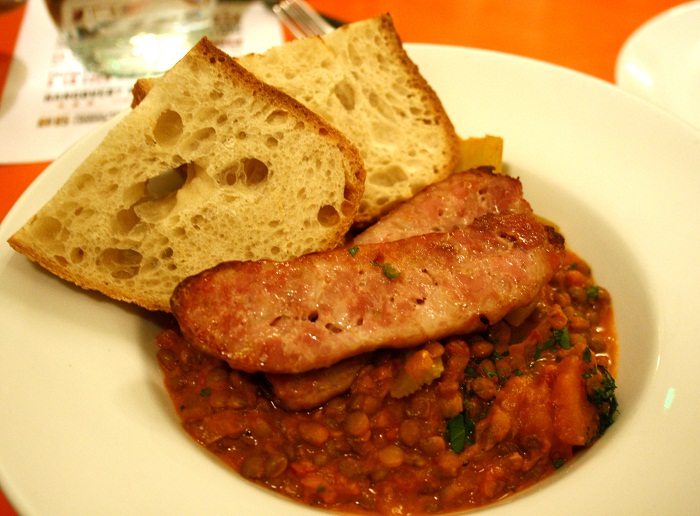 My mum tried the Calzone – mozzarella, nduja, rocket, tomato and parmesan (£12).  The folded dough was nicely charred and generously filled and she was able to substitute the nduja for tasty marinated artichokes.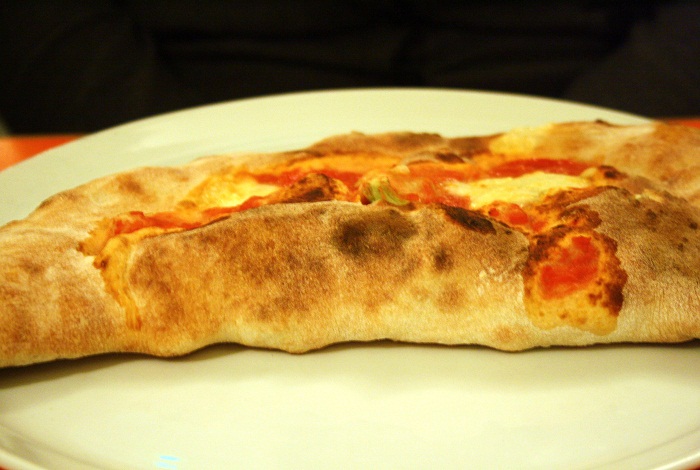 For dessert, steven and I shared a slice of Polenta and Orange Cake (£5.50).  It was springy and zesty with a firm, dry texture, rather than a drenched polenta cake.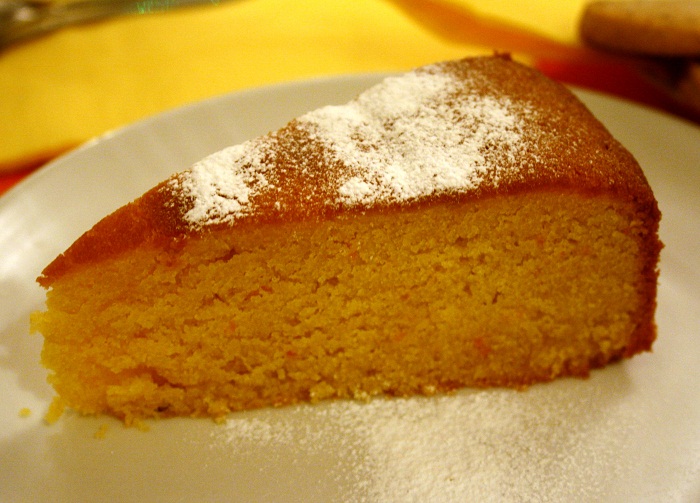 Our slice of cake was a lovely end to the meal, but my mum's Blood Orange Posset (£5.50) was the real winner.  The smooth set cream was cool and light while the blood orange compote added an intensely zingy sweetness and pleasant bitterness.  It was served with home-made Italian biscuits and was decadent yet fresh and satisfying.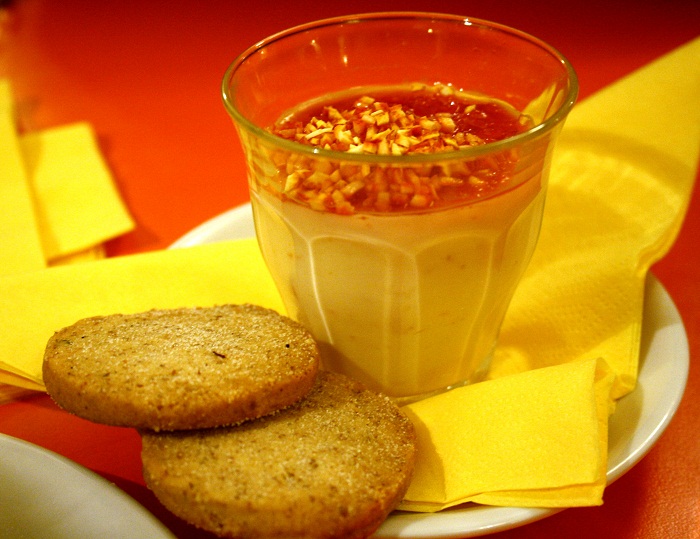 Sweet Thursday feels slightly below the radar and like a secret haven away from bustling Kingsland Road.  The design and branding of the restaurant are cool and uplifting and the vibe is neighbourly and unpretentious.  The Italian staff are charming and service is at a relaxed but reasonable pace.  I can't wait to go back and indulge in more delicious Italian comfort food.
For more information and booking, visit: www.sweetthursday.co.uk
Photos by Chérie City and Sweet Thursday