Sofitel Paris Le Faubourg is a contemporary luxury hotel in the heart of the city that epitomises Parisian chic.
The five star hotel occupies a prestigious corner on rue Boissy d'Anglas, just a few moments away from Concorde and Madeleine.  It's ideally positioned for designer shopping on the rue du Faubourg Saint-Honoré and is in good company with neighbours Hermès, Lanvin, Cartier, Chanel, Givenchy and L'Eclaireur.  Plus, what could be better than being so close to Ladurée and Angelina for afternoon tea?
Having previously visited Sofitel St James London and Sofitel Philadelphia, I knew that Sofitel hotels always have a certainly je ne sais quoi, but I was really wowed by Sofitel Paris Le Faubourg with its close attention to detail and sensory appeal.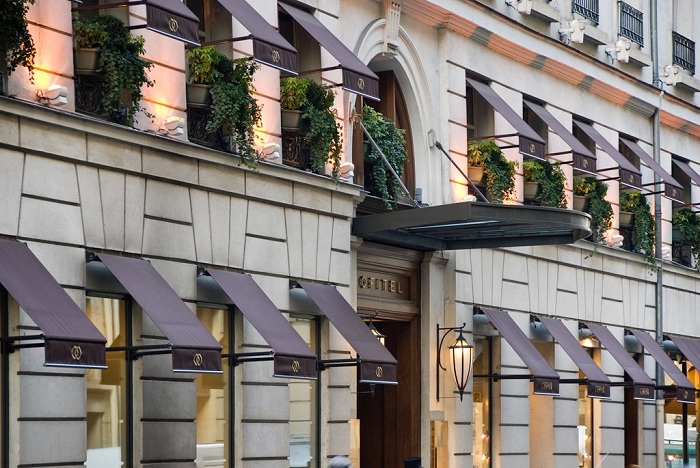 The sophisticated yet playful hotel pays homage to Parisian couture with iconic fashion photography by Cathleen Naundorf and illustration by Sonia Delaunay, glass cabinets showcasing Dior handbags and accessories and glossy fashion magazines adorning the tables in the lobby.  During our stay, we spotted a flurry of Chanel, Céline and Hermès shopping bags resting on seats and being delivered to guest rooms, cementing its reputation as a fashion hotel.
Entering the hotel, guests are enveloped in a seductive rose scent that stays with you until you leave.  A soundtrack of sexy French disco sets the mood and the buzzing lobby is worthy of people-watching with a constant stream of well-heeled Parisians and stylish international guests.
Check in was friendly and efficient and we were personally shown to our Prestige Collection Suite, which we made our home for two nights.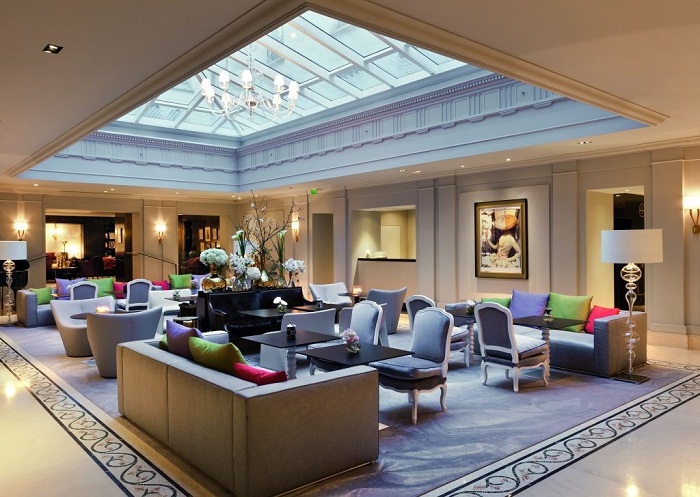 Designed by Didier Gomez, our spacious fourth floor suite, overlooking the quiet courtyard, was slick and contemporary with a touch of 18th century elegance.  It featured a separate lounge with a comfy seating area, a large TV, a walk-in closet with plenty of storage space and an ornate gold mirror.
The additional living area made the suite feel like an apartment and was perfect for relaxing with a drink after a long day exploring Paris.  The free wifi was easy to connect and helped us with planning each day.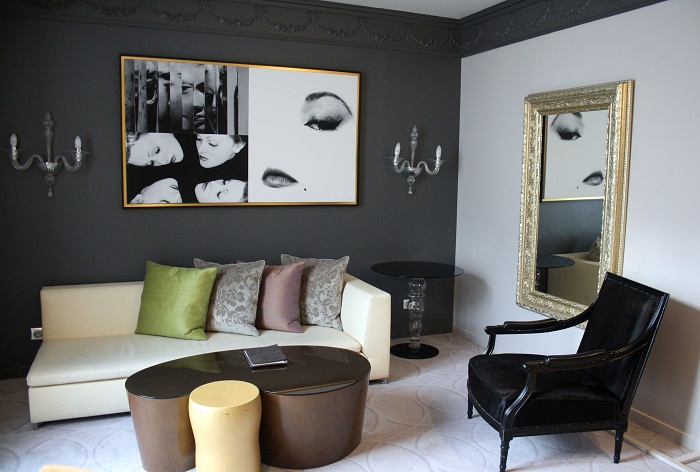 We were welcomed to the hotel with some delicious double chocolate mini muffins served under a glass dome and a fabulous book titled Literary Escapes.
Sofitel invites writers to spend a week in a suite in one of its hotels around the world as a 'writer in residence', taking inspiration from the city.  This book is a collection of those short stories and a wonderful bed companion, particularly Patrick Chamoiseau's story, 'The Antillaise's Last Smile', written at Sofitel Paris Le Faubourg.
A fabulous perk of staying in a Prestige Collection Suite is a complimentary minibar stocked with premium fruit juices, iced tea, Coca-Cola, sparkling water and a large glass bottle of Evian.  The minibar was replenished on our second day, so we had plenty of refreshing drinks to enjoy in the lounge or take out with us during the day.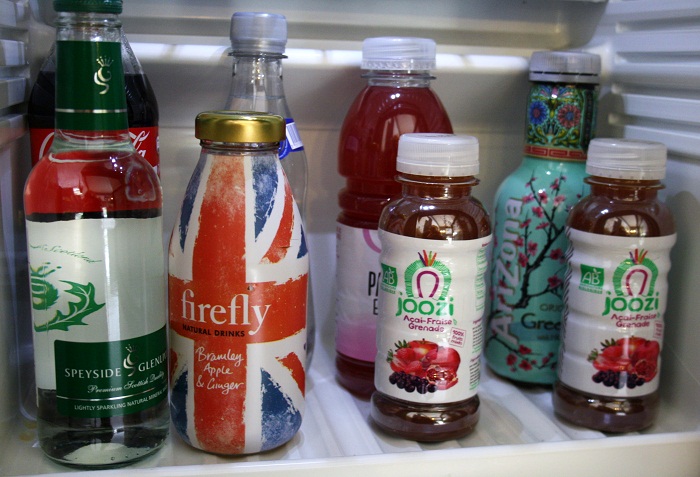 As if the complimentary minibar wasn't enough, we also had a Nespresso machine (complete with a number of espresso capsules) and tea making facilities with a selection of fine tea, including my favourite peppermint.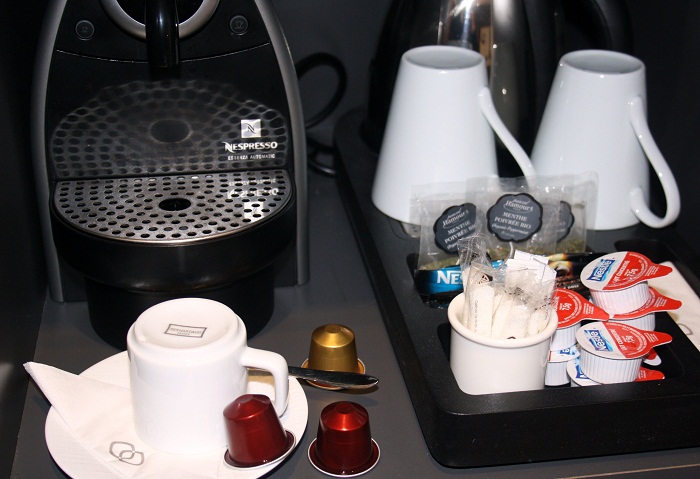 The bedroom was refined and seductive, designed in a palette of white and accents of gold, with a luxurious beige carpet bearing the Sofitel logo.  I was excited to try the signature Sofitel MyBed, which was without a doubt one of the best hotel beds I've ever slept in.  
As I was staying with my mother, housekeeping kindly made the king-size bed into two twins with our own separate duvets.  It felt like sleeping on a cloud and everything was just perfect, from the layers of sumptuous padding, luxurious sheets and plump pillows to the ideal bed height.  
There is even a pillow menu to personally customise the MyBed.  I always forget to make use of this feature in luxury hotels, but I was already smitten with the signature pillows and didn't need anything else.
Despite being in the very centre of Paris, our suite was surprisingly quiet and tranquil at night.  The hotel is located next to the American Embassy, so the 24-hour police presence at the end of the street limits traffic, which means an uninterrupted sleep for hotel guests.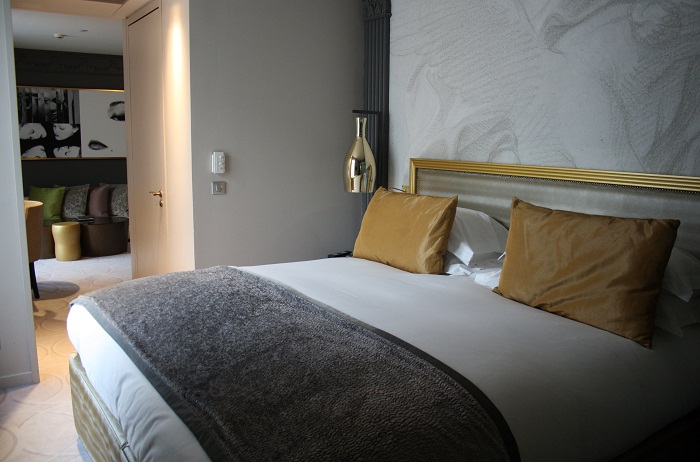 In the evening, the bedroom was prepared for sleeping with the duvet turned down, cotton mats and slippers placed by the bed, curtains drawn, classical music playing from the Bose sound system and new bottles of Evian on the bedside tables.  The final touch was a delicious chocolate and toasted coconut disc by Jean-Paul Hévin on the pillow.
The sleek, slate grey bathroom featured a large walk-in shower, magnifying mirror, lots of the finest quality towels and plush bathrobes with the Sofitel logo.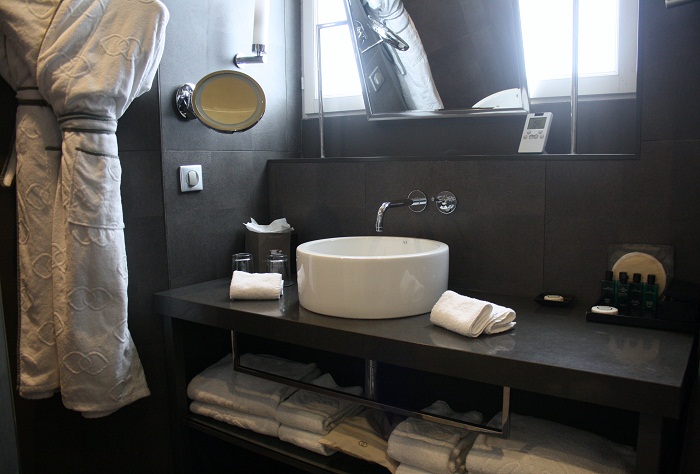 I was delighted to find a full set of Hermès Eau d'Orange bathroom amenities both on the counter and in the shower.  How appropriate since Hermès is a neighbour, conveniently opposite the hotel on the rue Saint-Honoré.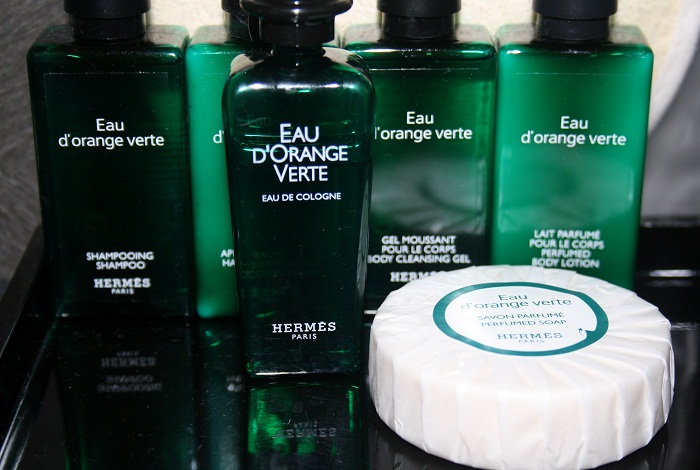 Each morning, we had breakfast in the hotel's chic restaurant Les Collections.  It's a popular morning spot not only for guests but for Parisian fashion and media types visiting for breakfast meetings, so it's often necessary to wait in the lobby for a table during peak times.  If you're on a tight schedule in the morning, I would recommend having breakfast in the library or in your room.
Also designed by Didier Gomez, the bright and airy restaurant resembles an haute couture garden with trompe l'oeil greenery and ivy printed on the walls and mirrors.   In fact, the restaurant leads on to a leafy courtyard garden, where guests can enjoy a cocktail or al fresco lunch in the summer months, away from the crowds on the main street.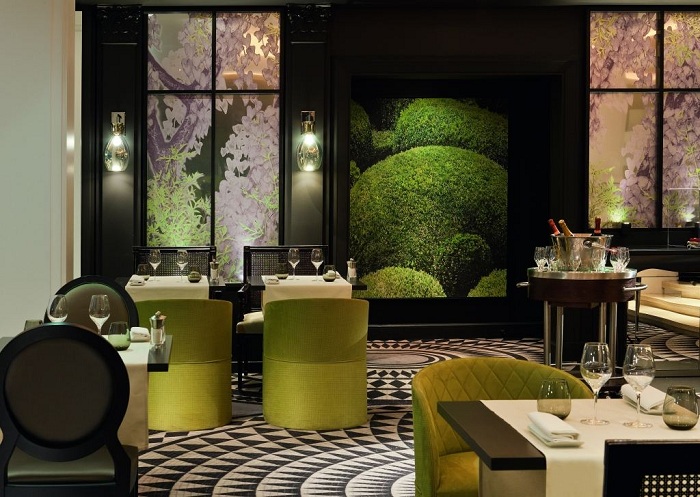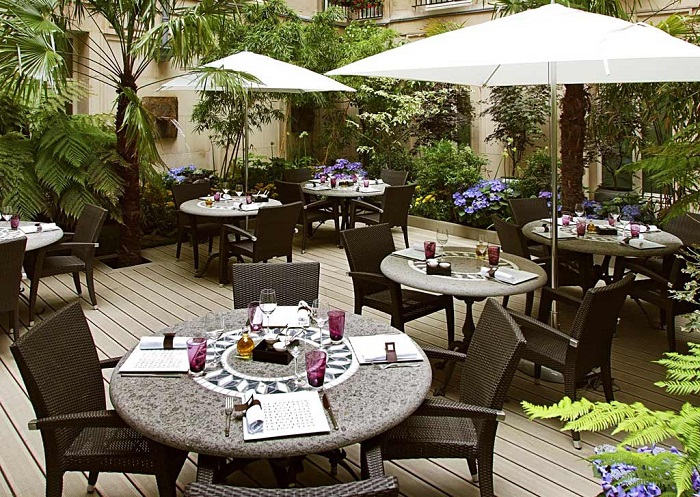 À la carte dishes such as waffles, pancakes and eggs to order are available, however we were tempted simply by the excellent buffet.  We were instantly brought a basket of the most delicious, flaky pastries – the kind that you hope to wake up to when in Paris.  My English Breakfast Tea was served in a heavy Asian-style teapot while my mum's freshly-brewed coffee came in a large cafetière.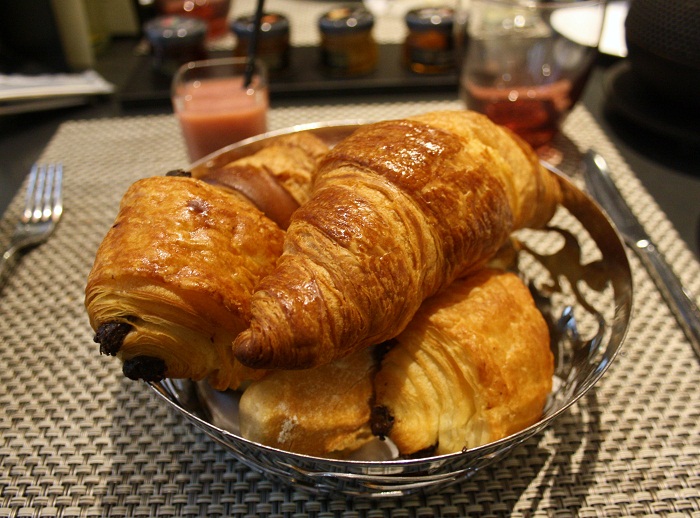 The breakfast buffet had a good selection of quality breakfast items and I particularly liked the bar laden with healthy mini smoothie shots, juices and traditional French yoghurts.  Of course, we couldn't be too virtuous when there was a whole table dedicated to cake, with scrumptious mini muffins, brownies, Madeleines and even a tarte aux poires.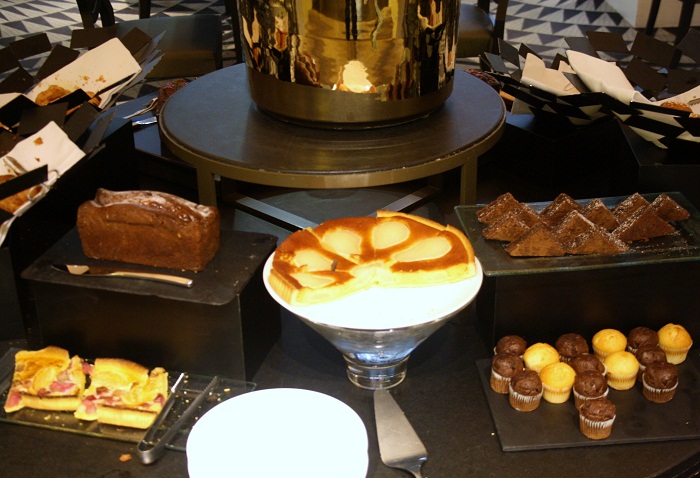 At lunch and dinner, Les Collections offers a menu of innovative French dishes with an Asian twist, created by Chef Keigo Kimura.  The restaurant feels like a secret address and much more discreet than the people-watching brasseries of the areas, plus the menu is just as fresh and appealing as the interiors.
Another intimate spot in the hotel is Bar 30 with warm, elegant interiors and a cosy clubhouse feel.  My favourite part of the hotel was the stylish library, just off the lobby, where guests can enjoy a drink and flick through a great selection of books.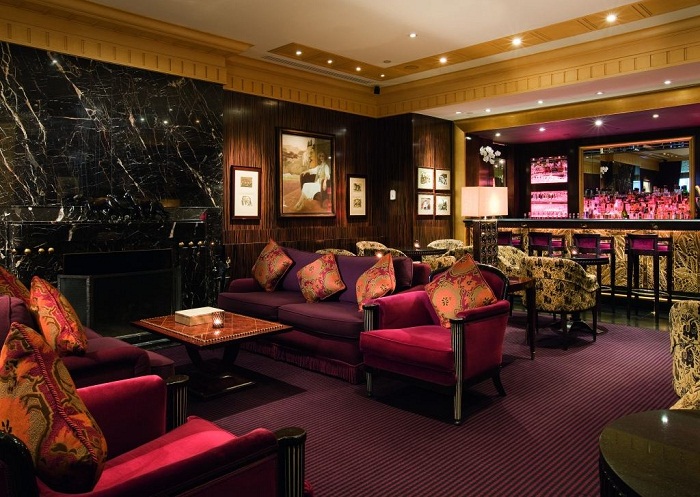 To relax and unwind, the hotel offers a spa for massages and facials using Cinq Mondes products, a 24-hour gym, an 'experience' steam room and hammam.
Sofitel Paris Le Faubourg is a sophisticated, fun hotel with lots of personality and an unbeatable location.  It's the kind of hotel that leaves a lasting impression and you really just won't want to leave.
For more information and booking, visit: www.sofitel.com
Chérie City was invited by Sofitel Paris Le Faubourg
Photos by Chérie City and Sofitel Paris Le Faubourg