Westfield Stratford City has quickly become my go to place for shopping and a fun weekend day out.  It's conveniently close to where I live (just three Overground stops away) and I appreciate having access to an excellent selection of shops, restaurants and entertainment without having to deal with central London traffic or battle the Oxford Street crowds on a busy weekend.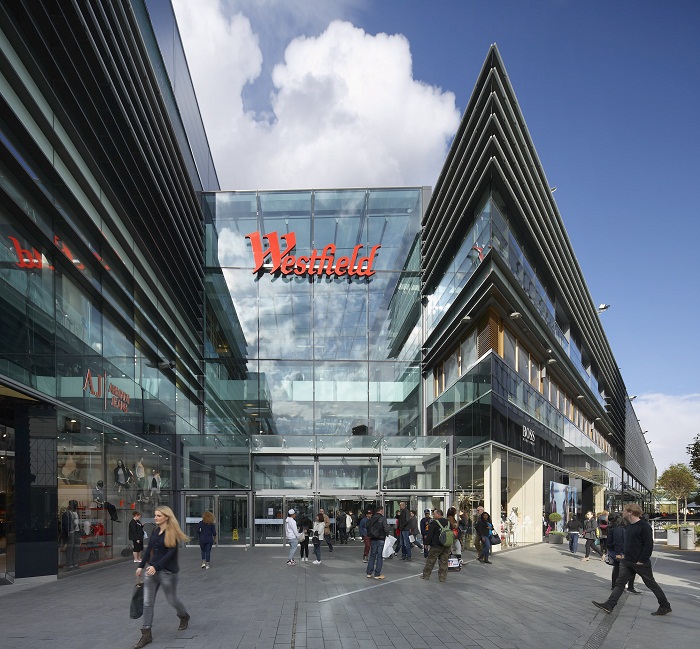 Many times have I hopped over there to pick up last-minute travel essentials and stay for a quick bite at Bumpkin, Franco Manca or Comptoir Libanais.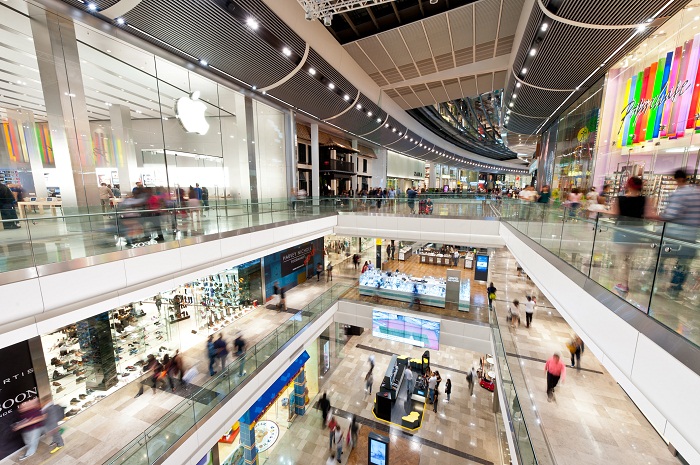 Steven and I recently spent a lazy Sunday at Westfield Stratford City for a spot of shopping, eating, bowling and a movie.  We arrived hungry and fuelled up for hitting the shops with a delicious Chicken, Bacon and Avocado Salad at Tossed in Westfield Stratford's World Food Court.
At Tossed, you can create your own salad, but my choice of ingredients usually lead to some odd combinations, so I went with one of the suggested salads, which was freshly mixed in front of me.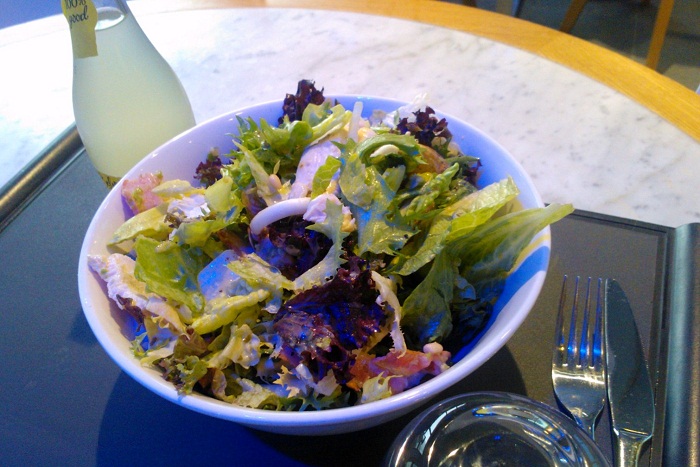 Served in an enormous bowl, the salad was packed full of high quality grilled chicken breast, tasty sweetcure bacon, lots of soft avocado, halved new potatoes, pine nuts, crisp salad leaves and a tangy French dressing.  I accompanied the salad with a refreshing Belvoir Lemonade Pressé.  The salads at Tossed can be at the higher price range, but the portion size is very generous and the salads are filling and really fresh.
After lunch, we spent a few hours shopping at some of my favourite stores.  I couldn't resist spritzing and testing away in the beauty hall at John Lewis and then admiring jewellery at Cadenzza and COS, covetable bags at Mulberry, stylish homeware at The White Store, kitchen gadgets at Lakeland and gorgeous candles at Jo Malone.
I picked up a brand new pair of Converse All Stars for pounding the pavement in Paris, a new tube of my favourite M.A.C Studio Sculpt foundation and some quirky pineapple print glasses from Zara Home.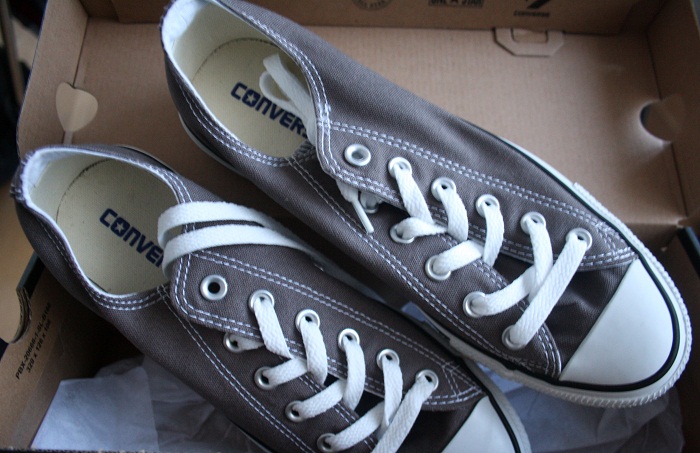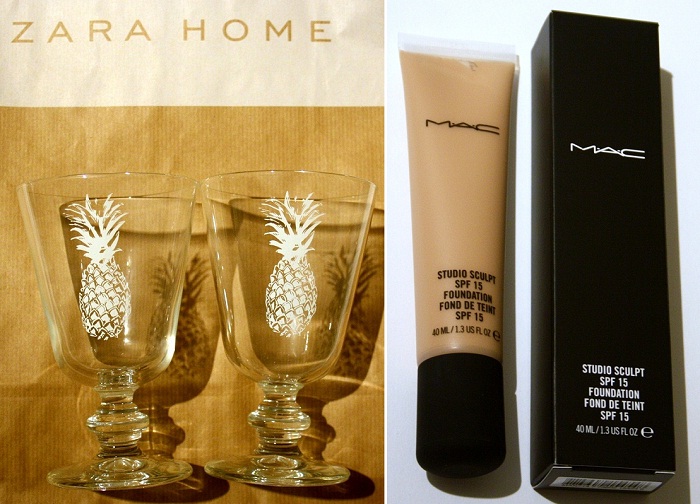 To perk us up after shopping, we tried a bubble tea from Bubbleology for the first time.  I went for a Lychee tea and Steven tried a Ginger tea – both served chilled and filled with chewy tapioca pearls.  I'd always wondered why the queue for bubble tea was often so big, but now know that it's because each drink is freshly prepared and shaken like a cocktail by 'bubbleologists' in lab coats.
The texture of the bubbles was unusual yet pleasant and they made a interesting addition to the refreshing, ice-cold tea.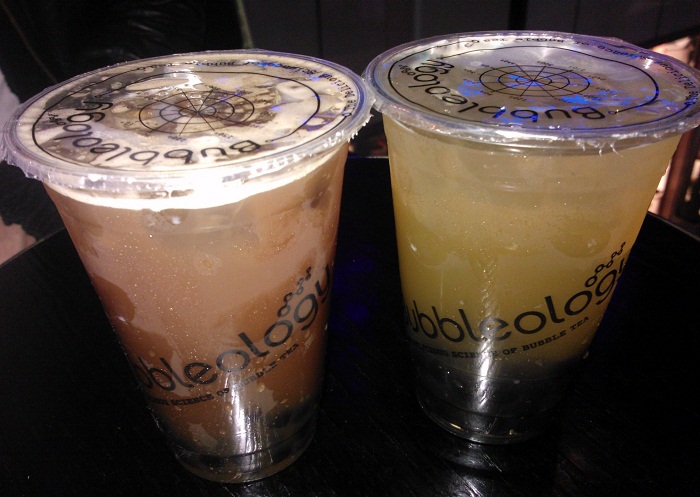 Our next stop was All Star Lanes for a bit of retro bowling, cocktails and dinner.  I've been meaning to visit since living in London, but there were no excuses on this visit, since All Star Lanes is a part of Westfield Stratford City.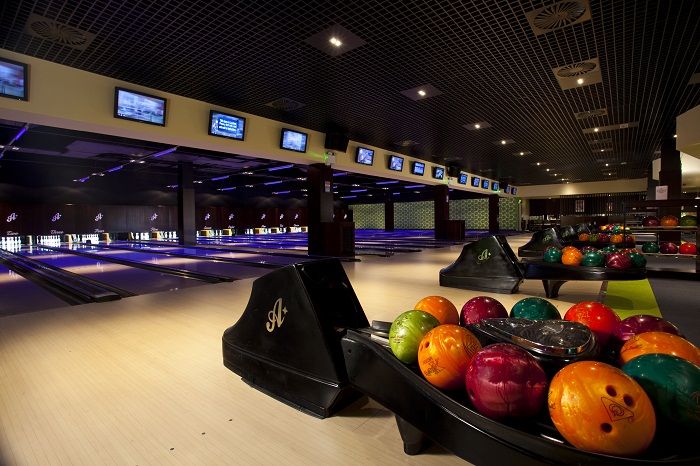 We exchanged our shoes for some super comfy bowling shoes (I really wanted to keep them) and were led to our bowling lane, complete with its own leather booth.  All Star Lanes has a fun, unpretentious atmosphere and seems to attract a young crowd of couples, groups of friends and families with kids.
A perk of bowling as an adult is that cocktails are involved and we had them brought right to the lane.  I loved my fruity, refreshing Kentucky Swizzle – Four Roses Yellow Label, crème de apricot, raspberry purée, lemon juice and mint mixed over crushed ice and served long.  Steven tried an expertly-mixed, classic Moscow Mule – Finlandia, home-made ginger syrup, lime juice and ginger beer.
We played one game of bowling and had a blast trying to outdo each other, although neither of us scored a strike.  I blame the cocktails!  After Steven won (only just), we were shown to our table in the restaurant.  It's far enough away from the bowling lanes to feel private and avoid being noisy, however it's still close enough to watch the bowling.
We tried the All Star Lanes' special Eat Drink Bowl deal, offering a two-course meal, cocktail and a game of bowling for just £29 per person (Sunday-Wednesday).  The set menu includes a big selection of the restaurant's most tempting dishes and six cocktails to choose from.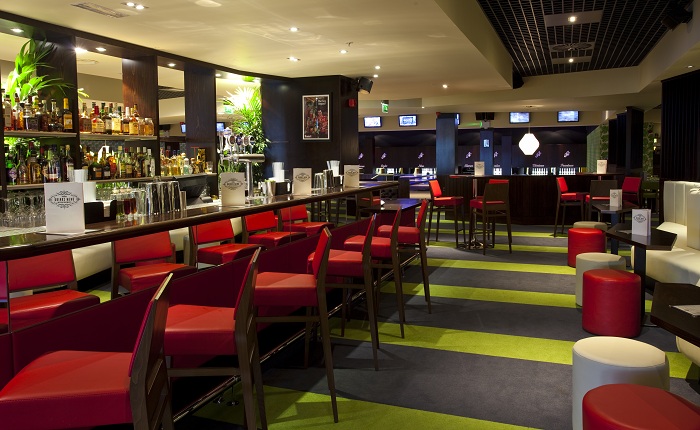 BBQ Chicken Wings with blue cheese sauce were deliciously tender, covered in a sticky, sweet and spicy sauce.  The portion size was generous and they were ideal for sharing.  I also loved the rich yet subtle blue cheese sauce, which cooled and complemented the spiciness of the chicken wings.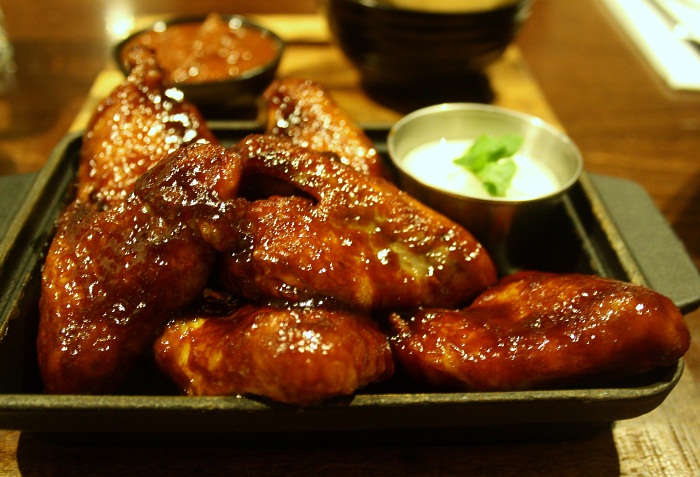 Mac and Cheese Croquettes were just as comforting and indulgent as they sound.  Creamy, gooey mac and cheese was enrobed in fine, golden breadcrumbs and served with a tangy tomato and chili dipping sauce.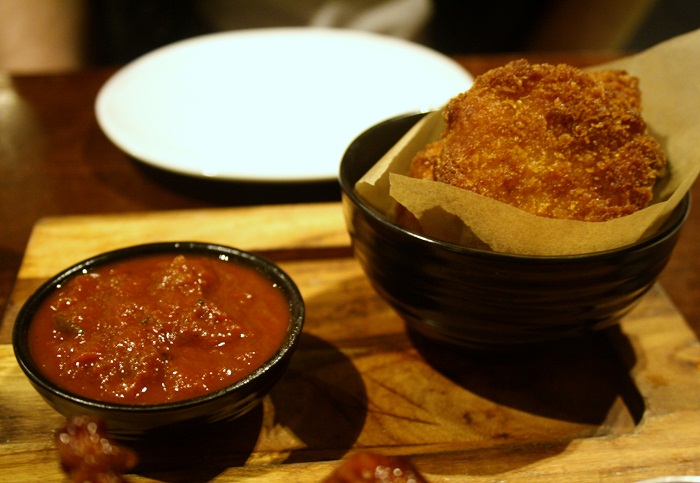 Bowling and burgers are obviously a match made in heaven, so I just had to try the Hamburger with cheese and bacon.  My medium-cooked, flame-grilled burger was juicy and substantial, smothered in melted American cheese and filled with tasty sweetcure bacon, lettuce, fresh tomato and pickles, inside a glossy toasted brioche bun.
The burger was nicely charred on the outside and its flavoursome toppings packed a punch, so every bite was a delight.  The offer also includes one side, so we ordered Sweet Potato Fries and Onion Rings to share.  The Sweet Potato Fries were excellent with a soft centre and a golden crunch, while the large Onion Rings were covered in a crisp, tasty beer batter, served with a pot of BBQ dipping sauce.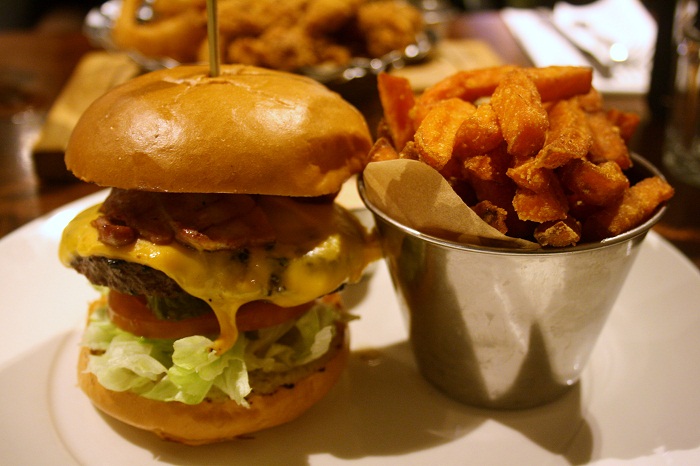 Steven's Basket of Southern Fried Chicken was filled with pieces of  succulent, tender chicken breast coated in crunchy, well-seasoned breadcrumbs.  The portion size was similarly large and we struggled to finish our main dishes, as delicious as they were.
Service was friendly and efficient and the deal was explained clearly to us, so there was no confusion.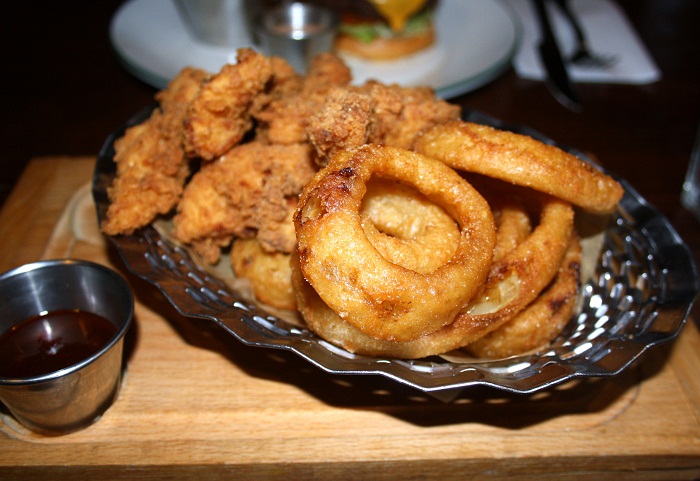 To round off a fun day at Westfield Stratford City, we went to see The Wolf of Wall Street at Vue Cinema.  Based on the real-life story of wealthy stockbroker Jordan Belfort, Martin Scorsese's The Wolf of Wall Street chronicles the corruption and debauchery of a thriving financial company and its charismatic ringleader.
Leonardo DiCaprio plays the part so well that you're almost rooting for his out of control character and his drug-crazed scenes with Jonah Hill are outrageously funny – never have I heard a whole cinema howl with laughter as much as that!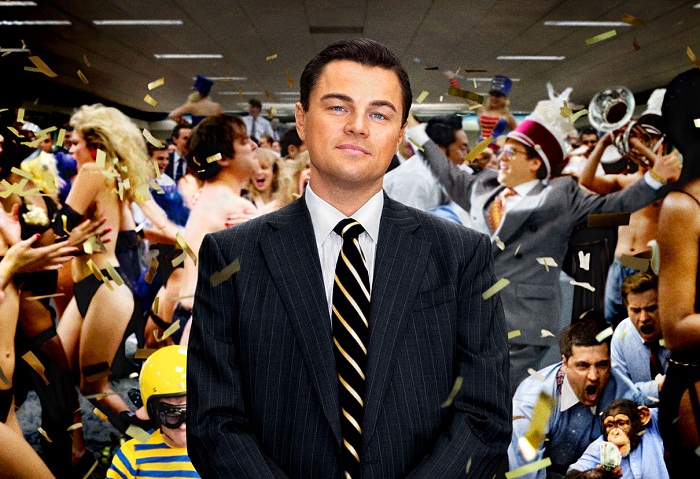 The experience was made even better with Vue Xtreme with its super-sized screen and top quality images and audio.  On the theme of indulgence, we couldn't help going all out with enormous Ben & Jerry's ice cream sundaes.  It was the perfect end to a brilliant day of shopping, bowling and eating at Westfield Stratford City.
Until the end of the month, Westfield is hosting its We Are Dining campaign, offering visitors a printed or downloadable booklet filled with deals and discounts (up to 30% off) at a wide range of its restaurants, cafes and bars.  It's worth picking one up at the entrance or concierge to get the most out of your visit and try some of Westfield's fantastic restaurants (All Star Lanes is in there too).
Chérie City was invited by Westfield Stratford & All Star Lanes
Photos by Chérie City, Westfield Stratford & All Star Lanes