Shangri-La Paris is one of the city's most exciting luxury hotels for dining and the Michelin Guide has been quick to acknowledge the high standard of its restaurants.
During my stay, I was lucky enough to dine at all three restaurants and enjoy a glass of Champagne at the pop up Bollinger Champagne Bar on the terrace.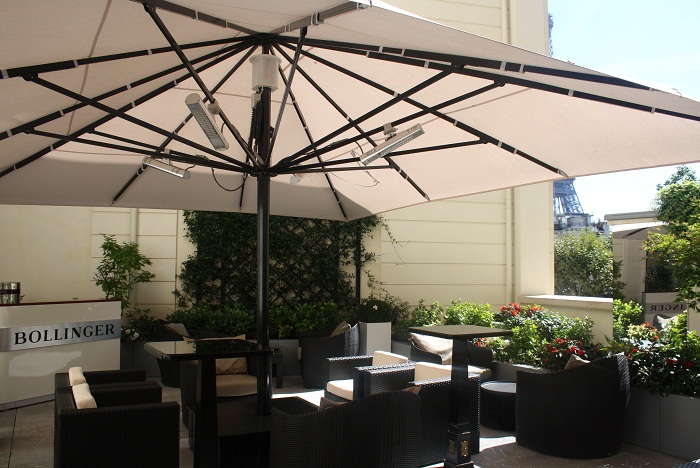 The hotel's gastronomic, two Michelin star restaurant L'Abeille (paying homage to Napoleon's bee emblem) is one of the city's most prestigious new fine dining restaurants and getting a reservation requires advance planning.
Executive Chef Philippe Labbé creates exciting, innovative dishes using the freshest ingredients and the dining experience is meticulously choreographed.
The dining room is chic and intimate with well-spaced tables, overlooking the hotel's picturesque gardens.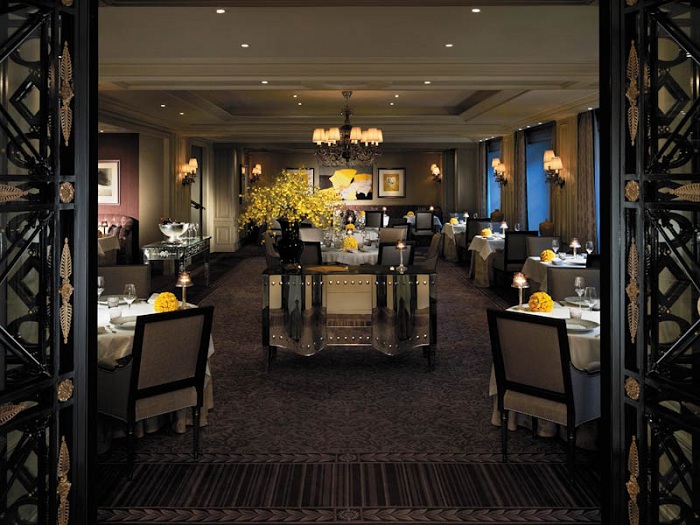 Philippe Labbé devised a special set menu for our group, presenting the very best of the late-summer season.  We began the meal with an amuse-bouche platter of candied pear, yuzu meringue, cucumber roll and wafer-thin shortbread topped with freeze-dried raspberry, all served on a black slate.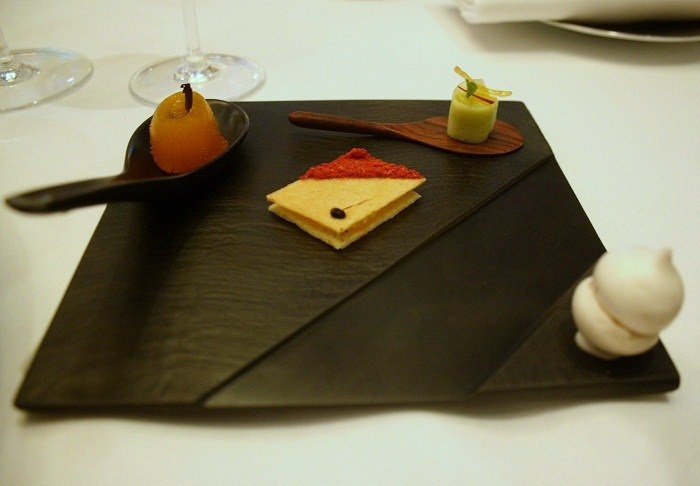 To start, we enjoyed Royal Scampi from Summer Isle – Tartare flavoured Royal Scampi with Verbena Oil and fresh raspberries, mildly cooked with raspberry vinegar from Jean-Marc Montegoterro and with torrefied locust seed (€95).  The plump, steamed scampi went perfectly with the sharp raspberry and the fragrant lemon verbena – a dish bursting with freshness.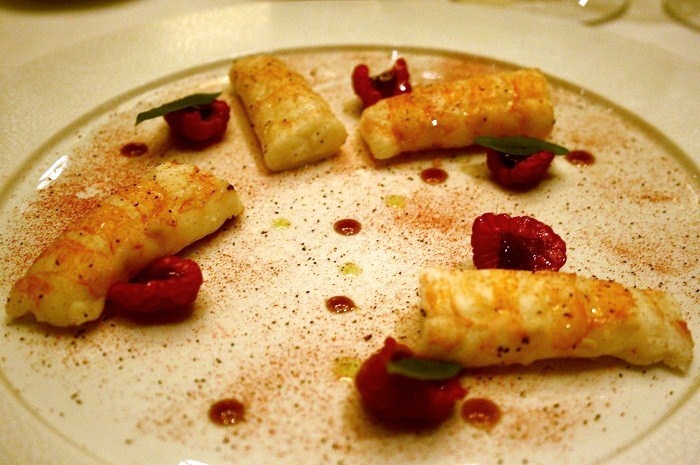 This was followed with Lamb from Limousin – roasted fillet with cumin and red onions, sweetbread cooked with garlic, mashed spicy eggplant (€164).  The dish was presented under a glass bell jar and ceremoniously lifted in unison by our waiters.  The lamb was succulent and tender, partnered with a crispy, rich sweetbread and infused with smoky Middle Eastern flavours.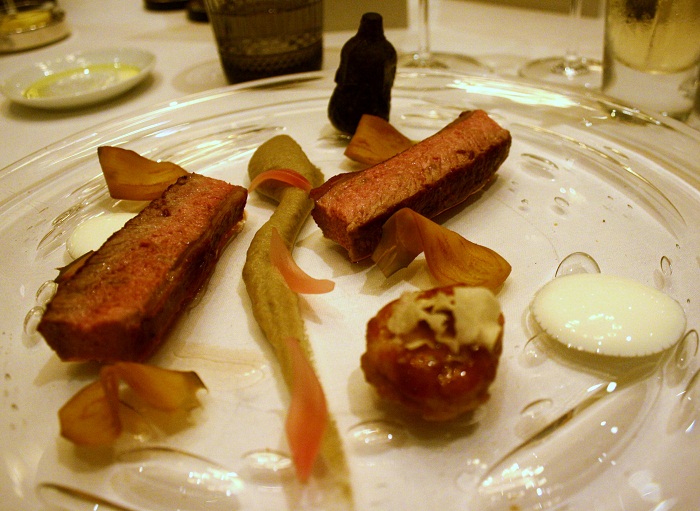 The cheese trolley looked too tempted for us to resist, so we squeezed in a Selection of Cheeses, from Maitres Bernard and Olivier Antony (€26).  My chosen cheeses were of the finest standard and deliciously creamy and full-bodied, served with candied dried fruits and bread.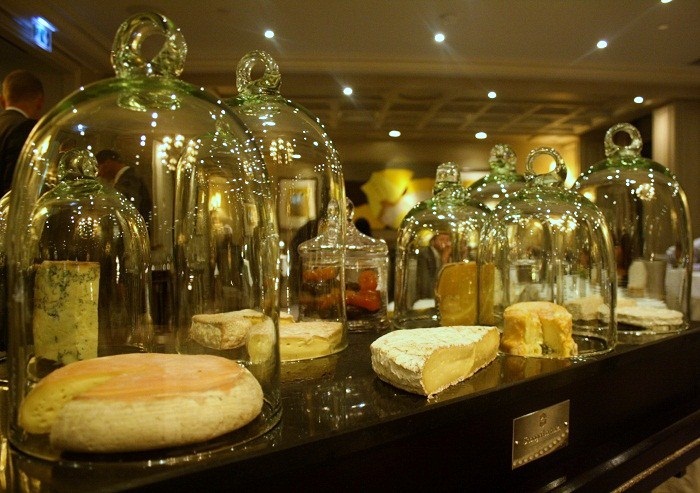 Dessert was as spectacular as I could have hoped for in a two Michelin star restaurant in the city of divine pastry.  Philippe Labbé unique take on a Bourbon Vanilla Millefeuille (€28) was filled with light vanilla cream, cloud-like meringue, caramel cream, sticky vanilla syrup and pieces of gold leaf.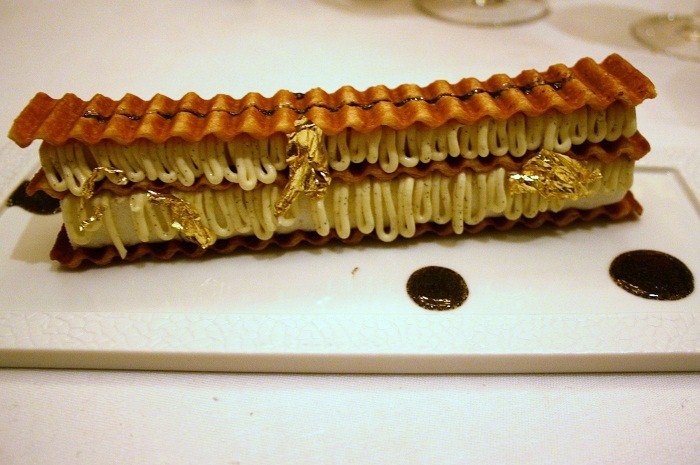 To round off an exquisite meal, we were treated to a selection of petit fours – chocolates filled with yuzu, ginger and chili, yuzu lollipops and light biscuits accompanied with chocolate, lemon meringue and strawberry pâte de fruits.
We had the chance to meet Philippe Labbé at the end of the meal and we were generously presented with a large pot of Shangri-La honey from Corsica before leaving.
L'Abeille is haute cuisine at its very best (with top end prices to reflect this) and the experience is truly magical.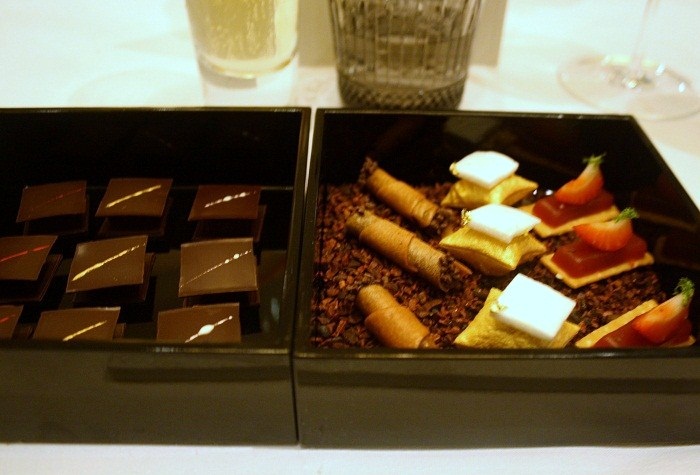 One Michelin star Shang Palace brings the art of Cantonese fine dining to Paris, serving authentic Chinese dishes created by Shenzen native, Chef Frank Xu.  The spacious dining room is Chinese elegance at its very best with Jade panels, vases and artwork sourced directly from Chinese artisans.
We enjoyed lunch at Shang Palace as we arrived in Paris and feasted on the Chef's selection of  traditional dim sum, barbecued meats and comforting soups.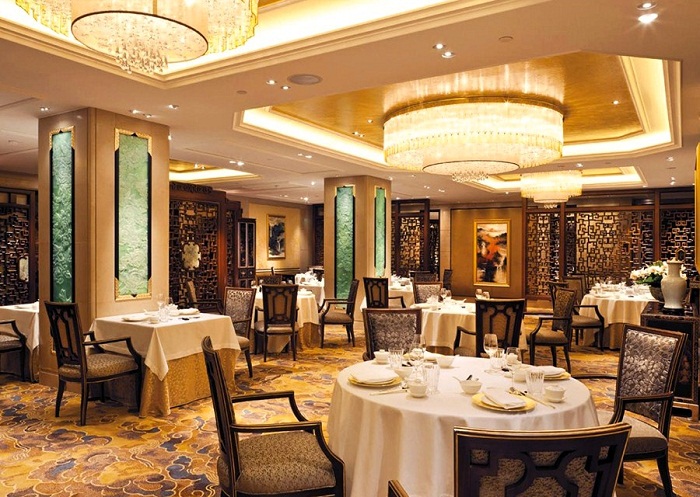 We started by sharing baskets of delicious Siu Mai Shrimp and Pork Dumplings with Crab Roe and slices of Barbecued Duck, Pork and Chicken, which were placed on rotating glass at the centre of the table.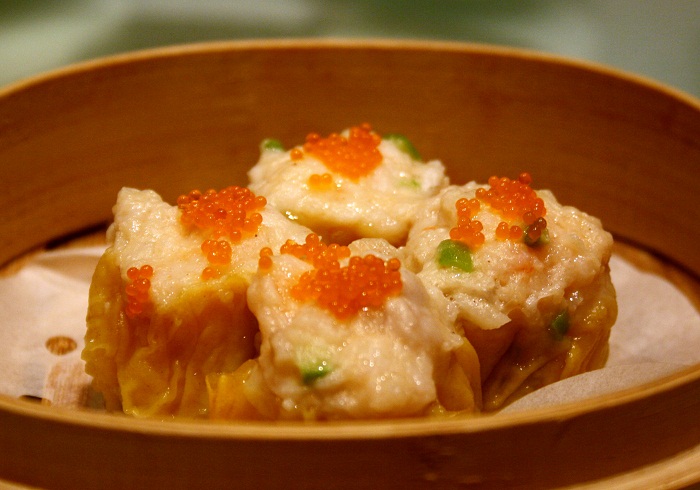 I particularly liked the Red Rice Flour Rolls with Shrimp, which included mixed vegetables and shrimp in a crunchy batter covered in a soft, sticky red rice flour roll – a signature dish at Shang Palace.
This was followed by a tasty, comforting Crab Meat Dumpling in a superior clear soup. Deep-Fried Prawns with Crispy Garlic and Chili were plump and flavoursome with a generous coating of potent garlic crumbs.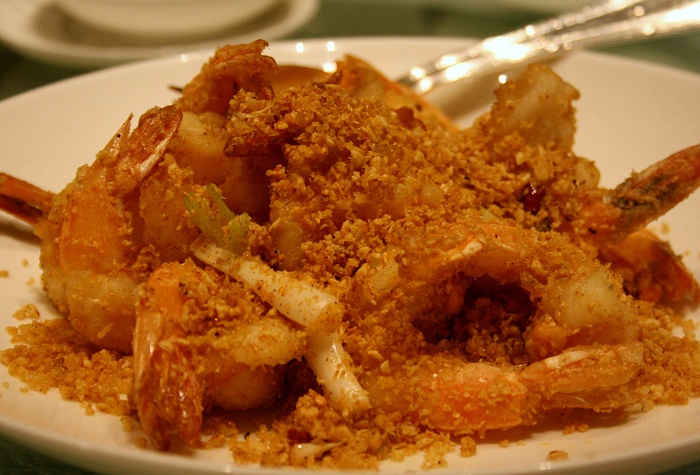 Wok-Fried Sliced Beef with Black Pepper Sauce was indulgent with a sweet and tangy sauce, while Braised Eggplant with Diced Chicken and Salty Fish in a Claypot was full of interesting flavours.  These dishes were accompanied by tasty Egg-Fried Rice with Pork and Shrimp and our Chinese green tea was constantly refilled.
Luckily after such a decadent lunchtime feast, dessert was a light and refreshing Chilled Mango Cream with Pomelo and Sago.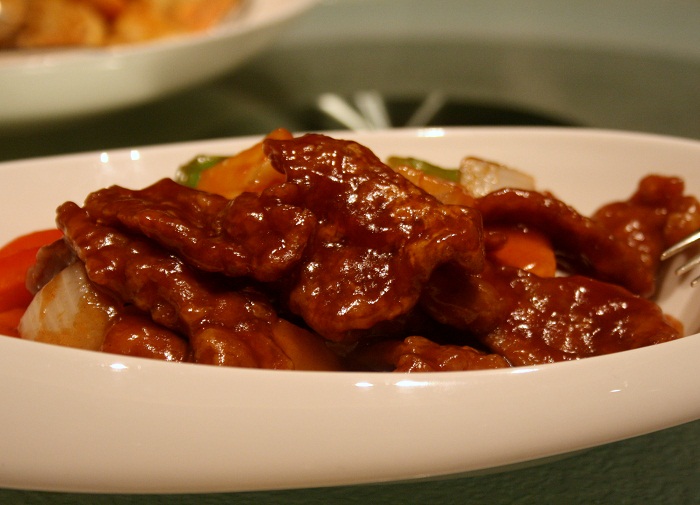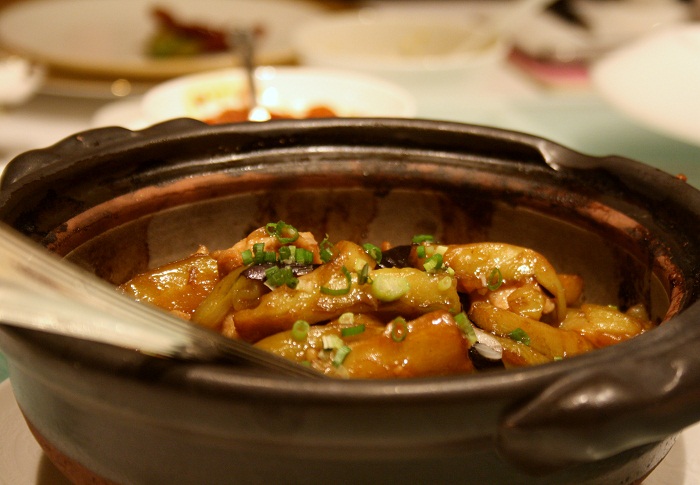 La Bauhinia, with its glass cupola and Murano glass chandelier, serves afternoon tea, light bites and a dinner menu of French and South East Asian specialities.  We enjoyed a relaxed dinner there and I loved being able to choose dishes from two different types of cuisine for each course.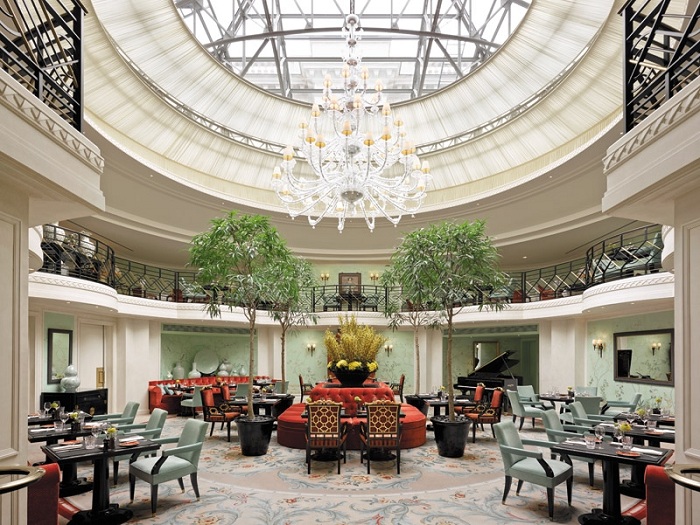 To start, I ordered the Pan-Seared Prawns with Coriander, Guacamole and Mango Salad (€26).  Not only was the dish beautifully presented but every mouthful was an absolute delight.  The pan-seared prawns were plump and succulent and went perfectly with the cool, smooth avocado and the fresh, juicy mango salsa.  It's a great dish to order if you feel like something light and exceptionally tasty.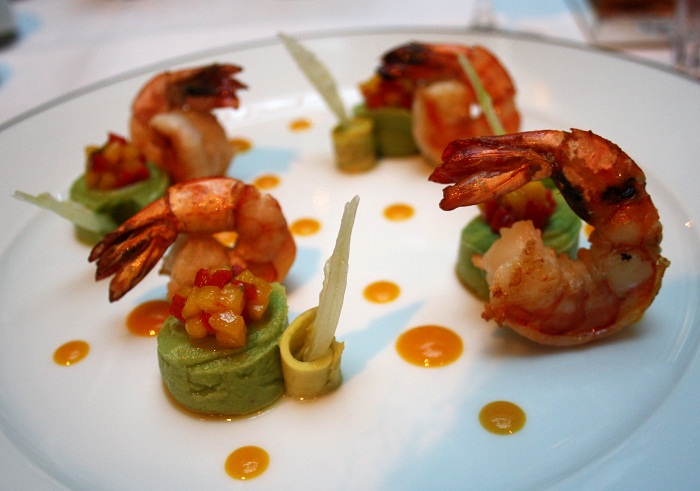 It was very tough trying to decide on a main course, as everything sounded so tempting, but I was drawn to a classic French Beef Tenderloin with Home-made French Fries and Béarnaise Sauce (€48).  The lean tenderloin was tender, succulent and nicely charred on the outside while the French fries were crispy and golden and the creamy béarnaise sauce was topped with fresh tarragon.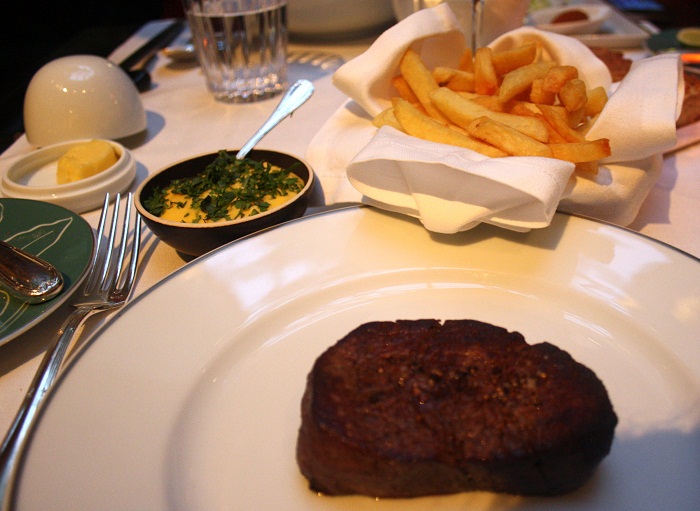 For dessert, I was tempted by the Chocolate Cake with Cacao Nibs and Chocolate Sorbet (€14).  The exquisite cake was rich and velvety with dark chocolate mousse packed between layers of chocolate sponge and topped with a thin gold crisp.  The chocolate sorbet with biscuit crumbs was a fresh and light accompaniment, much better than ice cream.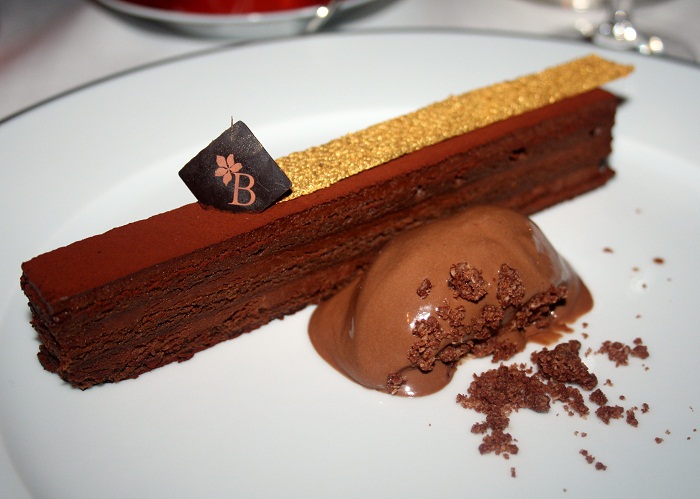 Shangri-La Paris is a real treat for foodies, whether it's enjoying an elegant afternoon tea in La Bauhinia, an authentic taste of China in Shang Palace or a memorable two Michelin star dining experience in L'Abeille.
For more information, visit: www.shangri-la.com
Chérie City was invited by Shangri-La Paris
Photos by Chérie City and Shangri-La Paris