Denmark's high end Japanese chain Sticks 'n' Sushi quietly arrived in Wimbledon last year but its second London location in buzzing Covent Garden is already a popular spot.
Sticks 'n' Sushi cleverly pitches itself as 'a sushi restaurants – even for those who don't like fish', however even the most dedicated sushi purists will be tempted by the delectable marinated and grilled meat sticks.  Similarly, it also offers more accessible sushi with duck, chicken or avocado instead of raw fish, so it's possible to be a little bit adventurous and try something new.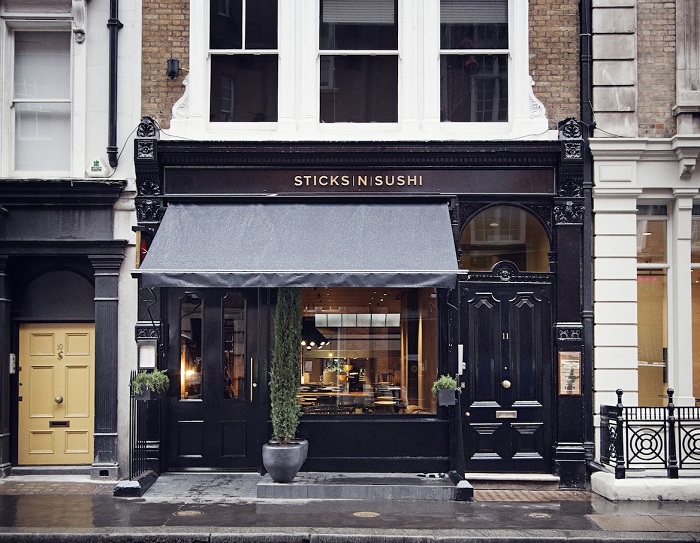 The large two-floor restaurant is all about slick Scandinavian design with exposed brick walls, cool lighting and ultra-comfy leather chairs.  On the Friday night that we visited, the stylish restaurant had lots of atmosphere with a smart after-work crowd enjoying cocktails and bites and sharing enormous, colourful sushi platters.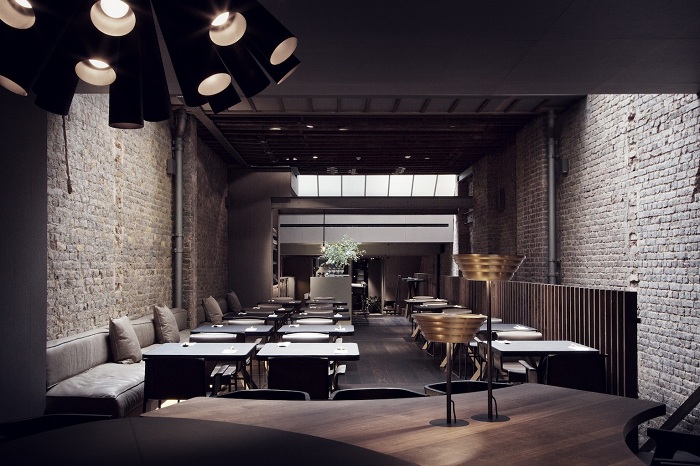 The young, energetic team were very welcoming and our charming waitress looked after us (and our neighbouring diners) so well throughout the meal.  The menu is presented as a sleek brochure with beautifully-shot images of the dishes, which makes it easier to order from the vast selection. Our waitress explained the menu in detail and made some excellent dish recommendations, all of which we tried.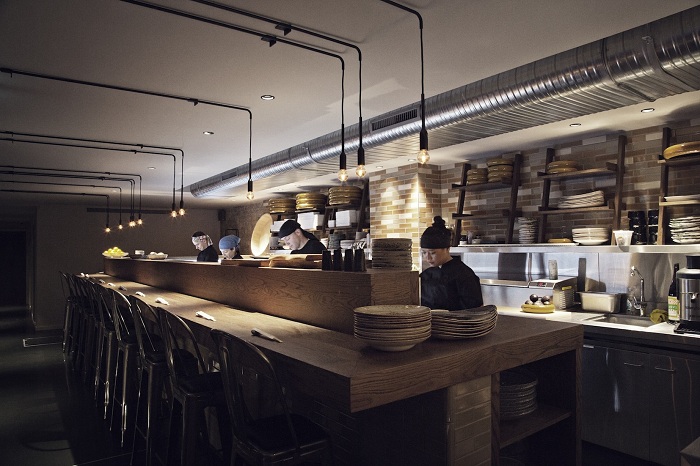 We started with the Beef Tataki (£9.50 for 6 slices).  The thin slices of fillet of beef were topped with smoked cheese, fresh chives, yuzu kosho dressing, soy roasted almonds and the most delicious spicy goma dressing.  The beef was high quality and the nuts added some texture, but it was the delicious sauce that I couldn't get enough of.
The cocktails sounded absolutely delicious, but in the spirit of Dry January, I ordered a refreshing bottle of Danish Ebeltoft Brewery Raspberry Fizz (£4.20) and Steven tried a Ginger and Lemongrass Fizz (£3.80)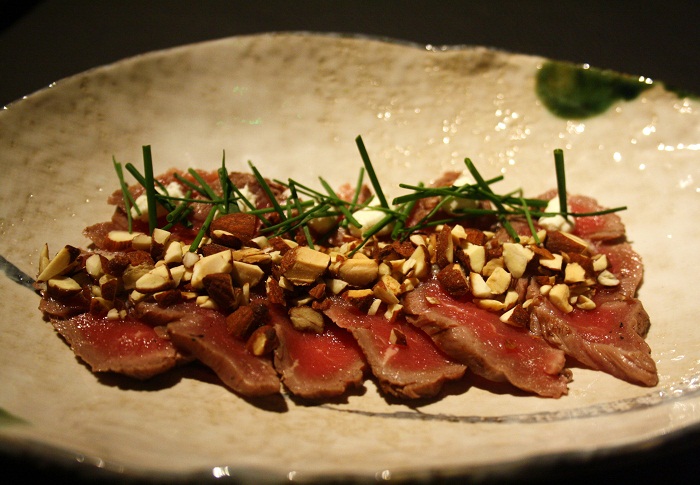 Ebi Bites (£6.80) were scrumptious, plump little pieces of crunchy tempura shrimp, served on a bed on miso aioli and fresh lime, topped with torn coriander, chili and pepper.  They were so light, tasty and perfect for sharing – a must-order dish.
Every dish was ceremoniously presented and taken away swiftly as soon as we finished it, with more following in quick succession.  While this efficiency should be commended, it can mean that you get through the meal a little too quickly, so be sure to pace yourself.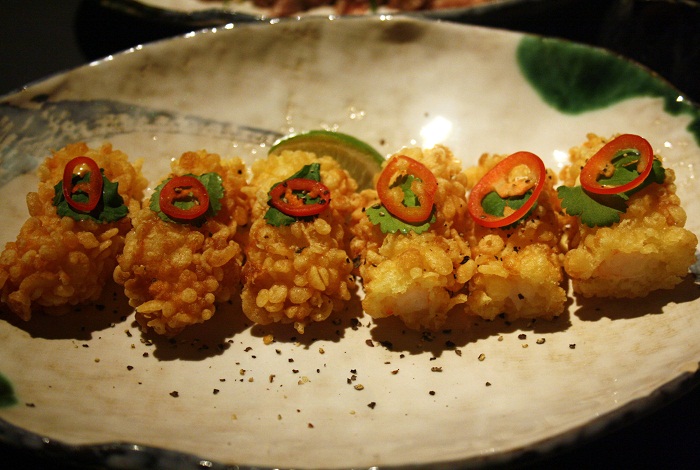 Classic Miso Soup (£2.20) was warming and full-bodied with just the right amount of saltiness.  Rice (£2) was also as it should be with a slight firmness and a generous serving.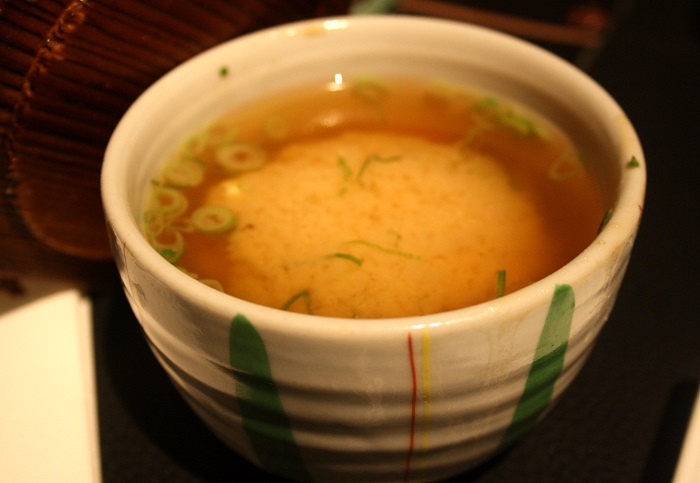 For our first stick, we tried the Chicken breast topped with chili dip, teriyaki and spring onion (£2.50/2 pieces £4.80).  The succulent chicken breast was nicely charred and coated in a sticky, slightly sweet glaze with a good chili kick and topped with mild, thinly sliced spring onion.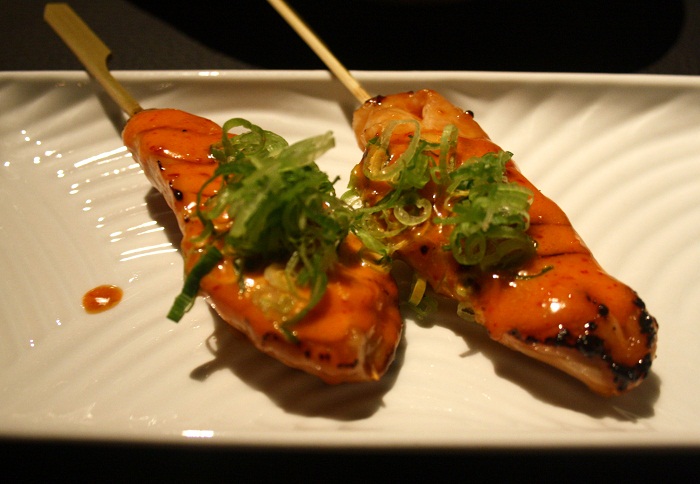 One of my favourite Japanese dishes Miso marinated black cod (£7.50/2 pieces £14.50) was flaky, meaty and just oily enough, with a delicious, caramelised miso marinade.
I loved the Scallops in bacon with herb butter (£4.70/2 pieces £9), as the pure taste of the perfectly cooked scallops was made more interesting with smoky, sweetcure bacon and an indulgent herb butter.
Panko breaded pork with wasabi caesar dressing (£3.50/2 pieces £6.80) was a little too fatty with an unappealing meaty taste, but the fine golden breadcrumb coating was tasty and the wasabi caesar dressing was a rich, innovative take on a classic sauce.  Chicken might work better for this dish and it would certainly be a good match for the wasabi caesar dressing.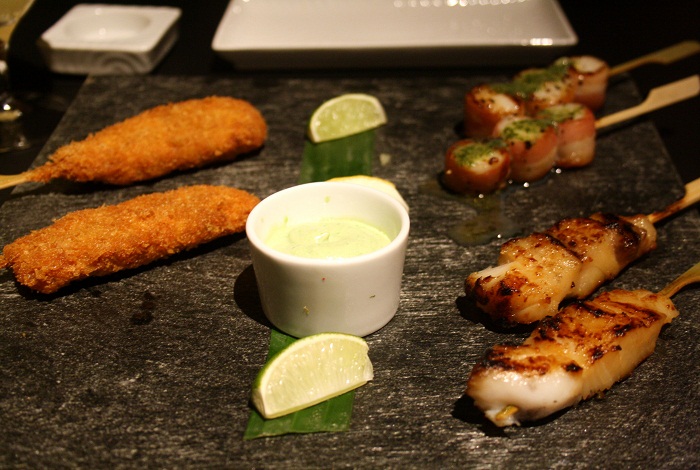 Jumbo shrimp with miso aioli (£4.70/2 pieces £9) was simply chargrilled without any need for sauce, letting the natural flavours come through.  It went perfectly with the sweet miso aioli and I could have easily eaten many more of them.
Chicken meatballs in teriyaki (£2.50/2 pieces £4.80) were succulent, juicy and substantial, covered in a light, glossy teriyaki sauce.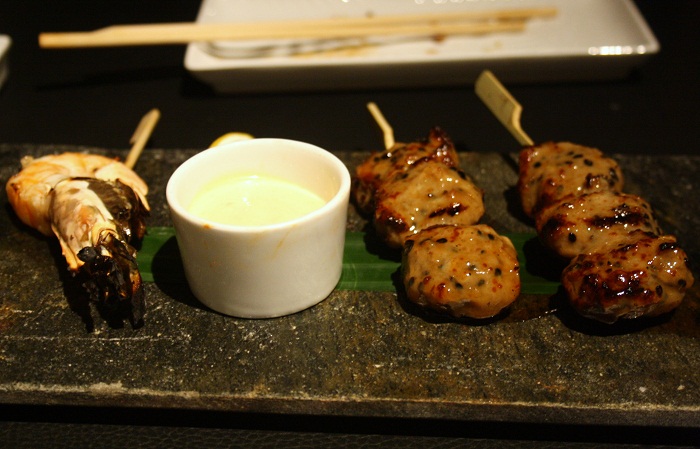 While we were most tempted by the sticks, it was impossible not to try one of the many different kinds of sushi, particularly when our neighbour's enormous platter looked so appetising and colourful.  In fact, I'd definitely balance the meal with more sushi on the next visit, as it was so good.
We absolutely loved the Coal Crab Futomaki (6 pieces £12.5o).  Crunchy tempura softshell crab was rolled with coal-black rice, lettuce, avocado and red tobiko, drizzled with spicy sauce and unagi sauce with a pickled ginger and wasabi garnish.  The sushi was expertly-made with a generous amount of tempura soft shell crab – definitely the best I've ever tried.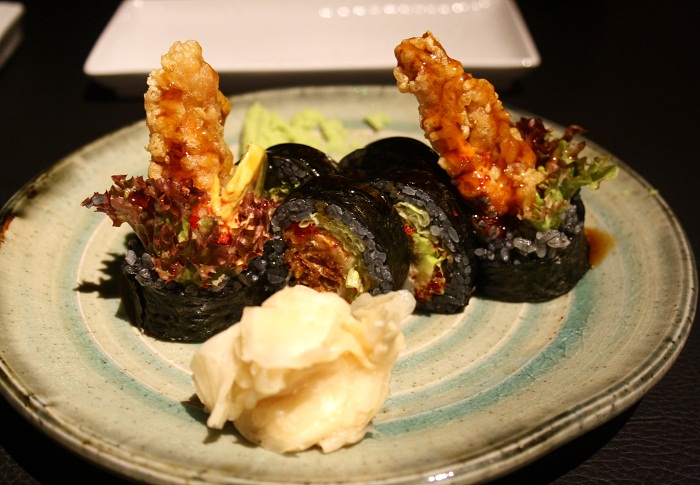 Somehow we managed to squeeze in dessert and I couldn't resist the Chocolate Fondant with a caramel heart (£6.50).  The chocolate fondant was soft and cakey on the outside with a molten, oozing caramel and chocolate centre.  It was served with decadent peanut ice cream and hazelnut brittle.
A lighter, more refreshing dessert was the Lemon, yuzu and meringue (£6).  A martini glass was filled with the most incredible yuzu sorbet, fresh orange, lemon meringue, lashings of lemon curd, small lemon and lime pearls and crunchy sesame nougatine.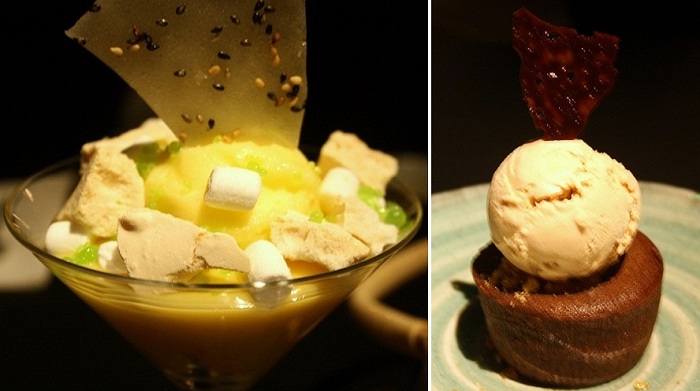 I finished the meal with a calming pot of Genmaicha (£3.50), a nutty, pleasant green tea made with popped rice.  Steven chose a Cool Mint tea (£3.50), a subtle herbal infusion of Moroccan mint, apple, lemongrass and anise.
Sticks 'n' Sushi does fabulous Japanese food in a chic setting and its Covent Garden location couldn't be more convenient for a fun night out.  It can easily become an expensive meal, as some of the dishes are quite highly priced and it's tempting to keep ordering more bites from the glossy menu.  However, the cocktails are very reasonably priced, so it's an equally good destination for drinks and bites as it is for an indulgent meal.
For more information, visit: www.sticksnsushi.com
Chérie City was invited by Sticks 'n' Sushi
Photos by Chérie City and Sticks 'n' Sushi