After years of sitting empty and unloved, the big building next to Hackney Central Overground is now shining bright as restaurant-bar-music venue Oslo.
Housed in a former Victorian ticket office, the atmospheric two-floor destination includes a dining room and bar, plus a slick upstairs 350-capacity music venue.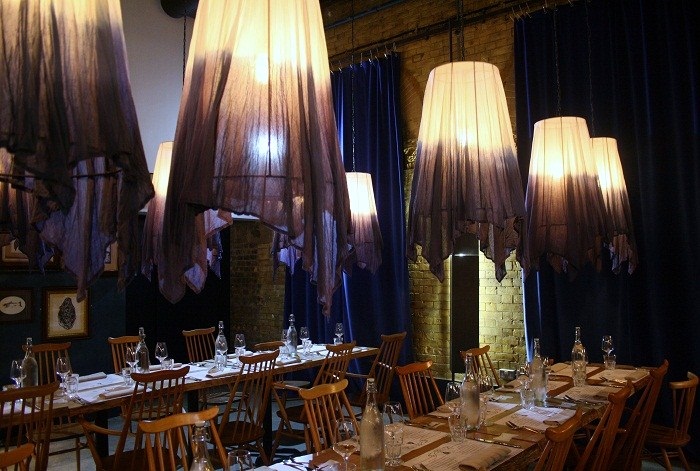 Designed by the house with…, it maintains the original style of the building with high ceilings, exposed brickwork and Victorian arched windows, while referencing Norwegian style and craftsmanship with carved wood tables and ombre dyed linen lamps for a ghostly effect.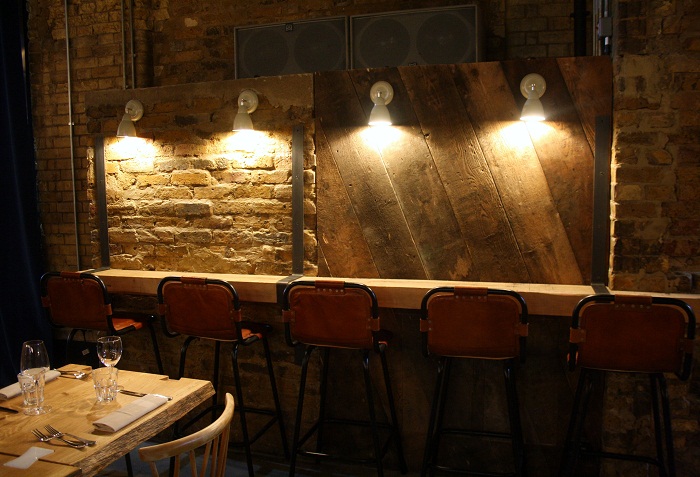 I particularly like the brilliant illustrations and artwork inspired by Norwegian folklore, featuring oceans, forests and mythical creatures.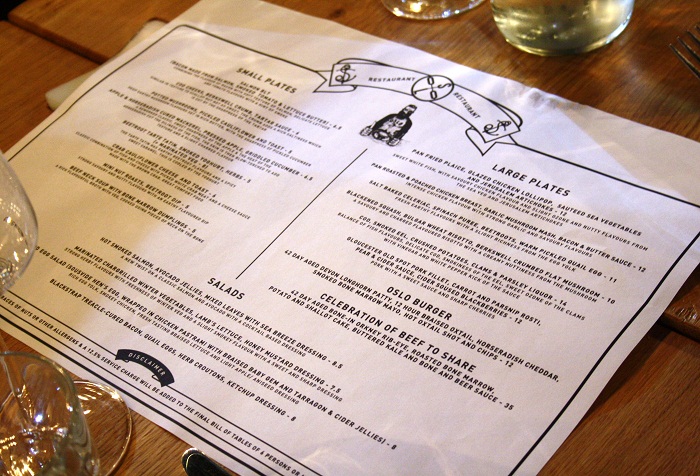 Heading up Oslo's food offering is Head Chef Dave Ahern (House of Wolf and Avalon Soho), known for his successful Burger Breakout pop-up at The Old Crown Pub on New Oxford Street.  His menu at Oslo brings together Norway and the East End with a focus on curing and pickling techniques.
I was invited to a menu tasting a few days before the opening night and had the pleasure of tasting an epic 12 dishes from the dinner menu (luckily for our stomachs, they were shared between two or four).
We started with a snack from the Bar Menu called Death by Bacon – double cooked chips tossed in cured bacon fat and bacon salt, served with bacon ketchup.  The chips were crispy with a subtle, meaty flavour but the real star was the tangy bacon ketchup packed with shredded bacon.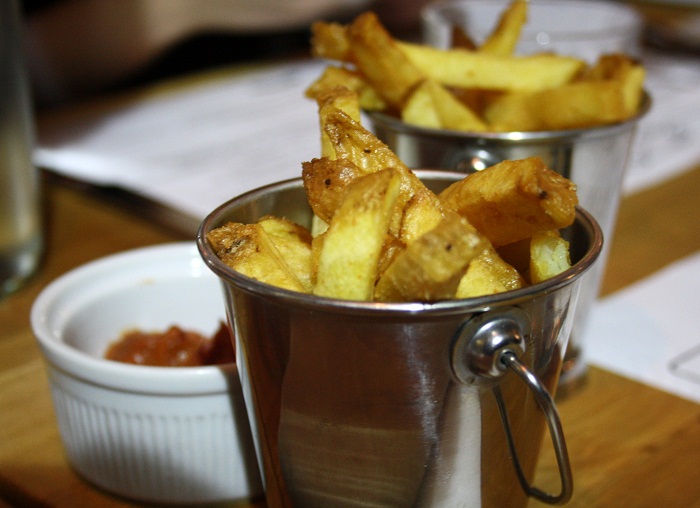 Salmon BLT (£6.50) was an innovative take on a classic with bacon made from meaty fillets of salmon, smoked tomato and lettuce butter.  The salmon was smoky and full of flavour while the lettuce butter gave it a punchy green freshness.  I enjoyed it with an Oslo Lager and the following dishes were paired with beers including Brooklyn Lager, Modelo, Sierra Nevada and Red Hook.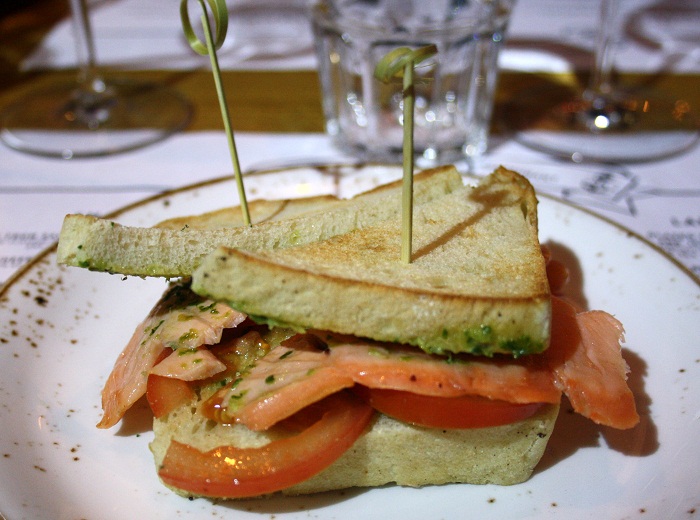 Hot Smoked Salmon, Avocado Jellies, Mixed Leaves and Sea Breeze Dressing was another deliciously fresh salmon dish (£8.50).  The flaky smoked salmon was complimented by smooth, cool avocado jellies and the grapefruit and vodka dressing added tangy sharpness.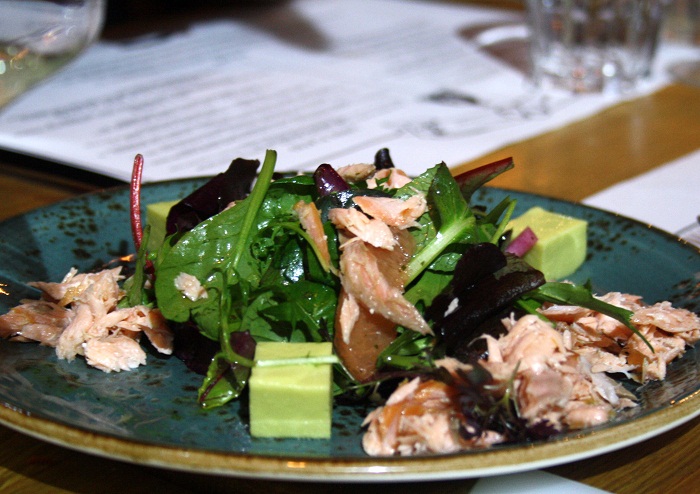 One of the most simple yet surprising dishes was Marinated Chargrilled Winter Vegetables, Lamb's Lettuce and Honey Mustard Dressing (£7.50).  The soft, roasted pieces of squash, carrot, white turnip, fennel and shallot were mixed with the most delicious honey mustard dressing and every mouthful was a delight.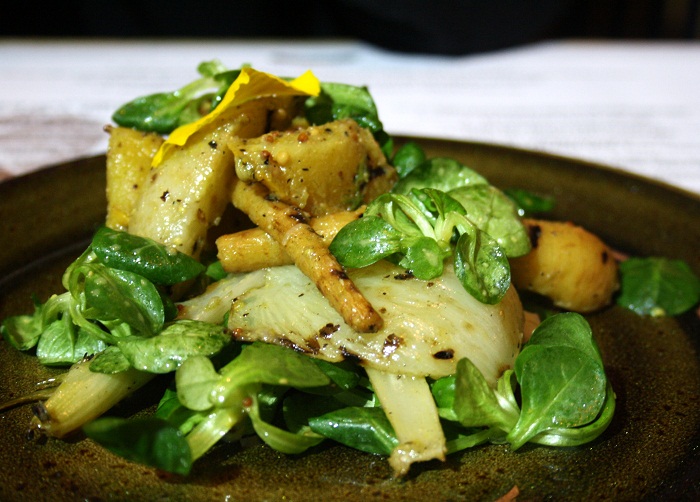 Another surprising dish was Potted Mushrooms, Pickled Cauliflower and Toast (£5).  The potted mushrooms looked like they would be far too oily and thick to enjoy, but in fact the garlic and herb butter melted easily and the richness was counteracted by the pickled cauliflower.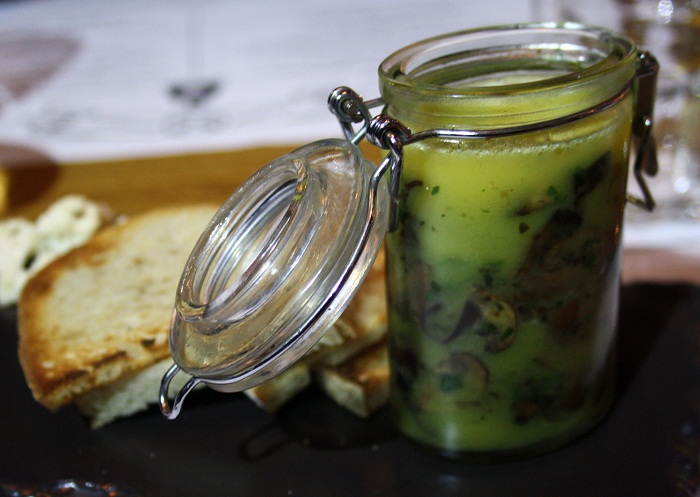 This was followed by Apple and Horseradish Cured Mackerel, Pressed Apple and Griddled Cucumber.  The cured mackerel had a very pure, natural taste and was sweetened by the fresh apple and cucumber.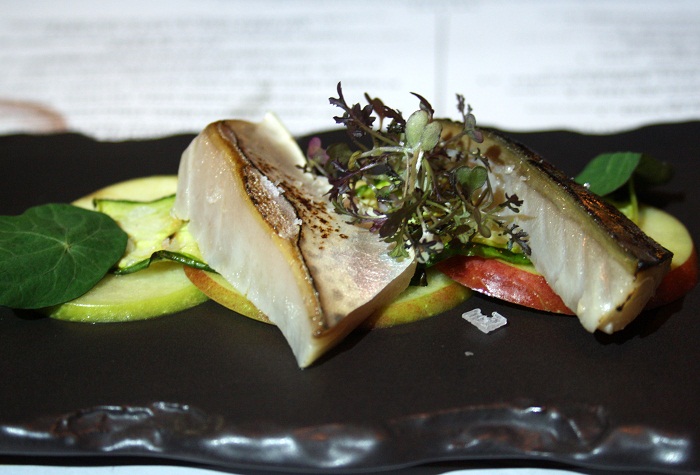 Pan Roasted and Poached Chicken Breast, Garlic Mushroom Mash, Bacon and Butter Sauce (£12) was a comforting, tasty dish.  The two pieces of chicken were succulent and tender with golden, crispy skin, while the smooth, dense mash was packed full of buttery garlic mushrooms and the bacon and butter sauce was more exciting than a gravy or jus.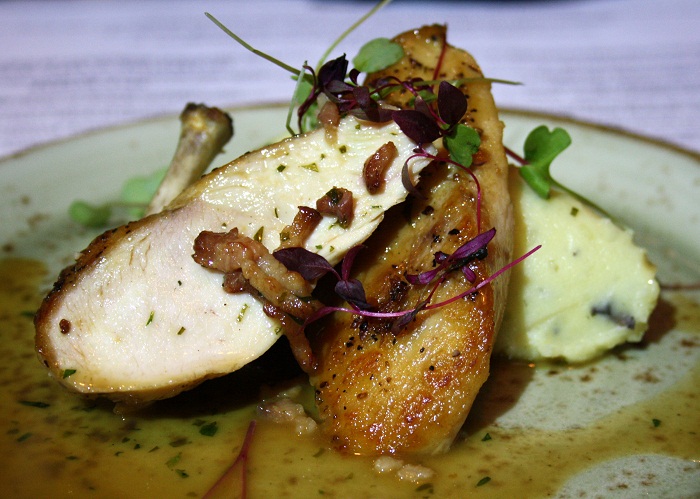 Following his Burger Breakout pop-up, my expectations for Dave Ahern's Oslo Burger (£12) were obviously high and he certainly doesn't disappoint with a burger that's quite unlike any other in London right now.
The Olso Burger includes a 42 day aged Devon Longhorn patty, 12 hour braised oxtail, horseradish Cheddar, smoked bone marrow mayo, hot oxtail shot and chips.  The idea is to down the rich, smooth oxtail shot before digging in to the burger, thus enhancing the meaty taste.  The beef patty was lean and succulent (cooked medium-rare unless otherwise requested) and the oxtail and bone marrow mayo had subtle flavours that complimented rather than overpower.
Dave shared with us that he requested horseradish Cheddar from his supplier and was told that it doesn't actually exist.  So, he created his own and it really was a highlight of the burger, adding a peppery punch.  Unlike many burgers that are compressed into shape, the Oslo burger wasn't tightly packed together, so it was naturally crumbly – even the Flour Power Bakery bun was light and airy.  It's about as far away from a Shack Shack or Five Guys burger as you can possibly get.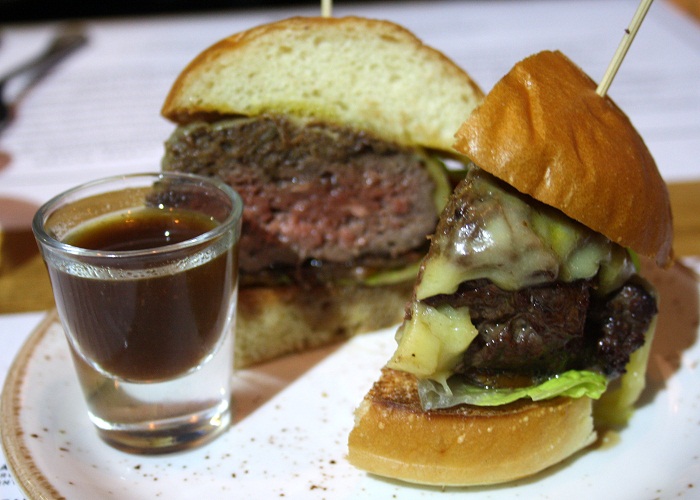 Crab Cauliflower Cheese and Toast (£6) was a refreshing alternative to the usual mac and cheese and a seriously decadent small plate.  The rich, gooey cauliflower cheese was just so tasty and the moist, flaky crab gave it an even stronger flavour.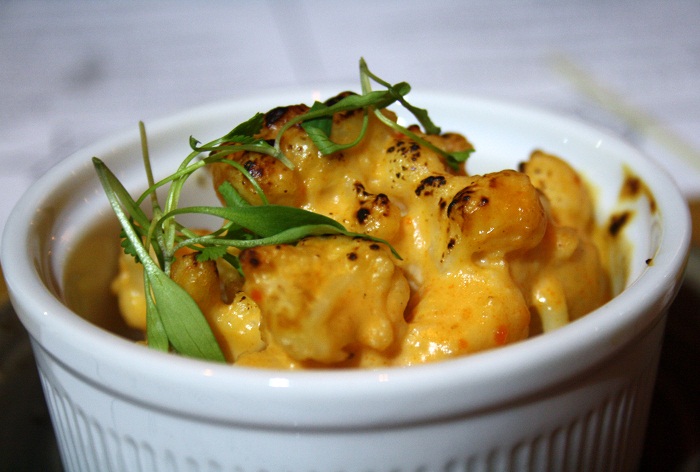 Cod, Smoked Eel, Crushed Potatoes, Clams and Parsley Liquor (£14.50) best reflects the fusion concept at Oslo (Dave Ahern doesn't do grandiose 'signature' dishes).  The high quality fillet of cod was substantial and beautifully cooked with crispy skin and the crushed new potatoes were infused with the aromas of smoked eel, while the creamy parsley liquor rounded it all off well.
I expected to dislike the Cucumber Sponge with Gin & Tonic Icing, as I detest cucumber, but this cake was a revelation.  It had a green, earthy flavour but didn't taste of cucumber at all and the texture was dense like a suet pudding rather than a moist sponge, topped with aromatic gin and tonic icing.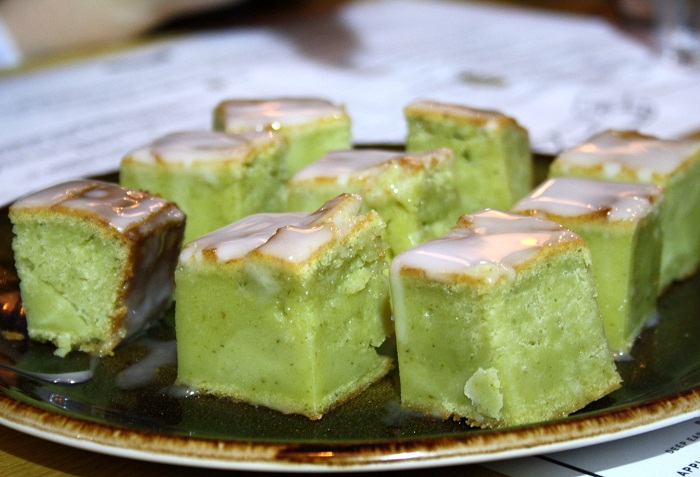 Peanut Butter Cheesecake with Caramel Bananas was creamy and sharp, but it could have done with a thicker biscuit base to give it some extra sweetness.  I'm looking forward to trying the Winterberry Trifle with Rose Jelly and Lemon Possett Top on my next visit.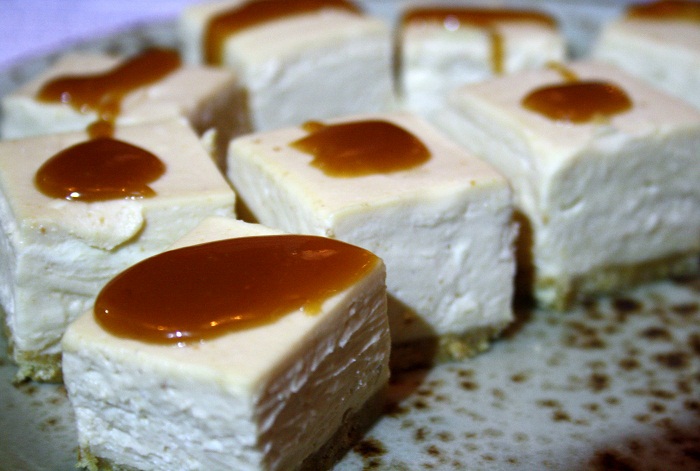 The tempting Bar Menu includes lighter crowd-pleasing comfort food such as Pulled Pork and Sloppy Joe with Bacon and Cheese Sliders, Oxtail Poutine, Brined and Deep-Fried Chicken Poppers in BBQ Sauce and Corn Puppies in BBQ Batter with Honey Mustard Dipping Sauce.
Oslo is a great new addition to Hackney with unique design, innovative food and a great music programme.  The restaurant prices are reasonable considering the quality, expertise and care that goes into the dishes, plus there's no need for pricey sides, as all main courses come with vegetables, potatoes or chips.
I'm looking forward to visiting now that it's open to see how the restaurant works as part of a music venue and what kind of a crowd it draws.  As a local resident, I'm hesitant about the weekday closing times of 2am, but hopefully if won't be too disruptive.
For more information, visit: www.oslohackney.com
Chérie City was invited by Oslo Hackney 
All photos by Chérie City