Italian bakery and restaurant Vivo brings a touch of Milanese chic to Islington with authentic regional food and slick, minimalist design.
Vivo is in good company with Upper Street's Ottolenghi and Fig & Olive, but the all-day dining spot's concept is quite different, taking inspiration from northern Italy's high end pasticcerias and designer bakeries.
Owners Will and Ben Thompson travelled extensively through Italy to research their first food venture, plus most of the chefs and staff come from Italy and Sicily, so authenticity is a high priority.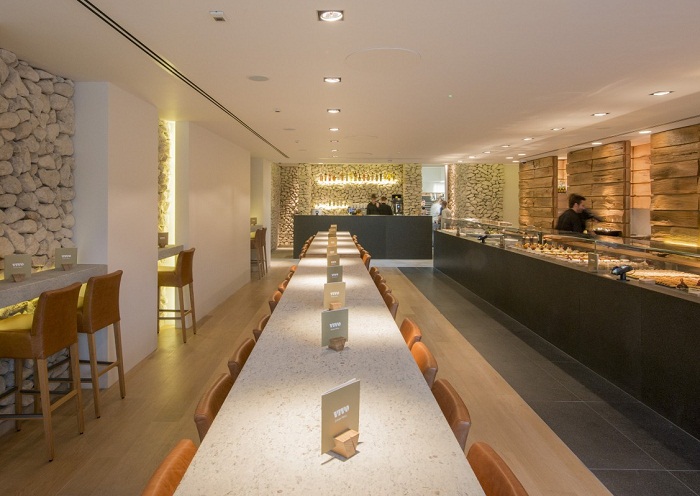 Vivo's bright and airy interiors are urban-rustic with stone covered walls, granite counters, timber panels, concrete communal tables and soft tan leather seats.  The newly-opened heated outdoor terrace with chalet style wood panelling is sure to be a popular spot for a summer spritz or an al fresco lunch.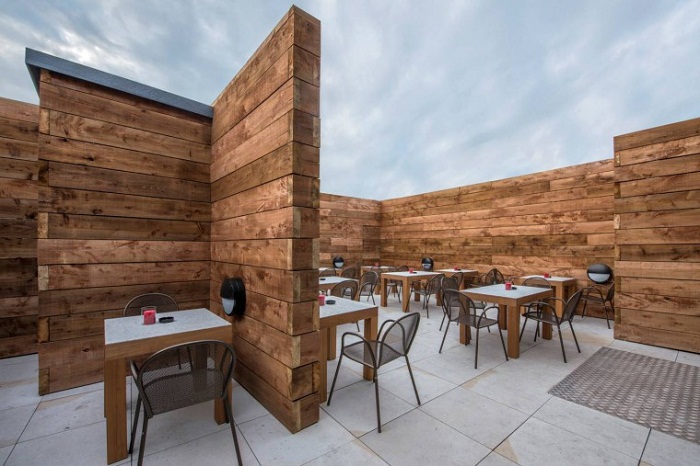 The stylishly presented salads, pizza al taglio, hearty mains and artisan cakes not only look tempting but are exceptionally tasty.  Best of all, the relaxed, counter service concept makes it easy to choose as much or as little as you like, setting your own pace and sharing dishes.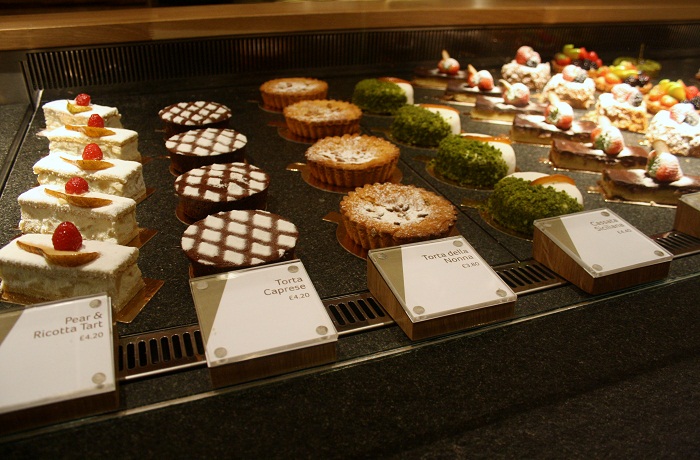 We started with a Spritz Americano (£4.80) – a perfect mix of Martini Rosso, Campari and soda water – which was served with a slice of orange and plenty of ice.  The bar also serves a good range of Italian wines, beers and cocktails, all of which are very reasonably priced.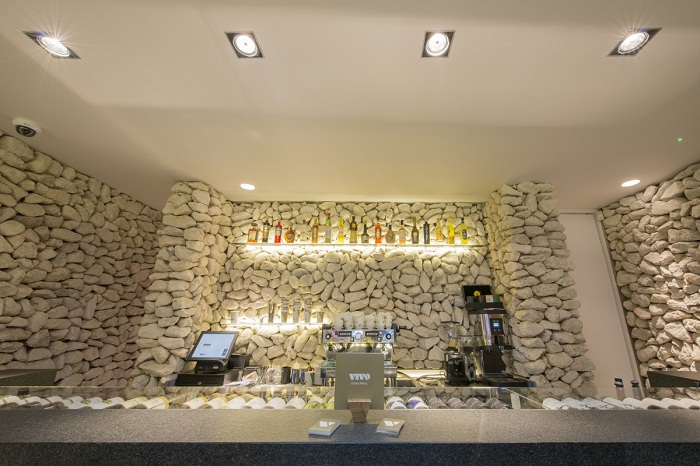 To start, we ordered a slice of Pizza Bianco with Prosciutto, Scamorza, Potato and fresh Rosemary to share.  The excellent pizza base had an airy, chewy texture and the toppings were authentic with bold flavours.
My only criticism is that the denser potato-filled pizza slices should be heated in the oven for longer, as it was a little cold in the middle.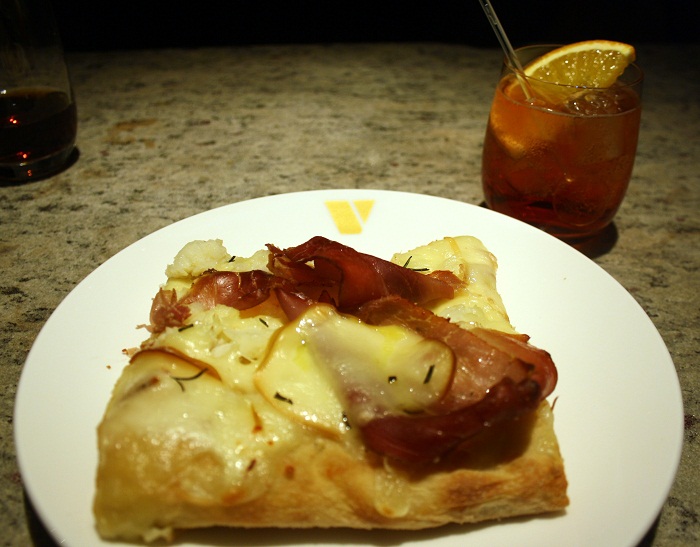 I was immediately drawn to the colourful Pumpkin & Ricotta Salad (£4.80), which I was told is a best-seller at Vivo.  Crisp lettuce, rocket and radicchio were mixed with chunks of soft, roasted pumpkin, just the right amount of high quality, creamy buffalo ricotta, large pieces of walnut and finished with a drizzle of olive oil and balsamic vinegar.
It was a deliciously light yet indulgent salad that works well as a light bite or accompanying a slice of pizza.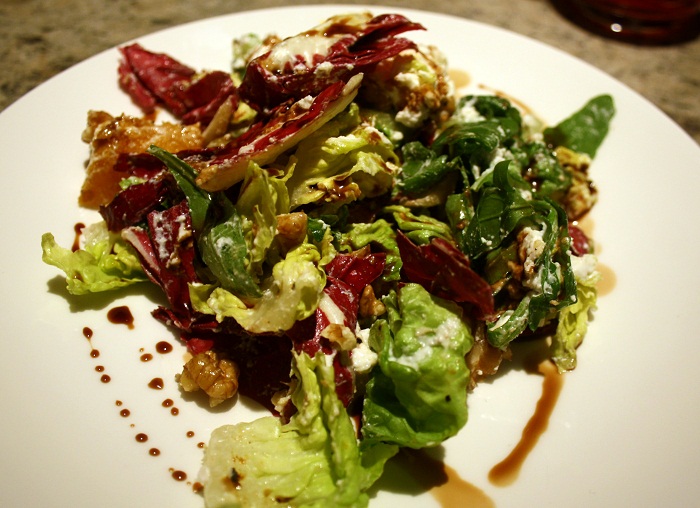 For the main course, I was tempted by the Pollo alla Milanese (£9.20), which was served with rosemary potatoes and roasted butternut squash and red onions, plus a half lemon garnish.
The chicken escalope was succulent and generously sized, covered in fine, crunchy breadcrumbs.  The flavoursome roasted vegetables were a perfect accompaniment and much lighter than pasta or fries.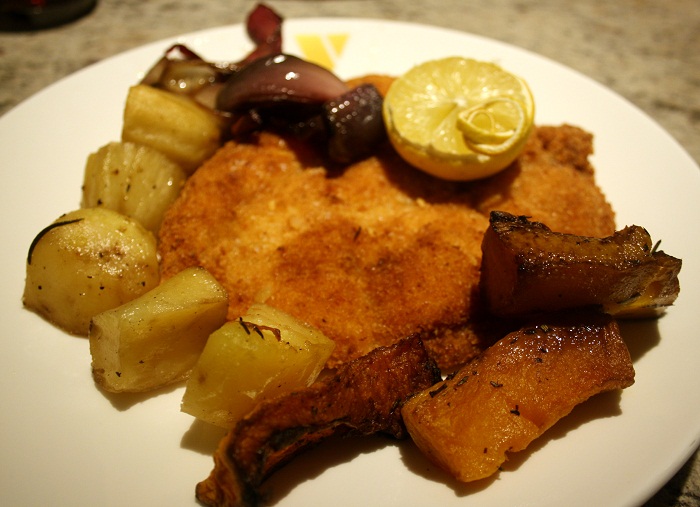 Steven's Beef in Red Wine (£8.60) was rich and satisfying with large pieces of tender, flaky beef in a thick, slow-cooked sauce.  It's an ideal dish to order when you're craving some comforting home cooking.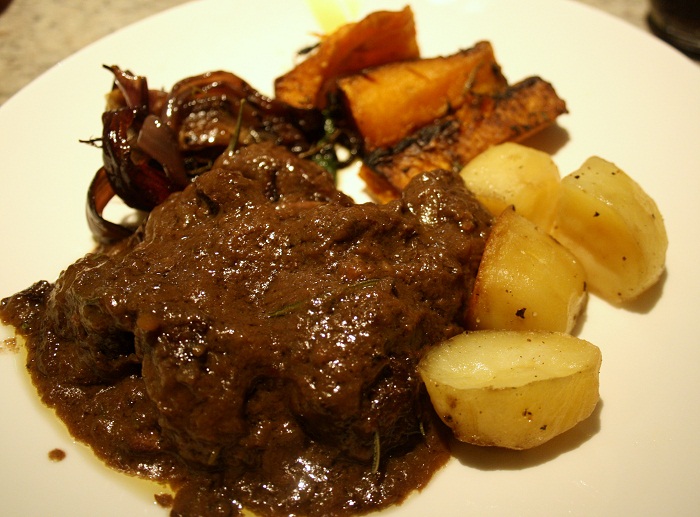 Vivo's eye-catching cakes are hard to resist and there is an overwhelming selection to choose from.  The Bavarese was made up of three decadent layers of silky white, milk and dark chocolate mousse, on a thin biscuit base.  It's heaven for chocolate lovers while not being overly sweet and is definitely big enough to share.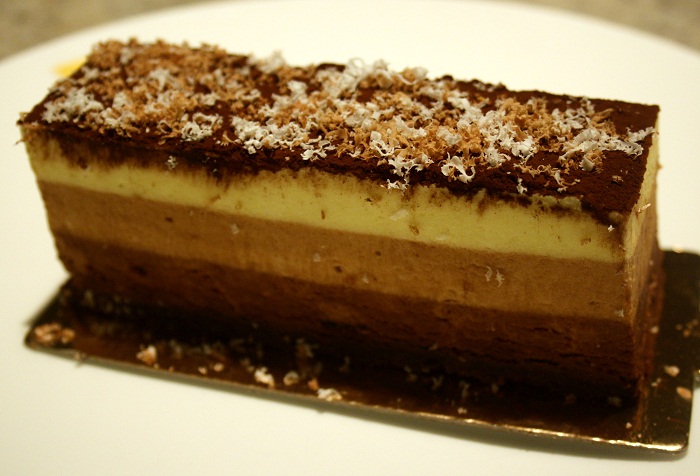 The Chocolate Raspberry Dome was filled with dark chocolate mousse and fresh raspberry, covered in a glossy dark chocolate ganache with a layer of biscuit crumbs.  The cake was rich and indulgent but the fresh raspberry lifted the flavour and complemented it perfectly.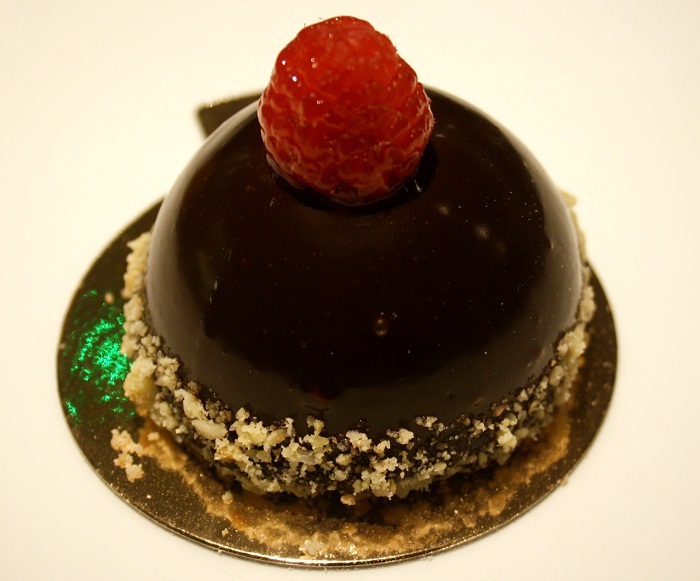 Vivo is a great addition to Islington and it appears to already be a hit, particularly with Italians, as we noted during our visit.  The relaxed atmosphere, friendly staff and reasonable prices make it a fun, buzzing place to come for a quick slice of pizza, evening cocktails with friends or an afternoon treat of coffee and cake.  I absolutely loved it and am sure to be lured in again soon by those delicious cakes.
For more information, visit: www.vivotaste.com
Chérie City was invited by Vivo
Photos by Chérie City and Vivo